Mawwiage, that dweam wiffin a dweam.  (The Impressive Clergyman, The Princess Bride)
Overture
Eyes Wide Shut begins with Kubrick's last waltz, the music from Dmitri Shostakovich's Jazz Suite, something that sounds almost forlorn in the winds and then shifts into something lighter and even goofy.  We hear that, and we see an image in warm, friendly colors of Nicole Kidman stripping and in heels, displaying the kind of ass to which only Vincent Hanna could give the proper measure of appreciation.  (Eyes Wide Shut has a lot in common with Contempt, and Brigette Bardot's ass is as necessary to that film.)  The music and image make it all elegant, refined, and overtly, unarguably sexual; it's a moment that belongs to the time of the source story, Arthur Schnitzler's Traumnovelle, "the new thing's strange heart" of early 20th century Europe, of Romanticism hybridizing modernity.  It's also a moment that belongs to right now, whenever we see it.  The man who began his career creating entire worlds in a single moment does it one more time before we get to the title.  (Following image might be NSFW depending on your Wplace.)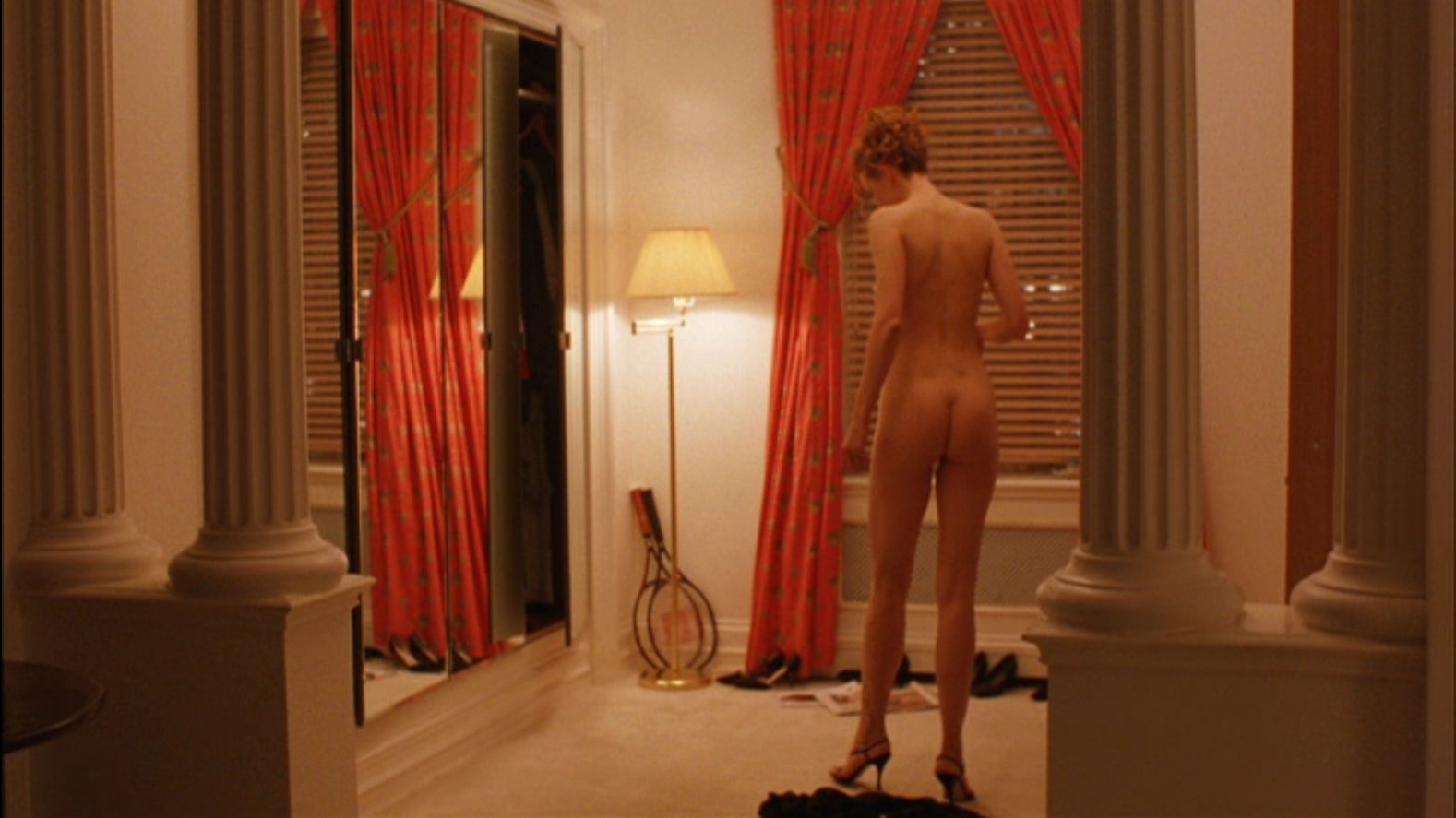 Prelude
And holy shit, this could be the most beautiful world he ever created; it's certainly the most opulent.  Eyes Wide Shut sometimes feels like and all the time looks like an NC-17 fairy tale, the images all radiant and lushly colored, Christmas trees in every interior, warm lights in every room radiating to the walls like in Barry Lyndon, deep saturated reds and yellows and blues.  Little points of light play in the background of many shots, creating the feeling of a starry realm for the action.  (And in the Sonata Café, where Bill meets with Nick and receives the password "Fidelio," who's that older gentleman in the background?  Did the creator stop by for a drink in his creation?  Can't say I blame the man.)  One of Kubrick's strategies here is a continual use of deep blue to set off the characters, lit in yellow or red; it's both lush and more than a little sinister, and apparently caused a challenge for the color timers.  This may earn a place as the last great color film of the pre-digital age.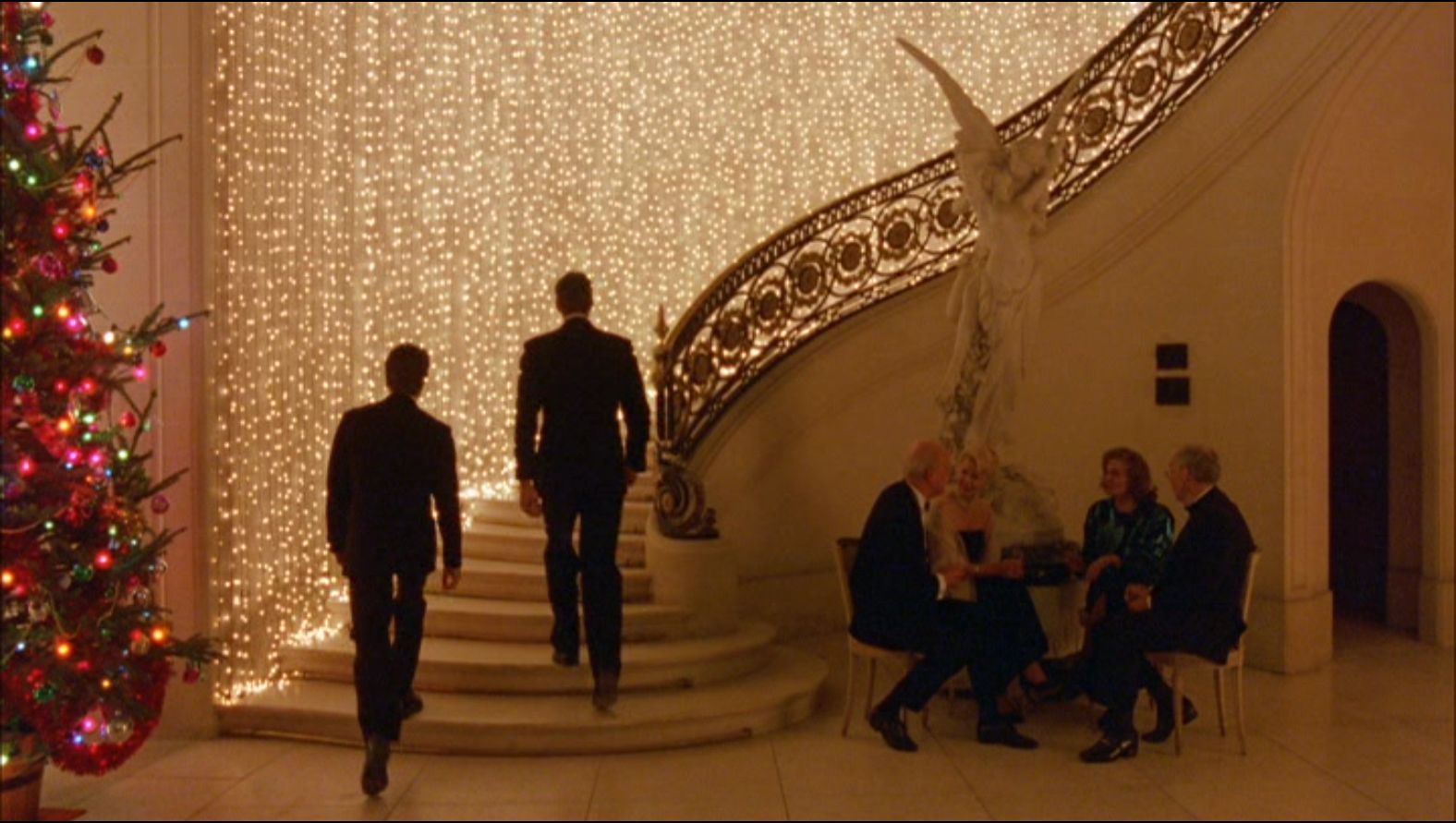 The nearly thirty-minute (time already has slowed down) party sequence chez Victor Ziegler (Sydney Pollack) sets up the overall rhythm of the film:  all this sexual energy and no one actually fucks.  There's Bill and two models, there's Alice and Sandor (Sky Dumont, who I'm convinced is a Nabokov character who somehow got into the Screen Actors' Guild), and anything that could happen gets cut off, abandoned.  Bill gets called away and in one of Kubrick's great edits, we go from him to Ziegler putting his clothes back on and an OD'd hooker.  That's one of Christiane Kubrick's paintings on the wall, by the way, adding yet more beauty (and yet more somehow chaste nudity, like Bill's patients) to the image.
Ziegler casually swears Bill to secrecy, and that plays into the first turn of the movie, a long, stoned argument between Bill and Alice that's the equal of the even longer argument in Contempt.  Bill has the same flaw of so many Kubrick men:  he thinks he knows everything, he mistakes his view of the world for the world.  Schnitzler, Kubrick, and co-writer Frederic Raphael are sharp enough observers of human behavior that they show here how trust can be a form of dishonesty, even insult; Bill won't even consider the possibility that Alice could be unfaithful, and that's a form of refusing to know her.  And Alice slams him down, visually and verbally, telling the story of the man she wanted and would have left him for.
Her monologue here is a little masterpiece of editing, camerawork, and acting.  Kidman is so good; it was only after this film that I realized she'd given some of my favorite performances of the late 90s with The Portrait of a Lady and this.  She's so active in the first part of this movie, her face constantly changing expression, her eyes shifting from a child's delight to an adult's worry, and never once coming off as anything but natural.  She won't be around much after this movement, but the memory of her dominates the film until she comes back at the end.  (Which is why, I think, it was a mistake to insert the black-and-white zalmankingish shots of Bill's fantasies of her.  I have no doubt that's how Bill would imagine it, but it still takes me out of the experience.)  When she laughs, she flat-out laughs at Bill, there's nothing private about it.  She's attacking him as unanswerably as Kubrick attacked the Establishment of nuclear war in Strangelove, laughter over argument.
Kubrick assists her so well with the camera here; director of photography Larry Smith moves the camera so precisely and fluidly that when Alice falls down and the camera falls with her, I flat-out gasped.  Alice stays in motion throughout the scene, with Bill frozen on the bed with the camera closing in.  (This scene also has the kind of disruption that makes this not quite our reality; Alice's use of "naval officer" belongs to Schnitzler's time, not ours.)  She traps him in his deliberate ignorance, and at the same time affirms her love for him: "and yet, at that moment, you were more dear to me than ever."  More than anything else, she shows Bill how he refuses to accept the complexity of human emotion.  And then, before there can be any reconciliation, Bill gets called away, and his journey into another world begins.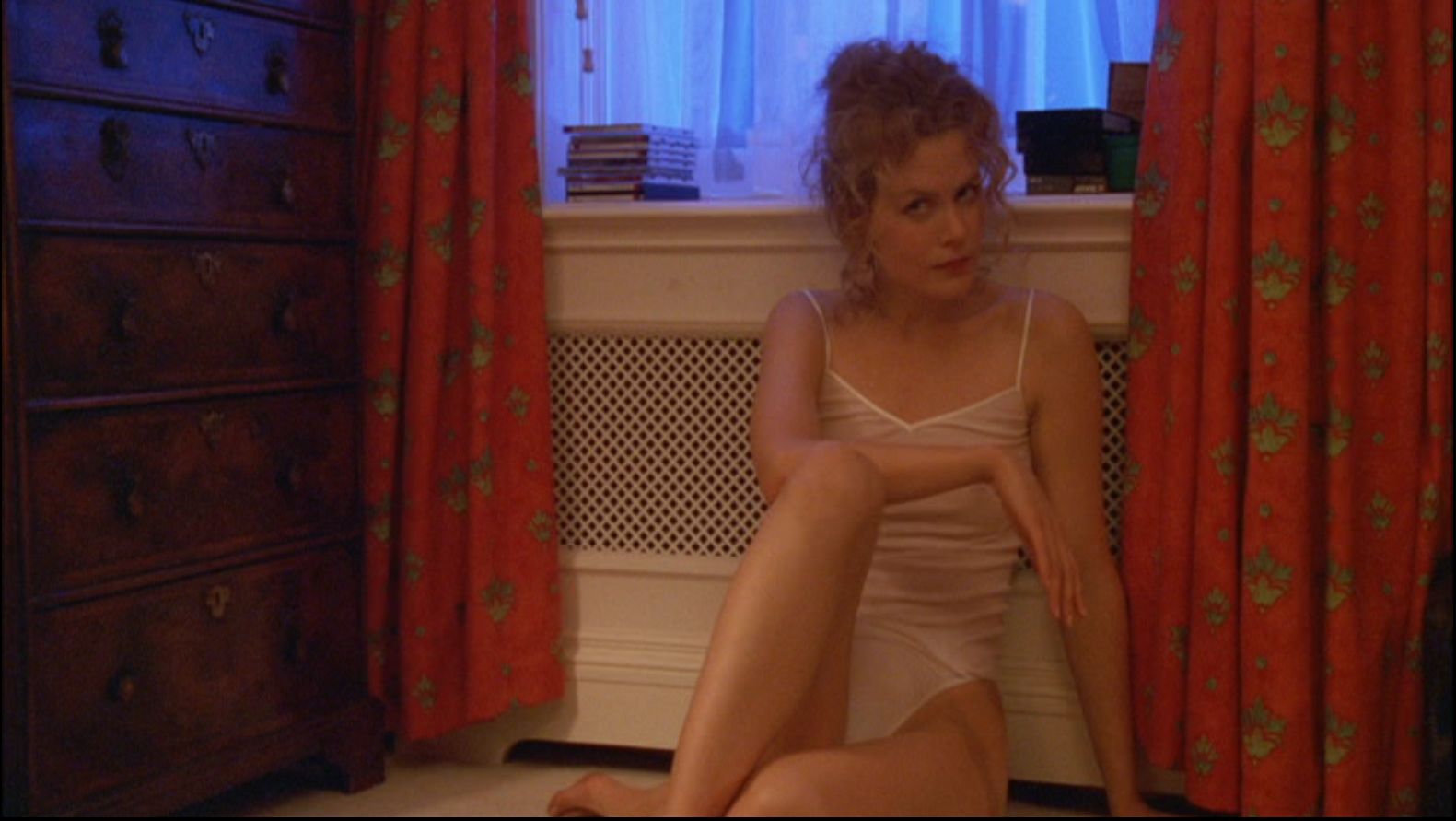 Sex
Eyes Wide Shut came out a few months after The Matrix, and that's the best way in for the perplexed:  this is the best of all virtual-reality movies.  Freud's understanding of the unconscious was that its irrational, inexplicable tangle of drives, desires, and images was there all the time and shaped how we saw and lived in the world, and this is the most Freudian of all films.  (He wrote to Schnitzler "you seem to know by instinct what I have had to learn by investigation.")  Once Bill leaves his apartment, the world of the film becomes the world he lives in, shaped by jealousy and desires that he doesn't fully understand.  Freud, Schnitzler, and Kubrick all understand that our realities are already somewhat virtual, already made in part by our dreams.  It's not a question of either-or (and it's not, as it is in Inception, of either-or-or-or), it's a question of how much.
Once again, Kubrick's precision is so necessary to shaping this not-exactly-real, not-exactly-a-dream world.  Probably the pacing is the most necessary aspect.  Eyes Wide Shut moves slowly, deliberately; all the moments a conventional director would remove stay in here.  If Bill enters his apartment and goes to the bedroom, we're gonna see him open every door, get his beer, sit down, drink, get up, take his jacket off, before we see him get to the goddamned bedroom.  The dissolves between scenes are longer than any other Kubrick film.  And of course there's the repetition in the dialogue (the repetition?  Yes.  The repetition) that's nearly constant.  Even when the action gets more intense, even when the end of the film or an act closes in, the pace never changes.  These subtle but persistent breaks with film conventions give the continual, nagging feeling that's something's off with the entire world; for me, it replicates the feeling of an early-morning lucid dream, the kind where I know I'm dreaming but can't or won't will myself awake.
Inexplicable and threatening things keep coming to the surface here.  Scenes go on too long and are completely static, and then BAM a grieving daughter (Marie Richardson) throws herself at Bill, or Leelee Sobieski and two Japanese guys in wigs suddenly manifest themselves in a costume store.  (Sobieski's appearance and one-word performance feels like the sniper in Full Metal Jacket, the repressed showing up and saying "hey good to see you again you miss me?" and even her lipstick plays into the opulent color scheme.)  Eyes Wide Shut can be read as a feature-length version of Wendy's final run through the Overlook, except now the whole world is haunted.  You can never escape your own mind, and now Bill's mind sees threats and desires everywhere.
Tom Cruise's performances in 1999 convinced me (and I remain convinced) that properly directed, he's a great actor.  (One of the aspects of properly directing Cruise:  we have to see how short he is.)  Someone remarked that the only way to award Best Actor isn't to look at five actors from the same year, it would be to look at five actors playing the same character.  What convinced me of how good Cruise could be was that in 1999 he played two variations on the same character–the man in confident control of his life confronted with losing that control–for two very different directors in two very different films, this and Magnolia.  Cruise in Magnolia bounces all over the place, yells, cries, strips, and plays at the level of quality and the level of emotion that everyone does in that crazed masterwork, so far over the top it's its own realm.  He's an indelible character, and I have never wanted to punch anyone in fiction so badly as when Frank T. J. Mackey says "it's not safe for you here."
Cruise goes almost all the other way in Eyes Wide Shut, and it's just as necessary.  As in Full Metal Jacket, Bill isn't the protagonist (has a Cruise character ever been as ineffectual as him?) but the point of view.  Here, Kubrick goes even farther than that:  Cruise doesn't need to show emotion because the entire film does that for him.  We're moving through Bill Harford's aroused, fearful mind and Cruise simply leads the way.  He still has his charm, his smile (if the movie were made now, Kubrick would cast Chris Pratt as Bill), his intensity, and the trademark two-hands-smoothing-back-his-hair.  It's the outline of a Cruise performance, but the film concedes nothing to it.
More than anything, what made Cruise right for Eyes Wide Shut was his one previous great performance in Risky Business.  Dancing to Bob Seger generated an iconic Cruise image, but what he did so well there and here was embody the fear men have of women, a fear so deeply rooted in sex.  Tiresias said once that women feel ten times the pleasure men do in sex, and men can never forgive them for that, which may in fact be the truest thing anyone ever said.  (Dude had been a lady, so he'd know.  Hera blinded him for that one.)  All through Eyes Wide Shut, there's the question "what is she thinking?  What is she feeling?" and the feeling so terrifying to Bill, "does someone else make her feel those things?"  (Freud's assertion "I have never been able to answer one question–what does a woman want?" hangs over the film.)  There's that sense with Kidman's fluid expressions and performance and the way it destroys the balance of the camera that women have a power that can't be explained or controlled.  The orgy sequence can be read as men's attempt, through money and through ritual, to control that power of women, which is probably why it feels so asexual, even anti-sexual.  That fear was in Cruise's eyes and body in Risky Business, and Kubrick brought that back here.
The orgy sequence does something necessary here:  it's emotionally specific without ever revealing what the hell is going on.  Part of that comes from the music, Gyorgi Ligeti's "rigid and ceremonial" Musica Ricercata #2, which first starts clanging when Bill gets found out.  Part of it comes from the use of masks, and the way Kubrick lets us see Bill's eyes but no one else's.  Like Spike Lee in Inside Man, and unlike James McTeigue in V for Vendetta, Kubrick knows how to film actors when you can't see their faces.  Part of it comes from the editing, dropping the long fluid shots, dissolves, and zooms and switching to a series of hard cuts to the masked figures.  (That Picasso mask is gonna show up in a Terry Gilliam film one day, mark my words.)  And part of it comes from the action and the threat to Bill:  "Now, get undressed" is, of course, one of the most primal, common fears in dreams.  More than any other moment, that's when I understood I was watching at least part dream.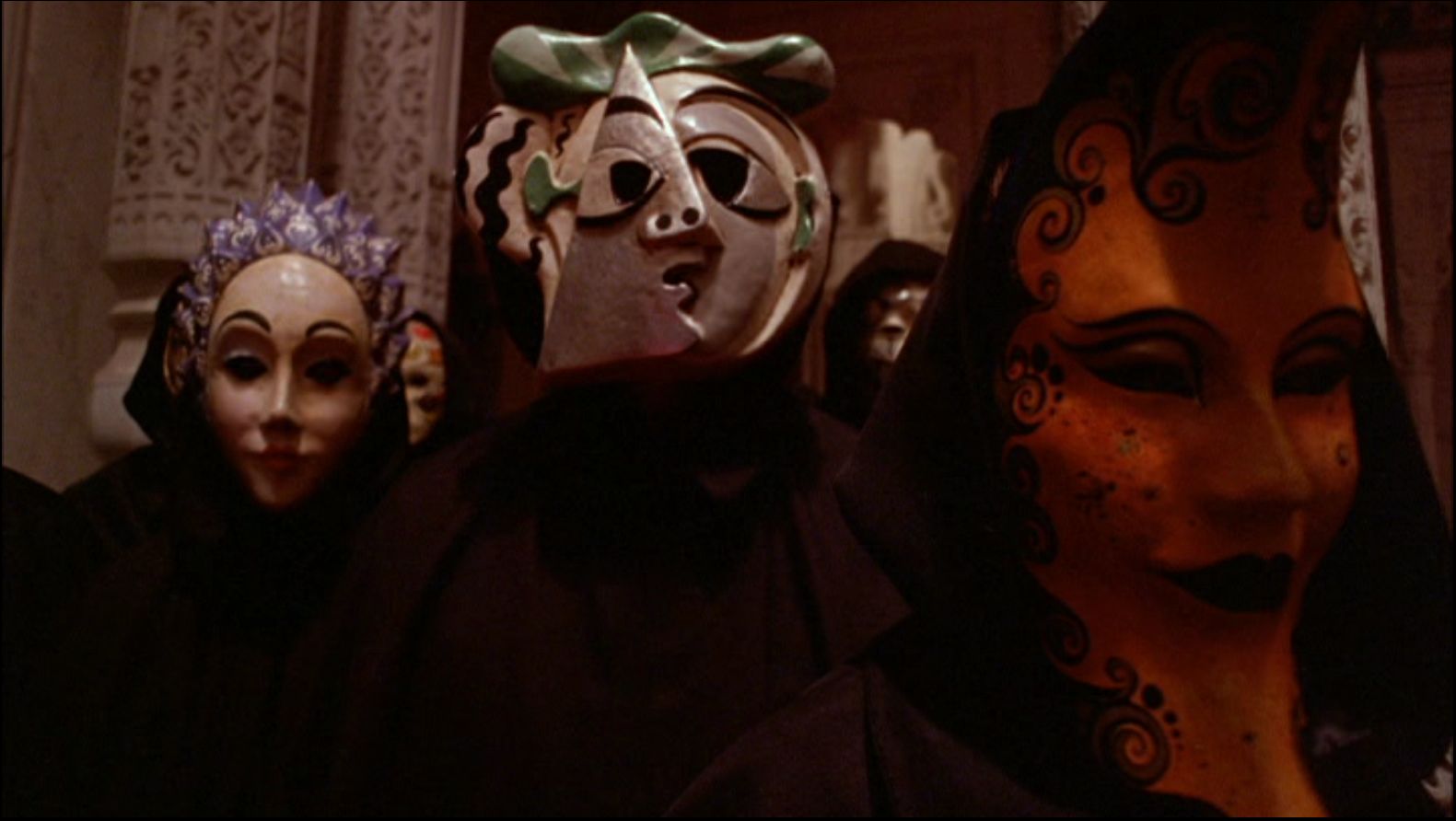 Guilt
The next day, Bill goes looking for answers, and Eyes Wide Shut refuses to provide any; it's perhaps the most dreamlike aspect, the way that everything that seemed so significant in the first part vanishes into hints without resolution or meaning.  What was threat earlier now becomes a more disorienting dread, the kind of unlocalizable fear where you don't know if you should even be afraid.  Ligeti's music keeps following him around, the music of guilt; again, it's like The Shining in that it feels like the music playing in his mind, one more way in which the film has become his subconscious.  The daughter who threw herself at him isn't answering the phone (we don't even see her), the hooker he didn't sleep with is HIV positive (we don't see her either), he can't get past the gate of the mansion (and receives a preprinted warning, someone was thinking ahead there), he's being followed, the store owner (Rade Sherbedgia) has made his peace with the two Japanese men and his daughter, and Nick has gone back to Seattle, possibly with a warning beating first.
The dream aspect gives some supporting players a chance to cut loose and be crazy entertaining:  Sobieski, Sherbedgia, but the winner here is Alan Cumming as the hotel clerk who reveals what happened to Nick.  He has a great ability to play to the back row without breaking the feel of film acting; his initial full-body appraisal of Cruise and every time he says "Bill" just crack me up, and if Bill ended the scene by asking him for a drink I wouldn't be at all surprised.  For one scene, I thought we'd gotten Clare Quilty back in the game.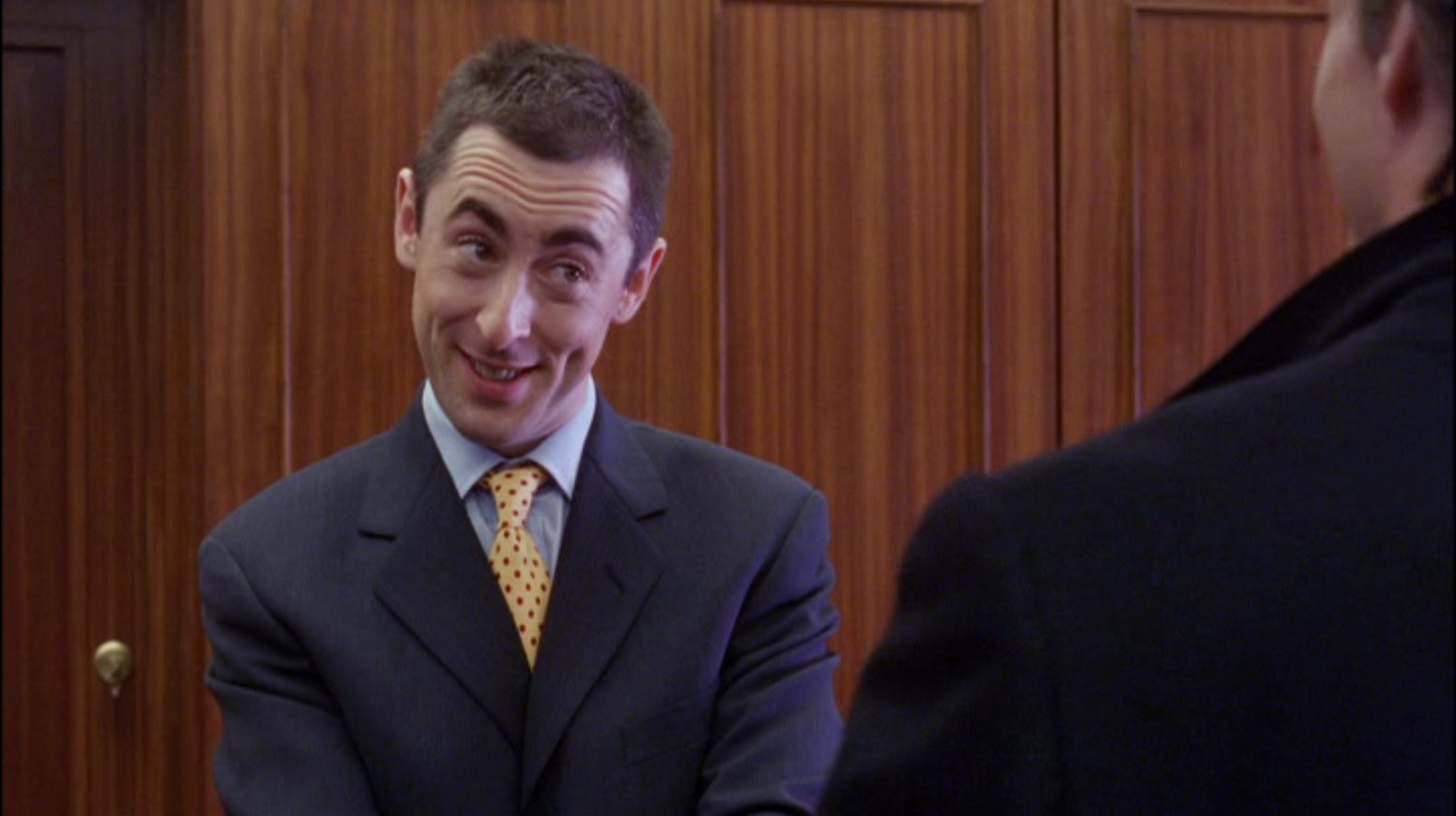 The final portent comes when Bill sees the body of the woman who may or may not have saved his life and may or may not have been killed because of that.  The music switches from the hard lines of Ligeti to the softer, rolling sound of Franz Liszt, and he leans in (to smell? to kiss?) and leans out, an ambiguous blending of sex and death and the allure of both.  Then there's a phone call from Victor Ziegler and we head towards what should be the climax, but the movie has told us by now we won't get what we expect.
In his two (or is it three?) scenes, Pollack just kills it.  Much as I love him in Husbands and Wives, he's even better here, effortlessly embodying class and authority, Kubrick's last great aristocratic character.  Pollack's Ziegler walks around every space like he owns it–and I don't mean like he owns everything in the space, I mean like he owns the space, the building, anything in it, any resources underneath it, the airspace above it, and everyone who walks through it.  (I imagine Kubrick directed him by saying "treat Tom like a writer.")  He leaves no doubt that if he ordered people to scare the shit out of Bill, they'd do that, and if he ordered them to kill Mandy, they'd do that too.  He's the most truly Mephistophelean character in all of Kubrick–the übermacher, if you will.  Watching him now, I see this as a test run for his very best performance, George Clooney's boss in Michael Clayton, another man who you never saw do anything, but was truly capable of anything.
This scene is like the psychologist's explanation at the end of Psycho, or Thomas Pynchon's line late in Gravity's Rainbow:  "You will want cause and effect.  All right."  Ziegler opens the explanation with a similar line:  "What if I told you. . ." not "Here's what happened. . ." or even "I'm telling you. . .," but what if.  Ziegler and the film say "if you need an explanation based in reality, well here it is" and of course it explains nothing, because what counts isn't what happened but what was felt.  The story began with something imagined, and what we've seen has been at least partly imagined.  The whole film has been about the importance of emotion over the physical act of sex, really over the physical world, so it's no surprise that the formal climactic scene isn't a climax at all.  When Bill comes home, he finds the mask there, again with no explanation, and that's the end of the journey.  He breaks down and confesses.
Eyes Wide Shut isn't a perfect film, and there's stuff that doesn't work.  (Shots of Alice with Bill remembering what she said would have been spookier and more compelling without the words.)  Warner Bros. can put out all the press releases it wants about how the released film was true to Kubrick's vision, but we all know that if he'd lived, he would have been editing up until a week before release.  It's not his best (although I know some of you disagree) and it's definitely not a summation of his career.  Appropriately enough, it's Shostakovich who provides the best analogy for a final work.  This film has the same relation to Kubrick's filmography as Shostakovich's last piece, the Sonata for Viola and Piano, does to his compositions.  They're both beautiful, somewhat mournful pieces that look backwards (the Sonata closes with a gentle allusion to Beethoven's Moonlight Sonata) and forwards, non-epic, peaceful conclusions to enormous creative lives.
Finale
It all ends with the film's best scene, a moment that recalls the perfect acceptance of the entirety of Full Metal Jacket.  The department store is as lush and beautiful as any other place we've seen, but somehow more ordinary; that it's the most populated, busiest space in the film has something to do with that.  (But wait, is that the guy who was following Bill in the background?  Are they still watching him?  I'd rather not know.)  Bill and Alice are still here, and they reconcile in an ordinary shot-reverse shot conversation.  The maturity of this moment is so rare in our culture:  they love each other, and are honest with each other; and that honesty is as complex and as risky as any lie.  Bill keeps on with a bit of his need for illusion of "forever" (one more repetition) but as Alice says "let's not use that word. . .it frightens me," still the one who chooses what's real and here over what anyone, including herself, imagines.  They love each other and they have learned; if "no dream is ever only a dream," then also no reality is ever only real.  Alice knows the truth and seals the story.  They're together, they're awake, and she brings the film to its only proper conclusion.  Eyes Wide Shut ends as all romances in the world's literature end:  later, they bone.
Stanley Kubrick, 1928–1999
Previously:  reflections/open thread
Next (epilogue):  A. I. (2001)