I usually write Double Features at the beginning of a year, looking back at the previous year's movies. But that requires me to watch movies from that time period and so far in 2021 I have barely watched any current films. The online screenings of 2020 have mostly given way to a more restricted environment; movies air on streaming services I don't have and I am still wary of hitting the theaters. Even so, I'm not seeking out new films the way I tried to last year. I've been more likely to retreat into delightful trash on Tubi or older art films on Criterion or the VHS tapes and DVDs in my even-now expanding collection. These movies have things of value, whether it's the creeping unease and weight of history in The Night of Counting The Years or the joy of Charlie Chaplin ruthlessly kicking people in the ass. But largely restricting myself to the past feels like a retreat from reality.
I was pretty wary of reality earlier in the year. I needed the bizarre home movies and tasteless bloodbaths that accessed the fear and anger and hopelessness that had been building up in me over the past year, a way to process reality but keep it at arm's length. But here I am, nine months later, worried about how reality feels like something I am looking in on. The world seems like it's getting worse and the feeling that everyone, myself very much included, is pointedly deciding to just keep muddling along instead of facing facts is insulating me from that reality. And I keep getting the sense that what is out there for me to watch these days is just as insulating. Not in the sense of refusing to address current events — I have zero interest in any movies literally about the pandemic I've been living through — but by not addressing what is real.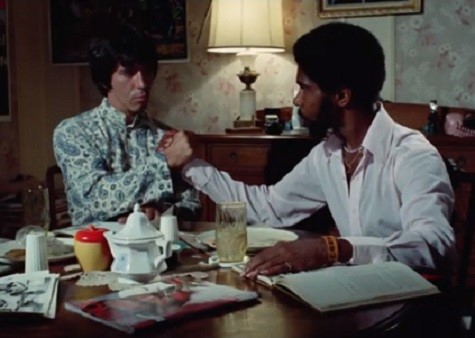 I've tried to find reality in action and had mixed results with current flicks but better luck in the past. Death Promise is about two young men who see their father killed by evil landlords who are trying to evict everyone in an apartment and flip the building for a ton of money, and how those young men use martial arts and the occasional bow and arrow or sack of rats to righteously murder the fuck out of everyone involved. The year is 1977, the setting is New York City, the acting is not great and the four landlords are the kind of real that veers into problematic territory — they are defined by their ethnicities, which are WASP, Italian (Mafia), Black and Jewish. (The secret villain behind them is Chinese, but this is more so the hero can have a credible kung fu fight at the end rather than any ethnic statement.)
Death Promise is an often silly movie and has gotten the Rifftrax treatment, and a lot of my enjoyment comes from its straightforward cheese. Earnest vows of revenge, obvious setups for fatalities, funky music and funkier clothes — this is a movie that often feels like a parody of itself, a collection of signifiers that would be at home in a Troy McClure flick. But its occasional clumsiness — and more importantly, its vengeful exploitation — feels more honest than some of the bespoke beatdowns I've seen in 2021 films. I've spent a fair amount of time this year looking at evictions during the pandemic, at how protections for tenants that were in place were taken away and how confusing middle-management measures replaced them (more paperwork solves everything). Billions of dollars in aid that is refused or misused or just not spent while people get thrown out of their homes. Wouldn't it be simpler just to beat up the people trying to throw them out? It'd be real fucking satisfying if nothing else. Death Promise shows a world that is not real but offers a vision of ass-kicking action on a real problem.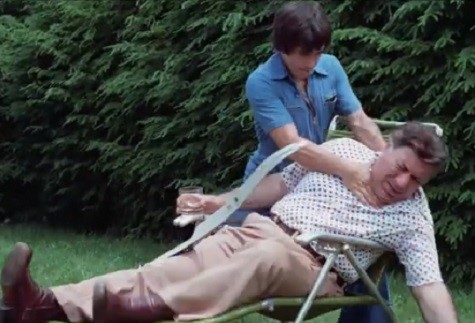 By 2011, New York City is beyond action, beyond hope, but the good news is everywhere else is too. That's the premise of Abel Ferrara's 4:44: Last Day on Earth, which is what it says on the tin: the ozone layer will burn away in about a day and so will everyone on the planet ("Al Gore was right," a talking head says, and we see footage of Gore himself talking to Charlie Rose). Lots of stock footage of riots and crowds and vigils is used to depict how the rest of the globe is taking this but most of the movie takes place in Willem Dafoe's pretty sweet loft apartment, where he and girlfriend Shanyn Leigh hang out until the titular morning moment when everything stops. Leigh, a painter, works on one last piece, constantly changing what it depicts and changing her outfits as she does so. Dafoe, an actor with nothing to do, is horny, spends a lot of time looking at screens (both TV and Skype) and occasionally yells about how shitty everything is. Now this is reality!
But it's how Ferrara shows this that feels vital, feels real. A sex scene early on is filmed with Dafoe and Leigh (or some brave body doubles) feeling each other all over. It gets fairly explicit but it captures people who are intimate with each other, not groping through strategically placed coverings. It's one of the few active scenes of connection, though — a lot of the movie involves conversations over Skype, with a young man delivering takeout asking, through gestures, if he can call his family in Vietnam. Their conversation is unsubtitled but it's clear that no one is happy at the end, the goodbyes via screen not enough. They just are, and this is the other thing Ferrara's plotless movie conveys, a level of existence that is better described by what it is not — not despairing, not maudlin, not noble, not dignified. Not meaningful. We get a bit of Catholic imagery but far more prevalent are the Buddhist artworks throughout the apartment, the video clips of the Dalai Lama and other Buddhists that are playing in the background, and Ferrara's camera is not passive in that precious austere sense of immaculate composition within the frame, but its movement is constrained in a way that mirrors its subjects' lack of options. Even as it follows them, it expresses that there's nowhere to go.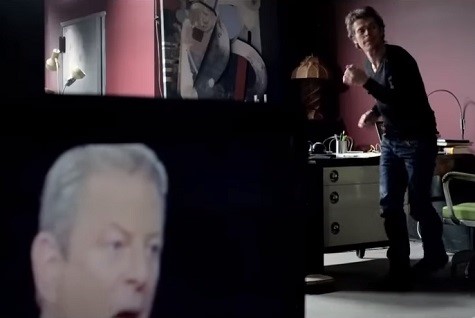 The movie is not about acceptance, it accepts and shows that muddling along is what people do until they don't. It doesn't hide this reality or its mundanities. Dafoe and Leigh argue, over shit petty and potentially more meaningful, they spend time together and apart and back together, curled up on the final iteration of Leigh's painting (a dragon eating its tail). 4:44: Last Day on Earth comes to the same conclusion as fellow apocalyptic tales Last Night and A Serious Man — at the end of everything, when all the hope within you dies, you want somebody to love. That, too, is as real as it gets.
In Film Comment, Larry Gross writes that the film is successful in "conveying something salient about The Way We Live Now." Gross was writing in 2011, when this movie was released. The apocalypse has been reality for some time and it will continue to be so until we all get evicted — by an absentee landlord? — from this plane and nothing will stop that. But that doesn't negate how boss it is to whip landlord ass. Reality is contradiction and things don't have to be realistic to be real. Two guys from the Bronx throwing kung fu down on their enemies can have an honest rage, two people facing down the ecopocalypse can show true lust and tenderness. I think of the Death Promise guys fucking up scumbags and feel their savage joy; I think of Ferrara giving Dafoe and Leigh space to hold on until the end without downplaying that end itself and feel like that space is for me too.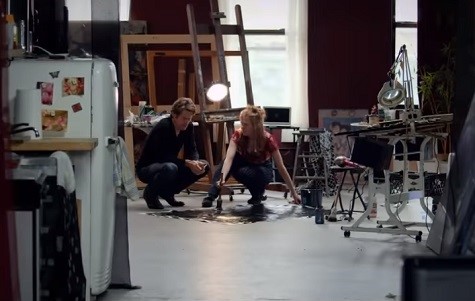 "Bits of reality in movies–spaces, durations, characters, events, settings, thoughts, moods, feelings–vary as much as our everyday experiences," Jonathan Rosenbaum wrote in 2003. "I assume we go to movies for all sorts of reasons, and among them is learning or rediscovering something real about our lives." In that same essay, Rosenbaum compares overt censorship of the 50s to less obvious suppressions of the present, which makes me think about how the present's movies about vengeance focus on baroque, impenetrable mythology instead of directly fucking up an oppressor, or how the movies about the end of the world have death clouds and no understanding of the enormity of death. About what it means to not see and feel those things when we need them so badly. "Once we lose awareness that omissions are being made, we also lose an awareness of the reality of what's being omitted … I suspect we have less of a grasp of what's being held from our view than our counterparts did half a century ago, and I sometimes wonder if we're even equipped to figure out what we want and need," Rosenbaum concludes.
The apocalypse came to New York a decade before 2011, of course. I once interviewed a woman who had been in the city when terrorists flew planes into the World Trade Center and brought everything down, and she said that day was like a movie. But not in the sense that comparison was usually made, with the explosions and effects of contemporary films becoming horrible reality. What she said was the immediate aftermath, the anticipatory silence and fear that the worst was still to come, felt like that dreamlike dread of the hospital scene in The Godfather, where Michael Corleone discovers no one is around to protect his father from assassins on the way. I wasn't there on September 11 but I had watched The Godfather and knew exactly what she meant. Reality found in a 30-year-old movie and shared, a want and a need met. I have watched movies from this year that have real things to say, sometimes uncomfortably so, but I will also take reality where I can get it.