"We should be talking about The Rain People more than we do", observed Scott Tobias after recently ranking all of Francis Ford Coppola's feature films. So let's talk about The Rain People. Coppola's fourth non-sexploitation directorial effort, following the Roger Corman-produced ultra-cheapie Dementia 13, the bouncy pre-Graduate comedy You're a Big Boy Now and the 145-minute Fred Astaire race relations musical Finian's Rainbow, it is as different from those films as they already are from each other, and it wouldn't have prepared the contemporary audiences for his monumental 1970s works, either. What it offers is Coppola's take on what would become a well-known type of a New Hollywood film: the low-key, downbeat character drama, centering on a protagonist who has reached the heights of existential malaise and uncertainty. In this case, as in a handful of others, the response involves hitting the road.
The Rain People distinguishes itself immediately from similar films by making its lead character a woman. She is Natalie Ravenna (Shirley Knight), a Long Island housewife who, at 6 AM one morning, gets out from under the arm of her sleeping husband, gets in a car, and drives away, on what turns out to be a journey of anonymous open spaces and lonely motel rooms where men are controlling or clueless or both.
The first of them is the husband (Robert Modica), heard exclusively as a voice on the phone; in their first major exchange, written by Coppola with casual mastery, he tries to solve this unforeseen problem without ever bothering to understand it. When Natalie calls him from a gas station phone booth on the highway, his language reveals how he doesn't think of her as someone with agency and inner life. "Where are you?", he asks, following it up with a blunt "Just come home." She can't, she says, not now, prompting him to let out a "What's wrong?!" full of tortured exasperation. She was getting desperate, she says, and tries to get him to see her side of their marriage: "I used to wake up in the morning, and it was my day, and now… it belongs to you." He brushes it off – "we're fine" – and starts to interrogate her again about her location, before wondering why he couldn't have gone with her. Her shaky voice growing stronger, she finally brings herself to say it out loud – "I didn't want to go away with you, I wanted to get away from you" – and the silence on the other end is deafening, conveying both his utter confusion and capacity for aggression better than any words could. Once he makes himself heard again, she drops the second piece of news – she's pregnant – and now he is overjoyed, while all she can do is stand there in silence, waiting for his cries of "That's beautiful!" to subside. But she's not finished. "I have a hunch I'm not ready to be a mother… I mean, I'm not even sure I know what it means to be a wife." At this point, the reaction is predictable. Rather than make an attempt at understanding and communication, he barks, "Don't you do anything!", effectively ending the conversation. She returns to her car, and starts driving again.
Released in late August 1969 to mostly mixed reviews and weak box-office, The Rain People arrived a month and a half after Easy Rider, another small road-trip drama about people searching for meaning that unexpectedly became a phenomenon and one of the defining films of its era. Beyond simply being the right film for the right cultural moment, perhaps one reason Easy Rider succeeded where The Rain People didn't is that it took the anxieties of its creators and audiences and juxtaposed them against a deliberately iconic and outsized, largely uncomplicated canvas of romantic nicknames, American flag jackets, outstretching landscapes and murderous small-town bigotry. There is understated somberness in its depiction of a barely surviving commune where the protagonists make a stop, insight in its characterization of Hopper's Billy as cynical and twitchy, and a certain dark irony in surrounding such elements with shiny bikes, groovy music, and sunny Americana. Nevertheless, the movie repeatedly overplays its hand, ending up as an earnest tale of victimhood that's simultaneously self-congratulatory and self-pitying.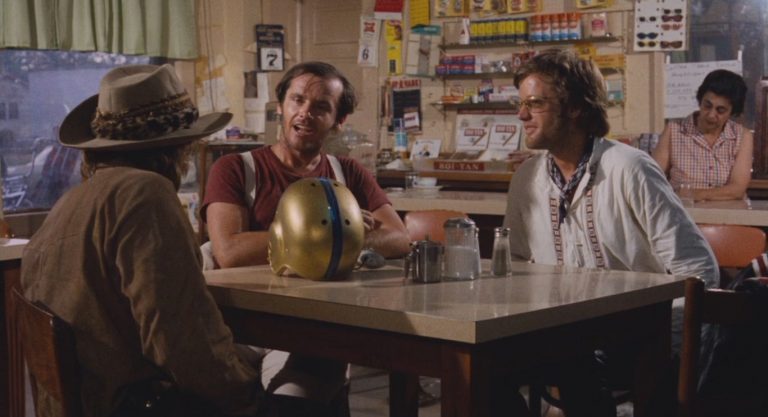 The men of Easy Rider may perish, but before they do, they can at least afford to enjoy the road, smoke some marijuana, and lament the way their freedom threatens the "antiquated systems" that Jack Nicholson's George Hanson repeatedly brings up during his long, stoned rant about Venusians. Meanwhile, what is someone like Natalie Ravenna to do? She's no rebel, and never could be; and hers is a colder, down-to-Earth, more complicated and suffocating America. No sooner does she temporarily flee from one man – and his voice – than she gets stuck with another, picking up a hitchhiking former college football player named Kilgannon (James Caan), who calls himself Killer, but is friendly, laconic, and non-threatening. As they stop for a night, Natalie's previously established identity crisis leads her to put on the mask of a femme fatale and – in the film's standout scene, presented in a fixed single shot and taking place almost entirely in mirrors – engage Killer in an alternately playful and goofy dance of seduction that comes to a painful, abrupt end once she notices a scar on the back of his head. Turns out, his football career ended because of an injury, one that essentially made him revert to a state of too-pure-for-this-world innocence. What Natalie hoped would be a nice, brief, distracting fling turns into another personal trap, as she can't bring herself to abandon this man to be used and abused by the world, and is increasingly impatient with both him and herself because of it.
As Natalie, Knight gives one of the great unsung performances in all of film (although there are at least some prominent champions; in Alternate Oscars, Danny Peary selected her as the rightful Best Actress of 1969), as haunted and haunting as any of the great portrayals of alienation and restlessness given by the era's leading men. Thin, plain-clothed, with sharp features that at once unmistakably belong to a 30-something woman and are still youthful enough to give you an impression of an entire-life-ahead-of-her college student she once must have been, her Natalie is caught in many traps, the overarching one being that endlessly frustrating position of being neither weak nor strong enough. She takes initiative, then inevitably gets caught up in something she never wanted or thought would happen; her immediate responses to various crises range from strong demonstrations of decency and responsibility to prickliness and self-loathing, but she's nothing less than deeply sympathetic in her ultimate inability to truly break free and find a place for herself. It's a detailed, painfully human piece of acting, completed by flashbacks to the wedding day that invade present scenes as brief bursts of movement and sound, confirming that the marriage was founded on lust, not more deeply rooted feelings. Natalie's past was impulsive. Her present is defined by desperation and uncertainty. Her future is unlikely to be bright.
In The Rain People's second half, Natalie becomes involved with a third man, a highway patrolman named Gordon, played by Robert Duvall in a performance that, aided by Coppola's writing, efficiently humanizes the character without excusing any of his volatile or outright toxic tendencies. (He aggressively pursues and dominates Natalie, then turns out to be a lonely single father living in a trailer park and clearly desperate for any romantic connection; is shown verbally and physically abusing his preteen daughter, then reveals that his wife and other child had died in a house fire; claims to have hated his wife to assuage both himself and Natalie, but the flashbacks to the event tell a different story entirely.) Here, with every major character introduced, it becomes much easier to see Killer, whom Natalie both protects and detests for his dependence on her, as representing her unborn child (it should be noted that at no point in the film does she consider abortion), and Gordon as just another version of her husband. The resulting ending takes what was previously a stark and brooding film into the realm of blatantly contrived, hysterical melodrama, and might alone serve as the biggest reason why we're not talking about The Rain People today as much as we should. But it is at least consistent with the rest of the film in that it leaves its heroine with no answers found. And it underlines what is perhaps the biggest source of angst that fueled New Hollywood's bleak road pictures, from this to Easy Rider to Five Easy Pieces: just because you can run away, doesn't mean it's going to get any easier.