Marvel recently unveiled the X-version of New York's famous Met Gala: The Hellfire Gala, a multi-title event with some of its most popular characters dressed to the nines in over-the-top fashion. It's unabashedly campy and ridiculous, and I for one cannot wait.
But this is hardly Marvel's first flirtation with fashion.
The early days of comics were a process of throwing everything at the wall and seeing what stuck. Fashion was a natural subject; it fit in well with the romantic and humor titles that already fell under the umbrella of 'women's comics.' Illustrated fashion had a long history, including the fashion plates that helped sell clothing and fashion from the 1700s through the photography era, and paper dolls let young children play with fashion long before Barbie hit the shelves. (I have fond memories of designing my own clothes for my paper dolls…usually in shades of pink, because that was the color of the scrap paper left over from my grandfather's receipt books.)
Marvel Comic's longest-running humor title was, in fact, Millie the Model. Even as many of the fashion, love and humor comics aimed at women didn't survive the challenges raised by Seduction of the Innocent and development of the Comics Code Authority, Millie made it into the 70s.
In the 80s, Marvel experimented with a limited series, Misty, about Millie's niece. Written and drawn by Trina Robbins, the comic actively solicited designs from readers for the Misty characters to wear, including her safety-pin-wearing punk pal Spike. Characters like Dazzler took influence from pop stars.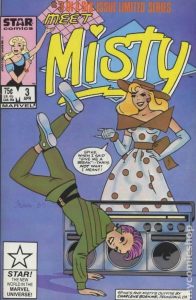 Fashion carried on in the darker years of Marvel, though for women it was often more about trends in lingerie than what was on the Paris runways. Even the infamous pouches of the 90s went hand in hand with the parachute and cargo pant trends; their pants were just bigger, and pouchier, and…cooler, for certain definitions of cool.
Fashion made something of a comeback as Marvel's writing staff diversified from the straight, the white, and the male. Rather infamously, the Marvel 'swimsuit issues' got hijacked and increasingly homoerotic as the 90s continued (and went out with a bang). Characters started once again looking a bit more like athletes than fetish objects, though neither look ever completely went away.
Of course, Marvel wasn't the only comic line to inhabit this space. Even classic Archie, whose visual style is so ingrained it's become cliche, plays with contemporary versions of high and low fashion, often as a punchline. The creation of a superhero costume, no matter what publisher or era, takes fashion as influence, even athletic gear like Superman's famous trunks. Many '00s costumes and redesigns, especially for young adult characters, were designed to be easy to cosplay (think Batgirl of Burnside or America Chavez). Let's call that fashion adjacent. Manga and anime often use contemporary fashion in promotional images (sometimes with hilariously dated results), and straightforward collaborations with fashion lines (like this cross-promotion with Yuri!!! on Ice) aren't uncommon. And DC has, in general, kicked Marvel's ass in live-action costuming. (Never forgive or forget that 'yellow Spandex' line from the first X-Men.)
Still, it's nice to see Marvel going full fashion again. Let's hope there will be even more crazy outfits to talk about when the Hellfire issues publish.
That Fred Hembeck panel with the White Queen is from a longer comic that called Marvel out, affectionately, for throwing women in lingerie and calling it 'empowerment.'
Kevin Wada has been drawing Paper X-Men for a while, and one of these days I'm going to make Nightcrawler the himbo ensemble he deserves.