Look at me. What I'm thinking is, "You're mine. I fuckin' own you." But what I'm not doing is feeling anything about it one way or the other. You understand? You're not a person to me, you're a name in my collection book, a guy owes me money, that's all.  (Chili Palmer in Get Shorty)
The opening sequence, from director Peter Yates and Pablo Ferro, sets the tone:  nocturnal, jazzy (music by the incomparable Lalo Schifrin), strange, and most of all, cool.  Men at night in Chicago, doing something most likely illegal in a set of offices, framed with titles that act as windows into the next shot, the camera gliding from one thing to the next with no clear logic, shifts from color to black-and-white and back like Tarkovsky, the use of pans and reflections and smoke to turn ordinary into bewildering.  (Soderbergh, who never steals from less than the best, would lift the second shot here for the beginning of Ocean's Twelve.)  All of this doesn't obscure what's happening:  John Ross (Pat Renella), hunted by some men who are definitely not cops, gets away with an assist from his brother.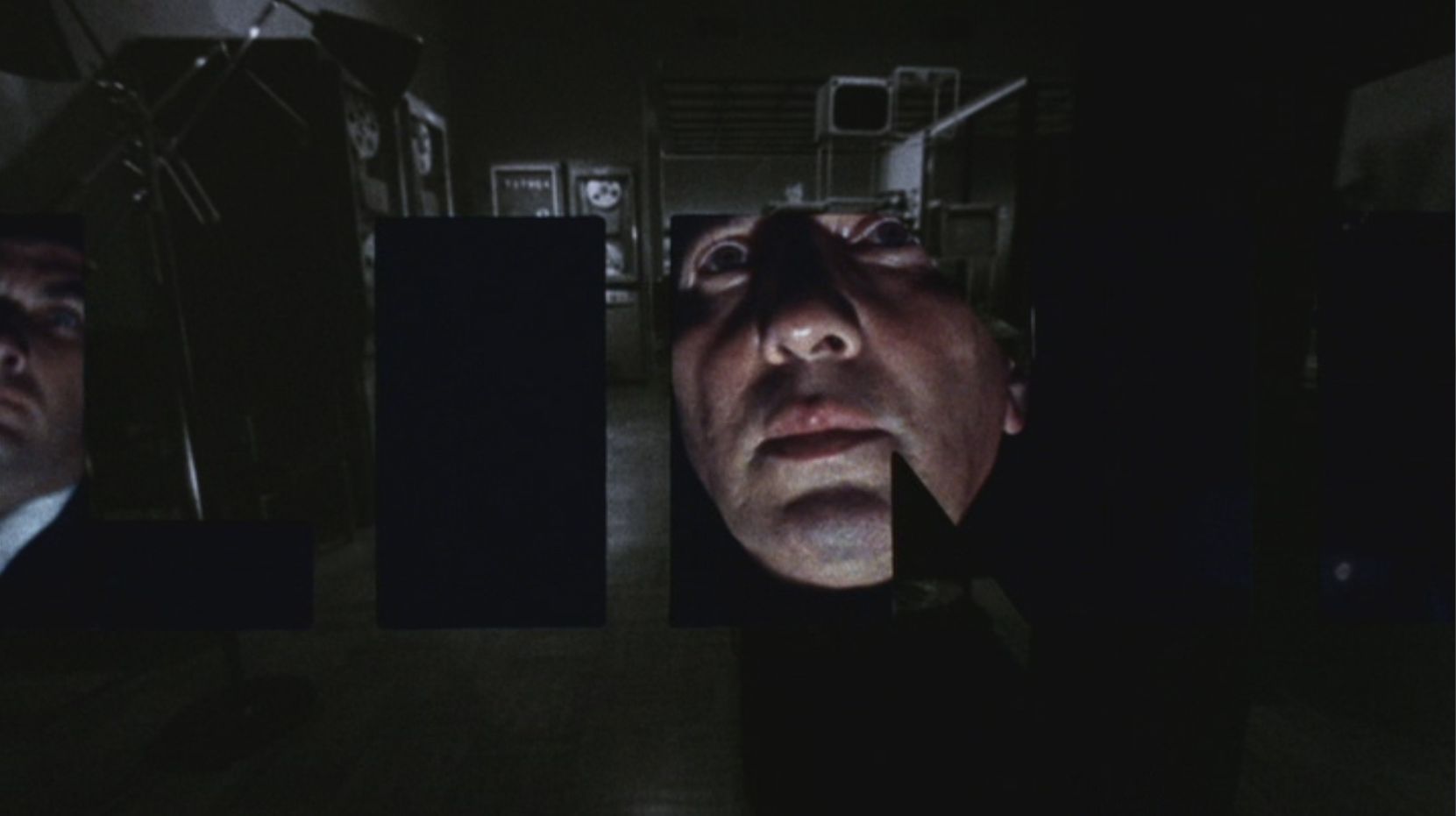 With a cut, we're in San Francisco, and the story proper begins, and the SPOILERS begin here too.  Senator Chalmers (Robert Vaughn) has called Ross to be a witness for his probe into organized crime (shades of Bobby Kennedy here); Detective Frank Bullitt (Steve McQueen) gets tasked to protect him.  First twist:  at the hotel where Ross is staying, he unlocks the door and two men gun him and the cop guarding him down, and he clearly wasn't expecting that part.  Second twist:  that wasn't Ross.  (Great touch that not-Ross (Felice Orlandi) looks just enough like him to fake us–or at least me–out.  We've only seen Renalla for a few seconds, so it's an easy mistake to make, especially when you don't have the option to rewind.)  McQueen pursues first the killers and then Ross, leading to a showdown on the tarmac and lobby of the San Francisco airport.  (There's stuff here that Michael Mann clearly picked up on for Heat, sometimes stealing, sometimes improving, and the longshots on the runways are just the most obvious.)  It's a straightforward procedural–despite the twists, McQueen's goals are never in question.  As a story, this is pretty thin for almost two hours, and this is something Mann would improve upon.  
Still, the form of the procedural helps one aspect of the film:  the key events, like the attack in the hotel room, happen suddenly–imagine a Law and Order episode where a gun battle breaks out.  Yates doesn't build to that kind of moment the way most directors, even quite skilled directors, would; he gives the ownage here an extra kick.  Bullitt has a cerebral, deliberate quality that's part of its cool; Bullitt and Ross are trying to out-think each other rather than fight.  The violence comes across as both necessary and disruptive, the hot moments to set off the rest of the cool surface.
Part of that surface is a fantastic supporting cast.  Old reliable faces like Vic Tayback and Norman Fell, not yet exhausted by television, show up; as respectively mob figure and cop, they both embody a sense of weariness, of this-is-how-the-game-is-played.  Simon Oakland plays McQueen's chief with bold gestures, pretty much defining the archetype here of the Stupid Chief confronted with Bullitt's Getter of Results.  (Not that he's in any way stupid.)  Best of the bunch is a quite young Robert Duvall as a cabbie, who has the pivotal sequence not presented as such.  (He'll give the information on where not-Ross went, which leads McQueen to find the real Ross.)  There's no flash to any of these roles, no one who's trying to be remembered, just a bunch of men doing their jobs.  Professionalism can be one more version of cool.
Police procedurals have always been opportunities to present the texture of a city, and Bullitt fits squarely in the tradition.  (Arguably, the tradition culminates in the TV work of David Simon, where the procedure is all about how that texture came to be and how it persists.)  The grimy hotel rooms, the views to the ocean, the new fax machines of the time (a key plot point involves waiting for a picture to come out of one), the stores jammed up against houses, McQueen's holster (a detail we Zodiac fans know was lifted from Det. Dave Toschi), the airport corridors and checkpoints–it's all here, just there to be captured as the everyday background the characters move through.  Something notable is that none of that texture belongs to 1968; 1964, maybe.  This is the San Francisco of the Mark Hopkins hotel, not Haight-Ashbury.  McQueen and girlfriend Cathy (Jacqueline Bisset) get a nice moment in a jazz club with a flute-and-bass ensemble that feels just like a bridge between two eras, between the cool jazz at the Blue Mirror and the folk performers down at the hungry i.  Also present are San Francisco's hills, which give great visual interest to Bullitt's most famous sequence.
The car chase, ten minutes long, remains justly celebrated as a cinematic landmark but it hasn't really been imitated all that much; Drive is one of the few examples I can think of.  The chase is about strategy, not spectacle, beginning when McQueen flips the script and starts pursuing his pursuers, and for the first three minutes, nobody even accelerates.   (The driver putting on his seatbelt is as iconic and effective as a gunslinger unsnapping a holster, or Mifune sliding his arms out of his sleeves in Yojimbo.)  Both drivers and Yates operate under a strict rule:  any major damage to either car takes it out of play, and the tension comes from that, not the joy of watching wreckage pile up.  (The chase counterexample would be Michael Bay's The Rock, which of course had drivers inflicting maximum damage on everything in sight and of course isn't very good.)  We can see both drivers strategizing, deciding when to turn or brake, how to jockey for position.  The best chases are usually acts of desperation (William Friedkin's in The French Connection and To Live and Die in L. A. are the touchstones here); this is all about smarts.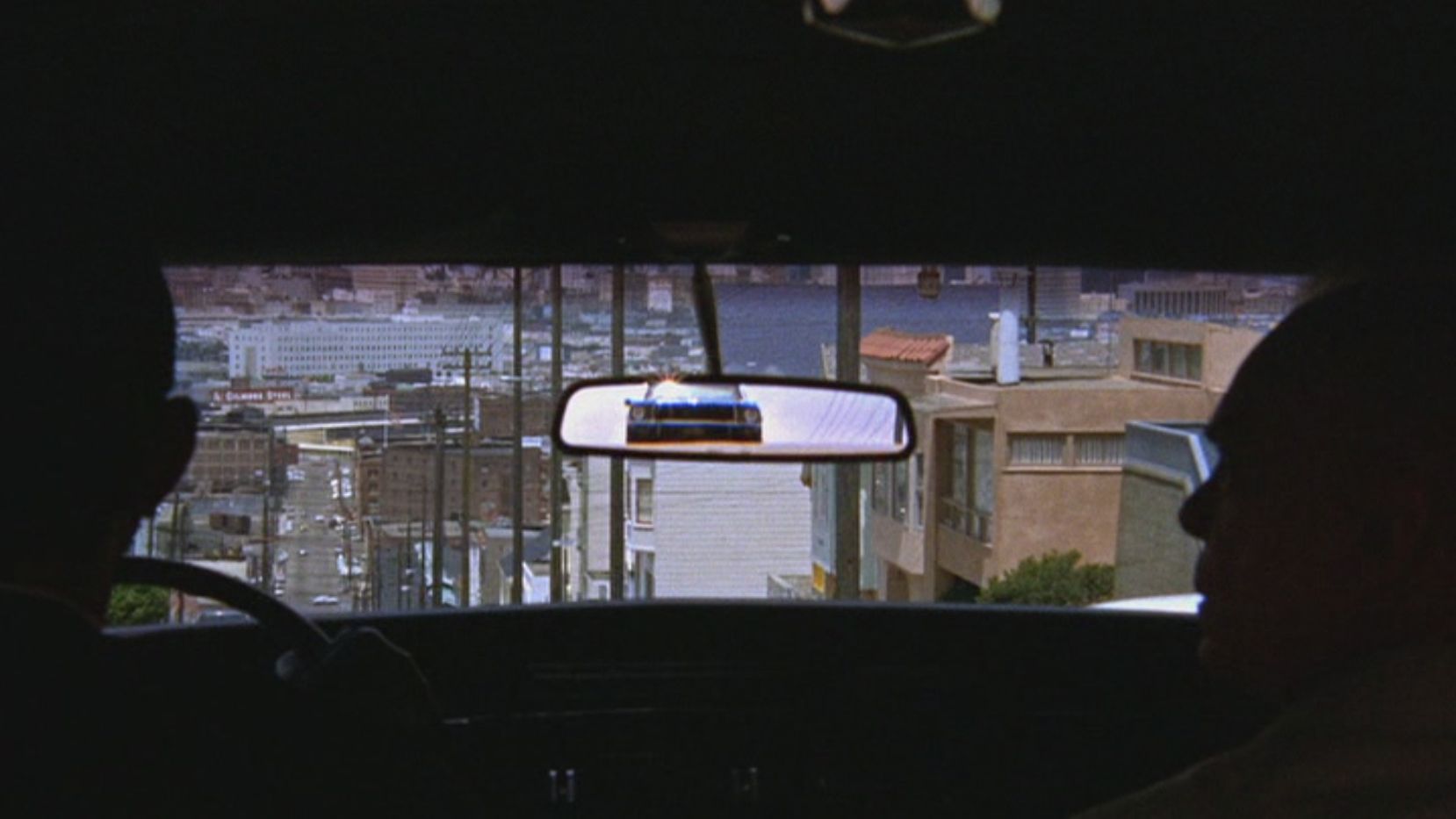 Yates uses long shots to keep both cars in the frame; often what matters is one car appearing or disappearing from view, with the great visual bonus of both happening as the cars go bounding down the hills of San Francisco.  There's a precise escalation to the action, as everyone waits to open fire until they're out of the central city–professionals all around here.  Making the chase about the moment-to-moment strategy of the players allows for the kind of detail that's so often ignored in favor of easy (yet expensively staged) thrills; my favorite is McQueen briefly checking on a fallen motorcyclist before he takes off again.  Like so much in Bullitt, the ending comes out of almost nowhere as McQueen runs the other car off the road and right into a gas station and it blows up real good.  It's both visually satisfying and also a plot disaster, as he loses the killers and therefore his last connection to the case, as cool as anything else in the story.
As well directed as the setpieces are, this movie is all about its main character and the man playing him–you could call this McQueen as easily as Bullitt.  (Embarrassingly, John Wayne would make his contemporary-cop-in-the-big-city movie a six years later and call it McQ.)  What defines the movie rests on his performance.  Like Clint Eastwood, McQueen never had much in the way of range and his best directors used that.  If a lot of acting is reacting, then a lot of what defines a great McQueen performance is how he doesn't react.  Take almost any shot of him from anywhere in the movie (I chose the header image nearly at random) and he's got the same expression on his face:  internal, tense, possibly angry, certainly thinking.  He's not remote, he's just got something on his mind, and it's not you.  The procedural genre is a perfect home for him, just as the Western was Eastwood's.  Eastwood's non-reaction was stoicism, a man unwilling to be broken or even moved by what he saw; McQueen has an agenda, and he's only committed to his actions, not his surroundings.  Not for nothing was this guy the Cooler King in that taxonomy of masculinity, The Great Escape, or that David Rees Snell's Ronnie has more than a touch of McQueen on The Shield.
The absence of caring is often mistaken for cool–which is why Thomas Pynchon's motto from V. "keep cool, but care" almost but doesn't quite get it.  To be cool is to care, just not to care about anything that happens to be around you.  That's what made McQueen, especially here, such an avatar of cool, that mixture of intensity and indifference, the way he's always focusing on something while almost ignoring everything around him.  You're not going to get his attention because you aren't important enough for it.  It's a nice touch, and a dramatically compelling one, that for the most part Vaughn has just as much cool as McQueen.  He says more, because much of the movie is about Vaughn pursuing the objective of getting Ross to testify, but he has the same single-mindedness, the unshakable belief that everyone else is as corrupt as he is.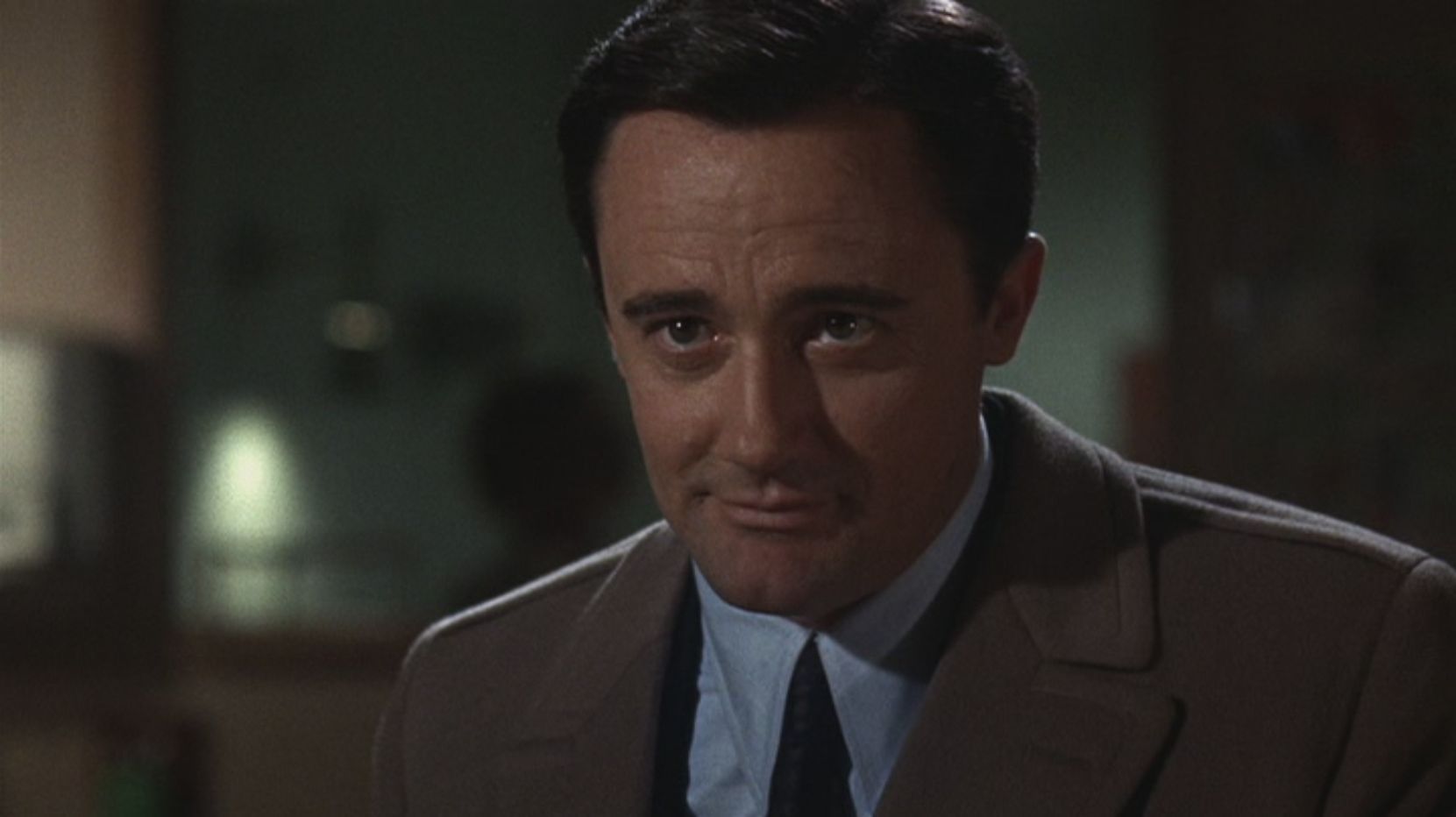 When so much of a movie is as precisely tuned and executed as this, the mistakes become pretty darn glaring; even a moment of McQueen buying stuff feels like padding.  Really, anything that shifts Bullitt off of procedure or McQueen off his cool don't work, and loudly.  Giving him any kind of speech fails, just as it did for William Holden in The Bridge on the River Kwai; a guy too cool to care about what's around him also doesn't care about making things clear to the audience.  And holy shit, the Big Scene with between him and Bissett misfires on every level; what it does to her is a lot worse than what it does to him.  Bisset gets all upset over seeing a corpse (girl, your boyfriend's a homicide detective, this is part of the gig) and gives the speech about how-can-we-live-like-this and McQueen says "tomorrow starts now" (what–thefuckdoesthatmean?) and it has no bearing on anything that happens before or after.  Bullitt wastes the character and the actress, because Bisset can convey a lot of emotion without ever doing much, and the range of emotions she gets here is loyalty and petulance.  The influence on Heat here is negative and to the good:  Mann understood that if you bring other characters into the story, you have to make them characters, with their own desires and agendas, not just as sounding boards.  That also led Mann to make a film that was in many ways the opposite of cool (it's right there in the title), bringing the passion of its characters right in our faces.  
Even for 1968, Bullitt was a throwback, and that's why it lasts.  The psychedelia of the time was compelling and important (possibly more important politically than artistically) and it's become forever associated with San Francisco, but cool has had a longer shelf life.  (There's a refrigeration pun in here somewhere.)  Cool may well be something past a style; quite possibly, it's a dramatic attitude, commitment without signifying it, something only acted, never demonstrated, what Glenn Gould (writing about Jan Sibelius) called "passionate but antisensual."  It's about executing with precision, something that goes beyond emotion, and yes, it Gets Results.  Like noir, cool has a specific point of historical origin in the 1950s; it's a technocratic attitude, come into being at the moment of America's technological ascendancy.  It's endured, and my bet is that it will last.  As long as Bullitt remains popular, we know it's still with us.