"The conquest of the earth, which mostly means the taking it away from those who have a different complexion or slightly flatter noses than ourselves, is not a pretty thing when you look into it too much.  What redeems it is the idea only.  An idea at the back of it; not a sentimental pretence but an idea; and an unselfish belief in the idea–something you can set up, and bow down before, and offer a sacrifice to. . ."  (Joseph Conrad, Heart of Darkness)
David Lean's The Bridge on the River Kwai is an old-school blockbuster from a period when so many of the great ones were made:  Spartacus and The Great Escape were three years ahead; the latter shares a few themes and cast members with Kwai; Seven Samurai was three years in the past, and Kwai's relentless pacing and use of one of the most important rules of action drama–the action should have moral complexity–owes a lot to Kurosawa.  Adapting a novel from Pierre Boulle (best known for Planet of the Apes–my, these were good years for him too), Lean, screenwriters Michael Wilson and Carl Foreman, fairly legendary producer Sam Spiegel, and the blockbuster-standard Cast and Crew of Thousands (Hundreds, anyway) create a work that's rousing and disquieting, a meditation on courage and history, and that blows shit up real good.
The film breaks neatly into two parts:  the first hour is a World War 2 POW drama, set during the construction of the Japanese Thailand-Burma railway.  It's a Battle of Wills between the British Col. Nicholson (Alec Guinness) and the Japanese master of the Burma prison camp Col. Saito (Sessue Hayakawa).  Nicholson won't allow officers (including himself) to work on the bridge that Saito needs completed in a few months, and he and his officers endure torture (Saito sticks them in the hot box, "the oven," for weeks) because of that.  Functioning as running commentator here is Shears (William Holden) an American who escapes from the camp.  After Nicholson breaks Saito (in a classic scene of ownage, more later), the film shifts into caper mode, with Nicholson leading construction of the bridge (he wants to show the Japanese what "Western methods and efficiency" can do) and Shears, Maj. Warden (Jack Hawkins), newbie Lt. Joyce (Geoffrey Horne), and the four best-known Thai actresses Spiegel could find on a commando raid to blow it up.  You can guess the end of the film from Chekov's Rule of Plastic Explosives.  
To be clear:  it's necessary that a lot of the cruelty of both the Japanese and British armies get stripped away to make this an effective drama.  POWs in Japanese camps were never that far away from starvation, but to show that would tip our sympathies too much against Saito, and it would be just plain unattractive.  Over 100,000 British POWs died in constructing the railway, something else you wouldn't get from this movie.  Nor would you even know that the Burmese themselves existed, outside of the one guy pulling the fan outside Saito's office.  (There's a neat touch, though, in that Saito's office and the headquarters of the British commando training camp have the same plan:  open windows and spaces with native servants.)  Like Gangs of New York or Spartacus or even Hamilton, this isn't a realistic story of history, it's a drama on real historical themes, less about World War 2 than the changing meaning of courage and the fall of the British Empire.
David Lean's epics were more psychological than anyone else's; he could work on a scale that was both vast and intimate.  (Probably his truest contemporary inheritor is Steven Spielberg.)  Lean has given us some great and memorable sequences but his characters and the performances–by Guinness, Peter O'Toole and Omar Sharif in Lawrence of Arabia, Judy Davis in A Passage to India–are even more memorable.  He works in a mode that isn't quite realistic, and sometimes isn't realistic at all.  You can see that right away in Kwai, first as the train carrying the British prisoners moves past hundreds of crosses marking graves, and then as the prisoners whistling the "Colonel Bogey march" turns into a full orchestral rendition of it, the conviction of the soldiers spilling over into the soundtrack.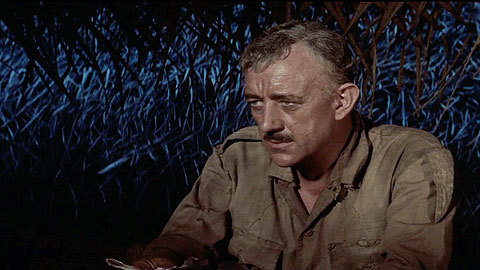 Visually, Lean has a lot of ways to make this about the psychology of his characters rather than the look of the world.  He often locks the camera down on whatever's transporting his characters (a boat or a train) so they stay in place while the background keeps changing.  (Kelly Reichardt would pull the same trick in Night Moves.)  The rich colors, especially the deep outdoor blues, sometimes make the background so distinct from the characters; combined with the close-ups and the widescreen frames, the background looks like a theatrical backdrop.  It's the same effect as in The Hateful Eight, making the action more theatrical than cinematic, making it more about the essential actions of the characters than about spectacle.  The (I assume) day-for-night shooting creates night scenes that aren't realistic but are so stark in their appearance that they seem like the actions of mythic figures.  Like the best artists, Lean has no interest in being limited by realism.  
How Lean treats Nicholson, and Guinness' performance, are both essential to Kwai.  Guinness has the ability to make his characters funny without ever looking down on them or distancing himself from them; from The Lavender Hill Mob to Smiley's People, there's an unavoidable dignity to all his characters.  Nicholson is funny but he's not comic, because he's fully aware at all times of what he's doing and why; the thing he doesn't see is how the world around him has changed.  He bravely and cluelessly fights to preserve the past and realizes just before it's too late what has to be done, making him a pretty good metaphor for Britain in the first half of the 20th century.  
This may be Guinness' most physical performance (I only qualify this because all of them are), getting not just the stance of an English Army officer but the way he tries to hold on to that stance at all times.  Lean has the smarts to make this part of the story, too, creating that agonizing beat at the end where Nicholson has realized, he knows he has to set off the bomb, he's under fire and he still takes a moment to brush sand off his pants.  In another simple and effective bit of action, Nicholson never takes off his shirt, even in the oven.  (In contrast, the other officers strip down, and Holden has maybe five minutes in the whole movie where he's not ¾ naked.  I ain't complaining.)  The most he allows himself is to leave the shirt unbuttoned; when Saito breaks and agrees to Nicholson's rules, his first act is to button it up again.  Nicholson lives in a world where things matter, and they matter according to strict rules.  How an officer wears clothes is one of them.
The pivotal scene in the first part of the film comes when Saito invites Nicholson to dinner and it turns into ownage on the scale of Philip Seymour Hoffman and Tom Cruise on the plane in Mission: Impossible 3.  Hoffman's Owen Davian sez of that moment "you can tell a lot about a person's character by how they treat people they don't have to treat well," and here Saito tries everything possible to get Nicholson to like him:  offering him a seat, food, Scotch (Guinness' reaction, nearly drooling and trying to conceal it, is priceless), and respect, sharing stories of his life.  Like Davian, Nicholson owns Saito from the first moment by not just refusing to play Saito's game, but by refusing even to acknowledge it.  He's never impolite mind you, never asking for anything, tossing off his lines with near-boredom (Saito yelling "let's not get excited!" is Arrested Development-level funny) and does whatever he wants in his own time–even the moment when he takes a slug of Scotch is entirely his own.  A bad negotiator, Saito keeps dropping his price, offering to let "majors and above" out of work, and Nicholson will have none of that; he's as indifferent to Saito's desperation as his threats.  When Nicholson says "please sit down" to Saito, the game's over.  You simply cannot threaten or even appeal to someone whose sense of self is bigger than his lifespan.  Guinness has so much skill as an actor (and a similar sense of who he is) that he can convey that kind of strength and make it both heroic and funny as all hell. 
Nicholson and even Saito get their strength from a tradition, and that sets up an effective contrast with William Holden's Shears.  Between this, Stalag 17, and even a bit of The Bridges at Toko-Ri, Holden pretty much nailed down the Cynical American (Wartime) character–it's a damn shame he never got to be in a James Jones adaptation.  Shears is a man of the moment, without tradition; in his first scene he's burying a fellow prisoner and can't remember what to say, asking fellow prisoner Weaver "what did he die for?"  It's another theatrical rather than cinematic beat, making Shears and Weaver minor Shakespearean characters.  (When the British prisoners arrive, Shears sez "we're gonna be a busy pair of gravediggers, Weaver.")  Shears escapes, arrives at a British commando training camp, gets a regulation 1957 scene with a regulation 1957 blond nurse (Ann Sears), and gets dragged back in the bridge raid by having his cover blown.  (He pulled a Don Draper and took the identity of a killed superior officer.)  Holden's reaction to all of this is just plain weariness, like he's thinking "we all knew this was coming."
There's a strength to this identity, too, though, and a lesser actor than Holden couldn't have found it.  He stays sane by not caring about anything larger and by his resignation in following orders.  ZoeZ compared Kwai to Full Metal Jacket, this is the closest point of contact:  the character who participates in the absurdity, recognizes it anyway, and accepts.  It's there in Holden's stance (so different from Guinness' official bearing) and the humor in his voice, and it helps give Kwai, like Full Metal Jacket, its ability to see madness from within and from without.  Like Kubrick, Lean made an epic here that's not so much ambiguous as multidimensional.  
Holden gets a speech late in the film about how crazy all of this is and it doesn't work–it's taking a stance entirely outside the madness, and denouncing it.  (It's the kind of thing that belongs to Paths of Glory, not this movie.)  His line that Nicholson and Warden are "crazy with courage" is enough.  What makes characters like Shears work, even what makes them American, is that they don't proclaim, they just do their job and hope to get by.  (When Shears escapes and is presumed dead, Saito of the escapees "for a brief moment between escape and death, they were soldiers again.")  The Shearses of the world leave the speeches to the Nicholsons and the Saitos, because they're the ones who need to justify their position.  Three years later, The Great Escape did a lot better with the differences between these types–James Garner's character there is very Shears-like, and he would play a "practicing coward" in The Americanization of Emily four years after that.
That speech may be the only mistake in the final 40 minutes of Kwai, which is about as precise and elegant as a suspense sequence can get.  Lean tracks two converging actions:  Nicholson leading the final construction of the bridge in time for its opening, and Warden, Joyce, and Shears on the raid to blow it up.  Both actions give the other one a clock to beat; both actions keep running into believable obstacles; both protagonists keep improvising solutions that reveal their character.  Joyce can't bring himself to pull the trigger on a Japanese soldier, and that leads to Warden taking a bullet to the foot, slowing them all down; Nicholson starts raiding the sick and wounded British soldiers to finish the bridge ("light duties. . .fetch and carry, a spot of paint here and there.")  It's what makes Kwai an action-drama rather than a straight-up action movie, because the actions are about the moral choices of its characters, not just technical solutions.  It doesn't make it one bit less exciting.
For the final sequence, the river is running low and that reveals to Nicholson and Saito that the bridge has been wired to blow.  Lean's control of time is agonizingly brilliant here, as Joyce tries to cover the wire with sand, Nicholson keeps pulling it up (the wire becomes an arrow pointing straight at Joyce), and Lean scores the whole thing without music, just to the whistle and engine of the train loaded with Japanese soldiers and officials.  The final struggle brings everyone together, with Nicholson, fully gone over, repeatedly yelling "blow up the bridge?" at Joyce as he tries to set off the bomb.  Only after everyone–Saito, Shears, Joyce–has been killed does Nicholson get his moment of recognition, and it's iconic:  "What have I done?" delivered not in an Oedipus-level scream but just straight-up self-astonishment.  (This scene gets played in the background of a pivotal moment on Breaking Bad, also as a prelude to a big 'splosion.)  He doesn't just recognize that's he's been a traitor, he recognizes that a century somehow passed him by.  He gets shot and sets off the bomb as he dies.
What follows is one of cinema's great practical effects:  one pillar of the bridge blows up, it collapses, and the train runs right the fuck off the other pillar and takes that one down too.  It works on multiple levels:  first and foremost, I'd be demanding a goddamn refund if we didn't get a cool-ass 'splosion because that is in fact what I go to movies for; second, there's so much irony (in the parlance of our times) in Nicholson's action.  Only because he took over the construction and committed to doing it right was the bridge ready at that moment for the train to come, and only because he fought off his own soldiers and then reversed course did the train get far enough to crash as well.  By betraying his country right up until the last possible moment, Nicholson inflicted the maximum damage on the enemy.  Finally, there's the meta level of Kwai's production, where hundreds of people work to make something beautiful that only exists so it can be destroyed.  Spalding Gray, in another great work that's also a war film (although twice removed), Swimming to Cambodia, argues that "every country must and should make a war movie every year. . .it's very much like the real thing."  Here, he's absolutely right.  
What makes Kwai work isn't just that cool finish, it's how it stays with the principle of drama, that madness of courage, the people who believe in something and take that belief to its limits.  Nicholson and Saito hold a common belief:  in civilization, and civilization is not the same thing as a country.  Wars come and go and so do countries, and civilization outlasts all of them.  (Just out last week:  this article on how Roman concrete has managed to last for millennia, while our weak-ass shit disintegrates.  Sometimes I define Western Civilization as "the civilization formerly known as the Roman Empire.")  One of Nicholson's officers finds elm in the jungle for the bridge, reminding him that London Bridge was made of elm and it lasted for 600 years.  "600 years," Nicholson repeats in wonder, and that's his belief system right there:  to build something that will outlast not just the war, not just his own lifetime, but will project as far into eternity as anything made by humans can.  The bridge is his Tower of Babel, challenging God not in height but in time.
Nicholson's patronizing of Saito never feels racially based; it's the sneer of the old pro towards the newbie at the Great Game.  Nicholson's whole attitude is "let me show you how it's done, ya punk."  (When he says in the first act "I will not have an officer from my battalion working as a coolie," that's where his racism is:  in the order of empire.)  Japan had jump-started its way into modernity and empire and had been at it for barely a hundred years when Nicholson became a prisoner.  The British Empire that made him had been around for at least four times as long.  It was unlike any other empire since the Egyptians, possibly ever:  it spanned the world ("the sun never sets on the British Empire") and they were conscious of that.  (The Roman and the Chinese empires both knew they weren't the whole world, and the defining characteristic of the American empire for so long has been the lack of American consciousness about it.) The British Empire goes far beyond country to Nicholson:  it's about civilization, about commerce and industry and a code of conduct.  Up until the end, he betrays his country to uphold his civilization.
As Conrad sez, that civilization is something bigger than himself:  something to believe in, and therefore a source of true drama.  It's what gives Nicholson the strength to endure the (for me anyway) unimaginable torture of the oven and still keep his dignity around Saito.  Conrad called this quality the ability to "breathe dead hippo, so to speak, and not be contaminated."  That's Guinness' whole performance:  nothing can touch this man, because what makes him doesn't come from anything around him.  (The American empire is now run by people who cannot even perceive anything larger than themselves, let alone believe in it.  There's no way this ends well.)  
Nicholson is a fool, and a bad man depending on your definition of good.  He's never a coward, though:  his virtue is nobility, and that's a virtue based in inequality.  The virtues of inequality are those of mutual obligation:  if his men owe him loyalty, he owes them commitment.  If the people an empire works to death to build the railway owe the empire work, the empire owes the future a railway that will last, and not a weak-ass bridge along the way.  An empire–and, arguably, civilization–is a means for making things that last, be they bridges, values, or inequality.  Shears is the Enlightenment figure here, the man out for himself with no obligations unless he's forced into them:  a Voltaire-like cynic against the old-school nobility of Nicholson.  The Enlightenment virtues of equality and individualism gave people the means to argue against empire, just as the Enlightenment practice of science and technology gave other people the means to enforce and extend it, and the two may well be impossible to reconcile.  
The Enlightenment has increased our lifespan, given us comforts that were, again, unimaginable to those of the past, of the time of the British Empire.  What it can't do, though, is deal with or understand the Nicholsons of the world, or his soldiers.  It can't understand the people who would genuinely sacrifice that comfort for something else.  Kwai gets this across because it presents these people in all their glory and madness.  When Nicholson all-but-orders the men in the prison hospital back to work and we see them limping off, it's ridiculous–the "Colonel Bogey March" comes back on the soundtrack–but there's something honest about it:  the need of people to believe in a goal, to believe in something, in order to survive.  In Kwai's first act, Saito appealed to the enlisted-men prisoners on the basis of individualism and equality, the classic International Brotherhood of the Proletariat argument: "Your officers are lazy!  They think themselves too good to share your burdens!  This is not just and therefore, you are not happy in your work and therefore, the bridge does not progress," and that goes exactly nowhere.  Saito's problem is that of contemporary progressivism, on so many fronts:  how does a politics based on self-interest appeal to people whose interest honestly isn't themselves?    
A close literary/cinematic relative of Kwai is The Man Who Would Be King, another epic of empire's folly told from the inside.  Rudyard Kipling knew the Dannys and Peachys of the British Empire just as much as Boulle and Lean and Guinness (and probably Sam Spiegel) knew, or at least understood, the Nicholsons.  It's what allowed all of them to tell a story about the men of empire rather than just condemn them.  Orwell said of Kipling "he identified with the ruling power and not the opposition.  In a gifted writer this seems to us strange and even disgusting, but it did have the advantage of giving Kipling a certain grip on reality."  Having that grip is kind of a necessity for storytelling; something common to Orwell, Kipling, and Conrad is that whatever they thought about empire, it came from the direct experience of doing its work.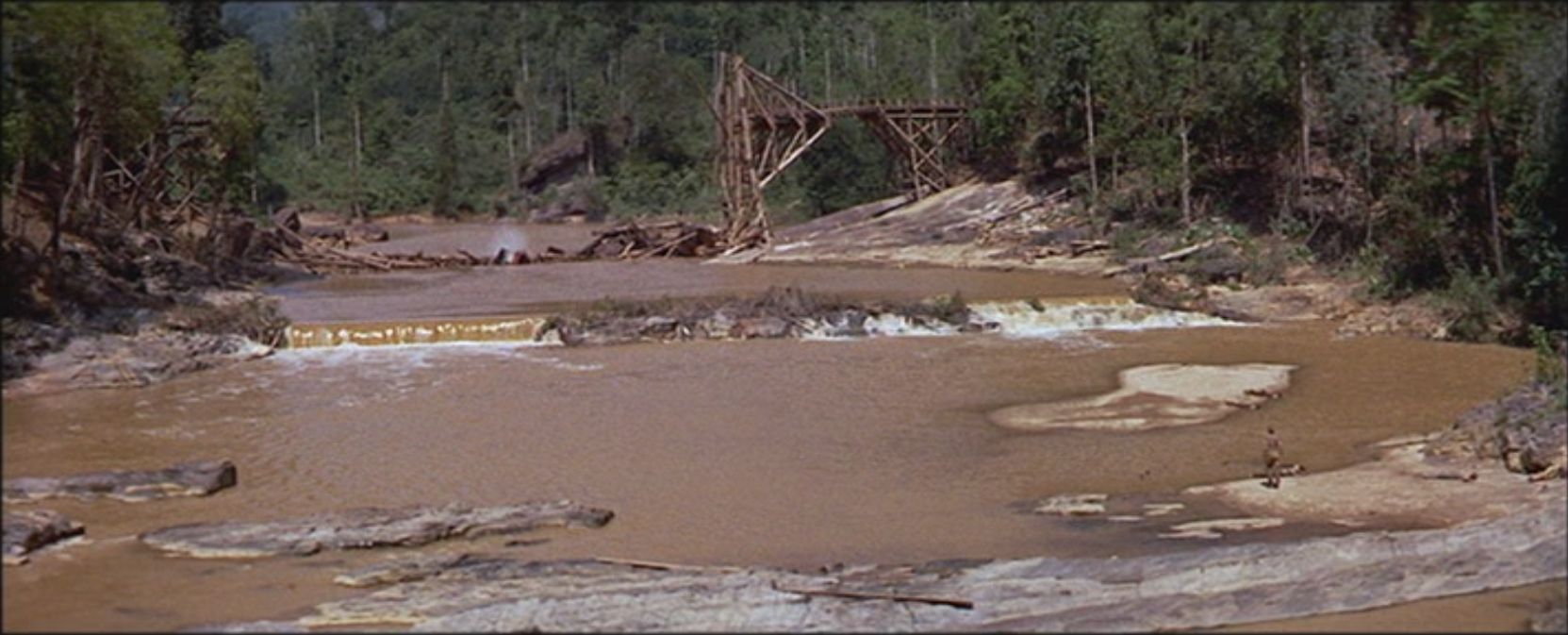 What gives Kwai its historical power and places it in the company of these writers, what makes it not just a well-acted drama but something that endures, is the same thing that made Marie Antoinette work:  it's a drama about the virtues of the past that accepts them, and takes place at the historical moment those virtues came to an end.  We can see, in the action, in Guinness' indomitable performance, it its epic scale, in its contrast with these virtues and Shears' virtues, what it really means to believe in civilization above everything else.  We can see what it's like when those virtues come literally crashing down, leaving an ending that's a visual echo of the opening:  a bird flying high over the jungle, empty and uncivilized space all around like Marie's destroyed bedchamber, an indelible image of an unknown future.