What we call "inhuman" are in fact things that only humans do.  (Bennett Berger)
Writing about the favorite work is different than writing about a good work.  Writing about what's good means appealing to shared (not objective) critical standards; it means writing about why you and I can both agree that something's good.  Writing about the favorite, though, means to write about why this work and no other matters so much to me; it means I have to answer to my own rules, history, and vision.  It's why Harold Bloom called criticism "the only civilized form of autobiography."  Full Metal Jacket is indeed my favorite film, and it may be my favorite work of art, period; after almost thirty years it has the same place in my consciousness and my life as The Art of the Fugue, The Shield, and Heart of Darkness.  I can't tell anymore if this film shaped my life or my life shaped how I see this film.  I can't convince you that this is a good film.  (I don't care if I'm wrong.  I won't tolerate being unclear.)  All I can hope for is that what you think of this reading of Full Metal Jacket is what you think of me.
According to co-writer Michael Herr, Kubrick's goal was simple:  to put into a film "the living, behaving presence of what Jung called the Shadow, 'the most accessible of archetypes, and the easiest to experience.'"  Going by Gene Siskel's principle that a great movie should succeed at what it sets out to do, Full Metal Jacket is great.  Tone is perhaps the trickiest element of a movie to get right, as there's no reason or blueprint that will get you there.  It's a form of alchemy and movies have so many components.  The tone here, pervading the whole film, so different from all other Kubrick, so different especially from Paths of Glory, is acceptance.  The Shadow here isn't alien, it's everpresent, and normal, and it's there from the beginning:  after the montage of Marine recruits getting their heads shaved, which feels just like one of Kubrick's picture stories, we go directly to the barracks of Parris Island and a long tracking shot of Gunnery Sgt. Hartman (Lee Ermey) and the recruits.  The camera moves precisely through three sides of a rectangle, and just a little more slowly than it should; that sense of precision and patience will go all through the film.  So strange to use this word, but Full Metal Jacket is a meditation; as much as 2001 and maybe even more, it's a meditation on what it means to be human.
Ermey, a Marine and a former drill instructor, has been in a lot of movies since then, but this was (nearly) his debut and he's a raw, uncontained, but precise and terrifying force here, a roving ball of obscenity ready to light on anyone and rip into them.  He is also very, very funny, bringing in a lot of his own language as a DI.  The cliché would be to call it Shakespearean, but really it's Rabelaisian, the finest use of that kind of speech on the other side of Deadwood.  It makes for the most quotable Kubrick outside of Dr. Strangelove, and my favorite at the moment is "WELL THANK YOU VERY MUCH CAN I BE IN CHARGE FOR A WHILE" although there will always be love in my heart for "NOW YOU HAD BEST UNFUCK YOURSELF OR I WILL UNSCREW YOUR HEAD AND SHIT DOWN YOUR NECK."  It's not just the volume but the evenness to the yelling that makes ALL CAPITALS seem the proper way to write this; these words are of equal volume so they should be of equal height.   In cinema, it calls to mind Al Pacino's Vincent Hanna in Heat; Sgt. Hartman is all professional, never for one second out of control.  (Hanna was a Marine and that may be where he learned his vocal tactics.)
The humor and the viciousness come together in Full Metal Jacket's first great moment, as he confronts Leonard (Vincent d'Onofrio), aka Gomer Pyle.  Pyle's exactly where we are, trying not to laugh at this insane person right in front of us.  It's as visceral a reaction as anything The Shining provokes.  Then Hartman starts choking him out, d'Onofrio's face going purple (that ain't no CGI, kids) and it's not funny anymore, it's horror, another reaction of the body.  As will happen so often here, the camera gives us no other place to go than to watch someone who could be a few seconds from death.  When he straightens up and starts breathing again, so do we.  (In a theater, this is something you can hear.)  Hartman and Kubrick have warned us here:  this world can turn lethal on you at any moment, and you will watch it happen.
The role of Private Joker, and Matthew Modine's performance, have a crucial role in the structure of this film.  Joker plays our surrogate, not really a protagonist; he doesn't act or affect events the way a protagonist would until the final two scenes.  He's our eyes, and the job of the film is to show us what he sees how he sees it. (Tom Cruise's Bill Harford has a similar function in Eyes Wide Shut.)  Modine reacts more than he acts, and there's a feeling of calmness to everything he does.  As a reporter (co-writers Gustav Hasford and Herr were both reporters in Vietnam, Hasford for the Marines, Herr for Esquire), his first task is witnessing, and he can't express shock or horror at what he witnesses.  Kubrick gives us many moments of Joker just looking at things; in the shot of the executed South Vietnamese, we see his face first and then the camera moves to show what he's seeing.  We accept, because he accepts; in the composed, precise beating of Pyle, the real story element is Joker accepting the necessity of doing it.  (The next story beat is having to hear Pyle's cries.)  It helps, too, with his head shaved and in glasses, Modine is utterly beautiful.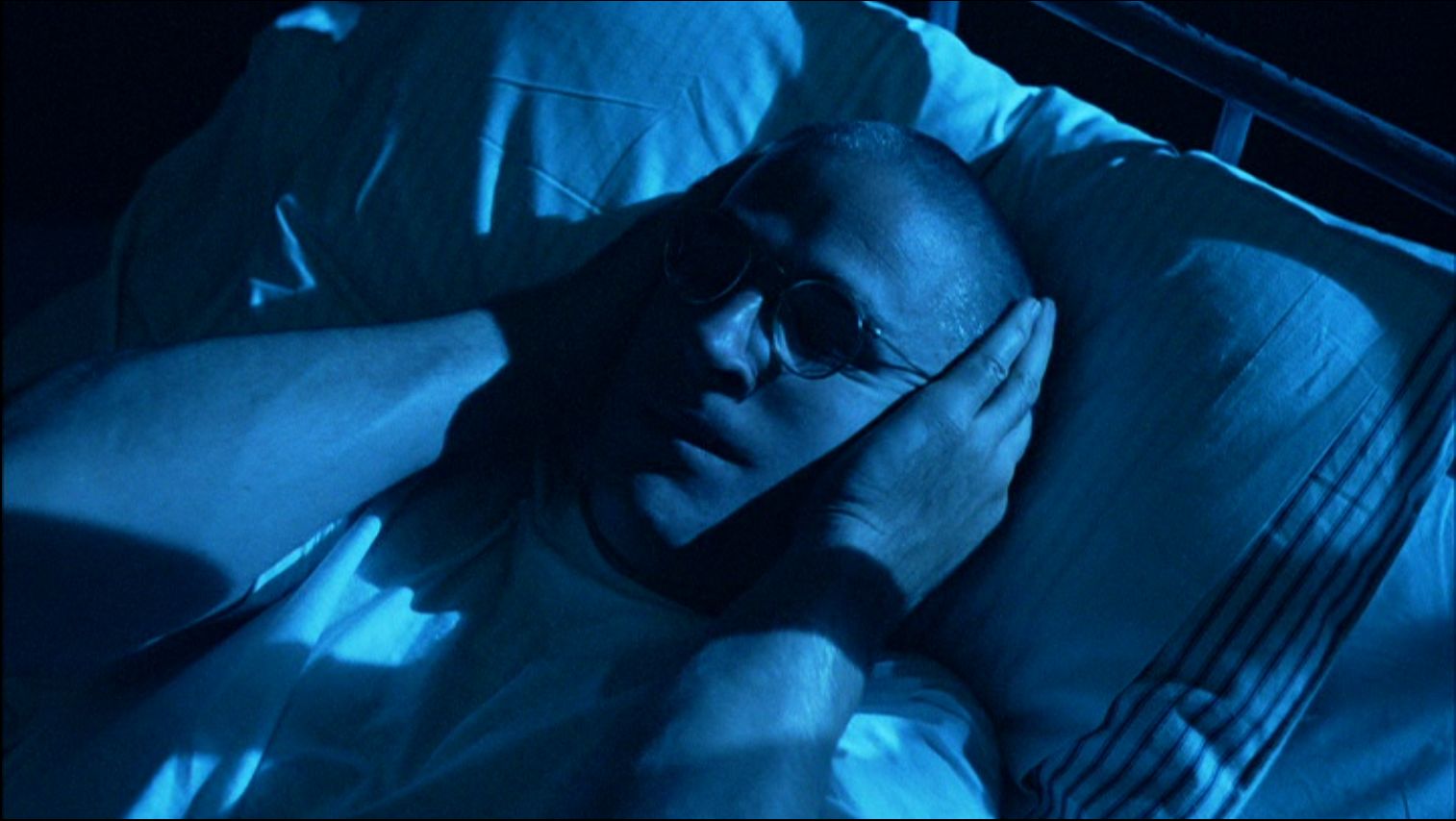 Joker's voiceover, so straightforward, carries some of that impact of witnessing too.  The cadences aren't those of speech, but of writing:  the speech sounds stiff until you imagine him typing what he's saying and then it sounds exactly right.  It has the same quality of Benicio del Toro reading from Reminiscences of the Cuban Revolutionary War in part one of Che, and it has the same function of speaking something written, even as it's being written.  You can almost tell where the edge of the pages is by the breaks in Modine's speech.  It sounds not like narration, but like "emotion recollected in tranquility," after acceptance.  Joker's voiceover has arrived at the place Joker journeys to in Full Metal Jacket.  
The tone of acceptance pervades everything.  It's there in Hartman's description of "what one motivated Marine and his rifle can do," describing Charles Whitman and Lee Harvey Oswald; Hartman is nothing more or less than proud of the skillz they learned.  It's there in the precision of the camera movements, never so necessary as here, giving the sense of a completely objective observer, one that moves by geometry rather than feeling.  It's there in the lighting and colors; silverwheel noted how necessary it was for Paths of Glory to be in black-and-white, because it removed all romance from the images.  Here, with the desaturated tones and especially in the night sequences, Kubrick creates images that are as stark and pitiless but in color.  The second half of the film avoids the lush colors of Apocalypse Now and sticks to urban blues and greens, avoiding oranges and reds until the end.    The last section takes place in the battle for Hue City; Herr and Hasford were there and both emphasize that the weather was cold and miserable.  Full Metal Jacket can be stark and beautiful but never pretty.
After the debacle of Fear and Desire, Kubrick learned the value of not going too far away from convention; perhaps he rediscovered that value after A Clockwork Orange.  This may be the most conventional film of his career, and certainly of the second half, but like Paths of Glory, that convention makes it clearer but never boring.  What's unconventional stands out even more in these films.  For example, his skill with cuts and dissolves, so prominent in The Shining, continues to develop here.  That skill requires a grounding in conventional editing; he establishes our attention with ordinary shots and cuts before he switches it.  Watch the scene where Hartman reads out the Marine's assignments (most of which are "0300:  Infantry"):  it's composed exactly like anyone else would do it, wide shots alternating with medium close-ups of Hartman and Joker.  The only out-of-place thing is the way Joker gets framed looking directly into the camera; other than that the cuts come as Hartman's attention shifts, exactly what you'd expect, and then BAM–before the cut back to Hartman–Kubrick cuts to an extreme close-up of Pyle in scariest Kubrick Face ever and I just about jump out of my skin.  (David Fincher would use a similar strategy on Zodiac.)  No music stings, no dialogue, no other effects except the basics of framing and editing, and Kubrick terrifies us with a man who's lost all contact with reality.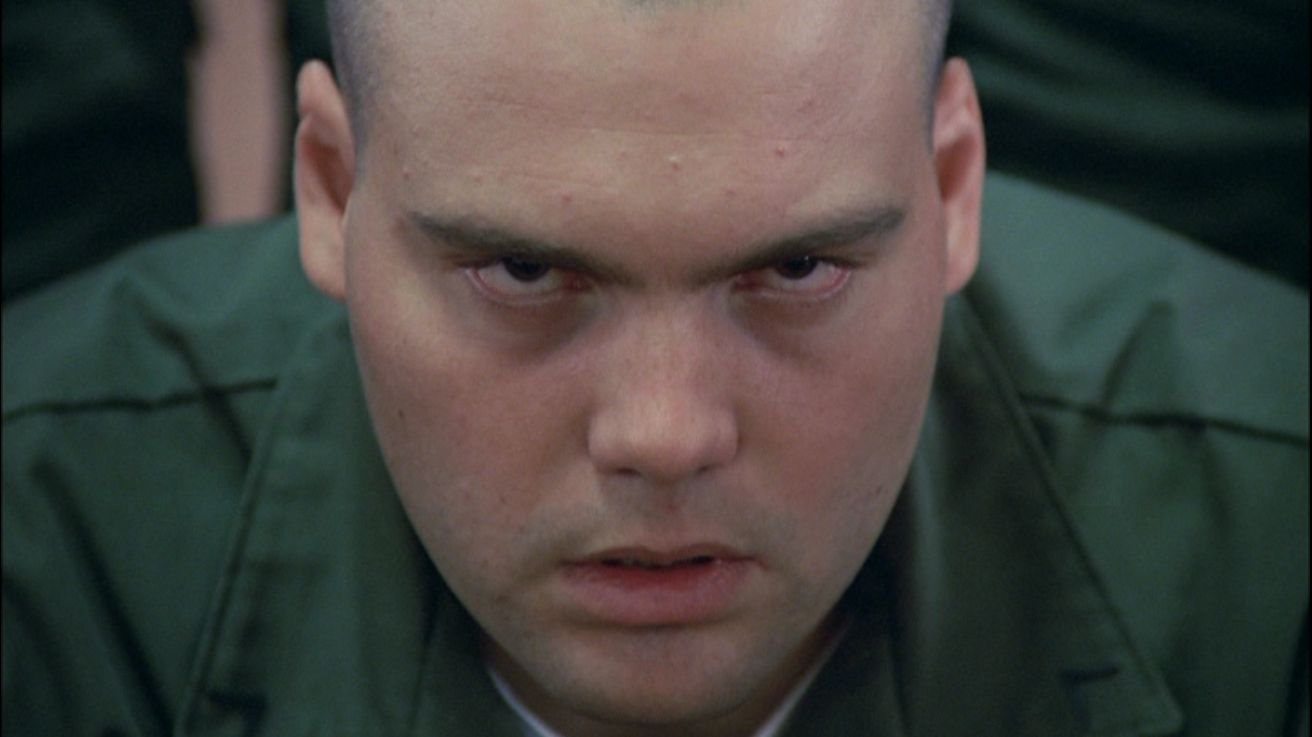 When Pyle executes Hartman and then himself, it's the implication of the Kubrick Face fulfilled, even more than in The Shining.  (Great use of Joker's flashlight to partially illuminate that face.)  It's an image of what Joker won't become, the defective killer; Hasford calls him "a glass rifle that would shatter when fired."  Then, with no warning, not even a TEN MONTHS LATER title card, Kubrick transitions into Vietnam, accompanied by the descending-bass opening of "These Boots Are Made for Walking," leaving us as bewildered as Joker.  (The use of contemporary pop songs is one of the film's weakest aspects, although the choice of "Woolly Bully" was inspired.  The songs don't contribute much, but they don't detract either.)
Joker's role as Marine correspondent gives Kubrick, Herr, and Hasford a lot of play to show the specific reason-as-madness of Vietnam.  There and in America, those who ran the war found more and more elaborate ways to lie to themselves; it's the madness of General Mireau in Paths of Glory, but now on a system-wide scale.  We see the little everyday lies in the press tent, particularly from John Terry, passing down directives that "search and destroy" operations are now called "sweep and clear."  (As a Lost fan, it's fun seeing the young Christian Shepherd here, and it's even more fun to realize he has the cadences of Josh Holloway's Sawyer.)   Terry's character speaks the fundamental truth about how Americans in power approached Vietnam: "Joker, maybe you'd like our guys to read the paper and feel bad."  The goal of the Vietnam war was never about succeeding (among other things, it was never clear what success would be in Vietnam, or how killing Vietnamese would get there), it was about looking successful.  (Come to think of it, Full Metal Jacket intersects with Mad Men on this point.)  That, of course, became much more of a challenge on the first morning of the Tet Offensive.
Behind Terry in the press tent is the slogan "FIRST TO GO LAST TO KNOW We will defend to the death our right to be misinformed," a detail directly from Hasford's novel and his experience (Joker is his stand-in), which points to another element of acceptance here.  Terry and the other actors play the lies as everyday and also as funny:  "grunts like reading about dead officers." "OK, an officer.  How about a general?"  As a name, Private Joker calls up Alan Moore's Comedian; like him, and unlike just about every other Kubrick character, Joker and most of the characters here are in on the joke.  Kubrick doesn't heighten the absurdities here into something iconic as he did in Paths of Glory and Dr. Strangelove; in those works, characters committed to the crazy.  Joker and his fellow press officers and Marines stay sane, because they know how crazy the war is.  That doesn't put them above the war, though; there's not much in the way of self-delusion here, and no anger–neither a Mireau nor a Dax among the major characters.
The two parts of the movie have more in common than appears on first viewing, at least my first viewing.  There are characters in the second that echo the first, strongly or weakly.  Pyle gets reborn as Animal Mother (Adam Baldwin), who could frag a DI and be just fine with it.  (He has I AM BECOME DEATH on his helmet.)  Hartman dwindles into the Strangelovian, or more accurately, Ripperian colonel (Bruce Boa) who gets perhaps the best one-line description of the peculiarly American strain of imperialism:  "we are here to help the Vietnamese, because inside every gook there is an American struggling to get out."  (Look at how Paul Bremer ran the Iraq occupation; that line exaggerates nothing.)  There are connections in the soundtrack, about which more in two weeks.  In structure, the second section plays out the first section at half speed:  a series of events that start off without direction and acquire one towards the end.
Kubrick does something we rarely see in a Vietnam film:  he places this in an urban rather than a jungle setting.  (He found an abandoned set of factories and power plants in England built at the same time and with the same architecture as modern Hue.)  By setting the combat in Hue, he displaces us from the expectations of a Vietnam War movie, a little like what he was going for in Barry Lyndon.  Some critics have found Full Metal Jacket to be a cold unemotional film (Siskel or Ebert called it "the Vietnam War as seen from Mars") but that's because emotionally it refuses to be a conventional war movie, even a Vietnam War movie, as much as Vietnam refused to be a conventional war; no lush jungle, no noble or wounded heroes here.
One moment above all others sums up Full Metal Jacket: Crazy Earl (Kieron Jecchinis) walking through the ruins of Hue and his death by booby trap.  I've often compared it to a similar scene in Platoon, but Kubrick's own Paths of Glory serves as a better point of comparison.  There, a soldier was blown up by his own sergeant's grenade:  it's a long moment of suspense until Kubrick reveals it, complete with a quick pan to the corpse and a music sting.  That event becomes a key element to the plot and plays directly into the climax.  Here, the camera keeps its lateral tracking and its distance from Crazy Earl, and the rhythm of the scene stays steady:  step, step, pick up stuffed animal, BOOM and he's one more number in the body count.  Someone dies, not as a point of plot or character, but because that's what happens.  Paths of Glory treated war as a horror, right down to its editing; Full Metal Jacket treats war as natural as the air we breathe.  It will take your life for no reason, without hostility, without mourning, without even noticing.
The acting here calls all the way back to Jamie Brown in Killer's Kiss; it's the most naturalistic acting in any Kubrick movie.  Perhaps after the extremes of Jack Nicholson's performance in The Shining, and Shelley Duvall's genuine terror, he wanted to shift to less iconic style here; perhaps it was simply that he has a real ensemble cast here where no one could be considered a star.  In any case, the voices, expressions, and body language of everyone on screen feel nothing less than real.  Kubrick's pursuit of unusual line readings enhances the naturalism here:  we just know that every joke has been told fifty times before.  "I want to slip my tubesteak into your sister.  What'll you take in trade?" isn't conversation, it's prayer, a mantra to get through the day.  The dialogue helps the naturalism; most of it comes directly from Hasford's source novel The Short-Timers or Herr's Dispatches (more about both books next week), which means in many cases it's directly from the Vietnam War.  Again, it makes Full Metal Jacket quotable, naturalistic, and funny; for some reason Kirk Taylor's "eat shit and die, you fucking Spanish-American, you fucking poge" always cracks me up.  (I also wonder how often they're stoned.)  The moments away from Hartman on Parris Island, Joker shooting the shit with his fellow correspondents in Da Nang, any scene with the Lusthog Squad, any moment with Arliss Howard (Cowboy) or Dorian Harewood (Eightball), all of these feel like young men just talking, without the need to mean anything.  Even the moments when they're interviewed work; they're formal, almost stiff, and it gives them the feel of one-line soliloquies. The interviews are theatrically effective; I see them as something done at Chicago's Second City, with each interview followed by a blackout.  The naturalism makes Full Metal Jacket Kubrick's only hangout movie.
The ensemble acting emphasizes something else unique here:  no other Kubrick movie shows a community so well.  His noir sensibility led him to movies about men and women in isolation; at most, to movies about families.  As for the few other movies that could be about groups:  outside of a few early scenes, Barry Lyndon was about Barry's journey away from the army; Spartacus could have had a strong community among the slave army, but they were barely characterized; and The Killing's ensemble existed as types more than people.  The naturalistic acting style, the individual, unique faces and bodies of the Marines, and most of all the way they truly do work together, fight together, talk together, make them compelling as a group, not a collection of lost individuals.  Kubrick never sentimentalizes them, and the movie would fall apart if it did.  Their value doesn't come from heroism, but from humanity, because fighting together–because killing–is something humans do.
Community comes up with the sniper scene in Hue, showing how that bond can get you killed.  Covering about twenty minutes at the end, this is Kubrick's finest action sequence, which puts it in the running for the finest action sequence world-wide, comparable to the street battle in Heat and the final battle in Che.  The sniper knows what we see:  these Marines will always try to save each other, and she uses that, and Cowboy knows she's using that.  Kubrick precisely locates every player in space (the whole scene starts because the Lusthog Squad has gotten lost) and the sightlines between them (Terry Malick would use one of these shots in The Thin Red Line).  Even more powerfully, he makes the action depend on that, on what different players can see or can't see.  The company can see Doc and Eightball getting shot to pieces (the editing is so brutal and so unsettling here, cutting to each moment one of them gets hit, never when we expect it) but only Doc can locate the sniper, and then Kubrick pulls his best zoom-in of his career to show the sniper's clear shot on Cowboy through a building.  (Heat and Che both had an equally good sense of space and how the players used that space.) The light gradually dwindles throughout, giving, again, that naturalistic sense of time passing, and making the scene eerily beautiful.  The power of community lands with the death of Cowboy and the naturalism of the whole film makes it even worse;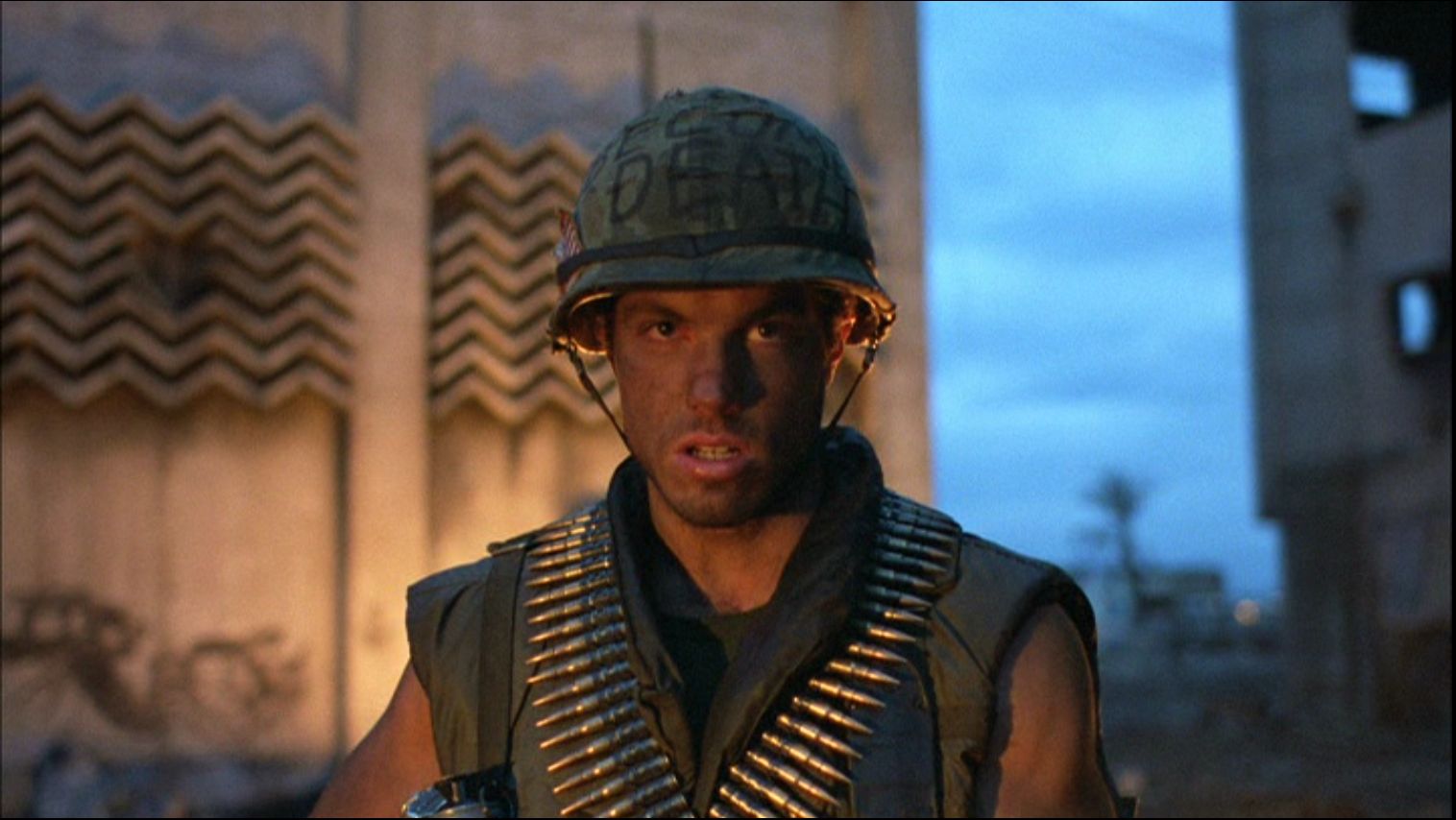 when Animal Mother says "let's go get some payback," it's the kind of vengeance that's ancient and necessary, beyond any ideology or heroism.
It's all capped off with a stunning moment that takes one of the themes of the film and spins it back on us.  From the Parris Island sequence, and continuing with the prostitutes in Vietnam, women in Full Metal Jacket haven't even been objects, they've been instruments:  "YOU WILL GIVE YOUR RIFLE A GIRL'S NAME, BECAUSE THIS IS THE ONLY PUSSY YOU PEOPLE ARE GOING TO GET."  As in Reservoir Dogs, it leads us them and us to understand that no woman here will ever have any agency or even action.  So when the sniper turns around and Vivian Kubrick's score goes into a scream and a star filter makes the image seem to catch fire and we see a young woman (Ngoc Le) shooting back, it goes past any kind of political or moral point, it feels like a violation of this reality.  It's the return of the repressed and the repressed has an AK-47.
Joker's journey takes him from one more head, isolated in a frame by itself in the first scene of the film to a part of a company, moving precisely, mathematically, and together in the last.  The exactness of that last shot, with its clean horizontal and diagonal rows, is one of Kubrick's most extraordinary achievements.  The final step of that journey comes when Joker kills the wounded sniper as she pleads for death.  Herr wrote that although he'd seen thousands of deaths in movies, he'd never seen anyone truly killed until Paths of Glory; in the same way, I never saw a killer until Full Metal Jacket, never saw the true, irrevocable, necessary weight of the act until here.  Like the song that closes Paths, there are so many meanings packed into this moment.  Here, Joker fulfills his words to the news crew and becomes "the first kid on his block to get a confirmed kill."  Here, Joker is an angel of mercy, brother to the sniper, sparing her pain.  Here, he is a stone killer, and the Lusthog Squad gives him their blessing:  "Hard core, man.  Fucking hard core."  Look at Joker and you can tell he hears one of us! one of us! one of us!  The range of emotions in Modine's face, from fear to bluff to sorrow and most of all the sheer beauty of that face in the flickering firelight, has no equal in anything I've ever seen.  Not even the faces of Dreyer or Alien³ or The Shield can match it.  In words, it calls up the end of Lord of the Flies:  "he wept for himself, for the darkness of man's heart, and for the fall through the air of the brave, wise friend called Piggy."  Like that ending, he has now done something–he now knows something–that can never be taken back, and in the next shot, linked by the last music of the score, he is one of them.  And he is happy.  And so am I.
Yea, though I walk through the valley of the shadow of death, I shall fear no evil, for I am the evil.  (American soldiers in Vietnam, as reported by Hasford and Herr)
These are not heroes; Kubrick is not Kurosawa.  We see no greater cause being pursued ("if I'm gonna die for a word, my word is 'poontang,' sez Animal Mother) and self-sacrifice is "refus[ing] to accept the situation."  We don't get the grandiose knowledge at the end of Platoon that "the enemy was in ourselves."  It's the opposite:  what is yourself cannot be an enemy.  The value of these men is not that they are heroes, but that they kill, because whatever morals or reasoning we attach to it, killing is human and has been since that primate picked up the bone and started swinging in 2001.  Anthony Swofford in Jarhead understands this well, watching it with a crowd of fellow Marines: "the magic brutality of the films [Apocalypse Now, Full Metal Jacket] celebrates the terrible and despicable beauty of their fighting skills."  Like 2001, like so many of Kubrick's films, he shows us that terrible beauty without romance, without sentiment, without idealism, and without flinching.
The absence of sentimentality, the clarity of Kubrick's vision, leads me to see these Marines as fully human.  Joker's journey does not lead him to become Pyle or Animal Mother or Sgt. Hartman or the Vietnamese sniper; it leads him to be part of their world, to see them as brothers and sisters.  As Joker is surrogate for the audience, I am in his place, and the journey of watching Full Metal Jacket has led me to see them the same way.  To understand Full Metal Jacket's ability to create a communion with killers, read it as an answer to two other war movies, one before, one after.  In Apocalypse Now, Kurtz monologues "horror has a face, and you must make a friend of horror.  Horror and moral terror; they are your friends.  If not, they are enemies to be feared" and in The Thin Red Line, nearly the last lines ask "darkness, light, strife, and love, are they the workings of one mind, the features of the same face?"  Without ever saying so, Full Metal Jacket shows us what it means to make a friend of horror, and it answers The Thin Red Line's question: yes they are, and here's what those faces look like.  If you have a mirror and the right kind of eyes you can see one yourself.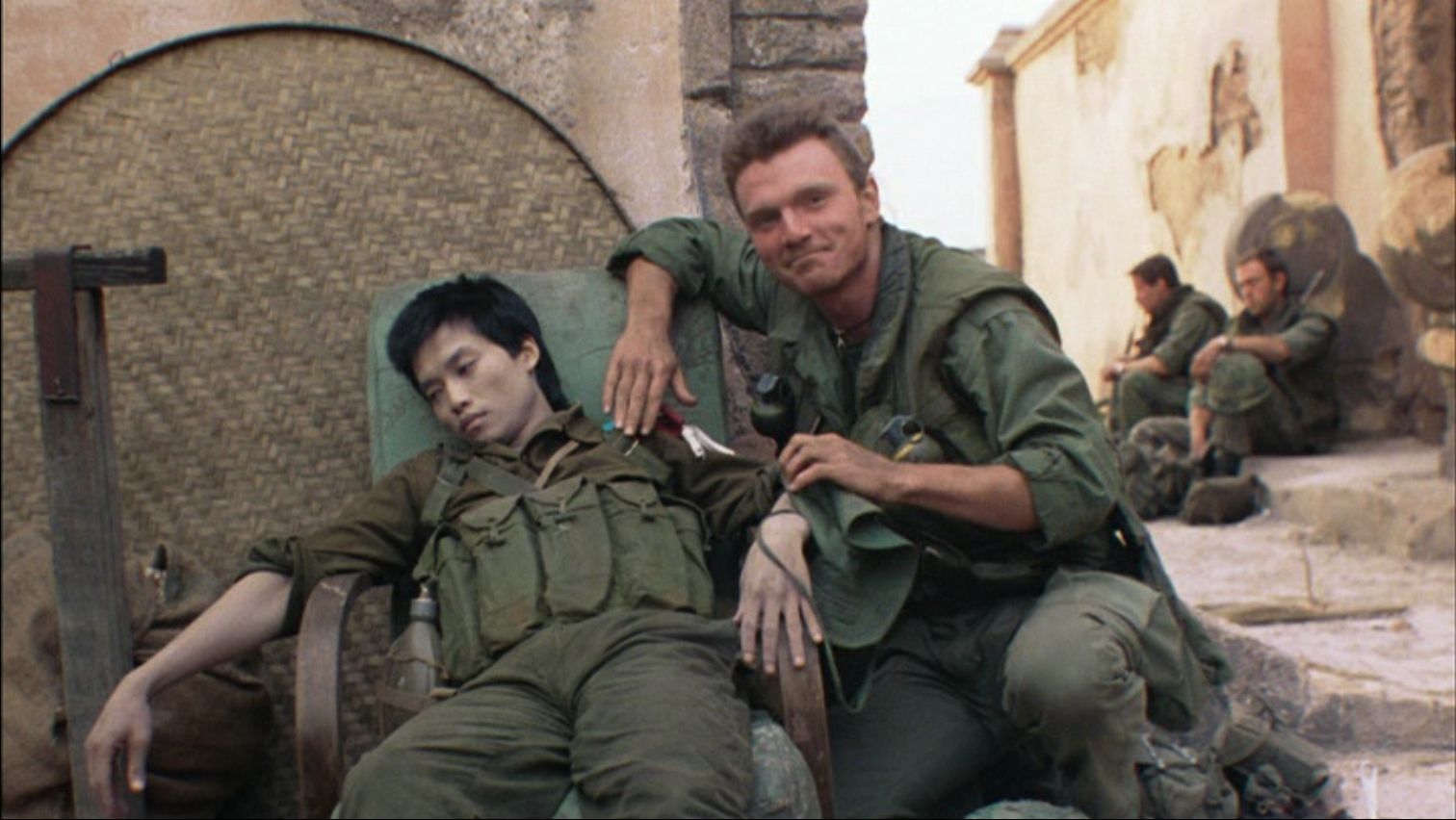 I grew up in a progressive culture and maybe you did too, something I've tried to describe before.  Progressives, so quick (and so right) to denounce alienating others by race, gender, sexuality, or culture, never hesitate to alienate others who live violence, revenge, and cruelty, all deeply human things.  Unsurprisingly, progressives alienate what they see as the past; think of all the words used to dismiss our legacy of violence:  medieval, primitive, barbaric.  So many progressive critics describe Joker's journey in Full Metal Jacket as "dehumanizing," because becoming a killer is–because to progressives, it must be–inhuman.  Yet that's something our species does better than any other.
The progressive critics might be right, but (hang on, let me check) as of 2015, our legacy of violence has refused to stay in the past.  We keep seeing the truth of Will Rogers' observation "you can't say civilization don't advance, because in every war they kill you in a new way."  Perhaps the day will come when violence and revenge and cruelty will be left behind, and on the day when swords are beaten into plowshares and drones are used only for free (but consensual) hugs, Full Metal Jacket will be a relic, and so will I.  Until then, consider the possibility that war and violence are not alien to us, but are a necessary part of our legacy as humans.
Kubrick goes beyond Godard's Truffaut's famous line about the impossibility of making an anti-war movie, because (to paraphrase) war just fucking owns too much when you put it on-screen.  Kubrick often invoked Hemingway as the exemplar for the tone of Full Metal Jacket, so different from the Conradian lushness of Apocalypse Now or the Emersonian morality of The Thin Red Line.  It has so much of Hemingway's precision, the sense of ordinary language or filmmaking polished to the highest degree of clarity; it has Hemingway's economy, clocking in as the shortest film of the second half of Kubrick's career; it has that sense of understanding and accepting essential, unalterable truths, especially about men and war.  That tone of acceptance in Full Metal Jacket, so different from the anger of Paths of Glory or the heroism of Spartacus or the dark wacky comedy of Dr. Strangelove, makes calling it an anti-war film seem as pointless as calling it a pro-war film.  (Among films since Full Metal Jacket, The Hurt Locker comes the closest to its tone but isn't quite the same, probably because Kathryn Bigelow aims for the rush of risking your life and makes that the central theme in place of Kubrick's acceptance.)  In Full Metal Jacket, war is, as much as the ocean; it's as lethal and as present and cares just as little whether you are for or against it.  Whether you're in it or away from it, it's there, it's been different throughout our history but it's endured and it's not going away any time soon.  And it's in our very blood.
War stories have the same story from Thucydides to Hemingway to Mark Bowden and beyond:  "bunch of people got into a fight.  Most of them were men.  A lot of them died," which means that there's always something universal about them.  Something in a war story always lives beyond a historical story, because war keeps going no matter the history.  That hint of the universal in Full Metal Jacket makes it possible to indulge in an intertextual question:  what is Private Joker's true name?  (Watch closely, and you can see his legal name stenciled on his shirt in the training sequences, but that's not what I mean.)  This story could happen twenty or thirty years later, in the First Gulf War or the Bosnian wars.  You could see the role of press officers being even more important there, and even more darkly funny.  Who Joker becomes at the end of this story, whenever and wherever the setting, is the man who knows evil, and knows his own evil, and who accepts that.  This is the origin story of the man who looks at the world with reason and with humor, who acts without hesitation and without remorse, and has that distinct smile at those who live any other way.  We know who he is.  His true name is Ronnie Gardocki.
My favorite film is the origin story of the man who admits he's evil; my favorite TV series is the tragedy of the man who doesn't.  So much of my own history has been the journey to know myself, to know my own evil, my own violence, and to recognize that they are mine.  They are not alien to me, and I cherish that evil and violence as much as anything else about myself.  I am not more of a man (as, for example, Fight Club would have it) because I feel this way.  I'm not more courageous, because courage only applies to action.  I'm sure as hell not cynical, because cynicism is the disappointment felt by those who discover the world has no obligation to live by their ideals.  This is about knowing.  It's what Keats called "negative capability," never asking, never even thinking the questions that so many others do:  "how can people do this?" and "why does God allow suffering?" because I know both questions are their own answer; people can do this because that's what people do–because it's what I could do–and God allows suffering because the Author of the world is, by definition, the Author of suffering.  I love people more, not less, for that; I love God more, not less, for that.
The most terrifying fact about the universe is not that it is hostile but that it is indifferent; but if we can come to terms with this indifference and accept the challenges of life within the boundaries of death–however mutable man may be able to make them–our existence as a species can have genuine meaning and fulfillment. However vast the darkness, we must supply our own light.  (Kubrick, at the time of the Tet Offensive)
This is Kubrick's greatest film because it's his greatest confrontation with that indifference, and with the Shadow: "only the courage to look it in the face can subdue it for even a minute, according to Jung, in so many words," sez Herr.  To go through this meditation, to take Joker's journey and arrive with him at the end, isn't to be moved.  There are movies that reduce me to tears, movies that make me crazy with joy, but there is no other movie that brings me the peace of Full Metal Jacket.  To come through this journey is, as TS Eliot sez, "to arrive where we started and to know the place for the first time."  Come through this journey and you can be criticized but never judged, because who else can see your darkness as well as yourself?  Come through this journey and you know and love every miracle in the world more, because until you see that darkness you can't even recognize light.  Come through this journey and you are at home in this violent world and at one with yourself, because you know the best and the worst of both and you know that they are inseparable.  Come through this journey and recognize your community with humanity, which is to say with killers.  (Several Marines have told me I remind them of their DIs, which may be the highest compliment I've ever received.)  I don't think Nicole Krauss had this in mind, but to come through this film is "to be turned back, as if after a long absence, into a human being," because Stanley Kubrick was perhaps the most human of all directors, the one who had the widest understanding of what it is to be human and to live in the world humans made.  Come through this journey and receive, in Joker's last voiceover, the last in all Kubrick's films, his greatest blessing:
I am in a world of shit, yes, but I am alive.
And I am not afraid.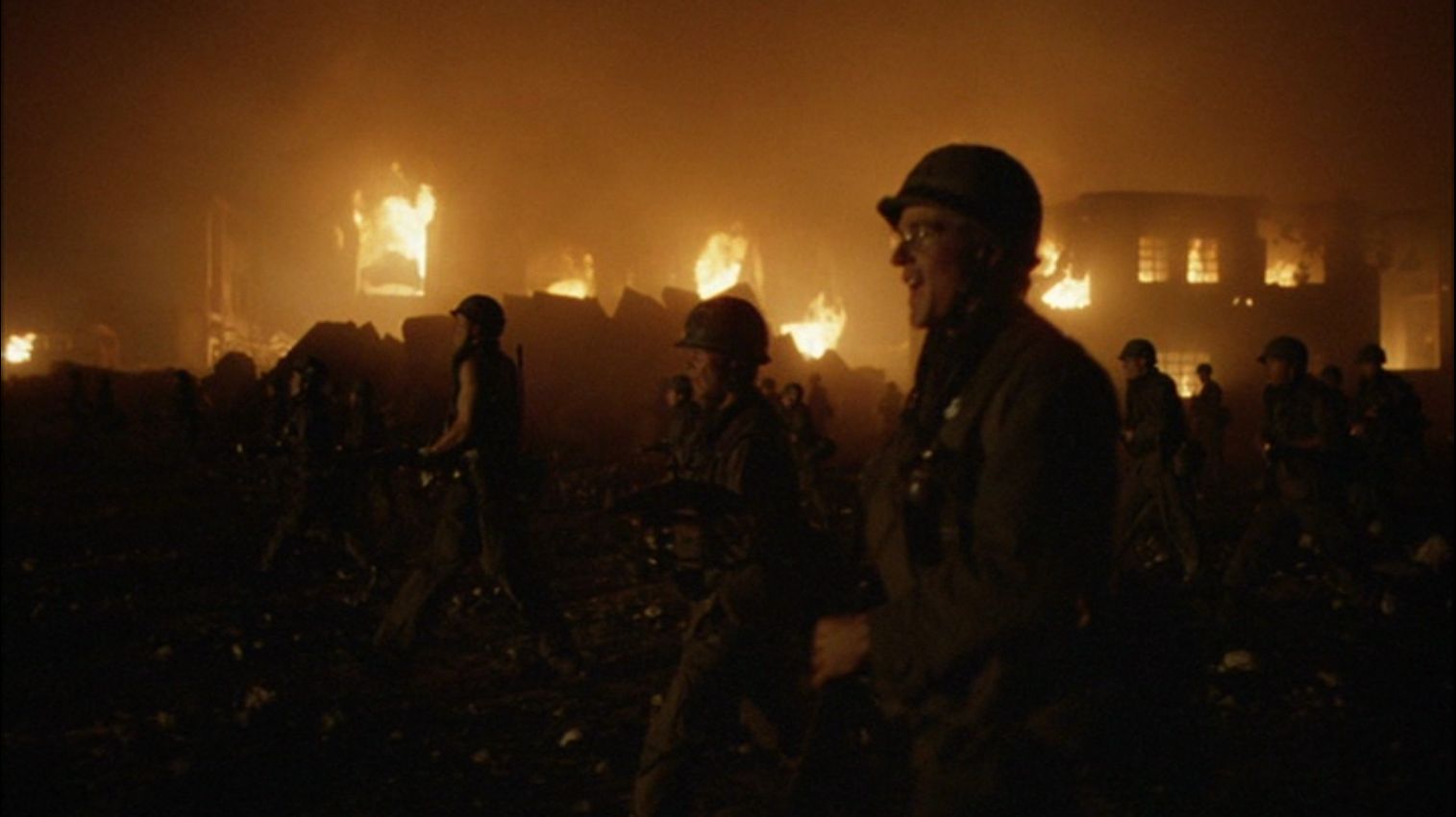 Previously:  The Shining (1980)
Next:  the authors of Full Metal Jacket