With Fear and Desire, Stanley Kubrick learned how to film still images.  With Killer's Kiss, he learned how to film a scene; with The Killing, he learned how to film a story.  Now, with Paths of Glory, he learned how to film a subject, and made the jump to his first masterpiece.  Think of this as his remake of Fear and Desire; the story of Paths takes place in World War One, but the subject of war and madness really does come across here as universal.
As a photographer, Kubrick's skill with composition has kept improving; one technique here might be called the three-shot.  He's no longer using squarish frames of Fear and Desire and Killer's Kiss, and he often places three elements in the frame to balance it.  Sometimes it's three faces; other times it's two faces and something else.  That has a dramatic function too:  three elements in the frame comes off as calm, or at least latent, and two elements in the frame (usually two heads) means that those elements are in conflict.  I chose this screengrab almost at random; the window provides the third, mediating element.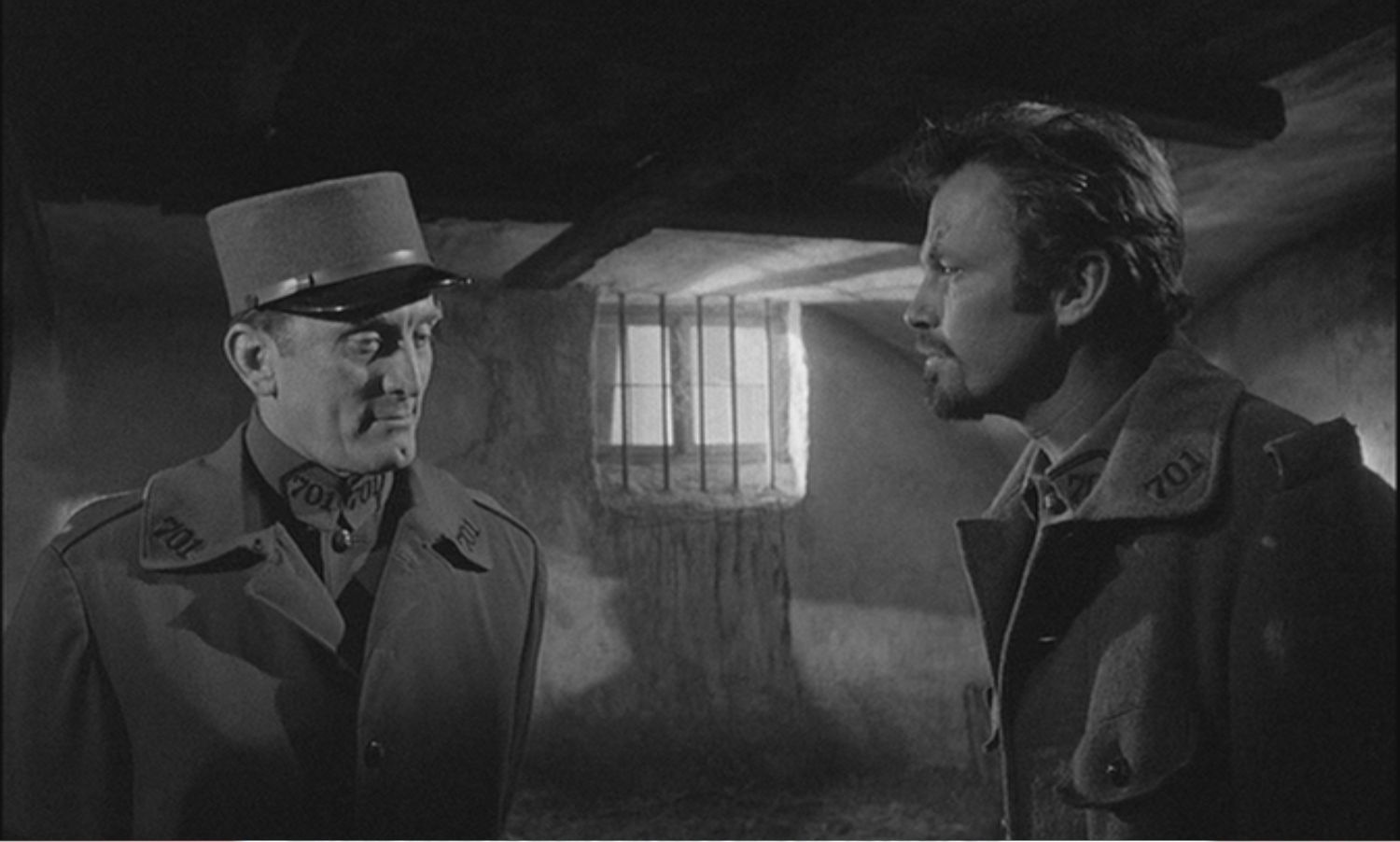 He hasn't just improved as a photographer here; he's improved as a director of motion pictures, specifically in his ability to move things in and out of the frame.  That's apparent from the very first shot of the film, with troops, cars, horses, a bicycle, and officers, all moving precisely and elegantly through a turning shot of a castle and its grounds.  Nothing in Kubrick's entire career so far is as complex as that single shot, and it comes off effortlessly; it's exactly what we mean by visual music, where its power comes from how precisely things move in and out of our attention.  Kubrick also recognizes the power of having something break that elegance; in a late scene in the film, Ralph Meeker has a brief collapse and falls out of frame while the camera stays still.  (He will do something similar in Eyes Wide Shut, where the camera will follow Nicole Kidman's body.)  It's an emotional shock, but it's also a visual shock, because the perfect balance of the image gets instantly destroyed.
Another Kubrick move here, and probably the most important, is the tracking shot, where the camera moves continuously and fluidly in a single direction, remaining at the same distance from the action.  It's something that really began in The Killing in the first sequence at the racetrack and will continue throughout his career.  Because the motion is continuous and geometric, it gives the sense of an observer, but an utterly objective one, so different from the roving camera of Terrence Malick or The Shield.  In those works, the camera feels alive, a consciousness deciding what to see, sometimes curious, sometimes alarmed.  Here, we are seeing everything, and we are seeing it as it is.
The first, clearest example of this comes a few minutes into the film, as General Mireau (George Macready) visits the troops in the trenches, where the camera keeps moving forward or backward.  (The floor of the trench has a groove for the dolly track.)  The precision of the sequence astonishes, as Mireau strides forward and bodies and exhausted soldiers move past him, while he ignores all of them, but it never feels like a stunt.  Later, just before the battle, we'll see a similar scene with the camera tracking Colonel Dax (Kirk Douglas) through the same trenches.
The single battle sequence (Mireau orders the company in an impossible attack on a German stronghold) of Paths of Glory takes place largely within a single tracking shot, with the camera moving from right to left (the direction opposite of progress).  The photography and lighting here are extraordinary, making the destroyed landscape of the battlefield look like LV-426 in Alien/Aliens.  It creates the sense that nothing could or should be alive here.  Shells and dirt go flying everywhere and soldiers keep dying (the actors were assigned random numbers as to where to fall); it's a less gory though no less intense sequence than the Utah Beach attack in Saving Private Ryan.  We can see clearly what's happening, where everybody is, and the camera gives us no relief, no closeups, just the relentless image of everyone dying and getting nowhere–they don't even make it to their own barbed wire.  Mireau gets enraged to the point where he orders people to start shelling his own troops; that gets refused, and he decides to have his men shot for cowardice–"if they won't face German bullets they'll face French ones!"
The battle takes place before this 88-minute film is half over, and it's one of Paths of Glory's great advantages, and it's something Kubrick learned from his noir films:  never stop moving, never stop advancing the plot.  The first almost-half moves relentlessly and mercilessly to the doomed battle; the rest of the film moves equally so to the execution of three soldiers.  There's not much in the way of speeches about the injustice of it all; the one big moment there comes after the execution.  The sense of a fate that's inescapable and ridiculous gets embedded in the structure of the film; it goes beyond "show, don't tell" and makes its impact in the how it makes us feel time.
That noir sense of being caught in world that's a systematic trap runs all through Paths of Glory, and that trap is the organization of the military and society, the aristocratic structure that had its last moral justification wiped out in the war.  (That doesn't mean it's gone–I've shown this film to veterans, and one simply said afterwards "that's how it is.")  Mireau starts the film saying how he'd do anything for his men, and reverses that as quickly as any of the thieves in The Killing when his superior (Adolphe Menjou) dangles a promotion in front of him.  That sense and awareness of rank–not in the military but the social sense–goes through all the characters in the film.  On the level of the enlisted men, you hear it when Wayne Morris dismisses a charge of murder and cowardice from Meeker with "whose word do you think they're going to believe? Or let me put it to you this way:   whose word do you think they're going to accept?"  (Morris will later send Meeker to face charges and the firing squad to get him out of the way.)  And late in the film, Meeker and Timothy Carey have a brief, hilarious exchange, with Meeker looking at a cockroach, saying "tomorrow, it will have more contact with my family than I will" and Carey replying with WHAP "now you got the edge on him," which feels like French existentialism meets American noir, they're actually not that far apart as philosophies.
That sensibility plays into the first iteration of Kubrick's great, lifelong theme:  reason as a form of male madness.  All through the trial, the investigators and judges are perfectly reasonable, and perfectly absurd, adhering to strict forms of questions and excluding any answers outside that, which is to say any answers that make sense or say why these three soldiers didn't fight or retreated.  (Meeker never got out of the trenches because someone fell on him and knocked him out.)  As procedures so often are, the trial is meant to be a show of reason and it's blocked and shot in a perfectly ordered, geometric way, to give a respectable surface to something that's already decided.  (Having Carey play one of the soldiers pays off here, because he just seems perpetually baffled and bemused at all of this.)
The actors have a stronger, more direct edge of crazy to them, beginning with Fred Bell as a man in shell shock, disrupting both Mireau's tour of the trench and the tracking shot with a closeup.  Him, Carey, Joe Turkel, Meeker (all playing enlisted men) in the brief scene mentioned above, all have those moments like Elisha Cook in The Killing, the kind of moments we'll see in all of Kubrick's films, the kind that are just too strange to be anything but real.  As I've suggested, it begins with his photographs, and it continues all the way through Alan Cumming in Eyes Wide Shut, this sense Kubrick had that the world had a broader range to it than the words "realism" or "naturalism" cover.
The standout here though is George Macready's General Mireau, a performance so gloriously villainous that I wished he could be in every damn Kubrick film after this.  It's an iconic performance, which means it's not about depth, it's about portraying a type, and here Macready makes Mireau the embodiment of the idiot aristocrat, the one who's always performing, vain into his bones.  (Richard Anderson delivers Smithersian levels of toadying as his assistant.  Come to think of it, there's more than a little Monty Burns in Macready's cadences.)  You just know he got that scar in a duel, not combat, probably after he challenged some guy who, I don't know, insulted the quality of his paté or some shit.  He's crazy, and committed to that crazy.  He means everything he says at the moment he says it, and is always completely convinced of his own superiority and morality; he's never funnier, or scarier, when he's convincing himself that what he wants and what the will of France wants are the same thing.  He would fit in perfectly in the universe of Dr. Strangelove.
Kirk Douglas doesn't get to play as crazy or as iconic as the others, but he gives a strong performance, very much a Douglas performance rather than a Kubrick one, something that will be even more noticeable in Spartacus.  As Colonel Dax, the commander of the company and later the defender of the soldiers, he plays the still, moral center of all the crazy, and that fits him well as an actor.  Douglas' face is as hard-lined and as iconic as Charlton Heston's (no wonder both of them wind up in "sword-and-sandal" epics named after their characters), but he has a greater range than Heston; Douglas can be bitterly cynical or warm and friendly.  He plays that range here, coming across as a man who has a strong moral sense, and realizing that moral sense is just flat inadequate to what he's facing.  The dominant note Douglas sounds here isn't rage, but sorrow.  His last close-up has to match a pretty florid piece of dialogue ("Because you don't know the answer to that question, I pity you") and Douglas and Kubrick bring it off.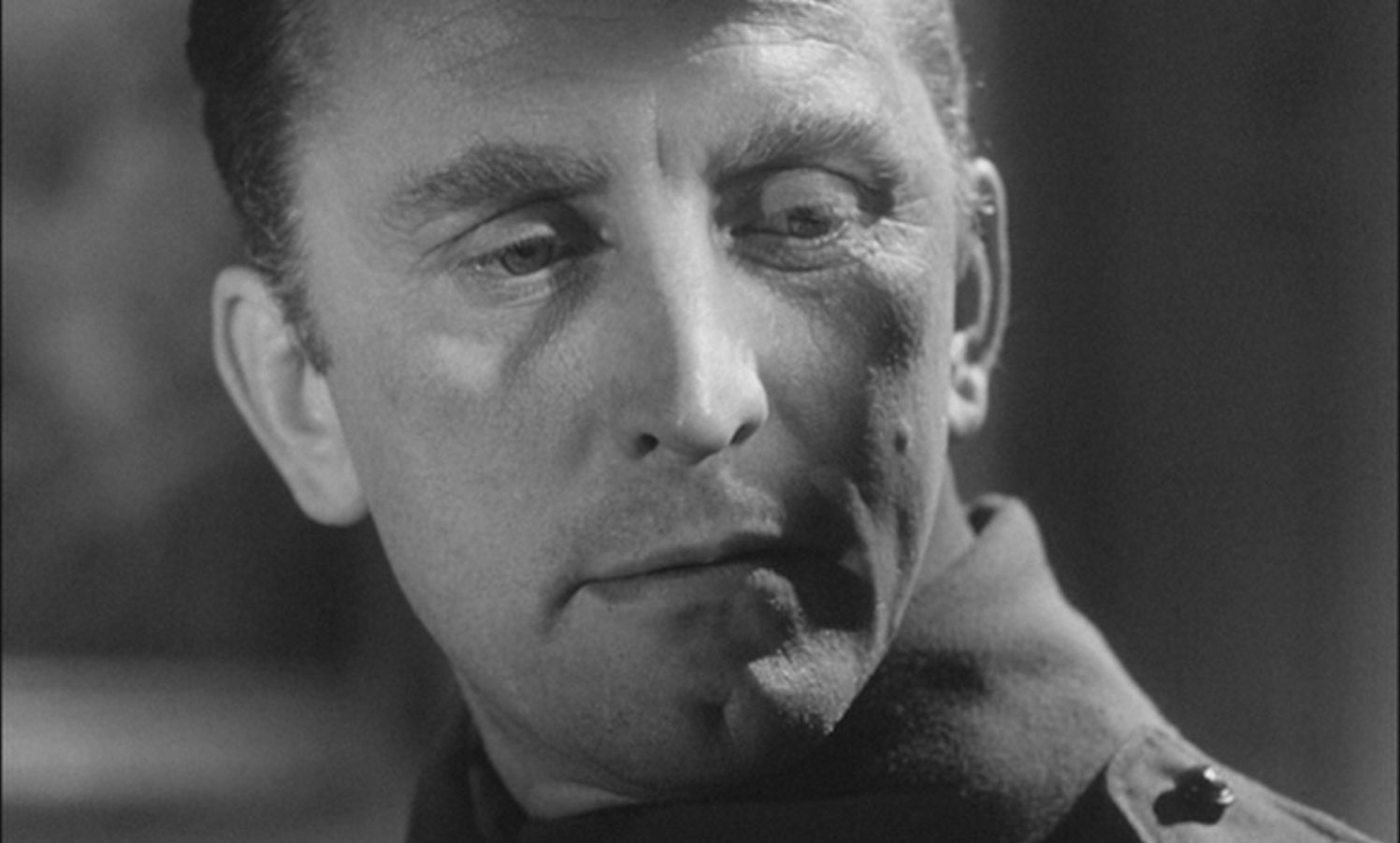 All the elements of film work together here; even more than The Killing, you feel Kubrick's sense of precision here, and that serves the subject too.  The precision of the camerawork matches the clockwork world that dooms the soldiers; the madness of the performances plays up the madness of the world of war.  (I realized, watching this, that another Kubrick motif starts here:  dude loves his waltzes.)  The noir dialogue and plotting, co-written, again, with Jim Thompson, and also with Calder Willingham, leave no escape for anyone and hit some thematic points along the way.  The pacing makes it breathless, exciting, and scary, as the story drives towards the only end it could have.  Every element here, plot, image, music, dialogue, character, performance, serves the same theme, and serves it well.
The execution of the three soldiers is one of the most harrowing scenes of all cinema; Michael Herr (future co-writer of Full Metal Jacket), watching this movie in the 1960s, said that although he'd scene people die in movies before, he'd never truly seen death until this moment.  The drums provide a constant, steady, merciless ground bass line; there's no crescendo here, just continual moving forward.  Kubrick cuts between the steady tracking shot of the camera going forward to the stakes and shots of the officers, photographers, and witnesses at the side, and shoots them while moving, so we're seeing them from the perspective of the prisoners.  Carey's wailing, Meeker is stoic, and Turkel is, well, unconscious, the spectrum of possible responses.  There's the last look from Douglas, a last moment of cowardice from Morris ("I'm sorry"), and even Anderson, reading the sentence, looks and sounds he like he finally gets what's going on.  It finishes in the last perfectly centered one-point image, all the guns, all the lines of perspective converging on Carey in the center.  It's Kubrick's first great image of the geometry of power, something all-pervading, focusing, targeted on you from outside, and inescapable.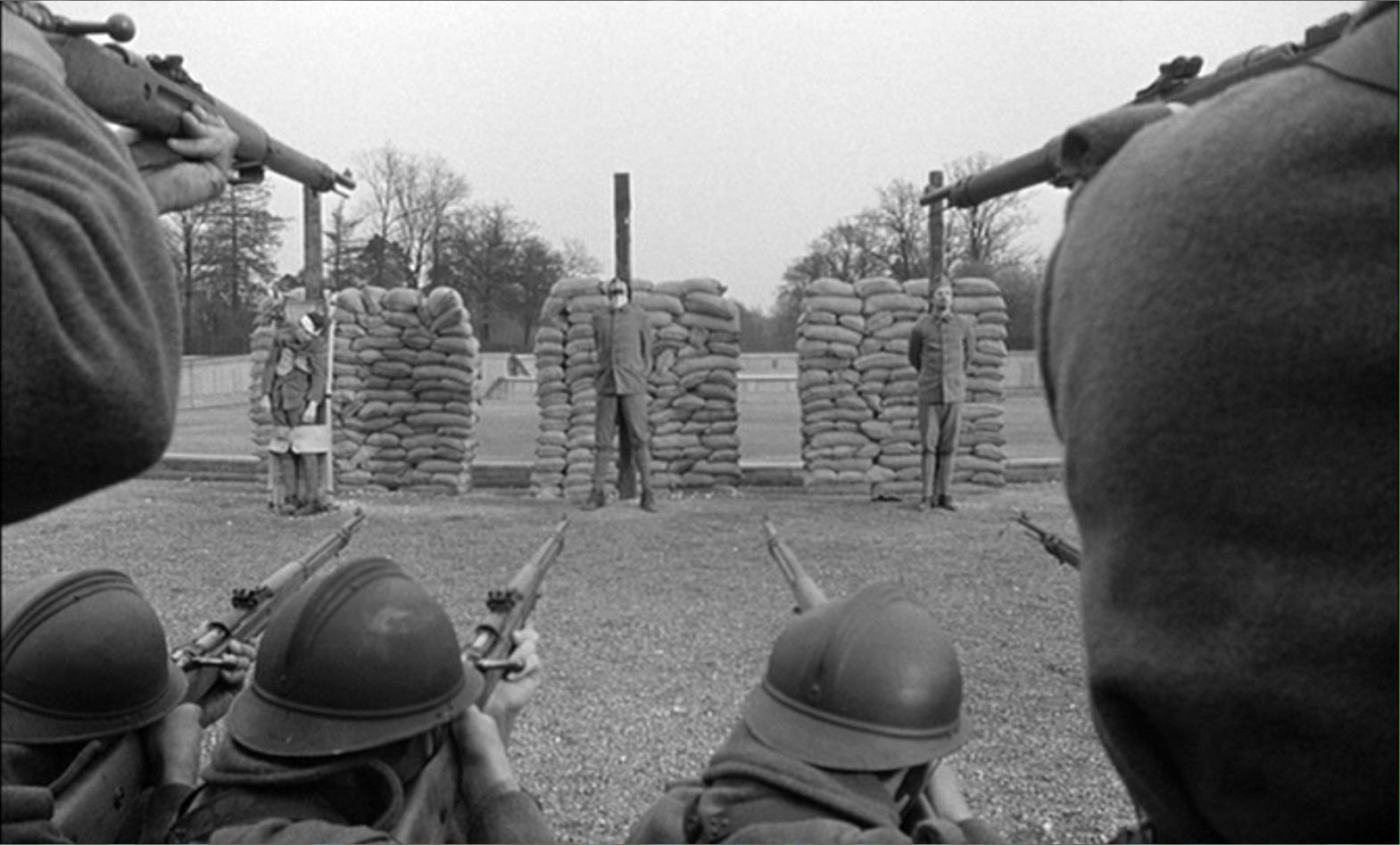 If that's all Paths of Glory was, it would still be a magnificent work, a tight, forceful piece of anti-war propaganda.  What makes it even more than that, what makes it so Kubrickian, is the way he, the actors, and the writers bring in elements that make it trickier than it looks at first viewing.  You see that trickiness in Menjou's sympathetic, even charming performance as Mireau's superior.  He's not a villain like Mireau, just an organization man doing a job and trying to get through the day–and that may make him worse.  You see it even more when Bert Freed, guarding the three soldiers hours before they're shot, tells Meeker "most of us will be joining you before this war's over," and that plays in counterpoint to the entire film.  How angry should we be–how angry can we be–about this injustice when millions will be killed?  If we are angry about these three, do we slight everyone else–and is it so much worse to be shot one week than to cough out your lungs from gas the next?  (The great little moment of Turkel listing all the ways you can die has such resonance here.)  There may be answers to these questions, but not easy ones, and Paths of Glory doesn't let us forget that.
And then there's the final scene, which doesn't formally fit into the narrative, and which nothing in Kubrick's career so far has prepared us for, as Christiane Kubrick (his wife), playing a captured German woman, sings for a bar crowd of French soldiers.  It's disturbing as fuck at the beginning ("spoils of war," the bar owner calls her, and there's the definite suggestion that a gang rape is on the way) and then as she sings, it turns into something so much else, as the soldiers begin to hum along (I've been told that the melody to her German song is originally French) and their faces change.  Kubrick's ability to see so much in a single face, there since his teenage years, has never been more powerful, and the joining of the image of faces to singing calls forward to the extraordinary ending of A Night to Remember.  And, like that, in ends in the promise only of death, as Freed informs Douglas that they're all going back to the front, and we know many of these people will soon be dead.
This scene is brutal, hopeful, sentimental like no one else would even dare, playful (my God, is that a smile on her face for a moment?), lyrical, hard-edged, funny, and as viciously dark as can be; it's about men who are cruel predators and lost children.  It's not an ambiguous scene; ambiguity implies undecidability between different possible things, and this scene is all of these things at once.  Kubrick doesn't do ambiguity, he does multidimensionality.  He can show all of these different qualities at once, and they're all clear, and no one of them dominates, no one quality subverts or denies any other.  F. X. Feeney said that you could search Kubrick's greatest films all your life and never reduce them to a single meaning, and that's what you see and hear and feel in this moment.  That's why any analysis that tries to say "this one thing is what Kubrick meant" will founder.  Kubrick, at his best, had no interest in realism; he had no interest in trying to make a pale copy of our world.   At his best, he created his own reality and made it as complex, as multidimensional, as ours; he made us see the complexity of our world by the complexity of his worlds.  It began with this film, and this scene.
Previously:  The Killing (1956)
Next: Spartacus (1960)