Movies talk to each other. What did the films of 2019 have to say? This is a look at how two movies from the past year tackle similar subjects in different ways. Be warned: SPOILERS for both follow.
The classic concept of a "women in prison" movie is an exploitation flick, no doubt made in the 70s – cinema's sleaziest decade, with an unforgiving warden humiliating jailed ladies in various states of undress, all locked up together in a urine-soaked hellhole (and all for the benefit of a male audience). But a prison doesn't have to be a place you're stuck in. It can be a place you carry with you.
Or it can be an entire country. Jennifer Kent's second feature, The Nightingale, is a period piece about Tasmania in the 1820s, following Irish convict Clare and native guide Billy through the landscape as they track English soldiers who raped Clare and murdered her husband and infant child. Its brutality and bleakness – multiple rapes are shown, as is the killing of the baby – led many critics to see the film through the lens of other genres, particularly the rape-revenge flick and the revisionist Western. Kent, an Australian whose country was also founded as a penal colony, is interested in a more complex and damning relationship between people and land.
While much of the movie is spent in a dark forest, Kent lets her characters' reactions color the perception of the landscape. Clare and the British soldiers see the woods as oppressive but it has the familiarity of home for Billy and his tribe, who lived there for millennia until white people decided the land was only good for storing other undesirable white people and began killing off everyone else. Westerns will often look at the price of "civilizing" the frontier, how regrettable things may happen on the way to a calmer, happier place. Here civilization is explicitly a prison, a place of restriction and curdled hate that even its organizers recognize.
Hawkins, played by a loathsome Sam Claflin, is the captain posted to the prison housing Clare and her husband and others. While he does run the show there, he is many levels below his superiors who rightly think that he's a terrible leader and not worth sending anywhere else. That they don't bother to remove him entirely speaks for itself. Hawkins promises Clare freedom and reneges, and does not have the wit to see the irony of his promised promotion away from this backwater also being denied, which leads him to set across the island in hopes of appealing to a higher-up. On his trek, he and his man casually kill and rape natives and he begins to instruct a young boy who falls under their protection in the best methods of subjugation. It's one of the few times he's honestly happy. Hawkins clings to the power of degrading those beneath him, and perpetuating the cycle is a way to justify his atrocities.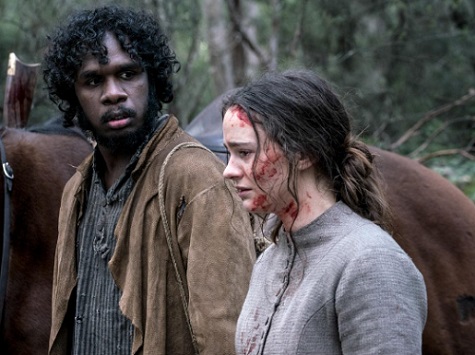 The only power Clare has left with is vengeance, delivering death. Which she does at one point in gory fashion, murdering someone who is begging for mercy with stabs that are more like bludgeons. Here Kent makes another turn – she never suggests that what Clare does is wrong or tut-tuts about the cost of revenge. She and actress Aisling Franciosi just show that Clare can't continue down this path. It is taking too much out of her. And while she is technically an escaped prisoner, Tasmania is a big country. She can still walk through it under the radar.
But Billy can't. Clare initially buys his services and treats him like an animal. If she doesn't see him as a prisoner, she definitely sees herself as a master. Franciosi does not downplay Clare's open racism toward Billy (played by Tasmanian actor/dancer Baykali Ganambarr) despite her needing his expertise to not only find her quarry but to survive in the bush. And while the two bond over hatred of the English, the movie does not pretend they are the same. While Clare can walk around free, she must pretend to be Billy's captor and knock him around when she meets another group that has captured more natives – one of those captured tells Charlie his family and tribe are all dead before he himself is slaughtered by his jovial guards.
This leads to the harshest scene in a movie that has a baby thrown to the ground. Clare and Billy take shelter with a settler who eventually invites Billy to eat at the table with the white people. Billy starts to cry, and in a lesser movie these would be tears that a kindness was finally offered. Here it is a voiceless, bottomless rage at being so cut off from life that you must be invited back to it, that the people who can invite you are your captors, who have murdered everyone else. At humanity as a privilege extended to you, the most oppressive reminder that you are a prisoner.
At the beginning of the movie, Clare is given a similar humiliation, being "allowed" to sing with her beautiful voice in front of the leering soldiers who will rape her before the night is out. Kent does not explicitly parallel these scenes or draw equivalence, that would be false. But it underscores just how deep the bondage has been laid on this land, by one set of people and encompassing almost everyone. Billy ultimately gives his own voice to this atrocity, using his given name of Mangana and his native language as the movie goes on, and he takes his own vengeance, killing Hawkins and his confederate when Clare wants to walk away. Kent is operating outside of the Western, but she channels the bleak necessity of one of its greatest and bloodiest artists, Sam Peckinpah.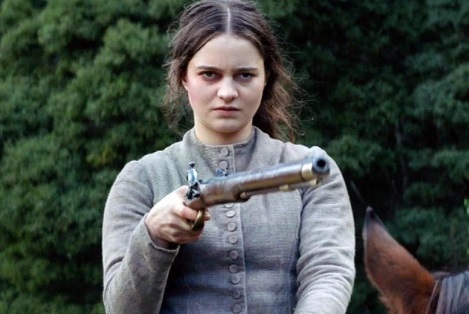 Peckinpah deals in things that must be done, but also knows sometimes there are things people can't do. There's a haunting moment in Bring Me The Head Of Alfredo Garcia where Isela Vega tells Warren Oates, who is ready to rescue her from being raped (or more likely fuck up and die trying) not to follow her, because "I been here before and you don't know the way." This feels in some ways like Vega's movie as Clare tries to find her way back from where she's been forced to go, with no one to rescue her. But because of who she is, she doesn't know the path that Billy, Mangana, must travel, a path she has the ability to step off. However, she can follow him, all the way to the end.
While Kent's sprawl is ungainly and goes in unexpected and dark directions, Midsommar writer/director Ari Aster stretches out in composed, clear images. If she channels Peckinpah, he's aiming for Kubrickian as he depicts a bunch of grad students falling under the sway of a creepy, closed-off rural Swedish community called Harga. And with a prologue ready to be decoded into revealing the whole movie, he's creating a prison similar to the one he made in Hereditary. Everything has been foretold in advance and the movie is less a story than a panopticon to watch everyone as they go through their motions. It's the same basic setup of a thousand slashers as stupid young people go somewhere, behave stupidly and get killed, but at half the speed and with an emphasis on the long Scandanavian daylight, all the better to observe their stupidity.
As a horror director, Aster is a good comedian. The stupidity on display is often very funny, making fun of grad students plays very well among a grad student audience (how do I know there were grad students in my theater? Reader, I watched this in Boston). Aster is attuned to squabbles of people with no real stakes and how that leads them to neglect other things, like relationships. The one person he views with sympathy is Florence Pugh's Dani, whose loss of her entire family in an ugly murder-suicide makes her cling to her shitty boyfriend Christian, whose moral compass is calibrated to recognize the badness of dumping her but not to lead him into actual care. They've sentenced each other to a terrible relationship, with no parole.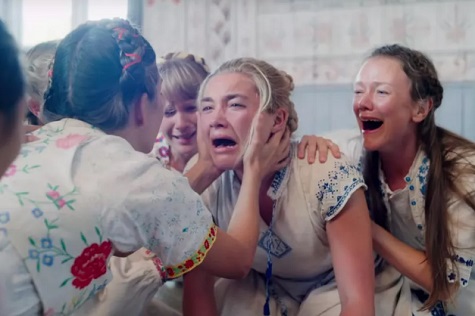 Early on in the movie, Christian's friend Josh (the delightfully douchey Will Poulter) tells him to get rid of Dani, dismissing her as someone who needs therapy (the audience has already seen that she's on anti-depressants). Throughout the movie, Josh is a crude and insensitive boor who nonetheless hits on certain truths – his blithe urination on the Hargan graveyard is the funniest part of the movie, piss on these cult goons – and he's right here. Dani needs help far beyond what she can get from her dick of a boyfriend, she needs someone who will listen to her needs and question what she's really looking for. Instead, she gets worshiped.
It turns out that the grad student who lured the group to Harga, a native son himself, did so to fulfill a rite of sacrifice and renewal. This is accompanied by numerous rituals that wind up focusing on Dani. She somehow wins a dance contest that all the other Hargans have more knowledge and experience of, and her pain at seeing Christian railing a local girl as part of a fertility rite is given emphatic group therapy, the other village ladies screaming along with her sobs. Dani is chosen to be the village May Queen, the most important person of the festival, and is given the choice of sacrificing Christian or a village rando to complete the ceremony; to no one's surprise she decides her shitty boyfriend should be sown up in a bear suit and burned alive.
In the final minutes of the movie, watching the flames and hearing the screams (not of Christian, surprisingly, but of another rando villager tossed on the pyre), Dani finally comes alive. Which is to say, unknowable. Pugh has an expressive and flexible face that has mostly been made to ring changes on whiny and confused for two and a half hours, and there's little to feel for Dani other than pity mixed with annoyance. But the look she gives to the camera as the movie ends is not easily readable. She is the only person not wailing (the Hargans are doing their empathetic hollering again) and she seems to have found a place of her own, even if it's only in her head, only for a moment. If nothing else, she's free from a life of anxiety and doctoral theses.
What's she getting in return? The Hargan society is regimented, everyone in their right place at the right time, with the right time ending at the age of 72, when you jump off a cliff and die. The ritual Dani and the gang come to observe is in part about getting new blood into an incestuous society that regularly produces deformed children. Dani likely has a bright future as a brood sow ahead of her. The American grad students are slasher movie meatbags, their obnoxiousness demands their death, but the Hargans happily slaughter a German couple that seems a lot more down to earth and only wants to get out of Dodge once they sense how weird things are. You'd have to overlook a lot to want to stay here.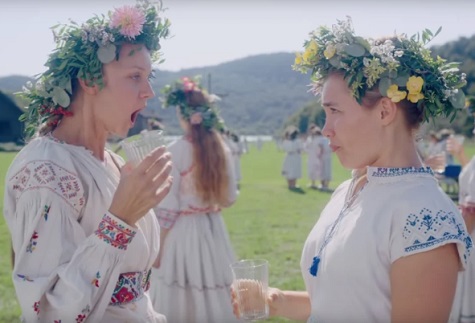 Outsiders can't get into Harga without permission and people, once in, are not allowed to leave. Harga is a place more than it is a group of people, and a person who doesn't submit to the place has no place there. It's not like the rest of the world is more welcoming for Dani, though. That place was full of pain, whether the hell of loss or the gnawing anxiety that people don't actually care for you at all, that you're alone and somehow deserve to be.
Clare and Billy – Mangana – come to the end of their land of pain and hell, the penal colony it has been turned into, at the close of The Nightingale. It's a sick joke in a way, to build a prison so large the ocean is its wall. They can go no further. Mangana is mortally wounded and Clare surely will be killed when she is caught now. They can't deny where they are and where they are going, so they take the moment they have to embrace who they are: They sing, separately yet together, naming themselves for themselves, existing on their own terms without permission from anyone.  In Midsommar, Dani trades one prison for another, an awful life on her own for life in an awful place with others. But who's to say she isn't happy?