Movies talk to each other. What did the films of 2021 have to say? This is a look at how two movies from the past year tackle similar subjects in different ways. Be warned, SPOILERS for Ghostbusters: Afterlife and This Is Not A Burial, It's A Resurrection follow.
 Everything dies, baby, that's a fact
But maybe everything that dies, one day comes back
– Bruce Springsteen
The reader of this year's Double Features may have noticed the movies aren't exactly talking to each other a whole lot. It's more like one movie talks and the other film is used to club it into submission. That's not as rewarding as these analyses can be but sometimes you don't want to be fair, you want to beat something into the ground. That way it can't get back up — right?
Ghostbusters: Afterlife (2021) is not a reboot of Ghostbusters (1984), like Ghostbusters (2016) was; it is more of a sequel to Ghostbusters 2 (1989) but mostly focusing on new characters. It does open with one of those original Ghostbusters, Egon Spengler, being chased by a ghost somewhere in Oklahoma and dying moments after he conceals some clearly important piece of technology for the movie's leads to find later. We understand this is Egon even though his face is shown or his voice heard; this is because the actor who played him, Harold Ramis, died in 2014. But like the franchise, Egon is not going away.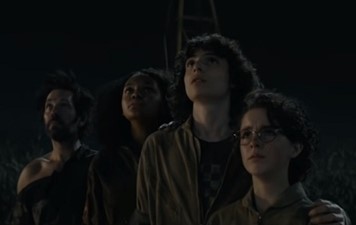 A word that came up in the more withering reviews of Ghostbusters: Afterlife was "necrophilia," in terms of what writer/director Jason Reitman — the son of Ivan Reitman, director of the original film — was committing with his take on the material. Say what you will about necrophilia but it at least has a proud tradition in Ghostbusters lore, what with Dan Ackroyd getting sucked off by a sexy wraith in the original flick. What the younger Reitman is up to in his movie is nothing so aggressively grotesque. He's interested not in copulation but masturbation and re-animation, bringing a dead franchise back to life so he can lead a circle jerk before its lurching presence. Why? Because the Ghostbusters are just that important.
There are a lot of lazy things in Ghostbusters: Afterlife. The way the story largely mirrors that of the first film — not just bringing a team together (Black person joining last, of course) with specters and spooky architecture but having that team fight the same villains and hitting the same beats, like subbing in one fat slob ghost for another. The careless writing around Egon's daughter and her two kids; Carrie Coon is an excellent actress but appears to hate her children when the movie is trying to show exasperation. The signifiers of wholesome Middle America, so squeaky clean that even teens hanging out in the boonies have not brought any booze or drugs with them and have never apparently even explored the deserted mine nearby for purposes horny or otherwise. The fact that the kid with a podcast is named "Podcast." Even the hideous, infantilizing conceit of "fan service" is half-assed. A bunch of little Stay-Puft marshmallow men wreak Gremlin-y havoc as ghosts run rampant through the town, as others have pointed out this implies said S-P MM have lived, died and left unquiet souls. But how the movie deals with its central conceit, The Importance Of Busting Ghosts, is its laziest aspect.
The Ghostbusters from the first two movies saved the world a few times and yet have been largely forgotten. Aside from a fan/dweeb played by Paul Rudd (and it says something that as the movie maps its characters to those from the 1984 film, Rudd's handsome nerd is replacing actual huge dork Rick Moranis) no one really gives a shit that four guys not only defeated ancient Sumerian evil but also proved the existence of life after death. There are clips of the original gang's showdown with Stay-Puft on YouTube, but who watches that? Podcasting with Podcast is the new thing. Ghostbusters 2 was amusingly cynical in how it brought the heroes low, but here their disappearance is handwaved in order to bring them back with reverence and make a massive corporate product somehow an underdog to support. The movie sees young Spenglers Phoebe and Trevor (McKenna Grace and Finn Wolfhard) discovering their grandpa's old busting gear after they're forced to move to his Oklahoma home and it's intended to be thrilling for the audience — look, a ghost trap! The car! A proton pack, charged up and zapping ghosts again! Instead it is enervating. A new generation finding the tools of an older one and doing the same things with them, in the same way. Reitman doesn't use his one new idea of the rural setting to come up with weird ghosts, he uses it to shoot magic hour corn, literally and figuratively. It all feels so damn tired and yet it keeps plodding along.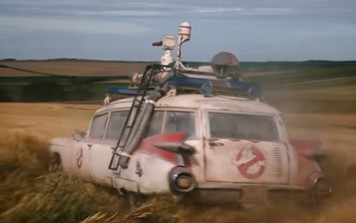 Mantoa is ready to die. Her husband and daughter and grandchild died many years ago and early on in This Is Not A Burial, It's A Resurrection, some men come to her one-room house in Lesotho to tell her that her son died in the mines in South Africa. And Mantoa, played by Mary Twala Mhlongo, sees no reason to keep living, whatever the village priest may say as he talks about the loss of his own wife and how he moved on. Every night she lays down in the beautiful dress her husband once gave her and hopes to die in bed, and every day she is disappointed. In the bleakest black comedy, the town gravedigger is seriously injured and unable to perform his work; Mantoa tries to bribe other townspeople to dig her plot and they refuse. So she sits in her house and in one nearly unbearable sequence she dances, arms embracing someone who is not there. With nothing more than the shape and angle of her hands, Mhlongo creates a ghost.
And she is long gone herself, for the movie actually begins in a desolate bar where a man who seems half-mad is telling the story of her and her town, which is now underwater and has been for quite some time. You can still hear the tolling of the church's bells from uncountable fathoms below, the man says. He narrates the movie throughout and interrupts his narration with notes from a lesiba, an instrument that is both string and wind and sounds somewhat like a harmonica and somewhat like a bird and is augmented by Yu Miyashita's score of anxious and attacking violins. When it flutters around Mantoa in the opening third of the movie, as she is framed in a house with splashes of brilliant color painted by a dead man and whose hominess is utterly empty now, it is hard to imagine anything ever having significance and Mhlongo's face forecloses any hope. Life is just marking time until the release of the grave.
But the graves are not as permanent as Mantoa thinks. The government has men out measuring the land and preparing for a dam that will flood the village. Everyone and everything must go, including the bodies under the earth that Mantoa wants to join. So the need for the right death brings her back to life. Mantoa tries to appeal to the government directly and then shames her village and its leader into opposing the relocation. The villagers realize that their land, poor as it may be, is still land that feeds them and gives them what they need and writer-director Lemohang Jeremiah Mosese shows this country in its steep hills and furrowed fields and plains full of herbs that Mantoa knows every use for. It is a place worth fighting for.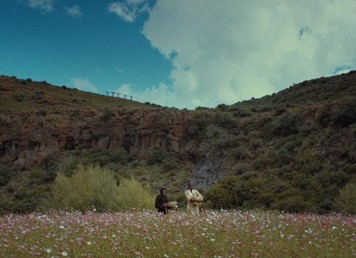 It is a place of death. Long ago, Mantoa tells a younger villager and the narrator echoes in his own telling, the people of the country were stricken by a plague and traveled to the capital, but so many died along the way they were buried in this once-empty land and their relatives stayed and settled what was called the Plains of Weeping. Colonizers and missionaries came later and gave it a new name, Nasaretha, suggesting life after death, but Mantoa says they were the Plains of Weeping first. But what about before then? Change is always coming, the village priest tells her. In a remarkable scene, Mantoa slowly washes and shaves that injured gravedigger while the priest addresses her, shown in a mirror hanging on the wall and looking like a religious icon speaking his Word (and recalling a smaller image on Mantoa's own wall). His god replaced the old gods and in time may be replaced as well. "I have come to realize that nothing will ever endure … Nothing!" he tells her. "We can't withstand the march of time. We just have to adapt to change." Mantoa is silent during his sermon, but outside she lays into him and his words of acceptance and understanding in the face of death:
"You know what you will see, Father? Nothing. You will see nothing, no meaning. There is no meaning to all of this. There is no meaning to my children's deaths and my grandchild's death. So it is with your wife's death. She will die over and over again for the rest of your remaining life. Yes, that's grief. It's a senseless suffering, there's no meaning to it."
The villagers find meaning in Mantoa's earlier words urging them to fight and their daily lives are more lively as a result. The rituals of planting, of shearing the sheep, even of drinking around the fire with one of the state representatives telling them to give up their land, all have the vitality of a thriving community that surely will keep fighting the good fight. And maybe bring a despairing woman back to enjoying life? But someone burns Mantoa's house down, and she sits in the rubble with only her sheep for company. And someone shoots and kills a sweet young boy (who a viewer might have expected would grow into our narrator). His name is Lasaro but there is no resurrection for this potential Lazarus here. His death only leaves another mother in bottomless grief, just like Mantoa. It breaks the community as well. They pack up and move out, and the government moves in.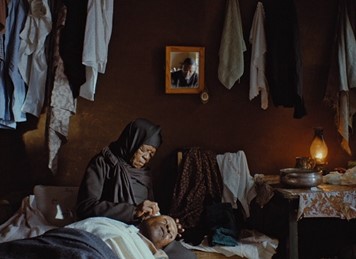 The narrator says at the beginning that Mantoa believed in "the benevolence of God" when her son lived but after his death turned away from religion. And yet for all Mantoa's work to prepare her burial, trying to get it set up before the government throws everyone off their land, she never plans to actually kill herself. Her life is a "senseless suffering" but she won't end it on her own, even though she says she wants to die to be with her husband and children again. I don't think that belief in reunification is based in the idea of a heaven, but grim practicality — whatever is on the other side of death, her family is there and she still lives — her end will put her with them. But life belongs to the living, even as it is built on death and the bones of the people who lived before you. Something is keeping Mantoa from choosing to reach death on her own, some sense of refusing to cross that boundary. So what does it mean when the dead are brought up from under? When they are resurrected?
The surviving Ghostbusters — Dan Ackroyd, Ernie Hudson, and Bill Murray — eventually show up to help save the day in Ghostbusters: Afterlife (and of the three, only Ackroyd seems really interested in being there, which is unsurprising given the whole Ghostbusters conceit came out of his bugfuck ideas). But they and the kids and Paul Rudd and Carrie Coon are not enough to stop Gozer the Conqueror from destroying the Earth. Until that final Ghostbuster finally shows up. Egon Spengler, previously depicted as an object-moving poltergeist or a faceless body, is shown helping his granddaughter with the final zapping necessary to send the bad guy back to Hell or wherever and it's the digitized face and body of Harold Ramis on screen, the movie's true ghost, doing the busting instead of being busted.
Reitman says this was done with the full approval of Ramis' family and I believe him, I have no reason not to. Family members can make bad decisions when they've lost someone. It's interesting how even here, we don't hear Egon speak, even though the technology to play a dead man's voice is even easier to deploy. Maybe that was too weird? Putting words in a dead man's mouth? But putting his face up there was no problem, a digital specter that finally confirms the movie's insistent thesis of Ghostbusting gravity — it's a job, a story, a movie so important that they had to bring someone back from the dead to make it happen.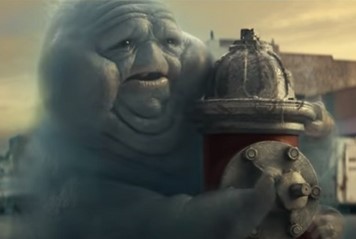 "Every time I say the word progress, my tongue literally rolls backwards," one of the villagers in Burial says as they prepare a letter to the government demanding they keep their land and their dead. Then he reminisces about his father who helped chop down the old forest so the main road could come by. The old man watched the ribbon-cutting ceremony and his words, his son recalls, were not enthusiastic: "My son, what they call progress, it is when men point their damning finger at nature and proclaim conquest over it."
O death, where is thy sting? O grave, where is thy shareholder value? A movie is the most astonishing immortality, I can see people long dead and whose lives never even overlapped with mine as they fight and love and hit each other in the face with pies. But that is not enough. The dead must rise to keep dancing for whoever owns the land or just the image that can be created over and over again (although a fate worse than death surely awaits anyone who violates the owner's copyright). And what does it say about us when we watch the dead capering on our screens — not the images of life preserved, but the bodies hauled up to act and speak beyond their lives instead of lying in peace? Mantoa will beg for death but not take it upon herself and will not stand for death to be made less than it is. Reitman won't let death get in the way of a heartwarming ending.
I am uneasy talking so much about the importance of death here because these Double Features have been boomeranging on me with a vengeance — I called for more risk at the start of 2020 and spent the next year cowering in fear; I praised a bunch of rebel truckers in 2021 and now the dumbest shits on the planet have embraced the convoy. I want no part of death in my life. Death is terrible and grief is a suffering so senseless that we have to come up with ways to tell ourselves otherwise until enough time goes by that we can convince ourselves the distance from the pain is the same as the pain being less powerful. But while death can overwhelm it can also be ignored and it can and should be mocked, how else would we get on with our lives? That is how people deal with death; what and who does bringing back the dead benefit? It profits that dead person not at all but a company a great deal, and that is why it is so foul. This kind of resurrection says lives and deaths no longer belong to those who live them, and instead belong to those with the power to re-animate instead of create, who see a life to be extended on their terms as long as the money rolls in. They render the images and call it progress, damning nature and proclaiming conquest, and what they call life cheapens the grief and the triumphs of our own. The makers of Ghostbusters: Afterlife do not believe in people except as part of a product, to endlessly sell and be sold to as they extend the life of a franchise, the one thing they do care about.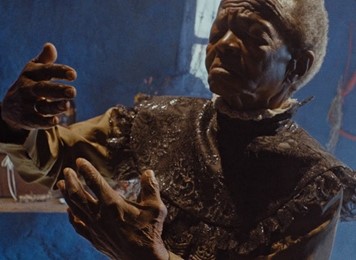 Even the conclusion of their movie refuses to end. As is de rigueur for movies now, there are multiple scenes interspersed throughout the credits, where each original surviving Ghostbuster gets a chance to re-enact something from that first movie, or simply stare in awe at an old set; it is a pathetic attempt at reinvigoration and plea for renewal. This Is Not A Burial, It's A Resurrection builds to a climax and cuts away. Mantoa joins her fellow villagers trudging off under the eyes of engineers and other government officials, but then stops and turns back, walking against the tide as a young girl follows behind. Mantoa removes her head covering and then the black mourning shawl she's worn every time she's been outside, and we see her face, unreadable and implacable. Then she takes off her remaining clothes and stark naked, arms raised, walks past the camera toward those who would turn her away. Mosese films her from behind with the people she's approaching blurry even as their demands for her to stop grow more urgent. This is the view of that child, the one person who has turned to see Mantoa finally meet her end, the narrator tells us: "Many saw death, but Daughter Of No One saw a resurrection. It wasn't for the dead, but for the living."
This is the story that has made its way to our narrator, who told us the ending at the beginning. And I don't entirely believe it. Throughout the movie Mary Twala Mhlongo's performance has let no one in, her face registers grief and anger and persistence but these are subtle gradations of a stony surface. Mosese frequently isolates Mantoa in the frame and often leaves her figure dwarfed by the landscape she walks through. But this cuts both ways — the landscape is vast, and yet Mantoa is here in it. An individual that is part of this land and connected to it, however briefly in the long run. It's a paradox that is mirrored by her shaving that gravedigger. While the priest blithely speaks of nothing enduring, she calmly performs the most futile task there is, mowing back the stubble that will only grow again the next day. Her efforts will be for naught but they are hers to give, for her community and for herself. Because she is alive, in all life's inconsistency. At the end she acts for herself just as much, if not more, as she does for her community and if her final moments have become something else in the telling, that's because other inconsistent humans are keeping her memory alive in their own way because it gives them something.
That is different than a corporate resurrection, pulling the body out of the grave because you can make something out of it or because it is in the way of your latest and greatest making. Mantoa's final act is a denial of that endless forward motion, it strikes a spark in at least one person and maybe her in her people. Not that Mantoa will ever see what happens. She's not coming back.