The film version of Glengarry Glen Ross (1992) holds a special place for many viewers: it is uncommonly perceptive in detailing what happens to desperate men who must be willing to do anything to close the deal. In Glengarry Glen Ross, the level of vicious competition makes the archetypal business drama, A Death of a Salesman, first staged in 1949, look almost nostalgic—there is also the excitement of watching each big-name actor try to hold center stage. Yet the damage is mostly psychological. None of the men are physically harmed, much less killed.
In this respect, the stakes are far higher in The Big Sleep (1946), which is the tougher, darker progenitor of films like Glengarry Glen Ross. The Big Sleep is unusual for a film noir in that there is less commentary on class and economics than you would expect, and the plot is not only loose; there is a gaping hole opened by at least one unsolved murder. What The Big Sleep focuses on is a category of people we would now call middle-level managers. When the film was released this type of person had yet to leave a lasting impression on the business world, making the film truly ahead of its time.
The Big Sleep is from the point of view of Philip Marlowe, a private investigator. As a result, we don't know anything until he does. At the end of the film, however, we realize that much had already happened to the Sternwood family before Marlowe's preliminary visit. Wealthy enough to keep someone on retainer to hush up its frequent scandals, the family hires Sean Regan, a local tough guy. The younger, sexually voracious, daughter, Carmen, desires Regan, but he has his eyes on Mona, the wife of Eddie Mars, whose gambling casino is a front for his criminal activities. Mars arranges for Regan's death under mysterious circumstances, informing Vivian, Carmen's older sister, that Carmen was responsible. Eddie proposes to protect Carmen by having Mona hide out so it looks like she ran off with Regan.
Being an ambitious guy, Eddie thinks he can be the manager for the Sternwoods, and, at the same time, subcontract out the job of blackmailing Carmen for her gambling debts. The family patriarch, General Sternwood, makes discreet inquiries with the police. A friend of Marlowe's on the force suggests that he contact Marlowe regarding the blackmail threat.
Fired from the DA's office for insubordination, Marlowe is looking for a wealthy client, and the Sternwoods fit the bill. After meeting with the General, Marlowe encounters Vivian. Sparks fly immediately between Marlowe, played by Humphrey Bogart, and Vivian, played by Lauren Bacall.
The film plays up this romance angle, of course—but what it's really all about is Marlowe and Vivian's playing games with each other. Marlowe repeatedly asks Vivian what Eddie has on her. Vivian is worried about her sister, whom she knows is a drug addict, and her father, whose ill health would dramatically worsen if he found out all that's been going on.
Vivian uses Marlowe's success in handling the blackmail scheme as a pretext for coming onto him. But Marlowe thinks that Vivian intends to play him off against Eddie. And while dating the boss's daughter might get him closer with the family, he'll still have to compete with his rival.
Marlowe is a skilled negotiator: he plays hardball, giving Vivian the impression that she needs him more than he needs her. He can remain independent for as long as he wants—a running gag in the first part of the film is that every woman he meets falls for him. If Vivian refuses to answer questions about Eddie, he'll get the answers from someone else.
Eddie remains invisible for much of the film. He tends to have more of what you'd call a hands-off management style. At key moments, however, he appears out of touch. When, for example, Eddie earlier meets Marlowe and Carmen, he fails to recognize her, and Marlowe makes a note of this mistake.
Marlowe is more efficient by staying on the street, where he can pick up valuable information. He doesn't leave behind messy evidence in the form of dead bodies, like Eddie's thugs tend to do. The turning point is when Marlowe is contacted by a woman who was a part of the blackmail scheme and knows where Mona is. Eddie tries to prevent Marlowe's meeting with this woman, but is unsuccessful.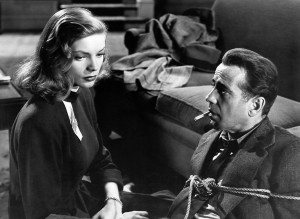 Marlowe tracks down Mona and runs into Eddie's thugs who beat him and tie him up at the house where she and Vivian are. Vivian now has to choose between Marlowe and Eddie, and, of course, she chooses Marlowe. She and Marlowe escape, but not before he kills Eddie's right hand man.
They drive to the house where the blackmail scheme was conducted. Marlowe calls Eddie and lies to him, saying he's calling from the location where Mona was hiding, and arranges a meeting at the house where he actually is. This buys Marlowe time, because he knows Eddie will be leaving from the casino, which is a fair distance from the house.
Eddie arrives and has two armed men hide outside. Through the window, Marlowe spies on them. Eddie enters the house, thinking no one else is there. Marlowe surprises him and gets him to confess, at gunpoint, in front of Vivian that Carmen didn't kill Regan. Marlowe fires several shots to get the attention of the men outside and forces Eddie to run out the front door. He is consequently shot and killed by his own men.
Certainly Eddie had it coming to him: it was unwise to have attempted to blackmail his employer. What seals his fate is that Marlowe capitalized on a crucial lead, the information about the location where Mona was hiding, and took advantage of Eddie's failure to recognize Carmen, a mistake that allowed Marlowe to see through his framing of Carmen for Regan's death.
Marlowe is clearly the better man for the position of managing the Sternwood family's affairs. At the end of the film, he's figuring out what to tell the police, while advising Vivian to have Carmen sent away and get clean. Marlowe gets the job and Vivian—and gets away with the death of his competitor, having smashed up his organization. That's how it goes in the business of crime: the winner takes all.