One of the defining emotions of John Huston's The Maltese Falcon is contempt. It's an elegant, effective, and even cruel film about an elegant, effective, and even cruel man, and its true moral balance isn't between right and wrong but between respectable and contemptible.
Not, we'll note, between respectable and disreputable. Nearly everyone in The Maltese Falcon is disreputable; their public selves are unlawful, sordid, or galling. Sam Spade (Humphrey Bogart) is the primary—and primal—force of this world, and the fact that he irritates the police and the A.D.A. so much that they would happily see him hang is a minor but trenchant plot point. The official order is clean and well-scrubbed. It's the sign SPADE AND ARCHER, painted in neat letters on the window. The official order is also, needless to say, quickly adjusted in favor of neatness.
Spade isn't above taking advantage of that, mostly because there's not much he wouldn't take advantage of. Miles Archer's body is barely cold when Spade has his name scraped off. He has his own first and last name put in its place: SAMUEL SPADE, man enough for two men. Not SPADE INVESTIGATIONS. Just the name, which has to be enough for him to stand by.
But the sign on the window isn't what the movie dwells on, with almost jarring pointedness. It's the shadow that the letters cast on the floor—and later, on the wall, thrown over Brigid O'Shaughnessy's (Mary Astor's) face like a watermark.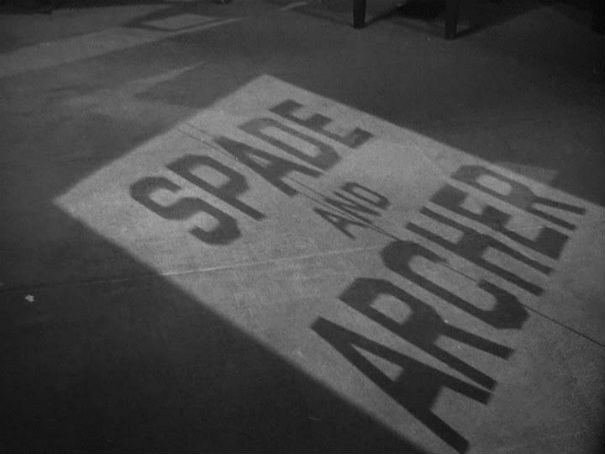 Shadows are what we're dealing with. Not truths, but the effects of truths.
Hammett's novel deals with its protagonist through third-person objective, the camera lens of prose, giving us nothing we couldn't see or hear if we stood in the room with him. That perspective holds true in the film—and even seems to hold true for how Spade sees himself. When he's pressed to his limits, he defines himself first elliptically, hypothetically—"When a man's partner is killed, he's supposed to do something about it"—then systematically—"it's bad business to let the killer get away with it, bad for every detective everywhere." He can gauge his desires better than his motivations: he can't say anything stronger than "maybe I love you" to Brigid, he can just recognize that he wants to throw everything over and let her go free. He doesn't work backwards from that longing to get to the reason behind it, and that might be because in the end, it simply isn't that important to him. If the love is there, it's of secondary importance to what he considers far more significant and far more recognizable.
"You don't love me," Brigid cries, and Spade retorts with, "I won't play the sap for you." Only a few seconds later, he repeats both halves of that exchange almost verbatim: "I don't care who loves who. I won't play the sap for you. I won't walk in Thursby's and I don't know how many other's footsteps."
He won't, in short, incur his own contempt. Contempt is what he feels—and expresses—most viscerally. He can fake anger—he whips up a tidy little demonstrative rage for Gutman (Sydney Greenstreet)—but the disgust is always all-natural, and it's where he has the most range and shows the most subtlety. It's a way of sorting out a complex hierarchy—who's who, and who's behaving like they're supposed to and who's not, whose shadow doesn't match his form.
As a system of evaluation, it shows both fundamental prejudice and a certain amount of flexibility. He asks more—and thinks more—of men than he does of women and more of straightness than he does of queerness, but he fudges those definitions where it suits him, going off shadows rather than forms. His secretary, Effie (Lee Patrick), is the one person Spade ever seems truly human with; she's competent, likable, and loyal, so the effect she casts is greater than he'd have expected. Move her up one level, then, to masculinity rather than femininity: she's "a good man, sister." Joel Cairo (Peter Lorre) proffers gardenia-scented business cards, ensuring Spade's nearly playful contempt before he even enters the room: Cairo "should be" straight, and unlike Effie, he's transgressing in the wrong direction. But Cairo, curiously, wins a certain kind of respect from Spade, mostly because Cairo, for all his seeming softness, manages to get the drop on Spade not once but, damningly, twice. And after the second time, when Spade gets held up only because he's just handed Cairo's gun back to him, sure he's the master of the situation, Spade laughs and concedes. Later, for all the ugliness of his crack that when Cairo is slapped, he'll "take it and like it," it's Wilmer (Elisha Cook Jr.) who gets tagged—repeatedly—as "gunsel." Cairo is more obviously queer, but Wilmer is more obviously weak–he's the one with tears in his eyes when he's being framed–so he's the one who, in Spade's view, more deserves the loaded condescension.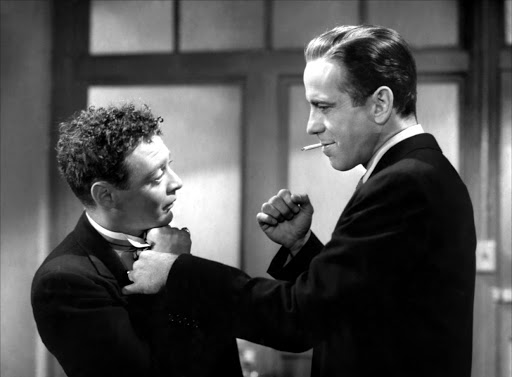 Weakness and gullibility, to Spade, are the two cardinal sins. His worldview fits his name: you call a spade a spade, and a spade is what you're buried with. It fits his life: he's a detective who doesn't want to be fooled. It even fits his habit of not carrying a gun—why should he, when it's almost a confession of fear? Why should he, when he's always man enough, by his own standards, to be able to get one away from someone else?
There's something powerfully appealing about Spade, and it can't all be chalked up to Bogart's considerable charisma. Nor is all of his hardness safely wish-fulfillment. There's a casual heartlessness to him and—by anyone else's moral standards—a nasty strain of hypocrisy. For one thing, he's sleeping with Iva Archer (Gladys George), even though she's his partner's wife and even though he seems to dislike her so much you can almost see his skin crawl whenever they share a scene. If their affair means he owes her anything, he refuses to recognize it: he has Effie tell her about her husband's death and then tries to dodge her for the rest of the movie. Then she thinks he's a murderer, and he's offended by it, as if he thinks she should have a higher opinion of him. It would be interesting to know if he notices how disconcerted Effie is when she hardly blinks at a man dying right in front of them, if he even registers that he's hurting her when he grabs her arm. He's not just a brute, because he's smart enough to know better. He just doesn't care.
But for all that, he's a striking character, and never more so than in his last few scenes, when he gives up every chance at being another man to be, instead, the only kind of man he would ever respect. In that prolonged confrontation with Brigid, he's simultaneously tragic and hardhearted, deeply felt but indifferent to his own feelings. "If they hang you," he says, "I'll always remember you," as if he's seeing and accepting the shadow this will cast over his whole life. Mere moments later, he seems to take it back: "Well, I'll have some rotten nights after I've sent you over, but that will pass." He's not really contradicting himself. He'll always remember her—but by giving her up, he becomes the kind of man for whom this kind of thing will always pass, and he knows it.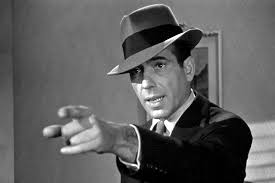 In a way, he's become not that different from Gutman, another man who knows what he wants and knows what he's willing to spend to get it. "I want you to know I couldn't be fonder of you if you were my own son," Gutman says to Wilmer, as he's setting him up to take the fall for all the murders. "But, well, if you lose a son, it's possible to get another. There's only one Maltese Falcon."
Spade famously calls the fake falcon "the stuff that dreams are made of," a rare bit of romanticism (and one that, in one of the film's best details, only earns him a "huh?" from the cop he's talking to). His dreams, though, are made of other stuff. Maybe he loves her and maybe he doesn't, but if you lose a lover, it's possible to get another. Rotten nights will pass. Spade will still have himself.