As football season gets underway in the United States, it's also time for that other American institution, the marching band, to show its stuff. Despite the ubiquity of bands in American music, and the visual appeal of marching bands, they are not at the center of very many films, at least not in comparison to the orchestra or choir (both of which have much longer histories than the wind band), or to more popular forms of music. Because of its cultural position, associated either with students or amateurs, the band tends not to be equated with high-culture aspirations: likewise, with a few exceptions, composers of band music are less well-known to the public than the romantic figures who composed in the eighteenth and nineteenth century, so there are relatively few biopics about bandsmen in the "inspiring true story" mold.
Interestingly, however, the band's status as neither "popular" nor "classical" puts it in a unique position to examine what those terms mean, and how the definitions have changed over the years. The movies I'm considering here (mostly) put the focus on the band itself as an institution rather than using it as window dressing. The attention to detail pays off in reasonably accurate portrayals of musicians and their mannerisms; the rhythms of rehearsal and performance; and the role the band plays in a school and/or community. It is this depth and commitment to the subject that helps a movie ring true for band geeks in the audience, even when the story verges into the dramatic or unlikely.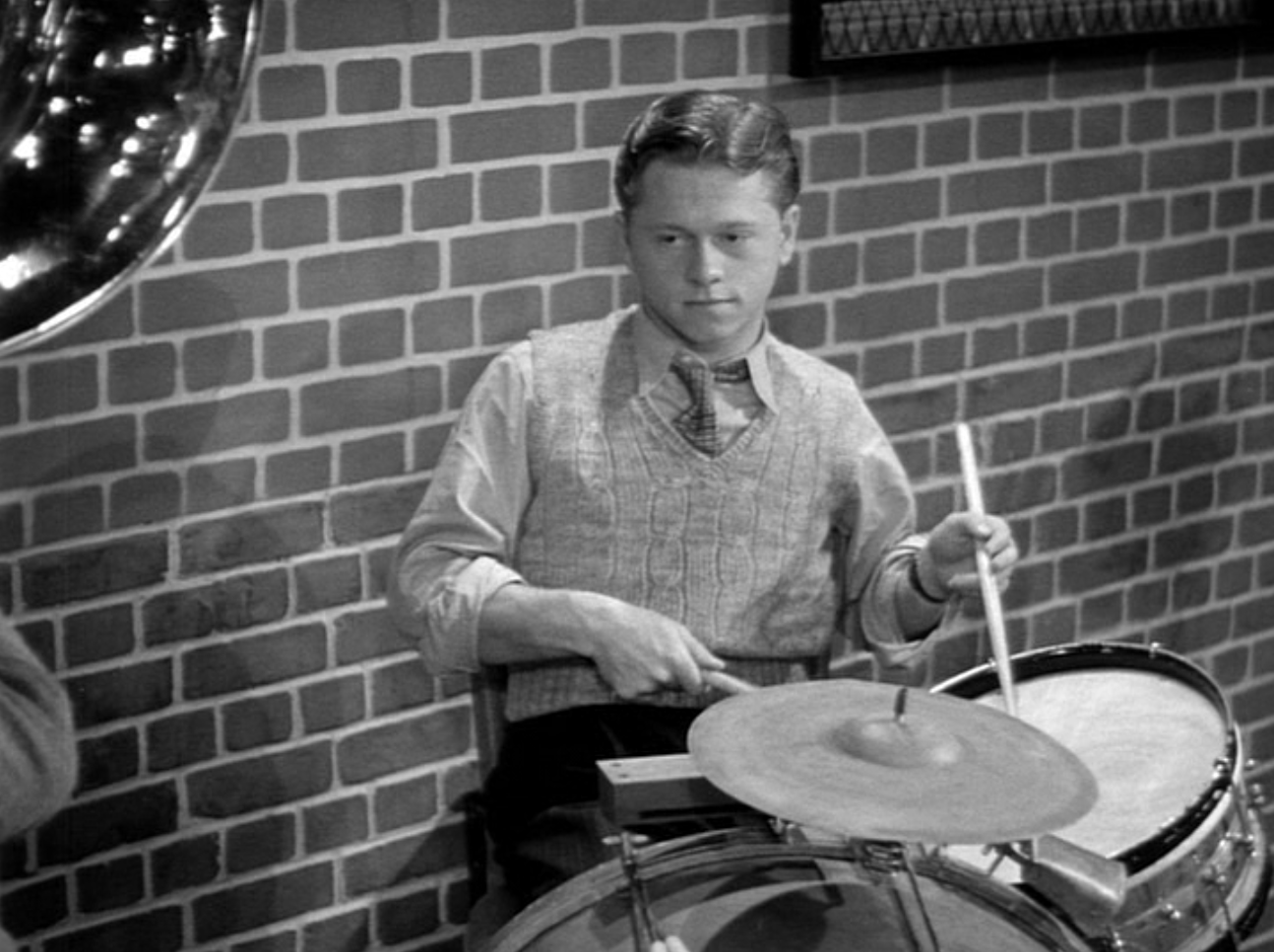 The Group and the Individual
A typical depiction of the band is as a square, even moribund, institution, from which an inspired protagonist must break free to express himself through jazz or rock (depending on the era). A few years ago, a colleague of mine complained that the emphasis on individuality and "being yourself" had made regimented school music programs like band and orchestra unpopular: kids would rather be in a garage band or make beats by themselves on a computer than participate in something where they're subject to someone else's artistic direction. "Thanks a lot, Baby Boomers," he concluded bitterly.
Such depictions both predate and continue after the Baby Boom years, however. Strike Up the Band (1940) and Drumline (2003) both begin with hotshot drummers adding their own licks to the band's boring music and end with a climactic "battle of the bands," but otherwise they could not be more different. As Jimmy Connors, Mickey Rooney in Strike Up the Band convinces his school's principal to ditch the struggling band and replace it with an up-to-date dance orchestra, led by Jimmy himself. (Ironically, Rooney's jazz-crazy drummer idolizes Paul Whiteman, whose tightly-arranged, rigorously rehearsed brand of "symphonic jazz," a precursor to big band swing, often cramped just the sort of ambitious individualists who wouldn't be happy playing marches and other "straight" music in a concert band.)
In Drumline, Devon Miles, played by Nick Cannon, leaves his New York City stomping ground to join the elite marching band of Atlanta A & T, immediately butting heads with his section leader, band director, and anyone else who would try to rein in his talent. Devon is cocky and cool, determined not to back down from anything, but it's obvious from the beginning that he has some Important Lessons to learn: his brashness, dislike of authority (not-too-subtly connected to an absent father he tells off before leaving New York), and need to show off constantly get him into trouble, on and off the practice field and (eventually) even at performances. In an ensemble based on precision, discipline, and uniformity, such a disruptive influence can't be allowed to stay, no matter how talented he is. So much for the post-Boomer individualist hero.
As one of the "backyard musicals" starring Rooney and frequent screen partner Judy Garland, Strike Up the Band doesn't immediately look like an Important Lesson kind of film: as directed by Busby Berkeley, the film is (like most movie musicals of the time) largely escapist in tone, with splashy production numbers and in-story performances that don't aspire to any kind of realism (such as a "melodrama" that suggests Dudley Do-Right as staged by the Max Fischer Players). More importantly, Jimmy's arc is one of success after success: even humiliating episodes, like a disastrous date with a wealthy debutante, turn out to be important stepping stones to further opportunities. Jimmy Connors doesn't need to learn any lessons: he's already got it all figured out.
Except he doesn't. The main question of the story is whether he'll be able to recognize and return the affection of longtime "pal" Mary (Garland) over the sound of his own drums; there's a strain of "He-Man Woman Haters Club" in his insistence that girlfriends are a waste of time, and Mary is understandably troubled that he treats her as "just one of the guys." I think everyone can see where that storyline is headed (likewise the question of whether Jimmy's mother will accept his dreams of becoming a musician instead of a doctor). I'm more interested in a late-story twist in which a young member of the band's entourage is in dire need of medical attention in Chicago and Jimmy must decide whether to use the band's money (which they had been saving to travel to a career-making battle of the bands) to charter a plane for him. (The boy's arm was broken while suspended from ropes during the melodrama performance, a circumstance pointedly ignored.) Similarly, Jimmy must decide whether to accept a job offer drumming at a club in New York, a move that would leave the band—his band—high and dry.
Much of the difference between the two films comes down to the very different eras in which they were made—frothy fantasies like Strike Up the Band haven't been fashionable for decades—but they also draw on conventions of different genres. Strike Up the Band puts the focus squarely on Jimmy and his ambitions: it's a movie about an artist coming into his own. Drumline is an archetypal sports movie, with Devon in the position of a would-be star quarterback who must learn to play as part of a team. Where Devon gradually comes to understand that "you have to learn to follow before you can lead," Jimmy finds that leadership doesn't just mean getting the glory or getting his own way. It also comes with the burden of responsibility and the need to make the tough decisions. (The fact that everything still works out for him is pure Hollywood, but it doesn't lessen the importance of his decisions at moments of truth.)
Both Devon and Jimmy ultimately learn to put the good of the group before themselves, and while both films affirm the rightness of that choice, it is that dynamic that makes the band such a signifier of social conformity, on film at least.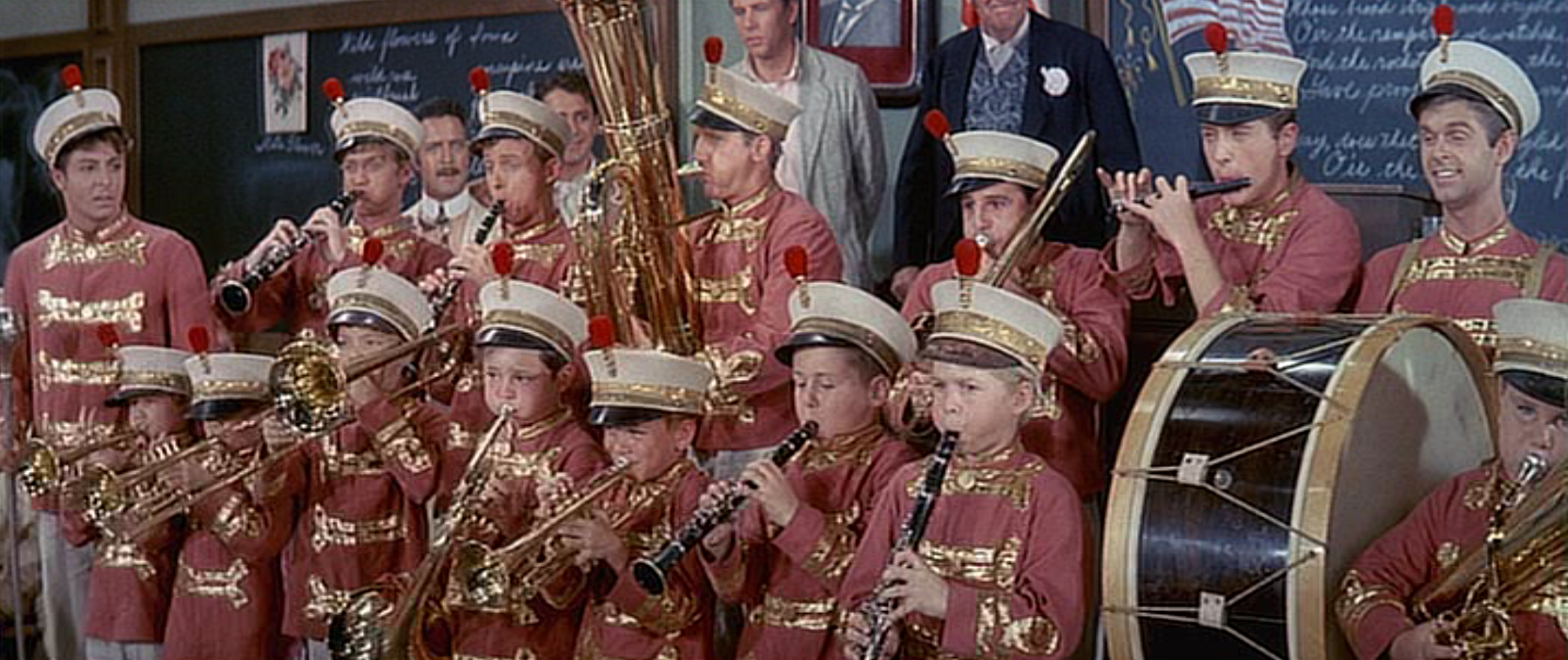 The Band and the Community
Simultaneously recognizing and subverting the band's identification with conformity is what makes The Music Man (1962, based on Meredith Willson's 1957 Broadway musical) so brilliant: con artist "Professor" Harold Hill (Robert Preston in a career-defining performance) knows just how to appeal to the small-town fears and pride of River City's citizens as he promotes a boy's band. Hill contrasts the wholesome occupation of the band with the moral decay that will inevitably follow installation of the town's new pool table, but this is purely an angle. At the same time, he knows how to co-opt both influential town leaders—his transformation of the fractious school board into a barbershop quartet is a high point—and popular kids who can lead others into joining the band. He may not "know one note from another," but Hill has the instincts and psychological insight of a great teacher (an art sometimes indistinguishable from salesmanship).
Of course, things don't go as planned: as much as the town needs something to gather around, Hill finds that the town has something he needs as well, and the perennial traveling salesman (Hill isn't even his real name) falls for the skeptical librarian (Shirley Jones). From one perspective, The Music Man illustrates the danger of buying your own hype: the images he spins in "Seventy-Six Trombones," one of the great celebrations of the band, are so seductive that he starts to believe them himself. From another, more forgiving point of view, the promised boy's band is a lie that reveals a deeper truth: the people of River City were disconnected and dissatisfied before Hill came along and gave them something to believe in. The final punchline—the band sounds terrible, but that doesn't matter to the parents who love seeing their boys participating—is both cynical and heartwarming, much like the movie itself.
Even in recent decades, a band can represent and speak for a community, and simply continuing to exist in the face of official indifference can be a powerful protest. After the Baltimore Colts' erratic owner Robert Irsay abruptly moved the NFL team to Indianapolis in 1984, the Colts Marching Band remained together, as told in 30 for 30: The Band That Wouldn't Die (2009), Barry Levinson's installment of the acclaimed ESPN documentary series. Levinson covers turns of events that would be considered overdramatic if they weren't true: the Colts loaded their equipment into moving vans and left town without an official announcement, taking everyone in Baltimore by surprise. The band management was alerted and got their own equipment out of the stadium just in time; the band's uniforms were at the dry cleaner, who couldn't legally release them to the band members, but they let Band President John Ziemann know when the delivery truck would be unattended so the uniforms could "take a walk." Later, the uniforms were hidden in the family mausoleum of a band member until an agreement was reached with Irsay's wife to let the band keep them.
For twelve years, the Baltimore Colts Marching Band was an all-volunteer, non-profit organization, playing at parades and at other teams' games, keeping the flame alive for professional football in Baltimore, until the Cleveland Browns moved to Baltimore and changed their name to the Ravens, at which time the band became Baltimore's Marching Ravens. The band was credited with keeping up morale after a difficult blow to civic pride, and even played a part in convincing the state legislature to approve funding for a new stadium, playing the Colts' fight song on the steps of the Maryland State House during a legislative session.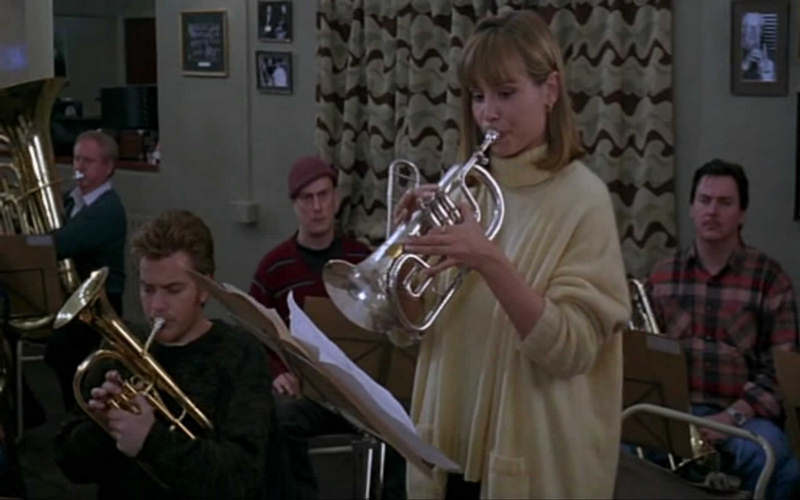 Labor vs. Management
For some people, music is all they have left when everything else is gone: "At least people listen to us," says the euphonium player Harry (Jim Carter) to his frustrated wife in Brassed Off (1996). In the film, a depressed Yorkshire coal mining town, threatened with the closure of its "pit," rallies around the company brass band, whose participation in a national competition serves to remind the nation that the town and its people can't simply be written off.
As the film begins, the band, led by high-minded director Danny (Pete Postlethwaite), is irrelevant to the day-to-day lives of the miners and townspeople. Oblivious to the disastrous consequences of the pit's impending closure, Danny sticks to his mantra, "Music is what matters." Only after Danny comes to realize the seriousness of the situation and sees its effects on the town and the band (including his own son) is he able to make a connection between music in the abstract and the concrete concerns of his audience, and he finds that he is in a unique position to give them a voice. Brassed Off is effectively a story of the political awakening of an artist.
Neither Brassed Off nor The Band That Wouldn't Die has much interest in appearing even-handed. In Brassed Off, the bureaucrats dictating the pit's closure have already made their decision, and the lives that will be destroyed are only numbers on a balance sheet. The film lays the blame for the miners' economic plight firmly at the Tories' feet, but it doesn't romanticize the coal industry, either: death by black lung is a matter of fact, just part of the job. What matters to the miners is the dignity of work and of keeping their community together. Likewise, The Band That Wouldn't Die gives lip service to a single state representative who questions whether it's in the best interest of the state to be held hostage by capricious team owners, but the return of the NFL to Baltimore is presented as a clear victory.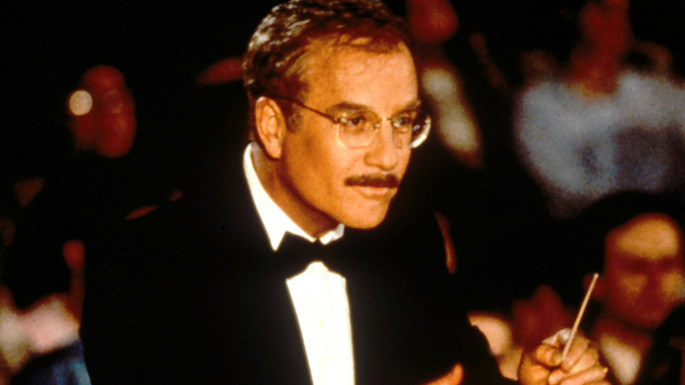 Ideals and Compromises
The character in Brassed Off who undergoes the biggest change is Danny, but the film has a large ensemble cast with many subplots, led by young lovers Andy (Ewan McGregor) and Gloria (Tara Fitzgerald). (As an aside, it's worth noting that, aside from those two, all of the speaking parts in the band are low brass players, traditionally the section made up of the most colorful characters.) The amount of emphasis placed on the band's leader varies in all of these movies, but stories about band directors often probe the meaning of musical activity—artistic, professional, and social—most deeply.
Danny learns to be less rigid, and that some things must come before music. Similarly, Glen Holland (Richard Dreyfuss) in Mr. Holland's Opus (1995) begins as an ambitious composer who takes a teaching position as a "fallback," pushing his dreams to the back burner. Only after decades and his forced retirement does he reevaluate his career in light of the students whose lives he touched.
There's a lot to pick on in Mr. Holland's Opus: it hits every manipulative cliché of both the inspirational teacher and frustrated artist genres, for one thing. The composer's own son is deaf! He's tempted by one of his students! The "American Symphony" (the work of Michael Kamen) played at the end isn't very convincing as a decades-spanning project, and the fact that one of Mr. Holland's students grows up to be the governor of the state—even crediting him with helping her develop her confidence—clangs against the school funding cuts that finally put him out of the job.
Putting all that aside, what Mr. Holland's Opus gets right is the rhythm of the school year and the long haul of a teacher's career: administrators and policies change, but the work remains much the same. Students come and go, but the influence a teacher can have lasts much longer than the brief time they spend in the classroom or practice field (and that influence goes both ways). Over the years it covers, the film reveals changes in cultural fault lines as well: at one point, Mr. Holland comes under fire for incorporating rock and roll into his musical examples, a plot point that seems quaint in its details now, but which in broad strokes will surely resonate with any teacher whose curriculum has come under fire from parents or administrators.
The film is honest, too, about the toll exacted by Mr. Holland's dedication: not just the sacrifice of his artistic ambitions, which are gradually worn away by his exhausting day job, but the hours away from his family, "helping other people's children," as Holland's wife (Glenne Headly) complains. Mr. Holland's Opus presents a view of teaching that is often sentimental, but not glamorous. Only Brassed Off is similarly candid about the sacrifices that often come with a life in music.
Returning to Drumline, watching it I couldn't help feeling that it was as much the story of Atlanta A &T's band director, Dr. Lee, as that of Devon, the talented drummer. It helps that Dr. Lee (Orlando Jones in a really excellent performance), is presented as much more than an uncool authority figure, and he has his own conflicts to resolve: he doesn't exist only to serve Devon's narrative. At the beginning of Drumline, Atlanta A & T's band has lost an important marching band competition five years in a row to rival Morris Brown College, whose lowbrow, booty-shaking performances please the crowds but offend Dr. Lee's commitment to serious musicianship. (An aspiring band director I went to school with once referred to overly highbrow wind ensemble conductors as "turtleneckers;" the term has stuck with me, and I'll be darned if it doesn't fit Dr. Lee.)
Dr. Lee preaches discipline and high standards, and he would rather lose the right way than win the wrong way, but he and his program are at the mercy of alumni and a university president who want results, highfalutin artistic ideals be damned. As someone who spent a season directing a (thankfully non-marching) football band, something I never in a million years thought I would do, my heart went out to Dr. Lee during a scene set at the A & T-Morris Brown football game, where he responds to the Morris Brown band's hip-hop provocations by instructing his band to play "Flight of the Bumblebee" at the next time-out. So help me, he's even wearing a turtleneck.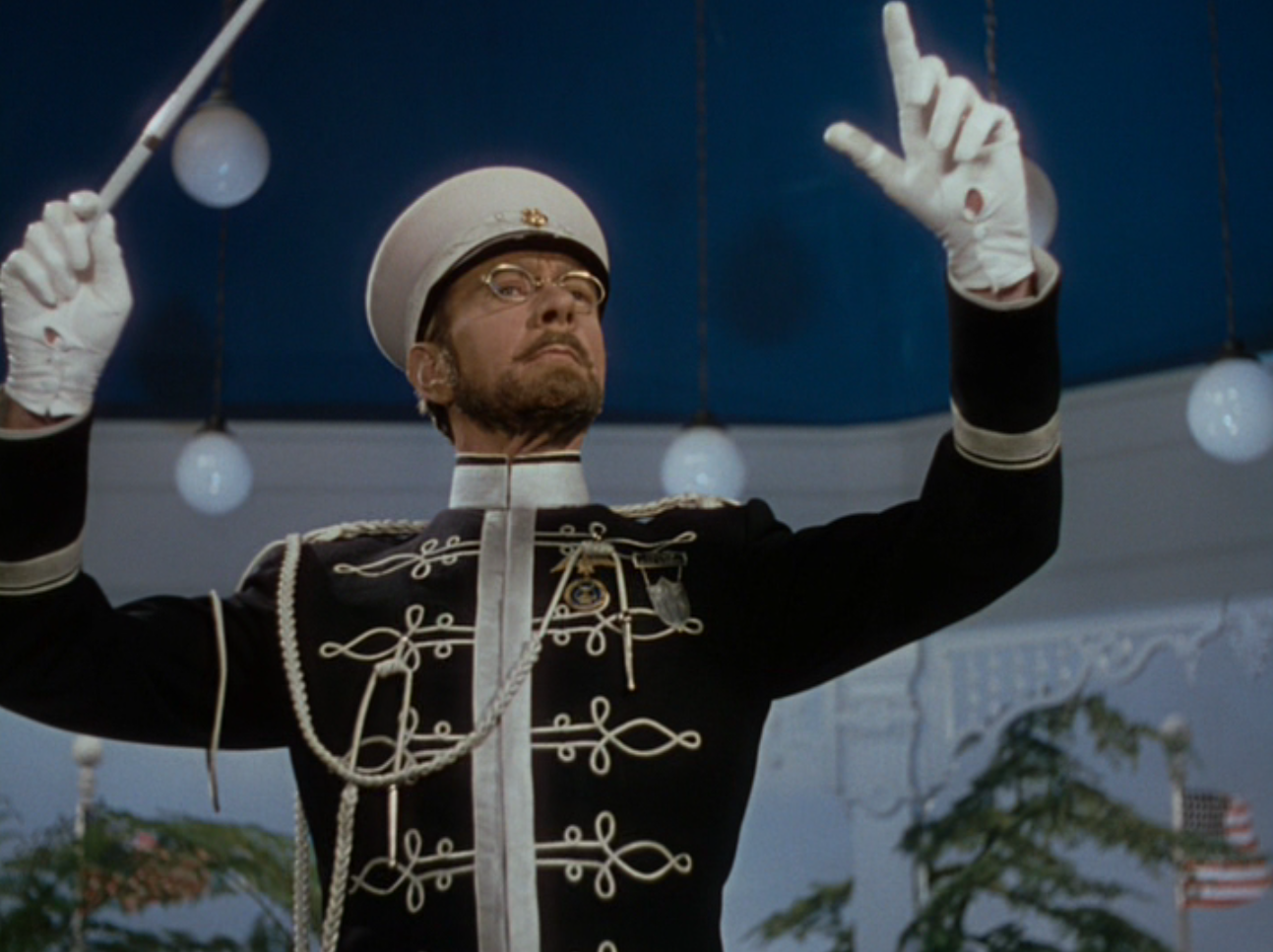 Coda
Finally, it's worth noting that the conflict between "high" and "low" forms of music isn't limited to the age of hip-hop, rock, jazz, or even ragtime. It has been a source of opposition (and creative tension) within American music since at least the nineteenth century, and nobody is more appropriate to close with than the band's ultimate father figure, John Philip Sousa. Sousa is the subject of an amusingly silly musical biopic from 1952, Stars and Stripes Forever, in which the composer and band leader is played with patrician charm by Clifton Webb. Although the film spends a great deal of time on a pair of fictional lovers played by Robert Wagner and Deborah Paget, with Sousa and his wife representing the older generation, the incidents drawn from Sousa's life are mostly accurate.
Most interesting are scenes depicting Sousa's populist streak, which may surprise those who only think of Sousa as a super-patriotic plaster bust. Webb as Sousa proclaims, "If the audience demands 'Turkey in the Straw,' we shall give them 'Turkey in the Straw!'" And the band does play it, in one of the many arrangements of popular tunes that Sousa made in addition to his marches and music for the theater. In another scene, Sousa's band wins over a Southern audience of Confederate veterans by playing "Dixie" between every number, and then turns around and accompanies an African-American church choir's rendition of a spiritual. It's an unsubtle moment, and is especially awkward seen from a post-Civil Rights era vantage point, but it speaks to a genuine desire to unite the nation through music, and is a good example of the skills (quite aside from his compositions) that made him—and his band—an ambassador of American music for decades.