I'm going to say something groundbreaking here: The Emoji Movie is terrible.
Shock and Surprise.
But, you guys, The Emoji Movie is supposed to be terrible. At least that's my reading of it. Unlike the gloriously miscalculated Nine Lives, just the idea of The Emoji Movie generates hatred. The title alone elicits groans from even the most generous of slackjawed movie goers. The Emoji Movie. How can you make a whole movie about emoji, those corporate-made time-saving icons that laid waste to global languages in a matter of months (and created a new one almost entirely thanks to Cher)? Doesn't the sheer idea of a movie celebrating corporate product make you mad?
The makers of The Emoji Movie hear your pain. Well, maybe not the producers, but at least the screenwriters and actors feel your pain. They were paid to bring The Emoji Movie to life by the most soulless, guileless, corrupt producers this side of The Oogieloves.
Wait…
What's that?
This was a passion project by some gay director who wanted to make the next Toy Story? Get the fuck out of here! No, really, get the fuck out of here. First of all, The Emoji Movie isn't a Toy Story rip-off, it's a Tron rip-off. That the director wanted to make a new Toy Story and accidentally remade Tron should tell you everything about his competence.
Secondly, The Emoji Movie feels less like a passion project from a clueless idiot than an elaborate mid-90s prank designed to sell corporate product while claiming to be above it all. The tone of The Emoji Movie is split between ultra-bright maniacally-happy salesmanship with emoji sailing on sonic waves courtesy of Spotify and a fuck-everything too-cool-for-school jaded misanthropic nihilism courtesy of its lead characters. The Emoji Movie wants the engender dedication and faithfulness to the corporate SmartPhone and its corporate apps, while still intimating that everything within the phone is trash and you should hate yourselves for even watching this goddamned corporate product. It's a bipolar product that recalls the product placement sequence in Wayne's World where they simultaneously pushed Pepsi and Nuprin while still winking about how soulless the whole endeavor was.
Consider The Emoji Movie's main character: Gene. The emodiment of this schizophrenic tone, Gene (TJ Miller) is a teenage Meh emoji who faces ostracization because he can't maintain his intended jaded Meh-face. You see, every emoji is born as their intended emoji and is meant to keep that expression for life. If you're born a smiley emoji, you're going to smile no matter what. If you're an angry emoji, you're always angry. Gene is supposed to be a Meh emoji and maintain his jaded meh-ness no matter what happens to him.
We first meet Gene singing "I've Gotta Be Meh" as he prepares for his first day at work in the texting app world of Textopolis. Right away, we have a veritable bunting of gigantic red flags. First, TJ Miller is a stoner anti-comedy genius whose The Gorburger Show takes a Japanese variety show and twists it into something hateful and bitter for the stoner giggles. As such, he's perfect for the lead character of Meh, embodying the hateful world weariness of the Meh expression as filtered through a stoner's sense of blissed-out naivete. It's a performance of pure laziness that simultaneously embodies the whole sense of the movie.
Another red flag is the song gene is singing. The song Gene gleefully rips off, "I've Gotta Be Me," is an old Broadway showstopping ode to self-expression and independence. Changing the chorus into "I've Gotta Be Meh" turns it around to be a song of conformity, but Miller delivers the replaced "Meh" in such a flat note that the joke is double backing on itself in an ironic fashion. It's a joke that hates its own sheer laziness but puts so much effort into hating it.
Finally, there's the laziness of the city Textopolis. Much like Avatar's Unobtanium, "Textopolis" feels like somebody used it as a placeholder and then everybody was all "So, we good with Textopolis?" As a name, it just lies there like a dead fish rather than anything clever. This is all after Ed Rooney Gene opens the movie with a narration complaining about how SmartPhones are killing attention spans and the world is going to hell.
Don't you hate this movie already? It's fucking terrible. But, it kind of knows it. Look at these lazy-ass choices and we've not even gotten to the plot yet. Gene is a Meh emoji who can't stay Meh. The central workplace in Textopolis is a giant factory where the emojis have to stand in a cubicle waiting for the User to turn on the app then select one of them. Every time the user presses an emoji, an elaborate machine shaped like a giant hand scans the selected emoji and sends a copy of that emoji to the texting message. In the world of Textopolis, just by having emojis on your phone, you have a whole world of slave laborers who sit around waiting to be fingered by the user. All of this slave labor is ruled by Smiler (Maya Rudolph), a psychotic tyrant who regards any failure to do your duties as a reason to kill you. When Gene gets too excited on his first day and gets scanned as a weird nonsensical emoji instead of a Meh emojie, he causes the User to lose faith in his phone causing Smiler to set a bunch of bots after Gene intent on deleting him and throwing him in the trash.
Luckily, with the help of Hi-5 (James Cordon), Gene escapes into The Wallpaper in search of Jailbreak (Anna Faris) to reset his programming and turn him into the single emotion emoji he's supposed to be. While Gene is trying to reclaim his conformity to break into Textopolis, Jailbreak is trying to get out of Textopolis and escape into the cloud. To get there, they have to go through a bunch of different apps including some dark web app, Just Dance, Candy Crush, Spotify, Facebook, YouTube, and Dropbox (I'm guessing this is where kids are keeping their porn?).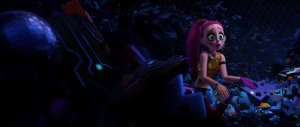 Each app is more nightmarish than the last. Just Dance is ruled by a psychotically happy avatar voiced by Christina Aguilera who pathetically tries to do the Macarena after she has been trashed. Meh gets trapped in the Candy Crush game that threatens to delete him. Facebook is a bunch of people shouting crap at each other. Finally, the insulting trolls in the dark web look like viruses. All of this is introduced with joy by Hi-5, who is very excited for the new Internet where people exchange real life friends for sycophants and followers. Oddly, our hero Meh is very against this wondering why people don't just make real life friends. See? The movie hates its own message: even if it is selling you the message that all this internet shit matters, the lead character profoundly disagrees with everything within the movie.
While trying to escape the maniacal Just Dance app where a bunch of bots have manipulated the moves (because Just Dance is nothing but calculation), the User trashes the app with Hi-5 in it.
Gene: "Hi Five is in the Trash?!"

Jailbreak: "He WANTED to DANCE! I told him it was a bad idea…
quickly followed by
Jailbreak: "Gene. Dropbox is right here! That's our ticket to the cloud! And the trash is on the other side of the phone!!"
Maybe now you realize just how awesomely lazy and bitter this movie is. What's worse is the Wallpaper is nothing more than a bunch of hallways lined with gigantic blocks representing the apps. Gee, doesn't this sound like Tron but for iPhones? Actually, this is a better follow-up to Tron than Tron: Legacy was. At least this is trying to be witty about the various inner workings of a computer (even if it is doing it in the most shallow way possible).
I'm sure I haven't convinced you this movie is intentionally terrible yet. I present to you skeptical readers one last piece of evidence. As animated movie formula now dictate, The Emoji Movie must end in a celebratory dance scene set to some hyper piece of pop dance music (probably sung by Christina Aguilera). At this celebratory dance off, where Jailbreak has shucked her independence and embraced her role as a Princess Emoji for NO FUCKING REASON WHATSOEVER, there is one brief moment of Meh's parents (who are also Meh Emoji) dancing to the song. At that point, his father is doing the wave with his mother, and both have the blankest Meh look ever. And then his dad, voiced by Steven Wright, says "This song is so jazzy" in the most cutting understated flat voice that only Steven Wright can muster. It defines the whole movie. It's trying to sell you on its message while the cast, characters and script constantly undercut it.
In the extras of the movie, the actors seem like they want nothing to do with the marketing blitz. TJ Miller is almost nowhere to be found. I didn't even see James Cordon in the making of. And Anna Faris is only here to promote girls in STEM because Anna Faris rocks like that. Nobody else wanted to be there, and the director tries to save a lot of face in the extras by being super excited about everything.
Maybe The Emoji Movie is serious about itself. Maybe it is using its intentionally terrible nature to garner cult status. Maybe it is all a marketing gimmick within a marketing gimmick. Maybe the director isn't really as talentless and clueless as he tries to be. But, dammit, it seems like The Emoji Movie was trying to suck and it succeeded.