"Age cannot wither her," William Shakespeare wrote, describing Egypt's Queen Cleopatra VII, "nor custom stale her infinite variety."
Infinite variety — our bard might have a point there. For a century, the cinema has presented us with new incarnations of that late, last, and lost pharaoh, Cleopatra, the women who held two great civilizations within her grasp, only to lose them both.
Each big screen Cleopatra carries a different set of cultural expectations regarding femininity, beauty, race, and exoticism.
Starting all the way back in 1917…
Cleopatra (1917)
The 1917 Cleopatra is lost now — we hold nothing more than, as Umberto Eco (well, Bernard of Cluny) might have put it, "naked names." And semi-naked pictures.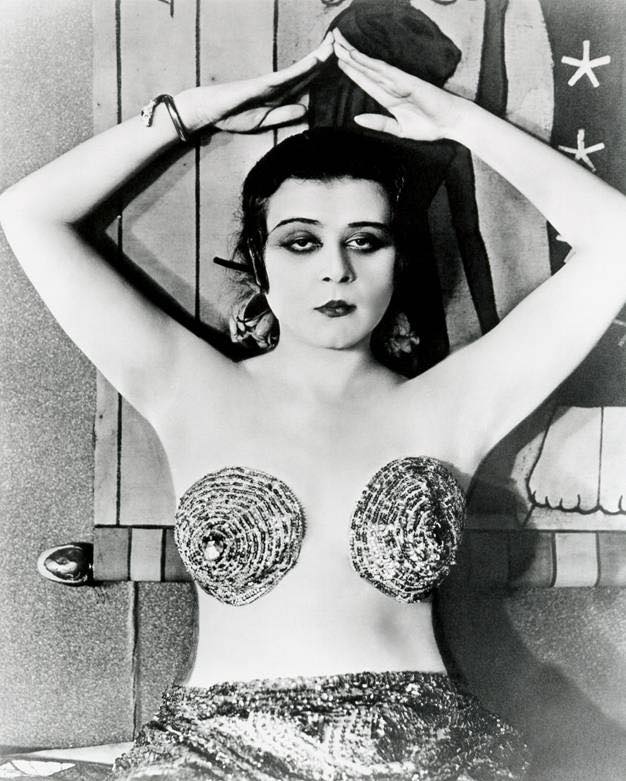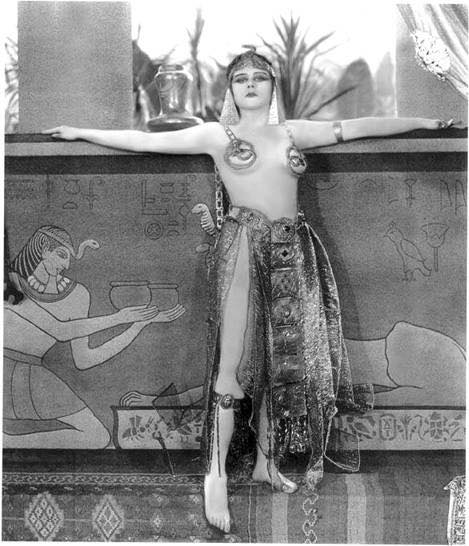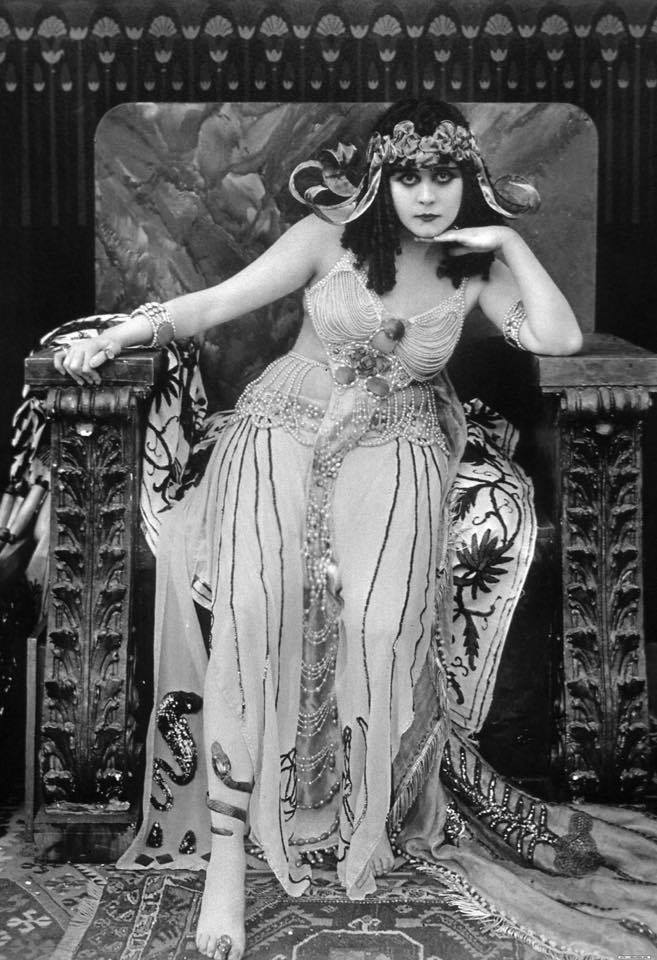 I love the strength — that royal strength — that actress Theda Bara manages to project, even in a still photograph. You feel like this is someone who could absolutely stare right through you. And notice if you will the snake motif that winds its way across Bara's wardrobe in this movie. A potent symbol.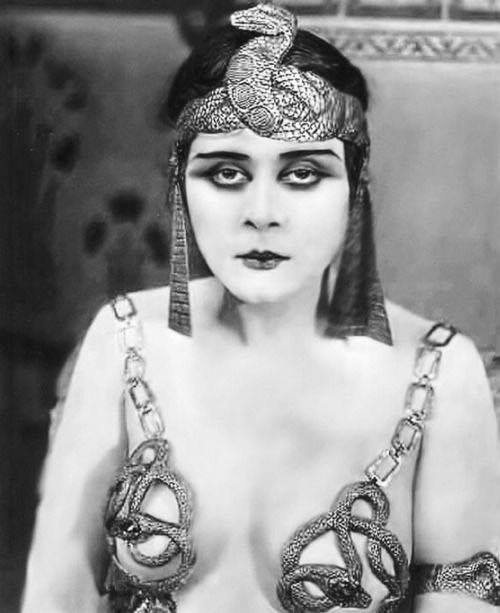 Bara's Cleopatra was a black-and-white vamp, a mistress of the shadows. Look at the eyeshadow and the effect it has on her overall demeanor.
Cleopatra (1934)
In 1934 Cecil B. DeMille decided to bring Cleopatra to the big screen once again, in an all-talking sound blockbuster for a new age. Claudette Colbert was the new Queen of the Nile.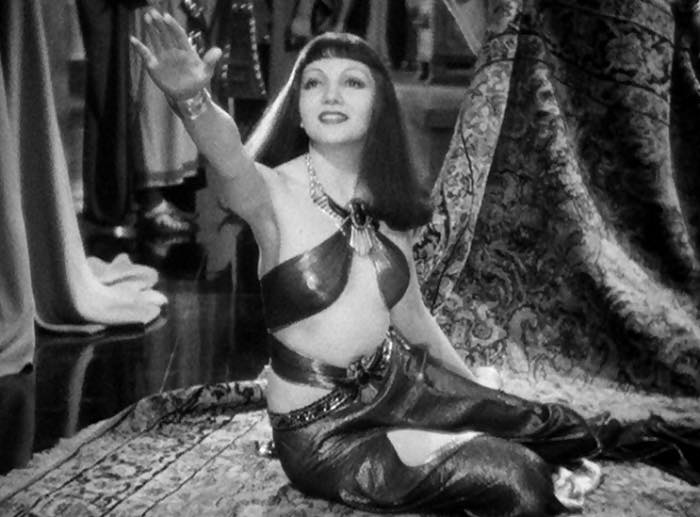 Colbert's Cleopatra was so glamorous that she could even look like a million bucks when she had just rolled out of a rug after being carried through the desert by some loutish Roman soldiers.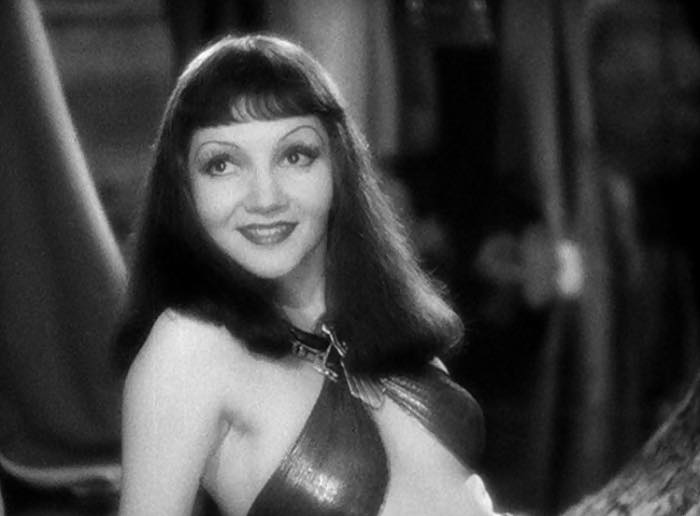 It was no longer the vamp days, so things are a bit "cleaned up" but this Cleopatra was still a pre-Code provocatrix in many skin-bearing outfits.
Interestingly, and for reasons that escape this author, this Cleo dropped Bara's snake motif in favor of costuming and sets emphasizing birds. Perhaps there was a bit of Fascism-era iconography making its way into the design? After all, Hitler's Germany loved its eagles.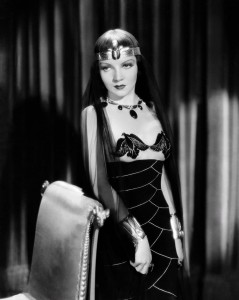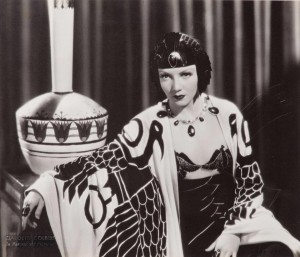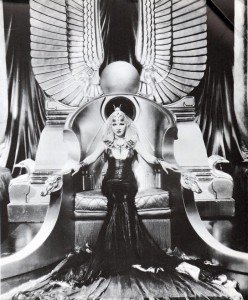 Caesar and Cleopatra (1945)
Vivien Leigh wore the double crown of Egypt in the 1945 British film version of George Bernard Shaw's play Caesar and Cleopatra.
This was our first "color"

Cleopatra

movie, and the first to make a point of color — race, that is. At one point in the film, a Roman lady asks if

Cleopatra

, who she hasn't seen, is black. The Egyptian noblewomen laugh. "Of course not," they say. This is technically accurate, as

Cleopatra

was from an inbred family of Macedonian Greeks, but what a weird way to bring it up, isn't it?
(Also early on in the film, the first time Julius Caesar meets

Cleopatra

, Claude Rains (playing Caesar) points out that he has "a Roman nose," marking him as different from the Egyptians. It's all makeup, natch.)
Cleopatra (1963)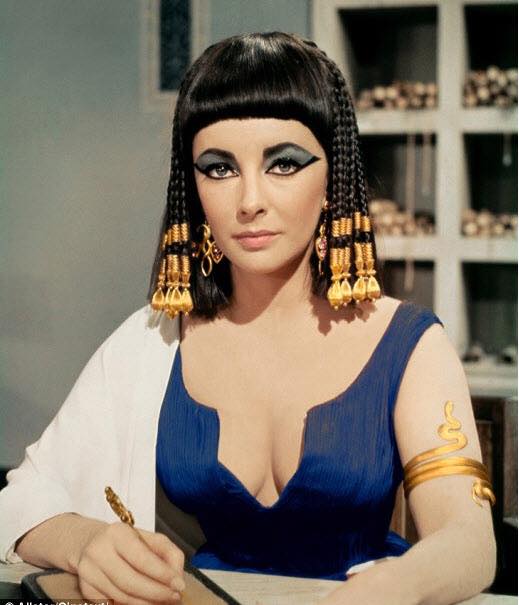 The most famous (and infamous) take on

Cleopatra

in the cinema was the notorious 1963 widescreen epic starring Elizabeth Taylor, in the role that would set a record for most costume changes in a single movie (later broken by Madonna as Eva Peron).
With so many changes in appearance, there's a lot to digest with Taylor's Cleo. Sometimes, she wouldn't look out of place at a swanky 1960s nightclub…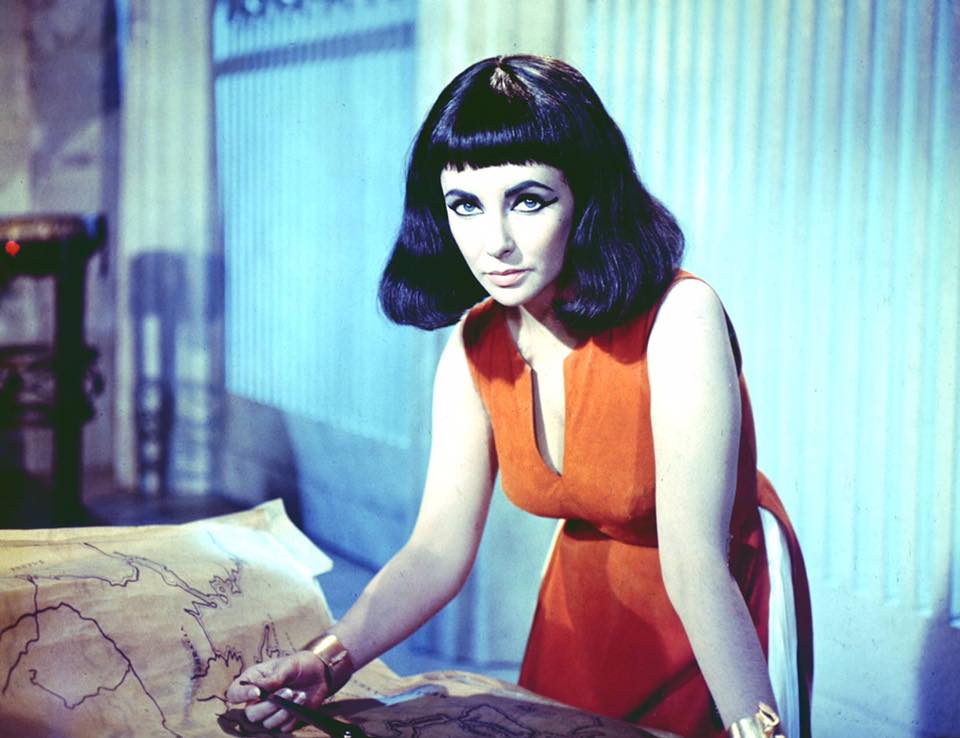 …o
ther times, she seems to have been made to look as "exotic" as possible, perhaps even racialized. Look at how dark she appears from the combination of the makeup and the lighting here.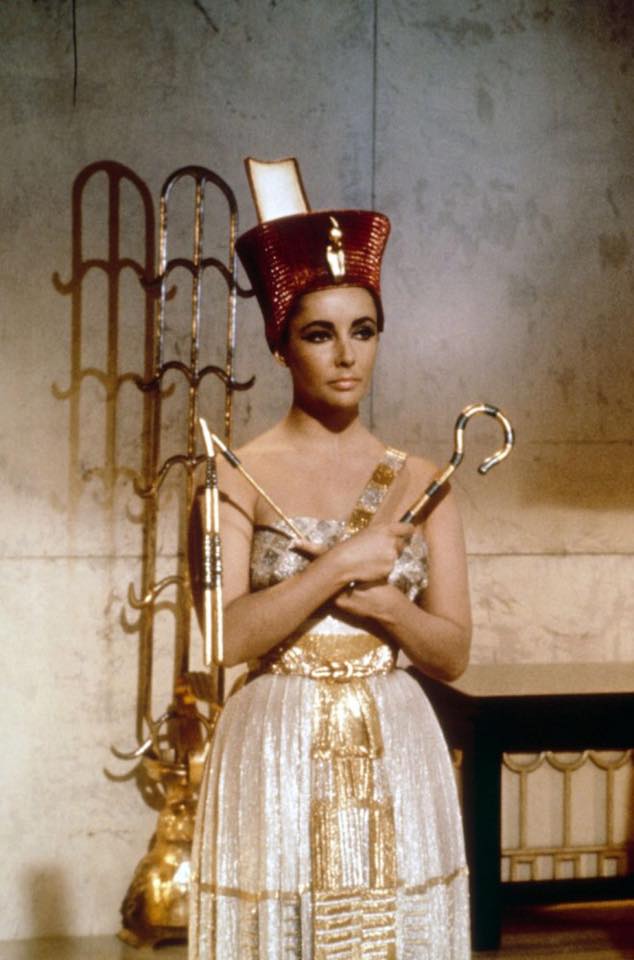 But what I see most of all in Taylor's costumes is that magic five-letter incantation, that coveted golden idol: OSCAR.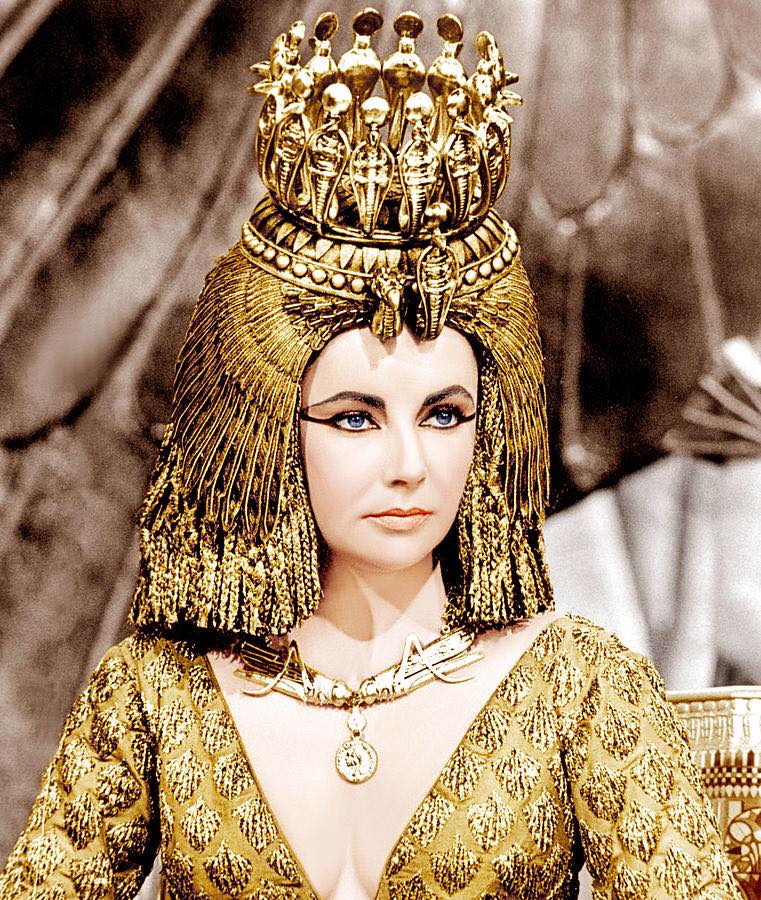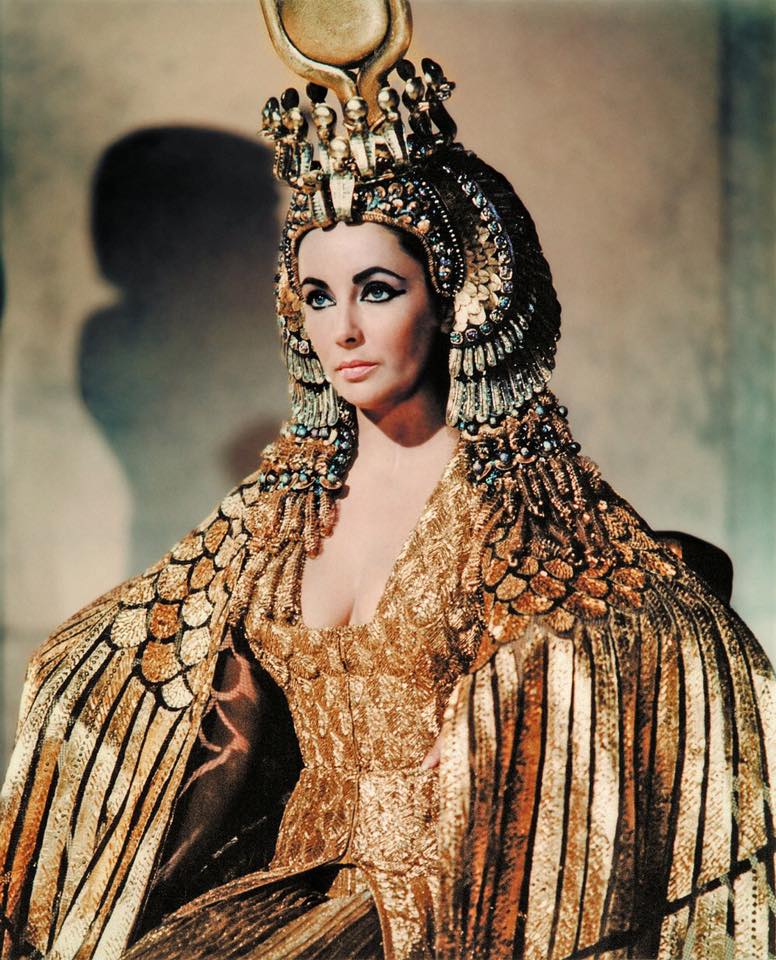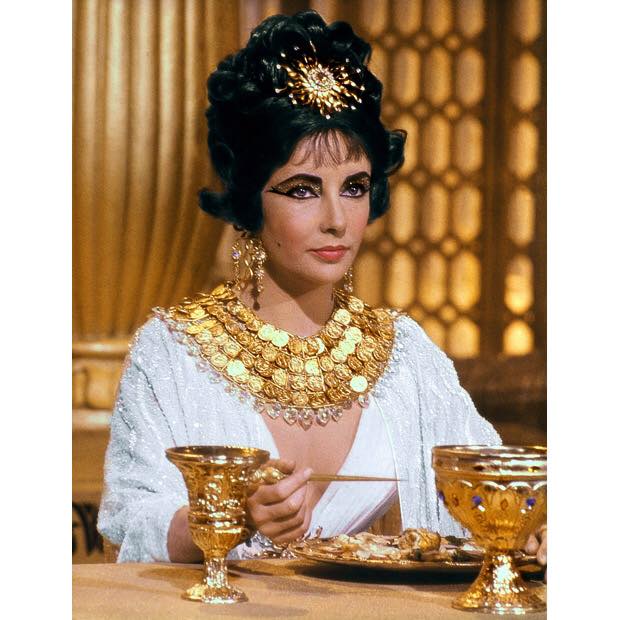 It's like the filmmakers were trying to subliminally convince Academy voters "You WILL reward us, you WILL reward us."
Cleopatra (1970)
One of the more obscure versions is the adult-oriented anime version, released in the U.S. under the name Cleopatra: Queen of Sex.
Worth noting that despite coming from a non-Western culture and featuring what can only be described as a Crayola box's cast of characters, this Cleopatra is still very white.
Cleopatra (1999)
Having long since migrated away from the silver screen, it was in 1999 that Hallmark (yes, Hallmark) broadcast its two-night TV event version of
CLEOPATRA
. Chilean actress Leonor Varela played the Queen, alongside Timothy Dalton as Caesar and Billy Zane as Antony.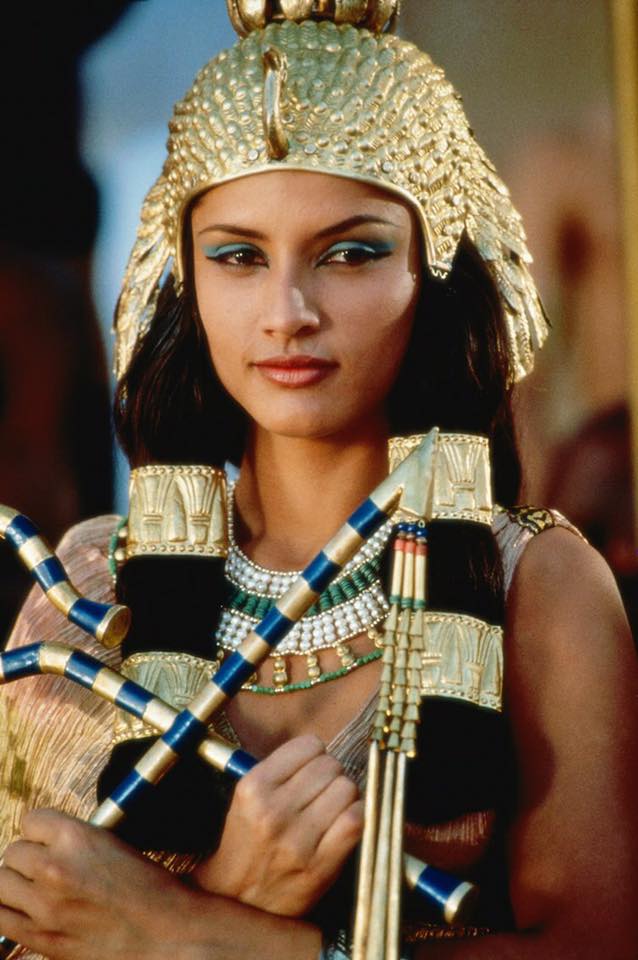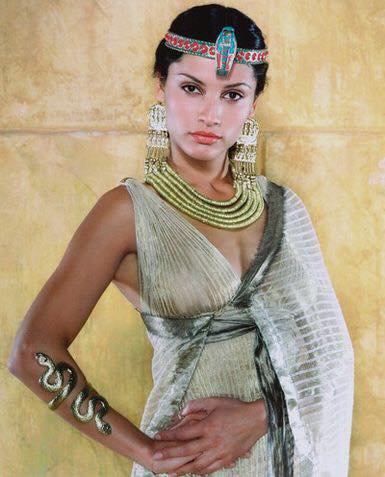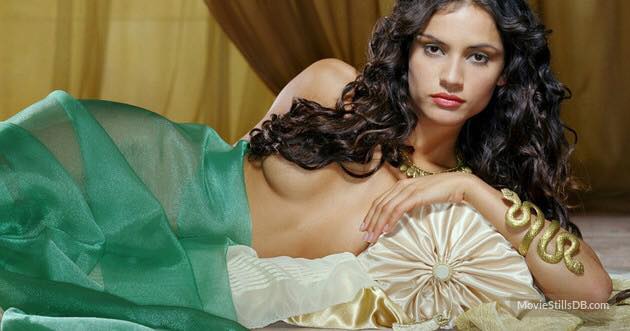 Here we can see the motif of the predatory, coiling snake — mostly unseen since Theda Bara — making quite the comeback.
Rome (2005-2007)
Now, the focus on TV here this late is mostly because, for some reason, the portrayal of

Cleopatra

shifted almost entirely to TV after a while. I'm guessing no film producer wanted a 1963

CLEOPATRA

-level financial fiasco on their hands for quite a while.
TV was responsible for one of my favorite Cleos: though it's filled with a fair deal of dramatic license, is Lyndsey Marshal as Cleo VII on HBO's Rome.
Now, I don't know Marshal's ethnic background/identity, but she has a very Mediterranean look to her that feels right to me, and a more down-to-earth beauty than most

Cleopatra

actresses.
She's also somewhat coded as "butch" with her short hair (which is on display more often than her elaborate wigs). An interesting take on the character, certainly.
Today?
Now, there hasn't been a Hollywood take on

Cleopatra

in a feature film for many decades, but there has been one in the works for some time.
At Sony, Angelina Jolie has been trying to get a production of the story off the ground for years, with herself producing and starring as the Queen of the Nile. Despite several drafts of a script and varied levels of interest from several major directors, including Ang Lee, Martin Scorsese, David Fincher, and Francis Ford Coppola, Jolie has not been able to actually get cameras rolling on this thing. And the Sony hack from 2014 showed the amount of frustration that Sony execs have frequently had with the production
bubbling over into insults against its star/producer.
As of 2016, however, there appears to be little momentum on the project.
What do you think? Who is the 2016

Cleopatra

we need? Who shall add to the infinite variety?