You come on like a drug/I just can't get enough…
-'Temptation Waits'
A Retread and an Improvement:
In what will likely come as a surprise to no-one, if a band has a hit album, especially a  hit debut album, what the band will do next will be a focus of intense curiosity. Garbage, the band's debut, was one of those hits, racking up double-platinum sales in the US and UK, along with three Grammy nominations, two for the song 'Stupid Girl,' and one for Best New Artist. A successful tour soon followed, and one of their b-sides, '#1 Crush,' was remixed by producer Nelle Hooper for the Romeo + Juliet soundtrack. The song was a success, and became the band's only #1 hit on the charts. After those highs, it was impossible not to ask where would the band go from there. Where they merely a flash in the pan? Garbage was a great, fun album, but it was so of the moment: alt-rock fused with electronica, and a dollop of trip-hop, all with a hard, shiny pop coating. Could similar success be found in their second album?
The answer was a resounding 'yes!'; they played up the electronica and pop elements, and Version 2.0 was born. Like its tongue-in-cheek title (originally, the album was to be called Sad Alcoholic Clowns), Garbage took everything that worked about their debut album, and delivered more of the same, except sharper, catchier, and even better. It's the rare album that tops an already excellent debut. In an interview, Shirley Manson stated it was her favorite album she had done.
Temptation Waits: A Journey to the Pop Junkyard of the Future
One of the biggest pleasures revisiting this album is how well it stand the test of time. Even 16 years after its release, it still sounds fresh and invigorating. Manson once said their influences for the album ranged from Radiohead's OK Computer to the film The Manchurian Candidate. She also said the band had a huge appreciation for science fiction, and listening the album is a bit like traveling to a futuristic junkyard, where rock/electronic/trip-hop/pop are indistinguishable and the female singers are so perfect they may as well be digitized. Given the album's release year (1998), it's perhaps not terribly surprising they were gearing up for the limitless musical opportunities that laid ahead in the new millennium (instead, we got EDM).
With Version 2.0, Vig, Marker, and Erikson's production skills are at their peak, and they are served well by Shirley Manson's slinky, chameleonic vocals. The motto for the album may as well have been, 'bigger, tighter, sexier!' Needless to say, Shirley and the boys were more than up to the task.
On the album's splendid opening track, 'Temptation Waits,' the quiet jangling of a music box tune gives to a thumping backbeat before exploding into a joyous crash of electronic rock. Manson is in full Supervixen mode, before joyously belting out the infectious chorus:
You come on like a drug
I just can't get enough
I'm like an addict coming at you for a little more
And there's so much at stake
I can't afford to waste
I've never needed anybody like this before! 
First impressions are important, and the hard, shimmering style of 'Temptation Waits' lays down the framework for the following eleven tracks. It's hard to describe just what makes the song so irresistible, but the sheer enthusiasm of the track, coupled with bouncy vocals and sharp production wizardry are infectious to the extreme.
The Singles and Music Videos of Version 2.0
Version 2.0, released back in the day when the music industry had a lot of this little thing called 'money,' had the great fortune to have gloriously weird videos to go with their singles. Their first three singles in particular, all beautifully crafted, glittery pop songs, received eye-popping videos to accompany them.
For the album's lead single, 'Push It,' an electro-rock tune with an almost spy film-esque slinkiness, is the best video of the bunch. A fantastically strange mishmash of everything from conjoined alien twins to Lightbulb Men, all delivered with a suburban surrealism that has echoes of David Lynch.
The second single, 'I Think I'm Paranoid,' which Manson said was a song 'about making a record,' eschewed the effects-heavy look of 'Push It,' in favor of black-&-white cinematography, strobe lights, and machine gun-style editing. The loud, crunchy guitars are matched with Manson's menacing, alluring vocals.
As I had mentioned earlier, Garbage's appreciation for sci-fi was well-known. This love is never more apparent in 'Special,' a power pop tune about a broken friendship, set in the realm of intergalatic warfare. The song would be a sleeper hit in 1999, earning dual Grammy nominations for Best Rock Song and Best Rock Performance by a Duo or Group.


Supervixen 2.0

Shirley Manson's sexiness was already a vaunted part of the band's appeal since the release of their debut album. She was the tall, dark, Scottish frontwoman who could alternate between mischievous siren and melancholic every woman, often within the same song. Manson's a great singer, but she brings an almost actor quality to her vocals. She knows what best suits the song, and how she so fluidly moves between moods, much like how the band fluidly moves between genres, could have been be ostentatious posturing, but her relentless sincerity gives the songs, and the album as a whole, greater depth than the music from the average mass-marketed 'hot' pop star.
On 'Hammering in My Head,' a manic electro-pop dance tune, she hisses, 'I'm stressed but you're freestyle/I'm overworked but I'm undersexed.' With Dumb, Manson takes to task bemoaning bad sex and weak lovers, sharply intoning, 'You'll never come/Sucking your thumb/Better off dumb!' 'Sleep Together,' one of the album's highlights, an icily cold, moody ballad, she muses 'If we sleep together/Will you like me better?/If we come together/We'll go down forever.' Manson's sex appeal is in full force, but so is all of the vulnerability and messiness. 'Sleep Together,' at its core, is an achingly sad song about the fear of bad sex ruining potential love, and how a seemingly insatiable sex drive can carry its own heart of darkness.
The Trick is to Keep Breathing & You Look So Fine
For all of the slick, impeccable production on Version 2.0, it would be easy to dismiss the album as all frosting, no cake. However, in addition to 'Sleep Together,' the album's heart and soul are on full display in 'The Trick to Keep Breathing' and 'You Look So Fine.'
'The Trick to Keep Breathing,' the title taken by the spectacular novel of the same name (do read it!) by Scottish author Janice Galloway, a cool, saturnine power ballad, is the heart and soul of the album. Hauntingly beautiful, lugubrious, yet quietly hopeful, the song has none of the band's alt-rock touches on display, and captures just how well they know electronic music. Many alt-rock bands in the 90s would add electronica to the mix, but most where simply layering it on top of their rock tunes. Garbage, much like Radiohead and Curve, knew the genre and knew how to craft songs that weren't rooted in an alt-rock frame work.
With 'You Look So Fine,' the album's closing track and final single, offers a similarly somber, electronica-heavy edge, coupled with Manson's lovelorn vocals. However, there's a delightful, tongue-in-cheek quality to the whole affair. 'You look so fine/I want to break your heart/And give you mine,' Manson sings, gently poking fun at her own image as a scary-sexy heartbreaker. The humor gives a deft touch, keeping the track from becoming too dour, but as it progresses, an enveloping sense of heartbreak sets in. Or, as the closing lyrics go:
'Let's pretend/Happy end.'
For all the bouncy pop energy, Garbage knows it comes with an undercurrent of darkness. Much like 'Only Happy When It Rains,' melancholy and exuberance are often so intertwined, they become one and the other.
Accolades and Success
So, how did fans and music critics respond? They greeted the album with enthusiasm. The album got off to a slow start commercially, it never reached higher than #13 on the charts, but it held well from '98 through '99, eventually earning double platinum sales in the US, and selling more than four million copies worldwide.
Critically, the album was a huge success. I was listed by many publications as one of the best albums of 1998, and would earn Grammy nominations for Album of the Year and Best Rock album. This also gave Shirley Manson an opportunity to show off her playful fashion sense.
At the 1999 Grammys, she opted to go for a sheer blue dress sans bra, with the Version 2.0 logo. A nice bit of self-advertising (sadly, Version 2.0 did not win Album of the Year or Best Rock Album) and the logo's placement in the middle of the dress was also a sly subversion of the male gaze.
At the 2000 Grammys, Manson chose to show off her Scottish pride by donning a kilt and going for a school girl get-up. Unlike many of her contemporaries, Manson had a sense of humor regarding her wardrobe.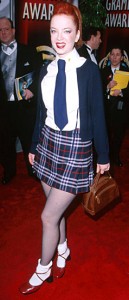 Back to the Future
One of the myriad pleasures in revisiting Version 2.0 is the sheer joy of seeing a talented group of musicians at the peak of their creativity, crafting one fantastic pop song after another. Garbage may not have received the same reverential worship of other 90s bands like Radiohead, and yet their ear for catchy hooks, their fluid, savvy nature of genre hoping, and Manson's emotive, ebullient vocals, are just as much fun as they were over fifteen years ago.  It's my choice for best pop album of the 90s; fine craftsmanship elevated to art.
Coming Up
Next week, we explore the Garbage's third album, beautifulgarbage, where the band showed their appreciation for hip hop and R&B, and Shirley Manson went blonde. What could possibly go wrong (spoiler: not as much as you think)?