(NOTE: "The Queen of Spades" is nearly two hundred years old, but if you don't want to be spoiled, you can read the original short story in a reasonably good 19th-century English translation here. It won't take long.)
The Queen of Spades is a horror story about transformation. It's about almost getting what you want and being stymied by what you thought you had. Its premise is so durable that it's been adapted — transformed, let's say — into three different operas and more than a dozen films and god knows how many versions for the stage.
The story is a seemingly straightforward exercise in just deserts. An army engineer overhears an urban legend about an elderly aristocrat who once "sold her soul" for a card trick that would win her a much-needed fortune. Since this Countess has refused to tell anyone the trick, the engineer seduces her emotionally delicate ward, hoping to gain access to the house. He uses that access to sneak into the old woman's room one night, threatening her with a gun, and she dies of fright. One night her ghost comes to him to divulge the trick in exchange for his promise to marry her ward: three cards, each played on a separate day. He plays the first card (a three) on day one and wins. He plays the second card (a seven) on day two and wins. He plays the third card (an ace) on day three and… wait, he somehow played the Queen of Spades!? As his life's savings are carried away, he sees the old woman's face on the card, and she winks at him, her revenge complete.
The title pun doesn't work in English, alas: "queen" here could also be "lady" (dama) and the word for spade draws from its original shape as a spear, or pike, the same root (and indeed the same word in French and Russian) as pique. In other words, the Queen of Spades is also the Pissed-Off Lady. As well she should be!
The original story's author, Alexander Pushkin, should be better known in the English-speaking world. He's a titanic figure in literature, every bit the equal of Shakespeare or Dante, but a victim of cruel timing: his subtle laconicism was already out of vogue when Russian literature took over the English-speaking imagination, and that deceptive simplicity seemed too old-fashioned, too insubstantial in the face of Tolstoevskian thunder. Western attitudes about Russian literature — that it should be voluminous and metaphysical, that we should be wrestling with god and killing ourselves in despair — calcified before Pushkin had a chance to be 'rediscovered' (though good on Chekhov for sneaking through when he did: all he had to do was revolutionize an entire medium, or two.)
So why is Pushkin Russia's great "genius"? Not just a brilliant poet and understated prose stylist, he's also a puckish, delicate writer who absorbed Western literary currents like a sponge, but, instead of merely reproducing them in a Russian milieu, he had a knack for detached critique, an ability to be within those currents while also recognizing them for what they were. Pushkin's stories often operate in a meta-ironical mode, a sense that his characters are trapped within the kinds of mental constructions they've absorbed from popular culture, as if Don Quixote were not a mad exception but a necessary rule of modernity. The tragedy of Eugene Onegin, of Aleko in The Gypsies, or of Don Juan in "The Stone Guest" is that they don't even realize the extent to which they're trapped in their own images of themselves. They've read too much and already know how their own stories end.
This makes our reading of Pushkin tricky, because he's aware both of how we read and how we expect to read: we become implicated in the production of meaning, and he manipulates that fact, and sometimes the surface pleasures of the work seem so insubstantial that even otherwise careful readers are unwilling to do the work and fall into his traps. Because Pushkin was writing mostly for a circle of friends who took pleasure in this sort of literary game, he approaches it with a light and often indirect touch. This makes him slippery. It took two generations of commenters before anyone pointed out the crucial detail in "The Stationmaster" — hidden in plain sight, no less — that inverts the entire story's apparent moral balance, maybe the most important gesture that Nabokov borrowed from him. Pushkin is that kind of writer.
And "The Queen of Spades" is that kind of story. You can read it as an early riff on Gothic horror, as a ghost story with about otherworldly karma, but Pushkin also plants some subtle clues that lend the ending a bit of very modern, very plausible deniability. What if there was no ghost? What if there is no act of revenge? What if the tragic (for him) climax is due to Hermann's own psychological displacement of the old woman onto the Angry Lady of the deck? When Hermann first learns the "secret," he abandons himself to that kind of displacement, with the three, seven, and ace seeming to absorb themselves into his perceptive consciousness:
If he saw a young girl, he would say: "How slender she is! quite like the three of hearts." If anybody asked: "What is the time?" he would reply: "Five minutes to seven." Every stout man that he saw reminded him of the ace. "Three, seven, ace" haunted him in his sleep, and assumed all possible shapes. The threes bloomed before him in the forms of magnificent flowers, the sevens were represented by Gothic portals, and the aces became transformed into gigantic spiders.
What if Hermann's downfall is purely of his own doing, such that, in expecting to grab the ace, he sees the Queen of Spades in the deck and instinctively reaches for a metonymical reduction of the Countess? Both interpretations are possible, neither is dominant, but the whole genre of the piece depends on which you believe is more likely.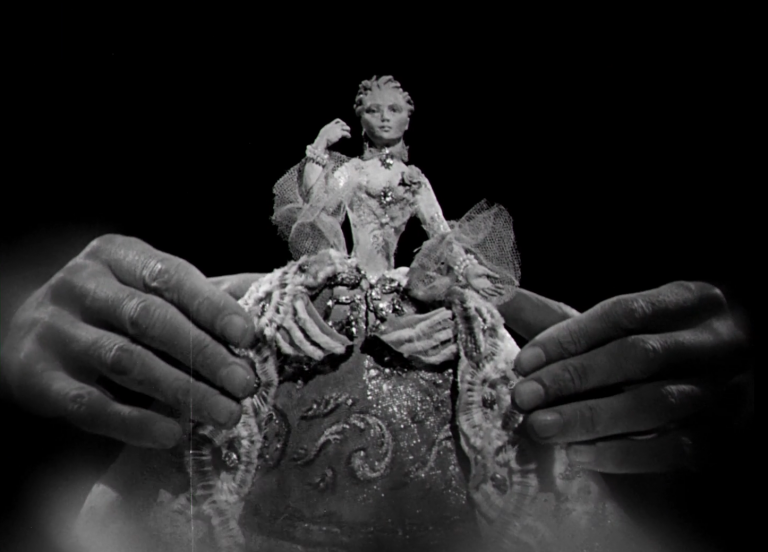 It's to their credit that Rodney Ackland and Arthur Boys adapted this aspect of the story so faithfully, especially given how troubled the production was. Ackland was an Oscar-nominated screenwriter who frequently adapted Russian literature for the stage (including Ostrovsky, Dostoevsky, and Gorky), and this was to be only his second attempt at directing a full-length feature. But he and his collaborator (and partner: they were publicly and somewhat scandalously a couple) Boys fell out with the Russian-born producer Anatole de Grunwald, who hired Thorold Dickinson, then best-known for also taking up last-minute duties on the first film adaptation of Gaslight. Dickinson had five days to prep.
Time wasn't the only challenge. St. Petersburg had to be recreated on a budget, and what the film lacks in sweeping vistas, it gains in impressively claustrophobic design (art direction by William Kellner, shot by Otto Heller): the sequence where Hermann stumbles, hangover-like, through hazy pre-dawn streets after the Countess' death is outstanding, not to mention the ghostly maybe-a-dream visit, which uses clever sound design and implied space offscreen to great effect. (Georges Auric's score is pretty good, too, but it's up against two classics — Tchaikovsky's opera and Prokofiev's film score — and can't possibly hope to live up to either.)
The clever production choices extend all the way to the final game of faro, which, unlike in the story, takes place in a single sitting. Here, Hermann's obsessions and possible act of psychological displacement are replicated using objects in the room: Hermann sees things — and the camera frames things — that remind him of the cards he's supposed to be playing, like a trio of candles or a pipe shaped like the number seven. The film exteriorizes a process that, in Pushkin, takes place entirely in the protagonist's head. It's a fitting transformation from the speculative to the visual.
I'm so-so on most of the performances (more on this below), but the production's biggest coup was in convincing stage-legend Edith Evans to take her first movie role in thirty years. As the Countess it's hard to imagine a more perfect fit for Pushkin than Evans' legendarily withering deadpan, the way she cuts everyone down to size with a glance, and, if there are any survivors, finishes them with a tart aside. Here's a telling exchange from the story, Pushkin using the Countess' cantankerousness to playfully elbow his fellow writers:
"Paul," cried the Countess from behind the screen, "send me some new novel, only pray don't let it be one of the present day style."
"What do you mean, grandmother?"
"That is, a novel, in which the hero strangles neither his father nor his mother, and in which there are no drowned bodies. I have a great horror of drowned persons."
"There are no such novels nowadays. Would you like a Russian one?"
"Are there any Russian novels?"
Evans is a pro at this sort of thing, and yet the Countess' Big Moment has to play without any dialogue whatsoever: she merely reacts to Hermann's pleas, then his threats, without saying a word, and it's awesome. She somehow looks a hundred years old; it's striking to think that her Oscar-nominated turn as the (much younger) Miss Western in Tom Jones was still a decade and a half away. Acting!
Let's talk more about transformations. An early and notable choice is to transplant most of the urban legend — a brief paragraph in Pushkin, conveyed with tongue-in-cheek irreverence by Tomsky — to a cursed book in a cursed bookstore run by one of those wizened booksellers who points a bony finger at you and whispers beware!, in other words, the film is very much staking out its generic bona fides in a way that the story pointedly refuses to do. I find this unconvincing as drama, for what it's worth, but it's fun and sets the haunted-house tone that later parts of the film will attempt to pay off.
Speaking of tone, what's Russia in the Western imagination without gypsy dancers? The film adds them incongruously to the gambling scenes, perhaps believing that Western audiences will find it more "authentic" if there's a tavern song-and-dance number involved (If the singer here sounds familiar, it's because we recently discussed the same woman, Marusya Dimitrievich, in my piece on The Brothers Karamazov. She was apparently the go-to voice for Western directors seeking out that exotic Russianesque flavor, no matter how out of place.)
There are character transformations as well. While the Countess is exactly as she is in the story, doddering and curmudgeonly on the surface but with a smart (and deeply unsentimental) streak behind her eyes, the Lizaveta-Tomsky love affair can only be a disappointment after Pushkin's blistering, cynical view of his class and their relationships. His Tomsky is an empty-headed flirt who uses his position as the Countess' grandson to humiliate Liza in small ways, only condescending to dance with her at the ball as a way of making his actual object, a wealthy princess, jealous. A destitute but aristocratic orphan, Liza can't win for trying (even her name winks at Russia's most sentimental tragic heroine), but after the Countess' death, her grief is very quickly sublimated by practical considerations. Look how efficiently we move on here:
"You are a monster!" said Lizaveta at last.
"I did not wish for her death," replied Hermann: "my pistol was not loaded."
Both remained silent.
The day began to dawn. Lizaveta extinguished her candle: a pale light illumined her room. She wiped her tear-stained eyes and raised them towards Hermann…
"How shall I get you out of the house?" said she at last.
In the film, we get lots of tears and rending of garments, because this is That Kind of Movie and the emotions are cranked to eleven. Hermann escapes without Liza's help and she runs wailing into the arms of a blandly supportive Tomsky. As a reward for her suffering and her patience and her beauty, the film's Lizaveta marries Tomsky and they release caged birds and the credits roll over joyful wedding bells. Pushkin's story, however, ends with such a hilariously terse goodbye it's almost a fuck-you, especially since Liza ends up doing Just Okay while his shallow Tomsky continues to fail upward, as people in his position usually do. Pushkin's deadpan sense of humor about this social stratum is sorely missed in the film.
But this particular transformation does lead to one change that serves the movie very well, and that is making Tomsky Hermann's eventual faro partner, so that the final "duel" of cards has personal stakes in addition to the financial ones. In the story, the near-anonymity of Hermann's rival, a wealthy gambler named Chekalinsky, underscores the sad pointlessness of his self-destruction: it's possible none of the other characters will ever know, nor care, about whatever happened to that Hermann guy as he's carted off to the madhouse: a marginal man meeting a marginal end while the world goes on without him. In the film, pitting Liza's two "lovers" against each other does satisfy in the way that these old-fashioned good-v.-evil matches can satisfy when done well. Here, it's done well, and the card game is surprisingly tense with the elevated stakes. If you're going to do melodrama, you might as well go all-in, and the film, to its great credit, does just that. The Big Moment is gloriously over the top, even if I miss Pushkin's quiet, matter-of-fact mic drop.
The most consequential transformation, though, and one I think nearly sinks the movie, has to do with Hermann himself. Pushkin's storytelling is mercilessly efficient: he does not describe his characters' inner states, and even though the story may hinge on what we'd now call a psychological displacement, Pushkin does not psychologize these characters: they are types and they act because they are designed to act; that is their only motivation. Unfortunately, Hermann must also serve as the main engine of the plot, and in order to make his bizarre decisions seem more plausible in front of a camera, Ackland and Boys have rewritten him as one of Dostoevsky's "insulted and injured", a blistering mess of psychoses and simmering rage against the thousand humiliations he imagines he bears on his shoulders. It is not a good choice, merely inserting one Russian writer's fantasy into another, and a writer who shares nothing of the other's aesthetic inclinations. Pushkin's neatly polished fable can't bear the weight of Dostoevskian Sturm und Drang, and the film's Hermann, played by Anton Walbrook with maximum Raskolnikov, comes off as A Bit Much, Really.
And of course it's possible that all this works if you're approaching The Queen of Spades with different expectations, or none at all. Hermann's histrionics may fit well with the film's more exaggerated, Gothic atmosphere; the love story may operate fine as a generic palliative against the claustrophobic architecture; the original's class satire may be unnecessary and unmissed in this context. It may indeed be a brilliant film, as Scorsese and others have argued, and what I'm seeing as flaws are only my own act of displacement: I thought I was getting an adaptation of Pushkin, but I got something other than what I bargained for.
NOTES:
* If you're thinking "it must be a ghost story because the old woman really did give him the three winning cards," there's a hitch here: the odds of winning on a flat bet at faro are pretty good: you bet on the card you think will be drawn on your side and not on the dealer's. It's a little more complex than how the movie presents it, but the simplification really amps up the tension in that final scene by making it a purely 50/50 gamble each time.
* Since it usually catches Western readers by surprise, and since we're living through a resurgence of white nationalism, here's the requisite note that Pushkin's great-grandfather was African, likely from modern-day Cameroon. Publicly he celebrated this, privately he had a more complicated relationship (there's a whole book on this, and it's worthwhile.) Abram Gannibal, the great-grandfather, was himself an exceptional historical figure.
* If you've ever seen a Russian opera, odds are pretty good that it was based on a Pushkin text: Glinka's Ruslan and Liudmila, Tchaikovsky's Eugene Onegin, The Queen of Spades, and Mazeppa, Mussorgsky's Boris Godunov, Rimsky-Korsakov's The Golden Cockerel and Tsar Saltan, Rachmaninoff's Aleko, Stravinsky's Mavra, and these are just the better-known (i.e. in the standard repertoire) works. There's also the non-Russian Dvořák's Rusalka, Leoncavallo's Zigari, and Suppé's Pique dame. Pushkin was also one of the sources for Mérimée's novel that Bizet adapted as Carmen.
* Favorite bit on the Ackland-Boys relationship: according to Charles Duff's book The Lost Summer: The Heyday of the West-End Theatre, Ackland used to hold hands with Boys as they walked through Soho… until an elderly neighbor once asked him "How is your poor dear blind friend?"