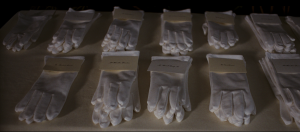 "What has always stuck in my head is the brutality under the manners. People hide what they mean under the surface of language. In the subculture I was around when I grew up in Little Italy, when somebody was killed, there was a finality to it. It was usually done by the hands of a friend. And in a funny way, it was almost like ritualistic slaughter, a sacrifice. But New York society in the 1870s didn't have that. It was so cold-blooded. I don't know which is preferable. I grew up thinking in one way, but in my own private life the past 10 years, I've started to appreciate the ability to say a little in certain emotional situations and mean a lot."  – Martin Scorsese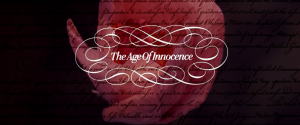 In his third straight collaboration with Martin Scorsese, Hitchcock's great title-and-poster designer Saul Bass creates an opening sequence of roses hidden behind lace. Brilliant evocation of the repression at the heart of the story, or blatant middle finger to the fans and critics who expect Scorsese to deliver violent machismo? Well, why not both? After all, if there's a theme that's as important to Scorsese as manhood, it would have to be self-denial, of the life that bursts out in all directions but can't quite penetrate the outer skin. It can be heroic as it was in The Last Temptation of Christ, or fatal as in Mean Streets, a character denying himself when it's obviously not necessary as in Taxi Driver, or indulging himself against the laws of the universe as in After Hours. And then you have Newland Archer and company in The Age of Innocence, who, in a lot of ways, combine all these opposites. Archer and Ellen steamroll over their one chance at true love, but they do it for the protection of the people around them. It may be a noble decision, or it may be a destructive one. In the film's bittersweetness, Scorsese suggests it may be both.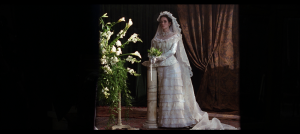 But returning to those expectations: the truth is, The Age of Innocence fits into Scorsese's career every bit as comfortably as his gangster films. As much as he has the gangster stories of film and life in his blood, this kind of sumptuous period piece is just as much a part of him. Those are the movies he says inspired him to make his own: The Leopard, The River, the Cinemascope and Technicolor spectacles of his childhood. Sure, he counts the intimate indie filmmaker John Cassavetes and The Godfather's Francis Ford Coppola among his mentors, but one of the most important out of all of them was Michael Powell. The director of the legendary "Archers" epics like The Red Shoes, The Life and Death of Colonel Blimp, and A Matter of Life or Death, Powell is a filmmaker in love with color, spectacle, and scale. It's not just a little in-joke that Scorsese recreates the Archers logo at one point, and it's not because the protagonist is named Archer either. This is Scorsese's version of an Archers film. It would be easy to dismiss the refined respectability of The Age of Innocence as Scorsese being corrupted by money or softened by age. But the truth is, the experience and resources Scorsese had in 1993 allowed him to make the kind of movie he had wanted to make since his childhood.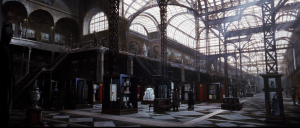 Scorsese's friend and collaborator Jay Cocks had known for years that Marty had visions of Powell dancing in his head and knew exactly where he could put them to use. He gave his friend a copy of Edith Wharton's original novel and said that this was what a Scorsese costume epic would look like. As different as it is from the blunt and violent world his previous films took place in, it was full to bursting with the themes that obsessed the great director. More on that later. For now, it should suffice to say that The Age of Innocence is the story of Newland Archer, a lawyer and society scion in the "gilded" New York of the post-Civil-War age (a time and place Scorsese would come at from a very different perspective in Gangs of New York). He is a success in every visible way: he comes from a good family, he has good taste and good connections, and he is about to be married to a good woman. That would be Winona Ryder as May Welland, a nonentity not for lack of effort on Ryder's part, but rendered in perfect blankness by her. This is the character that attracted Scorsese to the story, that reserve of hidden strength that all his heroines have. She hides it more deeply than Jodie Foster in Taxi Driver or Cathy Moriarty in Raging Bull, but the subtle moments when she expresses her unshakable character are the ones that fascinated Scorsese. They're things as simple as catching Newland in a lie without saying so, or getting up from a conversation, a scene so impactful that Scorsese repeats it, describing the scene as a moment, then the memory of it. 
Newland is a bit of a blank himself, at least in Day-Lewis's performance. He is a man of deep, consuming passions that are always hidden behind his stoic respectability: behind lace as it were. He speaks with the flat, almost bored affect of David Byrne or Michael Stipe, even when professing the most burning desires. But while those musicians are counterculture figures, Newland's flatness comes from conformity around him: he sounds like an automaton programmed by high society. These tics persist even as he meets someone who comes from outside his rigid world and throws it just so far out of balance. This character is May's sister, Ellen Olenska, played by Michelle Pfeiffer. She doesn't obey the rules of the New York elite simply because she hasn't learned them. She comes from a marriage to a duke of what the voiceover calls "the wicked old society," not the "refined" one of Fifth Avenue. Like Ryder, Pfeiffer gives her character an exquisite pain and bruised resolve, bringing in the haunted eyes and wild hair she had used to such effect in Batman Returns. She is both wiser and more naive than Newland: she understands the wider world, but she has no knowledge of the rules that can mean life or death in this microworld. Newland can't resist. But he has to. They carry on a secret affair that's never quite as secret as Newland hopes, and one without any of the physical intimacy we expect. Scorsese says what fascinated him in Wharton's novel is "The idea that the mere touching of a woman's hand would suffice. The idea that seeing her across the room would keep him alive for another year." And with his skill at subjective filmmaking, he makes Newland's mindset the viewers' mindset. He leaves out the softcore sex scenes that modern filmmakers graft onto their "bodice rippers" even though they take place in times where bodices remained stubbornly fastened. Scorsese takes that moment of Newland touching Ellen's hand, and makes just the removal of a glove sexier than full frontal nudity ever could be.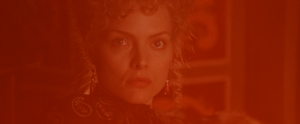 Scorsese told Roger Ebert, about a confrontation between Newland and May in their carriage, "I asked myself how to place a hand in terms of camera placement, the size of the actors in the frame, the correct camera movement the emotional level of performance. It was so funny; it was like painting miniatures. It was really fun." He is describing a creative process miles away from the soul-bearing pain he experienced on the sets of Raging Bull or The King of Comedy.  His previous work mostly consisted of intimate, personal, even therapeutic movies. He made them because he had to, either to understand himself, or to understand the world, or to stay financially and artistically afloat. As he moved into the nineties, he started making movies because he wanted to, or even more so, because he wanted to see them. My colleague Grant "Wallflower" Nebel describes a major shift in the energy of Scorsese's work after The Last Temptation of Christ, his first real historical epic and the last movie he made because he had to, and maybe this is where it comes from. There's always been a touch of Old Hollywood crowd-pleaser even in Scorsese's prickliest, artiest work, and at this point in his life he had the confidence to fully indulge it. "He once told me he could not go to Venice again, because of romantic associations," Ebert writes, "and that he could not see the films of a certain studio, because of memories of a woman who had worked there. He smiled when he told me, he even laughed at himself, but still, he would not go to Venice. He did finally go to Venice in August, however, to show his film in the Venice Film Festival..And he now looks at the films of all the movie studios." There's plenty of room for debate about whether good mental health makes or breaks great artists. But as many classics as Scorsese produced in his younger days, there's something brilliant about the assured grandiosity of these later works.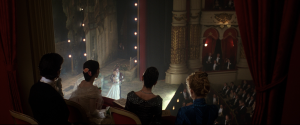 To put it another way, this film, like Cape Fear before it, is truly operatic. And like Cape Fear, Scorsese tips his hand by including opera on the soundtrack, and even less subtly than he had before. In a technique he borrowed from Luchino Visconti's brilliant Senso, Scorsese opens the movie in the middle of an opera, and borrows the prismatic lighting of the stage scenes in Powell's Red Shoes as well. Michael Ballhaus's camera pulls out to reveal that this is an artificial scene on a stage, and it becomes apparent before long that it was an opera within an opera, a sumptuously beautiful stage for the larger-than-life passions of forbidden love to play out on. But while the emotions are on the same level as an opera's, the expression is much more subdued: there's that image from the title sequence again. Futurama's Robot Devil gave us the definitive description of literal opera, "You can't just have your characters announce how they feel! That makes me feel angry!" Well, he wouldn't be angry at all with The Age of Innocence. "What has always stuck in my head is the brutality under the manners," Scorsese says. "People hide what they mean under the surface of language." If the characters can't proclaim their emotions by singing and dancing the way characters in an opera would, the music, camera, and setting fill that role instead. While the sex and violence of this genteel world is all under the surface, we still see it manifest itself in the murder scenes and scandalous nudes that hang above the characters.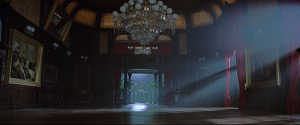 The characters aren't just defined by Gabriella Pescucci's costumes: the colors they wear turn them into symbolic figures. Newland Archer is always in dull, dead brown or grey. May wears pure white, a color that brings with it positive associations with innocence and purity, and negative ones with blankness and dullness. It's the color of paper without words, and even when she's not wearing it, she's still connected to it. She wears blue when Newland takes her to the zoo and tries to move up their wedding date, but everything around them is white, especially the cages that reflect their own constriction. Ellen, of course, goes further out into the spectrum, appearing in vivid colors like lifeblood-red. Her sympathetic aunt Mrs. Manson Mingott is part of the same universe, holding court from a red room. And then there's a shift: when Ellen agrees to sacrifice her freedom for May's happiness, she too starts wearing white, and meeting Newland in a snow-covered cabin. For good and for bad, she has started to accept her sister's world and become less of an eye-grabbing outsider.
The characters are defined by their surroundings in other ways too. They keep beautiful houses, designed to flaunt or hide their wealth and taste. Scorsese relishes the tension between the beauty and cruelty of this vanished way of life. In scenes reminiscent of Ingmar Bergman and Sven Nykvist's gorgeous work on Fanny and Alexander, the settings of the film are seductively beautiful no matter how much we may worry about the social inequalities that created it or the values its people hold. This world will eventually turn oppressive, but even before that feeling sets in, Scorsese communicates it subliminally by filming a dinner conversation where each cut is a match cut. No matter who is talking, they're fenced in by the silver candlesticks on either side of them. The fire inside Archer and Ellen is never expressed, except by the literal fire they stand in front of, which subtly dies or flares up at the appropriate moments.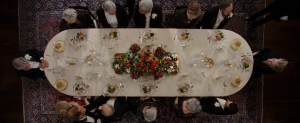 To look at another art historical style, this is the most Expressionistic movie Scorsese has made since Taxi Driver.  Newland may not be able to say what he feels, but we still experience it. When he talks to Ellen at the opera, every voice but theirs disappears and the screen around them is blacked out. Scorsese describes the transitions as brushstrokes sweeping across the canvas, and when he needs emotional color to move us out of the scene, he returns to a technique from way back in his student film The Big Shave and fades to pure red, yellow, or white instead of the usual black. There's just a hint of unreality to this universe, too: Scorsese makes heavy use of Old Hollywood-style matte paintings and rear projections that give the whole thing the feeling of a dream or a storybook. The scene of Newland seeing Ellen on the faraway dock looks less like a moving photograph than a painting by someone like Bierstadt. Sunsets are beautiful, but they rarely look quite like this.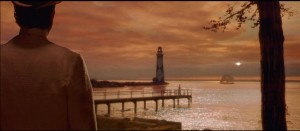 Taxi Driver's Bressonian fixation on details carries over too, as Ballhaus lingers over images of name cards, jewelry, and polished-silver plates. Just like in Taxi Driver, and just like in Bresson's Pickpocket, this all serves to create an almost religious sense of ritual. These are people who go to see the very same opera every year, who live by a code as rigid as the ones that lay out the Mass. Just look at the scenes of the traditional after-dinner cigar, portrayed in an almost Freudian montage of clipping, lighting, and smoking. Sometimes a cigar is not just a cigar. The story is structured around the ritual of the dinner, the center of these characters' social interactions. The food is prepared carefully, according to extensive research, and Ballhaus puts equal thought into the photography that makes it look almost hyperreal. He uses what Scorsese calls "the priest's eye view," showing these meals in the same context as the sacramental bread and wine. As in Last Temptation, there's a specificity and foreignness to these period details that leaves no doubt to the authenticity. You can't make this up. "I discovered," Scorsese says, "that the more detail you know, the better you know the people." And that's true: The Age of Innocence is just as much a story of the setting of the people who live there. More accurately, you could say that each is an extension of the other.
What fascinates Scorsese about this world, among the many infectious fascinations he brings to the project, is the world of fine art. Not only does he shoot this vanished world with colors and compositions taken from the paintings of the time, he seems as fascinated with the paintings as the owners. Ballhaus's camera lingers over them, drinking in the glittering play of light across the canvas. In its sense of spectacle and setting, the film really is a museum tour, and at times Scorsese can be like a tour guide taking us through the art gallery these people live in. The artwork becomes an extension of the characters as well. "Edith Wharton talked about certain paintings in the book, especially the Beauforts', who were lavish and tinged with decadence in their tastes; whereas Newland Archer's mother had more bucolic paintings, featuring farms and cows…We had to let a modern audience know that there was something very different about this woman [Ellen] from the paintings she had on her walls. My researcher found the school of Italian painters, pre-Impressionist, called the Macchiaioli School. One featured a woman with a parasol but no face, which would certainly be shocking to the audience."
I'll admit that I've spent a lot of time focusing on the technical aspects instead of the story and the setting instead of the characters. But I think that's because of how important each one of those pairs is to the other. Besides, I don't know if I can properly express the rich inner lives that Scorsese makes so heartbreakingly personal in this film. Certainly, I can't get across that wonderful gut punch of an ending, at least not without ruining it for anyone who hasn't been lucky enough to have seen it for themselves. Scorsese's next movie, Casino, is a gut punch another kind, taking all the violence that bubbles under the surface of The Age of Innocence and putting it right up front. It's hard to imagine too many other directors making two such different movies back to back. But that's the thing about Scorsese: he has no trouble switching rapidly between completely different types of filmmaking. But no matter how far afield the style is, the soul of his work, the emotions and obsessions, remains thrillingly the same.
Up next: Casino

Images credited to http://www.bluscreens.net/age-of-innocence-the.html