I'm not a fan of the picture because it's like opening up your high school yearbook and talking about yourself when you were in high school. I don't – its something that doesn't fit well, so, because you are still forming your – I was still being formed in a way. The whole process was one of discovery, and painful discovery.
Martin Scorsese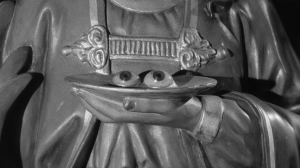 As a student at NYU, Martin Scorsese had made some fantastic short films. Now he gets his big break, the chance to make a feature. Will he use this opportunity to soar to new heights? Eh, not really — it's pretty aimless, the editing is missing its rhythm, and Scorsese's spark of brilliance wasn't fully formed yet. Still his first "official" movie, Who's That Knocking at My Door?, lays the groundwork that will form the foundation of the Scorsese Experience.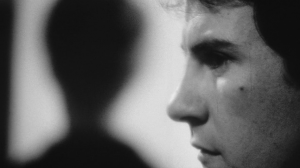 If that isn't enough to recommend it, Who's That Knocking? was the beginning of  Scorsese's fruitful partnership with Harvey Keitel. By the end of this partnership, Keitel will star in Mean Streets, play Judas to Willem Dafoe's Jesus, and get shot in the gut by Travis Bickle. Here, he plays JR, a kid from the neighborhood. Which neighborhood? Little Italy. Where else?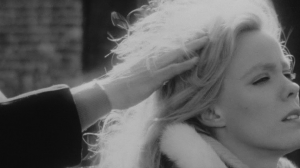 Who's That Knocking has very little plot, and doesn't really need one — it's just about JR, who he is and what he does. JR meets a girl, named The Girl, and we find out how it happens in one of the best visualizations of memory I've ever seen. In an early scene, he is sitting in his friend Harry's bar, listening to what Harry has to say, but not quite. His mind is elsewhere, and, with a little bit of movie magic, so are we. He meets The Girl while waiting for the ferry where they bond over, what else, the movies. Harry calls JR back into reality. But as soon as  Harry starts complaining about "fairies", JR's mind goes back to the ferry, talking about John Wayne with The Girl. He remembers other conversations they have, taking their dates above the city, wandering around on the roof of his apartment building.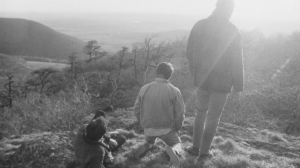 While  their relationship is the main throughline (even giving the story its crisis later on), for the most part Who's That Knocking?  takes the form of a series of unconnected events.  "I tried to tell the story through impressions rather than a straight narrative," Scorsese says, and he makes some indelible impressions here. At one point, Who's That Knocking leaves its story and neighborhood behind when Harry and JR go to meet a friend in the country. The friend invites them to climb a mountain with him, and Scorsese even indulges in a little bit of criticism  aimed at the city that he loves to film so much. He places his characters in a gorgeous landscape, nearly overtaken by the clear light of the sun. But they don't seem to care — Harry spends the whole time complaining about falling behind and getting bitten by snakes. Even as Scorsese pans across a beautiful vista of light playing over the Jersey hills, Harry wants to know why spent the whole day up there.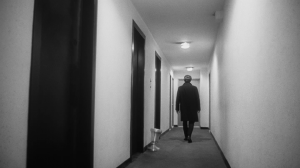 Later, back in the big city, a fight breaks out at a party, set to Ray Barretto's El Watusi.  Scorsese uses music and slow-motion photography to turn the brutal fistfight into a kind of dance, much like Kubrick did in A Clockwork Orange. The two men wrestle over a gun, looking more than a little like little kids playing cowboys and indians.When it finally goes off, the impact shakes the camera back to normal speed. Who's That Knocking was one of the first movies to use popular music this way, and it was a technique Scorsese would take with him throughout his career. He claims it was born out of necessity — when he made films with his friends on a silent handheld camera, Scorsese would play records along with his reels and have the actors stand by to read their lines.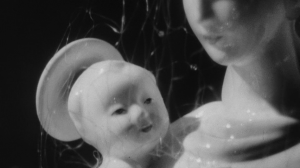 That kind of seat-of-his-pants ingenuity is central to the film, and from the stories Scorsese tells, Who's That Knocking might not have been finished otherwise. He and his crew "had to beg, borrow, steal for the cameras, and that sort of thing," and the filming was done piecemeal over three or four different periods. Even when it was finished and shown at the Chicago International Film Festival, Scorsese couldn't afford a ticket to watch his own movie. He got a wider release, but only after changing the title from I Call First to Who's That Knocking On My Door and adding, by the distributor's request, some kind of nude scene to make the movie more sellable.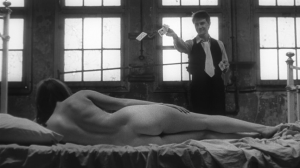 Scorsese got the call to add in the nude scene while he was in Amsterdam. He had to pull everything together in just a few days and then smuggle the footage home in his raincoat, film in one pocket, soundtrack in the other. While a scene that mercenary might seem destined to failure, it actually ends up being just as sexy as anything done by professional filmmakers with reliable funding. The camera whirls around JR and the unnamed "broad" as they embrace, pushed forward by the animal rhythms of the Doors. Scorsese even shoots some scenes worthy of Sven Nykvist's work on Persona, showing JR as an eye, or a nose or a mouth. He uses closeups to similar effect in the scenes between JR and The Girl, making the intimacy of their relationship immediate and literal.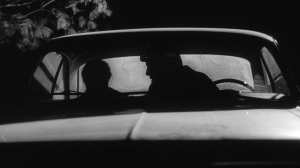 Of course, that relationship, and the way JR views it, have eaten up a lot of discussion about the film. It's only natural, in a way: Who's That Knocking sets up an exploration of the Madonna-Whore Complex that Scorsese would continue through Taxi Driver, Raging Bull and beyond. Actually, let's use the language of the film: it's the Madonna-Hoo'er Complex, or even better, the Girl-Broad Complex, after the distinction JR makes in the post-Rio Bravo screening discussion that leads into the sex scene. The film puts that conflict in place almost from the first shot, where we see the Madonna herself and young JR's model for her, his own earthly mother, making calzones.
JR grows up having an obsession with sexual purity, not knowing what to do when The Girl confesses how she had been raped. He can't sympathize with her — he can't even believe her — instead thinking she just wants to to blame her lost virginity on someone else. He can't understand her philosophy, but to be fair, she doesn't quite understand his either. There is an especially pointed scene where he catches her using sacred candles just to light a room.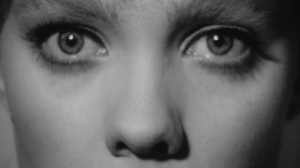 The conflict comes to a head when JR comes up to The Girl's  room to apologize at six in the morning, only to put himself back in the wrong by saying he forgives her — as if she were at fault. Worse, he calls her a broad, even a whore. The film ends with him in church, surrounded by sculpted saints, soundtracked by the title song. I'm still piecing together the meaning of that. Is it a biblical reference, to the sculpted Christ "standing at the door and knocking?" And if so, is God pushing him toward or away from The Girl? We certainly see the religious influence hurting JR, literally, as he cuts his lip on a crucifix and thick, black blood comes gushing out. Images flash before him — The Girl, The Madonna, his mother. And then, back to everyday reality when he meets Harry outside the church.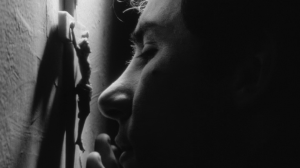 Scorsese's technique is still developing here, but you can already see the hallmarks of his mature technique all over the place. One aspect that would not be around much longer is the quick-cut, Breathless-inspired editing that carries over from the shorts and would continue through his next two films. There is one aspect of the editing that would stick with him though. That would be Thelma Schoonmaker, who cut the celluloid on this project and is still working with Scorsese today. The sense of Little Italy is pure Goodfellas.  As Roger Ebert says in his 2008 "reconsideration" of the film, "It's all there… almost in the first twenty minutes: the themes and obsessions, the images and character types that would inspire Martin Scorsese for the whole of his career. A shot of his mother, kneading pasta. A statue of the Virgin Mary. Young men from the neighborhood, in an argument that explodes into a fight. Rock and roll on the sound track. A headlong, hand-held shot preceding the two fighters." Scorsese's unique rhythm of circular, naturalistic, fast-paced dialogue is already present. It shouldn't be a surprise that his authorial voice came natural to him — as I discovered while working on the project, he always talks just like his characters do.  Martin Scorcese's career is just in its infancy here, but darned if it isn't a beautiful baby, and anyone who knows what it grew up to be will recognize just as easily as the baby pictures in a high school yearbook.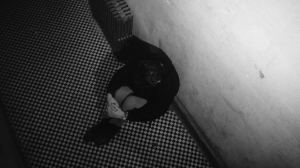 The Scorsese we know and love was still a few years off. Who's That Knocking At My Door was a prototype for the movie that launched him to fame, but he needed to do some work in the trenches first. And for any filmmaker worth his salt, those trenches take the form of Roger Corman's exploitation factory.
Up next: Boxcar Bertha