"The third film by Judd Apatow", as Funny People was marketed upon it's release in 2009 to help differentiate it from the cavalcade of successful Apatow productions which had hit theaters in the five years previous, is Apatow's lowest grossing film as a director. Apatow's latest film, the excellent Amy Schumer vehicle Trainwreck, brought in more than half of Funny People's lifetime gross in it's opening weekend and will almost surely surpass it soon.  Neither critics nor audiences who saw it responded in an overwhelmingly positive way either, with the film receiving a 68% critic score and a 48% audience score on Rotten Tomatoes. Apatow had a hand in most of the biggest comedy films from the years leading up to Funny People and was teaming up with one of comedy's biggest box office draws in his longtime friend and former roommate Adam Sandler, but, for whatever reason, the overall reception was still decidedly meh. This tepid response came despite a subject (the comedian's mindset) and setting (the stand-up comedy world) which are squarely in Apatow's wheelhouse, despite a self-aware and revelatory lead performance from Adam Sandler and despite a deliberate and daring approach to structure, all of which help contribute to Funny People being, in my view, Apatow's best film.
I'm probably predisposed to be taken with a story that's set in the stand-up world, created by people who have lived their lives there; as a life-long comedy fan, growing up in the 1980's, I've always admired stand-ups and have come to regard the medium as one of America's great art forms. I've always been fascinated with the direct line that exists between comedian and audience (brain > microphone > ears) and am interested in the way that comedy scenes grow, how popular tastes will shift over the years and the way comedic personalities exist on and offstage. Judd Apatow seems to have shared this life-long interest in stand-ups, evidenced most recently by his book Sick In The Head, a collection of interviews with comedians that spans the last 30 years. Apatow's love of stand-ups (and the depth of his Rolodex) is apparent in Funny People too, not just in the film's milieu but in the comics who get the occasional line in the movie (Dave Attell, Sarah Silverman, etc, etc) and in the way he populates the backgrounds and margins with comedy-lifers. For the type of filmgoer who gets excited by a glimpse of George Wallace or Carol Liefer, the film has a lot of texture.
Funny People is a part of a particularly reflective moment in comedy that was happening in 2009-2010. Apatow's film arrived as Marc Maron's podcast WTF was coming into it's own as an essential oral history of the stand-up community and look into the emotional lives of comedians. It was followed within the year by season one of Louie, where the seeming-consensus pick for Best Working Stand-Up, Louis CK, blends Seinfeld, Woody Allen and a pinch of David Lynch surrealism to look at the trials and tribulations of a working comedian. Funny People, WTF and Louie all cover a plethora of topics and concerns but they share a common theme that serves as the underlying idea in each; how does a selfish, self-centered person (traits that can act as a positive as a stand-up but less so in life) learn how to connect with people in a genuine and positive way? Apatow and Sandler explore this question with their conception of the character of George Simmons.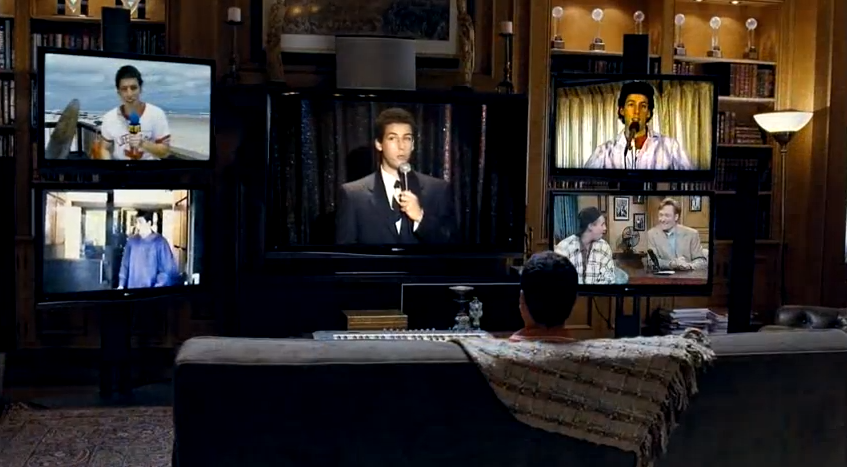 Adam Sandler gives a fantastic and knowing performance as Simmons. Where Punch Drunk Love found Sandler riffing on his On-Screen-Persona, with Paul Thomas Anderson dropping Sandler's "Arrested-Development Man-Child Prone to Fits-of-Rage" character into a wholly different cinematic context, Funny People finds Sandler riffing on the public perception of "Adam Sandler, the Actor/Comedian". George Simmons is a decidedly Sandler-esque character in a lot of ways (the fictional oeuvre of George Simmons, referenced throughout the film, echoes Sandler's career to a degree and is pretty awesome), but I think it's easy to overlook how subtlety and effectively Sandler crafts a character that stands on it's own. There are some excellently acted scenes (Sandler communicates a complex emotional reaction, almost entirely through his facial expressions, in the scene where Seth Rogan's Ira plays him Warren Zevon's "Keep Me In Your Heart"; Sandler, Rogan, Jonah Hill and Jason Schwartzman convincingly reflect the camaraderie and competition that often colors the relationships of young adult males; the scene where Leslie Man and Sandler's characters first reconnect – admitting their past relationship regrets and sorting through their current feelings toward each other – is really naturalistic, really well acted and really effective at establishing a believably shared past between the characters; the scene features each actor elevating the others performance and may be a career high for both) and Sandler, in particular, shows a lot of bravery in the way he weds seemingly autobiographical details from his life and career to a character that, in a lot of ways, is really unlikable, on an almost fundamental level. George Simmons is a hard character to root for at times, and his resistance to change and seeming refusal to look beyond himself doesn't make it any easier, but Sandler commits to the character. Sandler doesn't seem concerned about putting Simmons faults on display right alongside the chartacter's positives, which are just enough to keep you wishing he would pull it together, even as he continues to let you down. The performance is given extra weight by Apatow and Sandler's personal relationship, which goes back to their pre-stardom days as struggling comedians and roommates. Their shared past leds to some great archival footage of Sandler making it into the film, which adds real emotional weight to the sense of year-after-lonely-year slipping by for George Simmons. In the end, it's a complex characterization which is really well done.
The thing that most people point to in their criticism of Funny People is it's structure and that the film feels like a couple of different movies, of varying quality, smushed together. Many seem to respond to the earlier showbiz-and-illness portion of the film as being most effective but feel like things go off the rails as the characters (and movie) head to Marin County ("where they are really hiding the good pi-a-zza piiiies"), but I love that Apatow uses the final third of the movie to play against audience expectations and eschew more traditional movie structures. The final act helps to bring the film's true goals into focus. Apatow has shown that he can more than handle typical storytelling approaches (The 40 Year Old Virgin and Trainwreck inject a more traditional structure with genuine emotion and laughs and Walk Hard: The Dewey Cox Story, which Apatow co-wrote, shows a deft understanding of how to use and subvert a particular set of cinematic conventions), and it seems to me that the third act departures are intentionally made. The first 2/3s of the movie set a few conventional movie arcs into motion (the romantic reconnection of former lovers, the introspection of a sick man dealing with a terminal disease, a professional sellout reconnecting with the love of his art, etc) but, down the home stretch, the movie decidedly undercuts them all, as if to say, "Hey guess what?! Real life doesn't work like the movies!" The former girlfriend, while tempted by the road not taken, realizes she doesn't want to give up on the life she has made for herself with her family, the sick man who faced death and was given a second chance falls back on his self-centered ways by treating those around him as actors in his story, and the actor/comedian evaluating his career, his roots and his legacy starts to entertain the thought of "a sequel to the baby movie". Characters try to make a big show of moving on, because that's what they think they should do, but things don't fall into place like they expect. Ira's "last second race to the airport gate" is a great inversion of that particular trope because 1) it is working against the main character's romantic goals, 2) it ends up complicating matters rather than providing catharsis and 3) it was a totally unnecessary move on Ira's part, as Mann and Eric Bana's characters had already come to an understanding on their own. The choices these characters have made in their lives still have consequences and can't be erased by grand movie-gestures.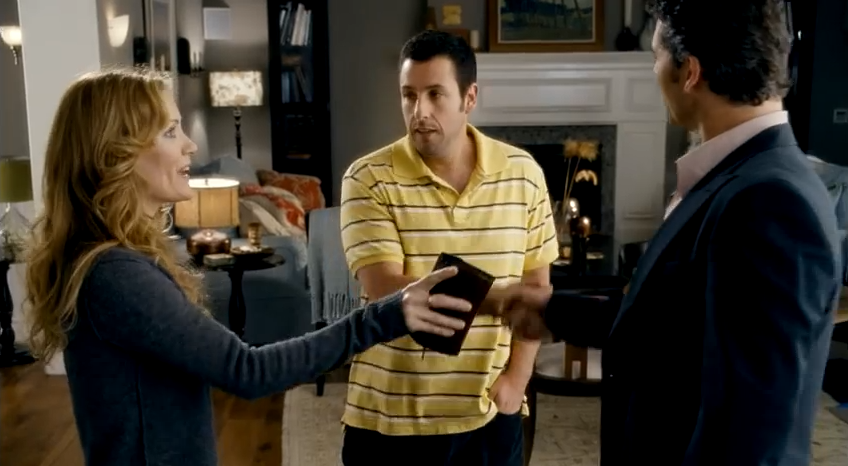 On a narrative level, all of this can feel a little bit weird. It plays as anticlimactic and the resolutions (to the degree they exist) appear disconnected with the first half of the movie, but I appreciate the way it plays against the audience's expectations and conventional structure. These late film developments follow a bit more of the rhythms of real-life, and, while the rhythms of real-life don't always make for compelling movies or storytelling, I found the approach exciting and think it ultimately reveals the movie as more of a character study than something more plot dependent. The film is a look at a self-centered, narssacistic guy who, after dealing with a potentially life changing illness, examines his life, gets healthy, then starts to resist growth and, in the end, is only a slightly better person than when he started off. A lot of criticism of the film says the ending isn't satisfying given the early going or that there should be more resolution from the plot lines introduced earlier on but looking at Funny People for what it is and what it's trying to accomplish, rather than what it coulda/woulda/shoulda been, the film more than succeeds on it's own terms.
George Simmons learns a lesson that is tough for a lot of self-centered people to grasp; that just because you are ready to be forgiven doesn't mean you are entitled to other's forgiveness. Marc Maron described his experience with this dynamic in a conversation with Tom Sharpling, on one of the infrequent episodes of the podcast, The Marc and Tom Show (available on iTunes!), where he discusses his history with Jon Stewart. During their time coming up the stand-up ranks together, Marc's jealousy and anger caused him to take Jon's early success as a personal affront and he was outwardly a dick towards Stewart. An underlaying narrative to WTF, especially in the early years, is Marc trying to become a better person by making amends with those he had mistreated in his past (it's an ongoing project…) but when he reached out to Stewart with an offer to bury the hatchet on the show, it took Marc a bit aback when Jon's response was essentially "Why would I do that? There's no love here…". Sharpling points out that, even though Marc now saw himself as the Apology Guy, it's a form of self-centeredness to think that Jon Stewart is just waiting in the wings for the opportunity to help Marc work through his past as a jerk. Marc saw that there was still a self-interest in it for him, beyond making amends, and he had to realize that forgiveness isn't just about himself. I think this dynamic is what I love about the ending of Funny People; even though it's very low key, even though it may seem anticlimactic, even though it represents only the smallest bit of character growth, in the end, George and Ira are simply sitting together, at a table in a supermarket deli, sharing Dick Jokes. George Simmons gets to a place where he can genuinely apologize and, because of the relationship he's built with Ira, he's able to be forgiven. That's a pretty big step for him.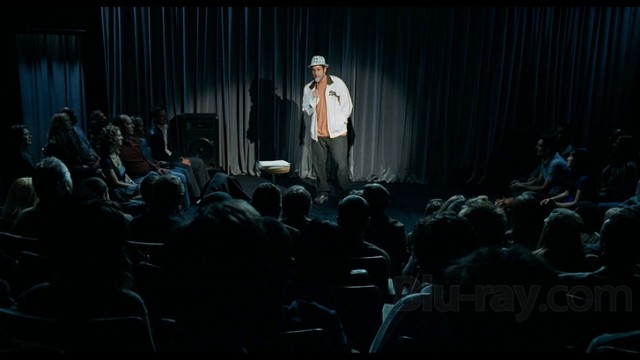 Note: An earlier version of this essay appeared as a part of LoveFest II in The Dissolve comment section, organized by The Narrator.