Warning: Mild Spoilers Ahead
'I am fucking Mary Poppins, I was brought in to fix this thing that needs fixing.'
-Liz Garvey (Brit Marling), Director of Communications for the London Metropolitan Police
In what will sound like the boldest proclamation from 1995 (get your fainting couches ready), technology is the future. Our perception of the world is constantly changing and the shift in how we consume content and information is a huge reason why. Instead of relying on one or two biased news sources, one can chose from thousands of options. One doesn't even need the news; they can find the stories direct on streaming services like Youtube and Vimeo, in all of their theoretical 'reality.'
To those who have already seen Babylon, this is a simpler, less eloquent version of something Liz Garvey (Brit Marling) would say. Liz, much like the show itself, has an intrinsic understanding that as technology grows more and more entrenched in our daily lives, public image is a continuous war and sometimes the only way to be victorious is to admit defeat.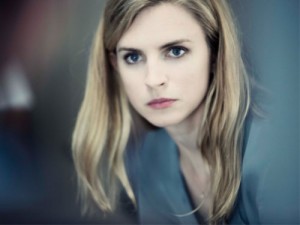 Babylon, the Channel 4 comedy-drama making its US debut tonight on SundanceTV, is a curious creation. Created by Danny Boyle, Jesse Armstrong, Sam Bain, and  Robert Jones, the series began with a splashy feature-length pilot, which aired in February of last year. The door was open: if it was a success, more episodes would be commissioned. If it flopped, it could be written off as a single drama. The pilot, directed by Danny Boyle, found enough support to merit an additional six episodes, which aired in November, and a few weeks after the finale aired in December, the show is coming Stateside. The series follows Liz Garvey, an American communications expert who is hired to give Scotland Yard a much-needed image revamp, along with a collection of officers and officials, both on the street and in the Met, as they face the daily calamities of police work in London. At a quick glance, the show has all the superficial trappings of being a one-note satire, and being described by C4 as 'Line of Duty meets The Thick of It' certainly does little to alleviate those concerns. However, Babylon is more than The Office with guns and badges. It's a sharply written, crisply directed, stylish almost to a fault program that mercilessly picks apart policing, bureaucracy, and public image, while never losing sight of the people who are tasked with handling every calamity that strikes London.
Babylon began with the aforementioned, feature-length pilot, which, to my current knowledge, which according to the NY Times TV review, had already aired on SundanceTV back in September. It's a pity they are not airing it again, given out was one of the best series openers I saw last year, and a lack of it can make certain aspects of the first two episodes feel out of place. In the pilot, Liz is newly arrived in London and her first day, she must contend with giving the public the correct information concerning a spree of shootings in the city, while proposing her ideas for greater transparency for the Met to her boss, the fearsome Commissioner Richard Miller (James Nesbitt) and keeping her back-stabbing coworker, Finn (Bertie Carvel), who is furious she got his desired position, at bay. Outside the offices, Warwick (Nick Blood), an Authorised Firearms Officer struggles with PTSD following the shooting of an unarmed civilian, Robbie (Adam Deacon), an overly exuberant TSG officer who hopes to become an Authorised Firearms Officer, and Matt Coward (Daniel Kaluuya), an opportunistic documentary filmmaker eager to expose the dark side of the police force. If all this sounds complicated, thankfully, it plays with a gliding smoothness and confidence; Babylon trusts its audience to follow the myriad character developments and have an understanding of British policing.
The pilot and the first three episodes of the six-part series lies more on the satirical, procedural side. One of the writers, Jesse Armstrong, was also a writer for the landmark British political satire, The Thick of It, and he knows his way around a quip (a few AFO officers called to put down an injured horse refer to themselves as 'the James Herriot death squad') or a poetically profane rant/insult ('Shut up, you fucking yoghurt!'). The humor is sharp and astute, and thankfully eschews easy targets like Liz being an American, nor does it show the characters as hopelessly incompetent buffoons. That said, the tonal unease will undoubtedly be off-putting to certain viewers. I love the shows that can veer from hilarity to horror, sadness to joy, sometimes in the case of a single scene, but such shifts only work if the writing is layered and textured enough to anchor the emotions and not have them feel arbitrary or like the writer(s) wants to have their cake and eat it too. The writing in these episodes is smart and amusing, but its relatively apolitical nature, its unwillingness to fully commit to being purely satirical or more on the moralistic side, can give it an air of 'well, what do you want to accomplish?' Which brings me to my next point…
Episode Three ends on a cliffhanger (no, I will not spoil it) that spells imminent doom for the Met. The beginning of Episode Four follows through on the cliffhanger and a rapid atmosphere of catastrophe sweeps through Scotland Yard. As Liz struggles to keep everything in some semblance of order, a shooting reminiscent of the Mark Duggan case occurs, placing the racial tensions in London at an all-time high and sparking a series of riots and disturbances across the city. The sudden jump into darker, more serialized storytelling illustrates that in its heart of hearts, Babylon is a superior drama instead of just being a very good comedy. The tonal unease between sharp satire and starker dramatic moments in the pilot and the first three episodes settle once the scales have finally tipped. Simply put: it's funny until the pain comes crashing in and cannot be ignored with a joke. If the pilot and the first three episodes played more of the goofy side, while dark undercurrents lurked beneath the surface, hinting at catalytic events in the future, Babylon wisely pulls no-stops once tragedy hits. The final episodes, brilliantly directed by Sally El Hosaini (director of the very good coming-of-age film, My Brother the Devil) have an intimate understanding of how little events can have tsunami-esque impacts, and she avoids going for the most obvious sources of dramatic tension.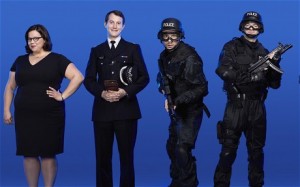 On a technical level, Babylon is beautifully directed. Boyle brings kaleidoscopic flair to the pilot, which is continued in the later episodes directed by Jon S. Baird (Filth) and Ms. El Hosaini, combing single camera cinematography interspersed with footage from CCTV cameras and phone recording, immersing the viewer into a world where there are countless vantage points for any given event. A lot of crime dramas use different technological platforms as a Rashomon effect in a whodunit mystery. Here it's used to accurately capture the ever changing flow of content and information, and how it shapes our own perceptions of the world around us.
The acting is similarly superb, with performances that balance flamboyance and naturalism  with ease. Nesbitt is the closest thing the show has to Malcolm Tucker, the memorably foul-mouthed Director of Communications on The Thick of It. Nesbitt is a highly-strung powerhouse, a man simultaneously in control and always on the brink of exploding. Marling has the harder task, playing a the straight woman and the audience's avatar. She is given some great monologues, which she delivers with icy ease, but the most remarkable aspect is how well Marling shades Liz with equal parts worldly cynicism and naiveté. She is an avid consumer of information, she knows how the system works, but is unaware of the big difference that comes with knowing something in theory and actually seeing it unfold in real life. In one of the series' most memorable scenes, she watches in wide-eyed horror as a riot unfolds right outside of her car. As her Machiavellian foil and nemesis, Carvel gives Finn an oily charm and quiet intelligence; he is clearly part of a culture that celebrates making the police look better than anyone who may potential smear their reputation, knowing the ins and outs with the Met's complicated relationship with the media.
I could spend several paragraphs detailing all the brilliant performances, and while Nesbitt, Marling, and Carvel are all excellent, the true standout performers are the supporting characters. Of all the fantastic supporting turns, those by Nick Blood (Officer Warwick), Jill Halfpenny (Davina, a TSG Officer), and Nicola Walker (Assistant Commissioner Sharon Franklin) are the knockouts. As Officer Warwick, an AFO suffering from PTSD, Blood gives his character such a profound, quiet sadness that gives his character's more high-strung nature a subtle vulnerability that is appealing and relatable. Walker plays Franklin with a complex, occasionally contradictory mix of quiet wisdom and simmering eagerness. An ever watchable observer, Franklin knows the ins and outs of Scotland Yard and acknowledges the hardships and limits of change; in one painful moment following the police shooting of aback teenager, she remarks, 'Change will come, but it will take a few more generations.' Halfpenny is saddled with the show's obligatory romantic subplot, but her sturdy poise and droll humor give what could have been a one-note character an intriguing magnetism.
Babylon has many strengths, but its greatest triumph is how well it balances the conflicting views of police work. While the show's mix of comedy and drama certainly won't be for everyone, the series acknowledges the hardships and sacrifices of police work, while never shying away from depicting the corruption and pettiness the bureaucracy of the police system allows to flourish. Like it's central protagonist, the show argues that transparency is crucial to restoring public trust and gaining support. However, it knows that change takes time and a step in building positive relationships can easily be pissed away by one misstep. In its own, Babylon shares more than a few similarities with the contemporary television classic, The Wire. The Wire was darker and more spawning (and yes, better written), but both shows acknowledge the multifaceted, inherent fraught nature of police work and its effects on various facets of society. Both had their funny moments, but their hearts where ones of sadness and exaggeration. Change is always possible, both shows argue, but unless people want or at the very least, are willing to change, 'change' will simply be a collection of empty buzzwords.
While Babylon certainly isn't as strong as The Wire, it's confidence, wit, and insight are wonderfully portrayed, and the final three episodes are some of the best TV I've seen in years. It was my choice for one of my top five TV dramas of 2014, and I'm thrilled it's getting a US debut.
*****
Babylon premieres tonight on Sundance at 10 EST, 9 Central