Tune in Next Week is an ongoing feature, examining serials one chapter at a time. You can watch Chapter Eight here.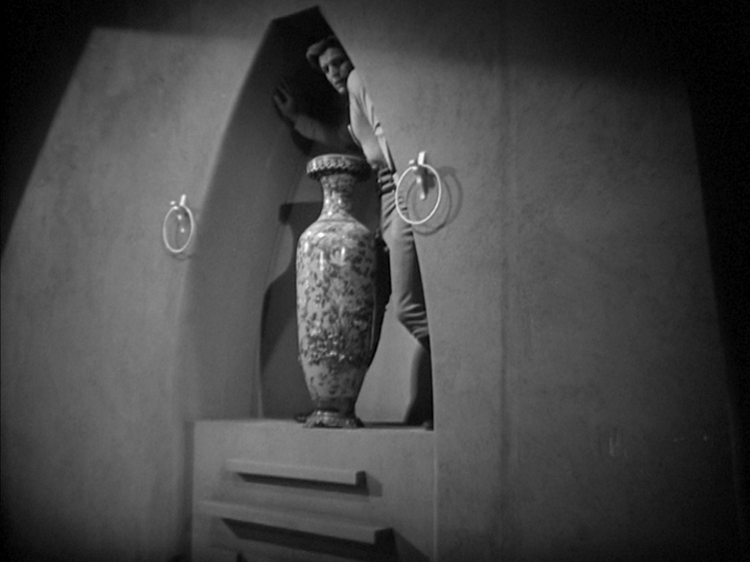 In the course of watching Buck Rogers, I've seen men preserved in suspended animation for five hundred years; I've seen a mile-high future megalopolis ruled by a "super racketeer"; I've seen technological breakthroughs in mind control and invisibility; I've seen interplanetary space travel and alien races. But nothing made me scoff and think "Oh, sure," until I saw Buck Rogers activate a switch by throwing a ring around the handle from a dozen yards away like an expert carnival game operator. Perhaps I swallow camels of scientific impossibility only to strain at the gnat of an extremely lucky throw, but I think that's a familiar tension for many fans of genre fare.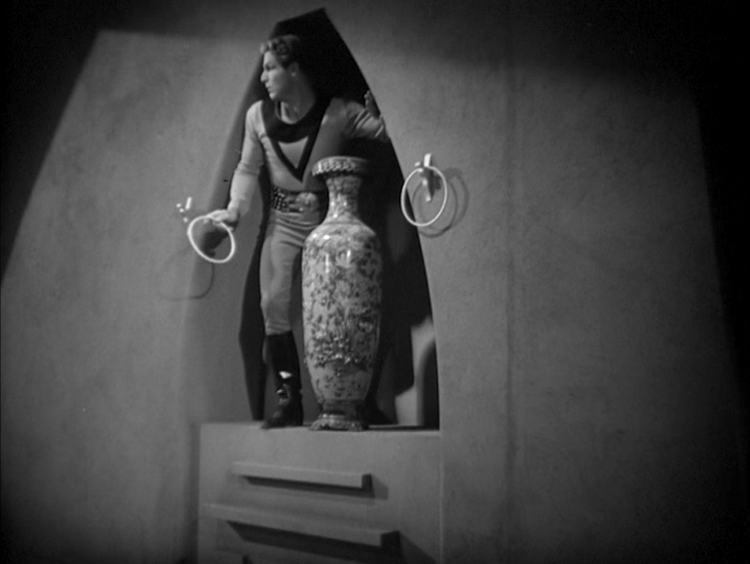 Buck's lucky throw raises the issue of "believability" in science fiction and fantasy. How many times have I pointed out some inaccuracy or improbability in a show or movie (not that I do that all the time–nobody likes a buzzkill), only to be answered with, "Oh, you have a problem accepting that one thing in the show about ghosts/psychic powers/parallel universes/whatever?" But there are levels of plausibility in any story: sure, "suspension of disbelief" covers Buck's 500-year nap and speedy travel by rocket to Saturn, but we've all had experience with tossing rings or trying to hit a target, and that doesn't fall under the heading of the fantastic. We know when something depicted on film doesn't match our own experience of it.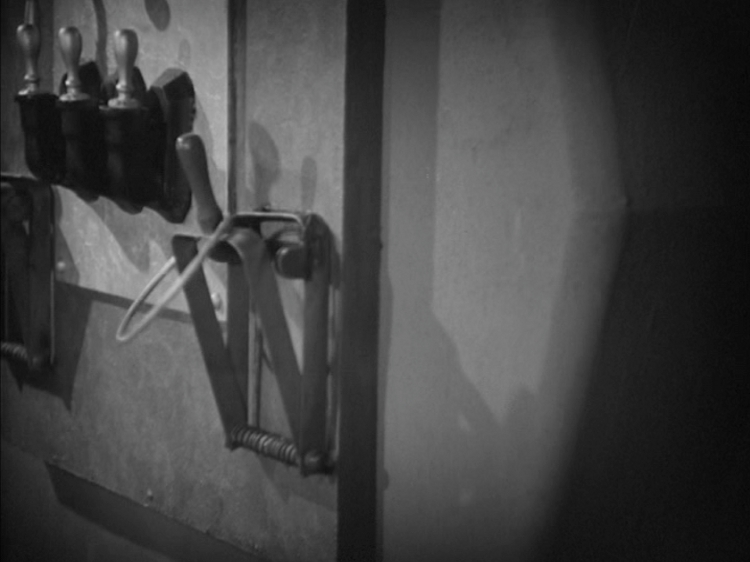 On the other hand, it comes back to the distinction between "realistic" and "fair." Buck Rogers is the hero, and heroes from the pulp and serial era in particular share one trait: if a stunt or shot is a million-to-one chance, you can bet they'll make it when it counts. It's fair for the filmmakers to claim that Buck Rogers is superior to ordinary men in any way the story demands, even if it's not realistic. By contrast, imagine Han Solo in a similar situation. I can see a young Harrison Ford attempting that ring toss and missing, attracting the attention of the guards, and then smirking to Chewbacca, as if to say, "Well, it was worth a try," before fighting his way out of the trap some other way. For all that Star Wars borrowed from Buck Rogers and Flash Gordon, that acknowledgment of its heroes' fallibility is the clearest mark of New Hollywood revisionism. (Luke could have done it, but you know he would've used the Force.)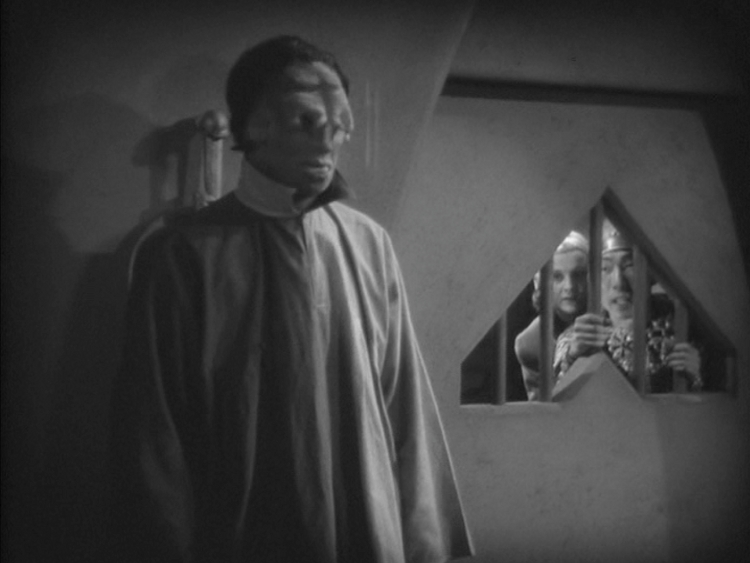 But let's back up. At the end of Chapter Seven, the Forum has been thrown into an uproar by the arrival of the Zuggs, following one of Killer Kane's "living robots" they have taken for a god; the robot in turn is under the command of Captain Laska, who was about to contact Kane to request reinforcements when Buck Rogers broke free and destroyed the radio. As Chapter Eight continues, Buck escapes in the struggle, but Tallen and Wilma are captured as Laska regains the upper hand. "The Zuggs are not used to power!" Tallen warns Laska. "When they find their strength, they'll turn on you and destroy you!"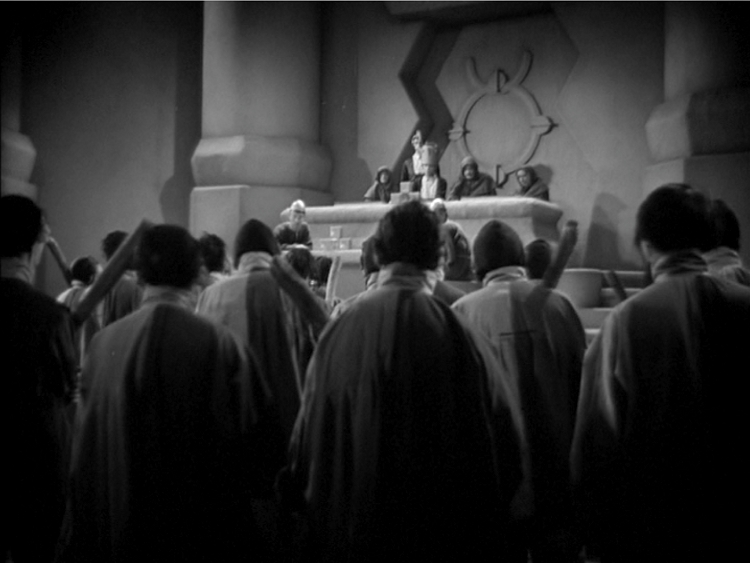 Buck hides in an alcove and follows the Zuggs who take Tallen and Wilma to a prison cell. (It's during this sequence that he throws the ring and activates the switch, starting a rail car to distract some of the Zuggs.) It's also clear for the first time that the Zuggs can talk as Tallen tries to get information out of his jailer. "Buck Rogers will be captured and then–" the Zugg says, before being sucker punched by Rogers, who has crept up behind him.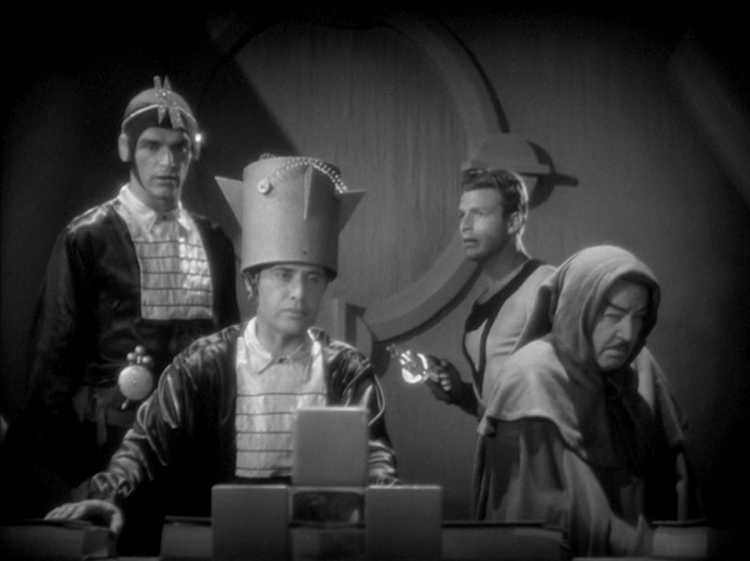 After chaining up the stunned guard, Buck, Wilma and Tallen sneak back into the Forum, where the robot is giving orders to the Zuggs. "Tomorrow we begin executions of those Saturnians not loyal to the Earth leader," the robot drones, with Laska standing behind him. It's a creepy, effective scene. Getting the drop on Laska, Buck forces him to order the robot to have the Zuggs drop their weapons (that's quite a chain of command). He also has the robot tell the Zuggs to obey Prince Tallen. Then with Laska still cornered, Buck removes the robot's amnesia helmet.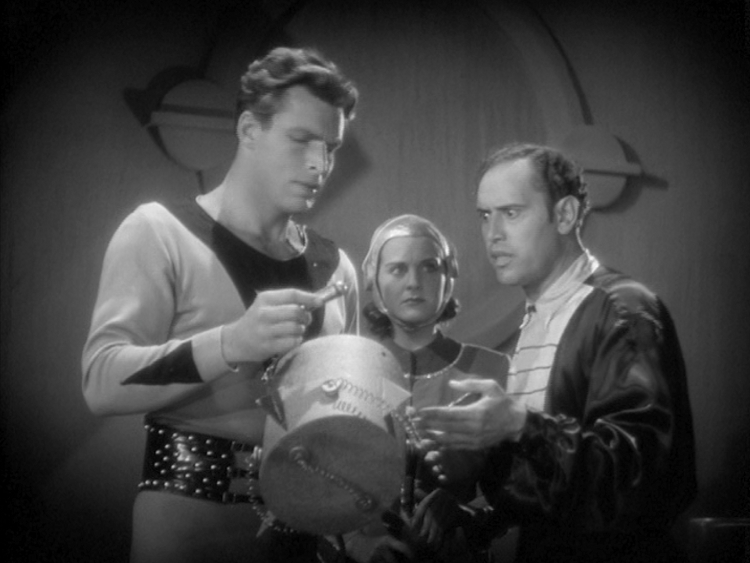 Once free of the helmet's influence, the former robot remembers his identity (he was part of Dr. Huer's forces, sentenced to the robot battalions by Kane) and recognizes Buck's uniform and Wilma Deering, at first assuming he is back in the Hidden City. As the truth is explained to him, he listens in wonderment (I can't find the name of the uncredited actor, but he makes the most of his one big moment). This is easily my favorite scene in this chapter: it's melodramatic–he's even overcome with remorse for things he did under the influence of the helmet–but the actor's voice, so flat and monotone as a robot, milks each line as if making up for lost time. After removing the mind-control filament, Buck convinces him to put the helmet back on and continue acting as a god to the Zuggs (note how Buck now stands in almost exactly the same relationship to the robot as Laska had). He orders the Zuggs to follow their old leaders and to imprison Laska.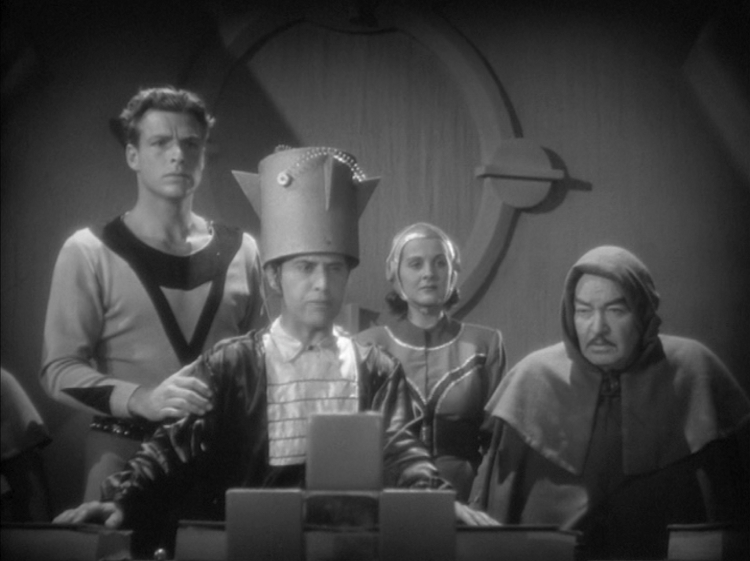 With the situation on Saturn under control, Buck and Wilma bid goodbye to Prince Tallen (but I think we'll see him again) and return to Earth. In contact with Dr. Huer, they request he use the dissolvo ray to help them evade Kane's patrol ships around Earth. They are almost successful, but a tube bursts, shutting off the ray and rendering the ship visible to Kane's patrol. They are fired on and, out of control, collide with an another ship.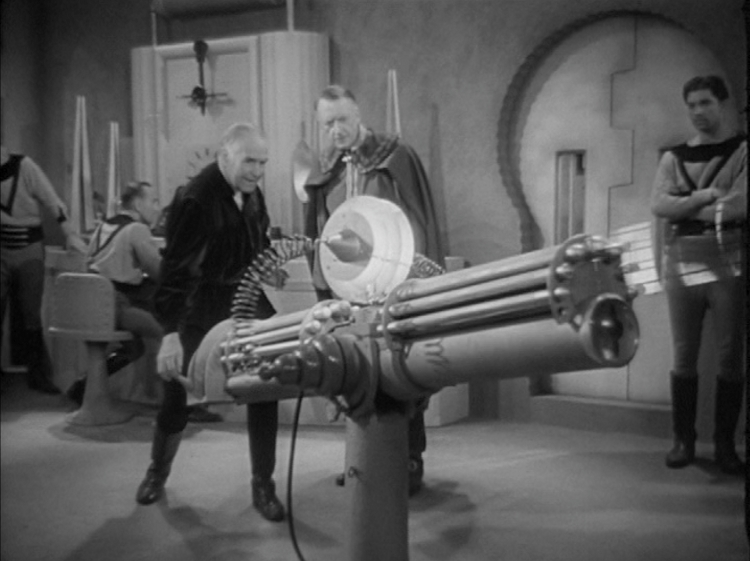 Will Buck Rogers and Wilma Deering survive? Or will Buddy Wade decide to take on the mantle of "Buck Rogers" in tribute to his fallen friend? Tune in Next Week to find out in Chapter Nine, "Bodies Without Minds"!