Meetings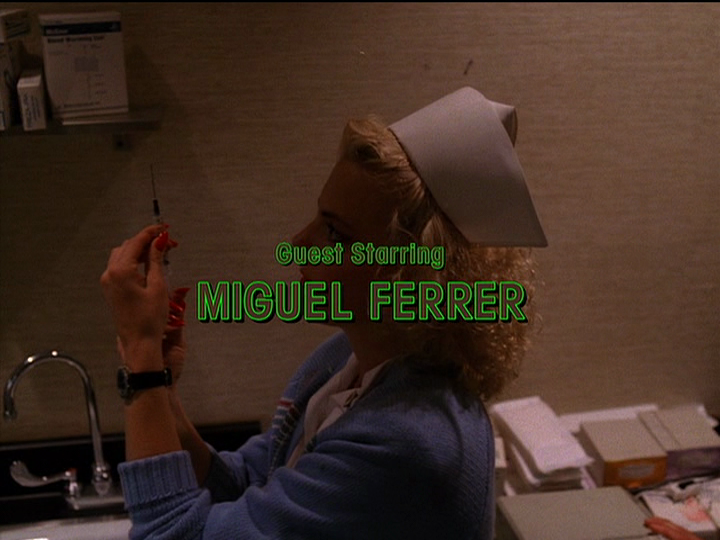 Overnight, BOB strikes again. He slipped the letter B under Ronette's ring finger before putting poison in her IV drip, turning it blue. He doesn't quite kill Ronette, though. She manages to rip out the IV during a violent fit that she has after seeing BOB again. The violent thrashing against the unknown saves her life. None of the nurses saw BOB or any of his vessels enter Ronette's room the night before, leaving the mystery of who killed Laura in tact.
The letter B has the whole police department flummoxed. The letter T was under Teresa Banks' fingernail, and the letter R was under Laura Palmer's. T R B. There are hundreds of words that contain these three letters – Trouble, Brutal, Brat, Rabbit – but there's one that is staring them right in the face. That's when Leland arrives saying that he knew the man in the flyers with BOB on it.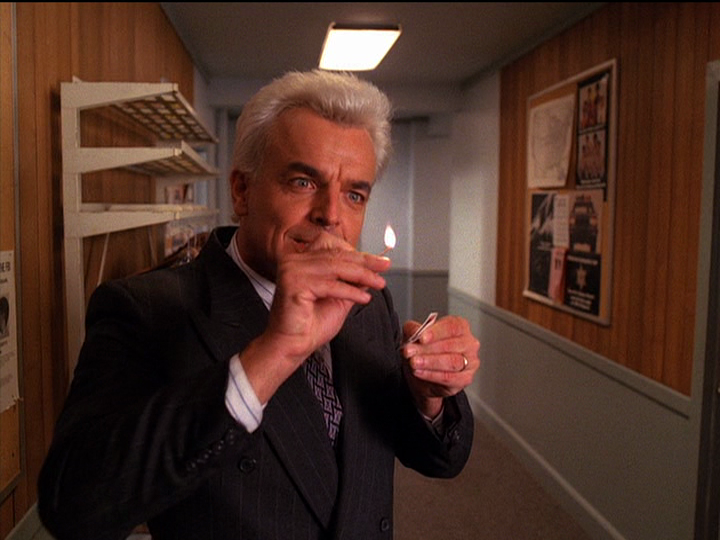 Leland, up until this point, has been a character with a wild arc. When we first meet him, he's a chipper happy-go-lucky professional businessman sitting in on Ben Horne's Ghostwood Development investment pitch to the Norwegian investors. That is quickly crushed into a broken man who learns his daughter is dead. Grief does enough screwed up things to people that his perpetual need to dance reads like a compulsion to regain some of his happiness; his trying to go back to work seems like a logical advancement to health. Even his killing Jacques Renault seems like he's killing the one person who killed his daughter, thus giving him some satisfaction and happiness that justice has been done.
Nobody in the show knows who Leland really is, nor do they know that all of these behaviors can read in a completely different and entirely logical light by the end of this season. Nobody knows that Leland's hair went shock white when real Leland finally gave up and succumbed to his own demons. And, nobody second guesses the true meaning of Leland's story when he says he knew BOB as a child.
Leland's father had a cabin somewhere remote. On one side was a family, and on the other was a vacant lot. And, just past that vacant lot, was a white house with a man who looked just like the drawing on the flyer. This man went by the name RoBerTson. The man would come over to Leland and flick lit matches at him while asking, "You wanna play with fire, little boy?" That sentence matches exactly the spooky phrase that Laura told James one night, which creeped him out enough that he remembered to tell it to the police. Robert, BOB, RBT, and this sentence all add up to the same guy…but that had to have been 40 years ago. The house is now vacant, and they're looking up records to see if they can find the man everybody keeps seeing in their visions.
There's one person who is possibly directly associated with BOB, and he finally gets his meeting with Sheriff Truman. Mr. Gerard, the One Armed Shoe Salesman, has been trying to sell Sheriff Truman a new set of work shoes for the police force since they raided his hotel room last week. I don't know why Sheriff Truman picks a boring ass shoe/boot called the Jim Dandy, but I much preferred the heavy duty steel-reinforced toe construction boot that Mr. Gerard first gives him. Unfortunately, the sale is never completed as Mr. Gerard sees the drawing of BOB, and has a freakout. He's possibly possessed by Mike, who is chasing BOB around the globe. His drugs seem to calm this spirit possession so he can get on with his life, but some stimuli forces Mike to come out. By the time anybody remembers he was at the station, he's long gone again.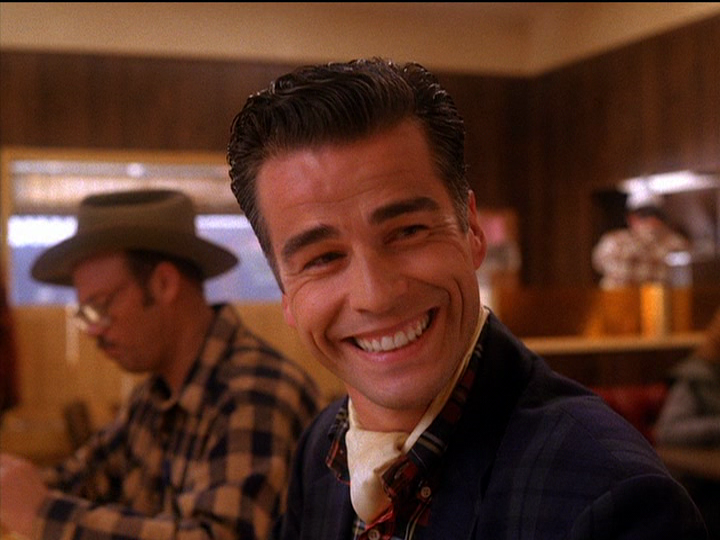 After telling Lucy that he was sterile and wondering why the hell she was pregnant, Andy calls in sick so he can go check up on his sperm count. In the meantime, Lucy has a lunch date with her other boyfriend, the foppish Dick Tremayne. They went out every Thursday night for 3 months before she finally had sex with him on a display bed in Horne's furnishings. And then he ghosted her for six weeks ("I lost your phone number." "I work for the police station. You could have called 9-1-1!").
Dick Tremayne is the worst. He's a pretentious worldly fop who insists on calling rubber rain slickers a "Vulcanized Mackintosh." He loves that he is a salesman in the Men's Department at Horne's, and takes it as a symbol of his good taste. He says that his ill-mannered way of eating food, by not switching the fork from his left to his right hand, is very European; Lucy says her mother called it "piling." He tells Lucy, "We'll go Dutch" meaning that Lucy has to pay for her meal while disguising it as a form of European formality. His form of apology is to get Lucy a 20% discount on a dress from the women's department. He's the worst. And, he might be the father of Lucy's baby.
I'm so happy that Lucy is getting a frazzled fractured storyline of her own, but it is exactly the kind of zany kookiness that derails Twin Peaks season 2. Season 1 was a tight portrait of a town with periodic strangeness, and somewhat ditzy characters, but it never gave over whole story lines to the silly. In this episode, the seeds are planted for two of those storylines.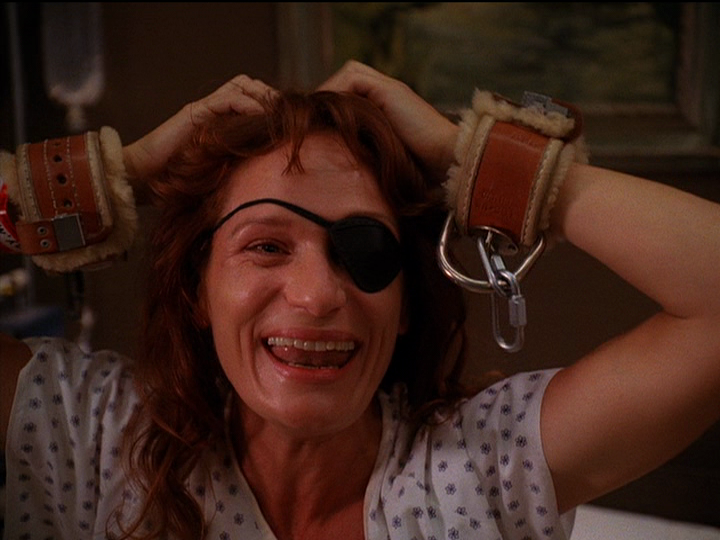 The other is silly story line is Super Nadine. Nadine has been in a coma since she tried killing herself in Episode 7, but she has enough adrenaline running through her body to rip through leather restraints. She's now chained to her bed, but still in a coma. Doc Hayward suggests that Big Ed tries to connect with Nadine through singing her favorite song. While Ed sings the traditional "On Top Of Old Smokey," Nadine breaks the metal chains and comes out of her coma thinking she's only 18 and is ready for cheerleader try-outs.
What you think of the Super Nadine story probably depends on what you want out of Twin Peaks. David Lynch and Mark Frost have a bizarre sense of humor that constantly counterbalances the horror and mystery drama side of the show. But, their humor has always been wry and understated. Super Nadine pushes the comedy into the forefront in a more zany format that feels like a satire of a soap opera story line than the actual story line. Still, if you're here for the humor, it fits right in.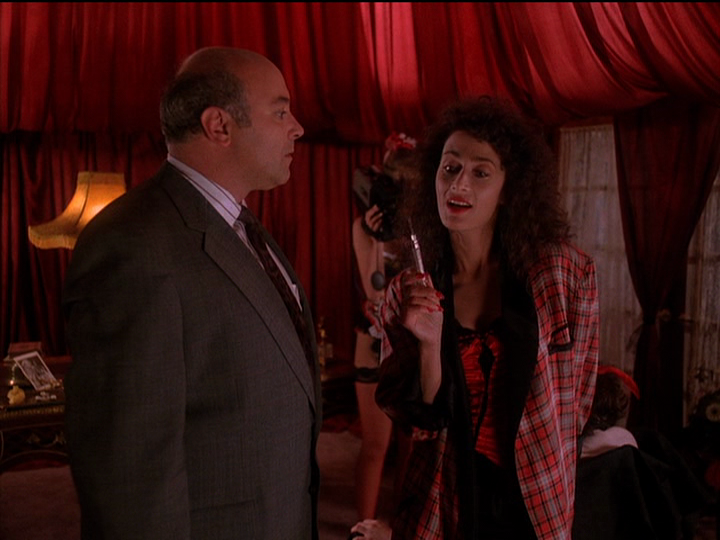 Last night, Audrey called Cooper and told him that she gave him a note. He still doesn't remember the note. It exists under his bed, but his memory of it is like water off a duck's back. While Cooper is pussyfooting around with that investigation, Mr. Battis and Blackie shoot Audrey up with heroin. Blackie intends on making Audrey a junky, just like Ben Horne did to her.
Blackie and Emory are going to hold Audrey hostage to extort money from Ben, but they're not the only ones who want in on this deal. In walks Jean Renault, brother of Jacques and Bernard, who seeks base vengeance for the death of his siblings. He doesn't blame the Hornes. Instead, he wants to kill Dale Cooper. But, Jean Renault comes with his own accomplice, Nancy who is Blackie's sister. He wants a 30% cut of the ransom in exchange for his chance to kill Dale Cooper.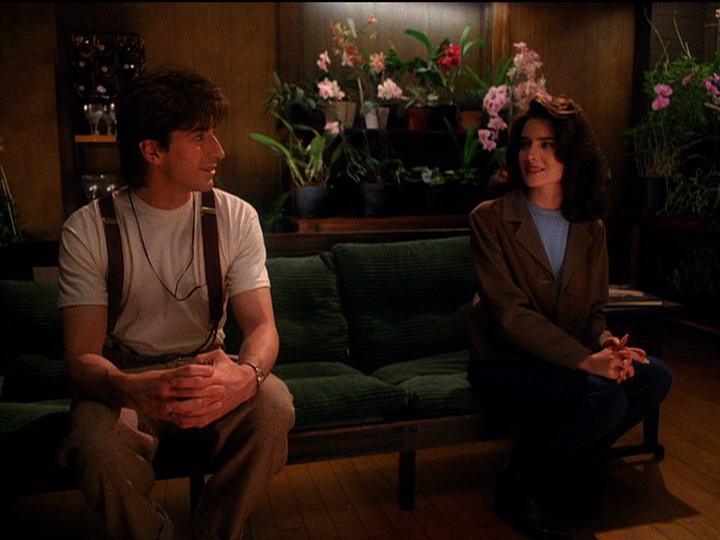 And, then there's Donna Drew. After being invited to Harold Smith's house, he's rather a hunk for being an agoraphobe. Harold is yet another one of Laura's secrets. He was introduced in The Secret Diary of Laura Palmer, but she didn't write much about him there; mainly that he was going to keep her Secret Diary after the pages were ripped out. Laura has told him all about Donna through the writing of her secret diary. He keeps diaries of a bunch of people, holding their most inner secrets. If Pierre is The Magician, Harold is The Hermit, a holder of knowledge, and the symbol of self reflection. The Secret Diary of Laura Palmer is the only place in the series where Laura gets to assess herself as a person, and The Hermit holds that for the world.
But, he's also kind of creepy. He keeps giving Donna compliments as she sits all tense and nervous at the edge of his sofa. He tells her not to be nervous, as if they were going to have sex and she was going to lose her virginity. She doesn't know how much to trust him, until he uses Laura's phrases with her and invites her to return at her leisure. At the end of their first meeting, he gives her a flower to put on Laura's grave.
But, Donna's now dating James…who may be sweet, but is so dumb. He's looking for sympathy from Maddy because Sunglassed Donna tried to seduce him in his jail cell.
She came to visit me when I was in jail and, I don't know… Well, she acted like she wanted to do it with me through the bars. She didn't even care if anybody was around. I don't know. It was weird. It wasn't like her. I don't know. I don't know anything anymore. Sometimes I think I should just get on my bike and go.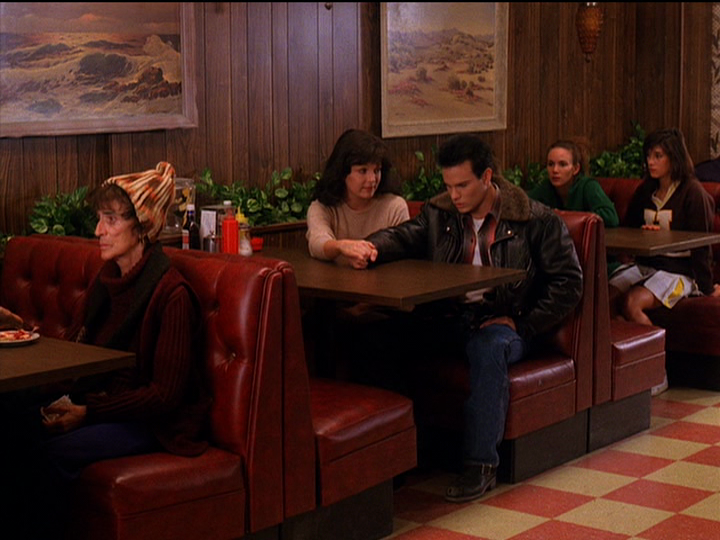 First of all, JAMES, she didn't try to do it with you through the bars. She may have sucked the knuckle of your finger and tried to kiss you, but that wasn't exactly like ripping your or her clothes off. Get a grip. Maybe, she was right. Maybe you problem is that she actually wants you. Maybe you do want the ones who can't fully want you back. That's why you're going for Laura, who didn't need you for everything, and you eventually go for a married woman. Just get on your bike and go, already. Give the women some authority.
And, as Maddy tries to comfort James from the sexual aggression of Sunglassed Donna, she holds his hands just as Donna walks in. Who gets pissed off at Maddy holding James' hand while James looked all sullen and depressed. Because, Donna is super jealous, she insults them by saying that Harold was a hermit because of all this human drama. He was bright and charming, and intelligent. Unlike James or Maddy.
Later that evening, James is crying at Maddy because James' mother has come back and she's still hammered and he can't deal with his mother being like this (his mother is as one note as James is). In response, Maddy embraces him as he's crying. Cue Donna walking in on them AGAIN. And storming out AGAIN. And James chasing after her for once, but NOT getting on his motorcycle to chase after her. Instead, Donna seeks sympathy in the arms of Harold Smith where she discovers Laura's diary. Meanwhile, all this drama makes Maddy seek her own solace in the arms of Leland…just as he gets arrested. Damn, girl. Stop touching people. They always get in trouble.
All of this drama swirls around Laura. Maddy was Laura's cousin and looks exactly like Laura. Donna was her best friend. She's dating James, her secret boyfriend. Harold is Laura's secret memory. Leland is her father and secret killer. When Donna delivers the flower to Laura's grave, she spills out everything, good and bad.
I wanted so much to be like you Laura. To have your strength and courage. But, look what it did. Look what it did to you. As much as I love you, Laura, most of the time we were trying to solve your problems. And, you know what? We still are. Not mine, or James' or Maddy's. Yours. You're dead Laura, but your problems keep hanging around. It's almost like they didn't bury you deep enough.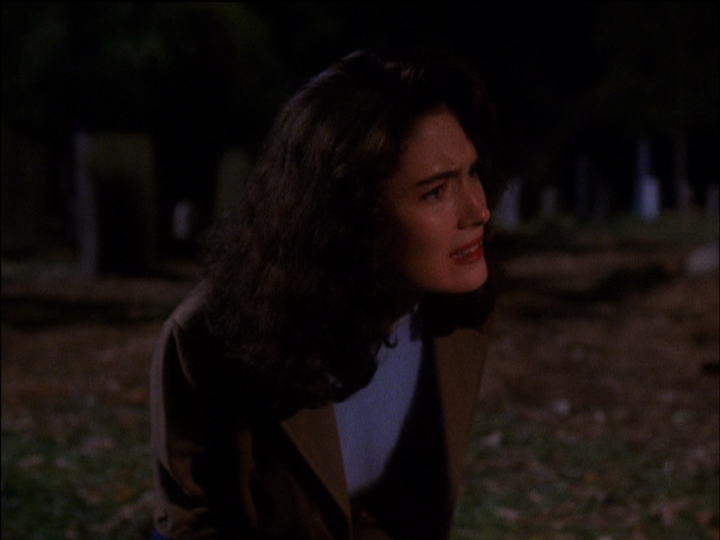 It's true. Except it isn't Laura's fault. Donna doesn't know that yet. Laura, inevitably, was the eye of a storm she created to mask her true feelings and damage. All of the chaos around her was a smoke screen to avoid dealing with the problems at home. The problems nobody knows about. That she was getting molested from a young age. Donna was there for her, but that damage done to Laura was a huge burden on everybody, even if they didn't know it. Donna didn't know it, and that burden is a heavy weight to carry. She's pissed at Laura because she thinks Laura placed it there. It takes a village to help the person who needs it the most, and that weird always gets shared even if it is an unfair burden. That's why James keeps trying to tell people about his drunken mother. James bears a heavy weight and needs help carrying the load. Maybe if he leaves, that weight will be lifted. But, it doesn't. Sometimes, you can't go away far enough.
---
Re-Assessments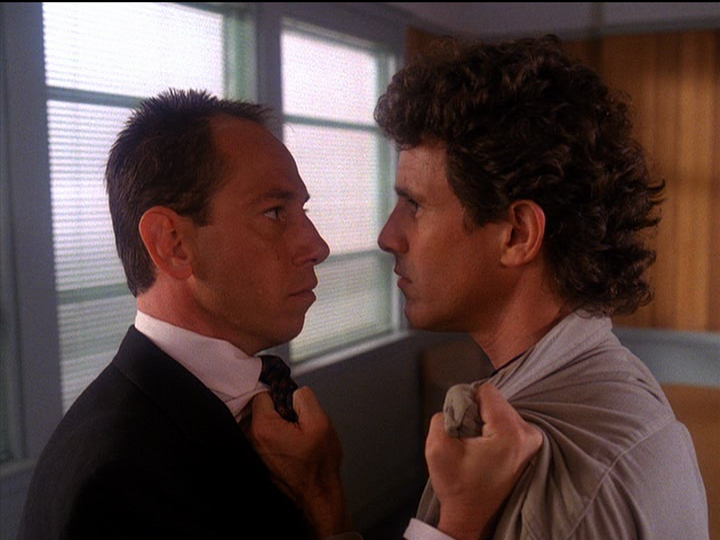 This episode contains the most controversial scene of the series. Miguel Ferrer, while filming Twin Peaks, landed the lead role in the new series Broken Badges. The new series from then-hot Stephen J. Cannell, who was responsible for some very enduring series, including 21 Jump Street, The A-Team, and Silk Stalkings. Unfortunately, he also had some flops including Broken Badges. The series only ran for 7 episodes, but with Ferrer as the lead, he had to be airlifted out of Twin Peaks as fast as possible. So, Albert hoovered up some fibers from outside Cooper's hotel room and will be going back to the lab.
On the way out of Trolleyville, as he puts it, Sheriff Truman asks him, "Anything we should be working on?" Albert snarks, "Yeah, you might practice walking without dragging your knuckles on the floor," with his characteristic grin. In response, Truman grabs him by the tie and threatens him with violence. "The last time I knocked you down, I felt bad about it. The next time's gonna be a real pleasure."
Albert immediately grabs Truman's shirt by the shoulder, and delivers his character redefining speech:
Now listen to me. While I will admit to a certain cynicism, the fact is that I'm a naysayer and a hatchet man in the fight against violence. I pride myself in taking a punch, and I'll gladly take another because I choose to live my life in the company of Gandhi and King. My concerns are global. I reject absolutely revenge, aggression and retaliation. The foundation of such a method…is love. I love you Sheriff Truman.
With that, he unruffles Sheriff Truman's shirt, puts on his sunglasses, and exits the building and the show…but not before purposefully bumping into James Hurley in the lobby. Dale Cooper comments, "Albert's path is a strange and difficult one.
Now, I don't remember Ghandhi calling people troglodytes without reason. I don't remember Martin Luther King, Jr. trying to get in as many empty digs as possible. Is Albert's attitude of cynical pessimism unwarranted? Could it stem from wanting to improve the world around him through launching a million criticisms? Is this a rug-pulling instance that has no grounding in reality? In his first season arc, he didn't have any leisure time to waste. Here, he has been lounging around, having breakfast, and even threw his feet onto the police station table. He isn't grumpy because he doesn't have time to waste and is under pressure. He's just grumpy.
This isn't Albert's last appearance. But, it is the most significant for his character.
The other re-assessment is of Lucy. Her first story is, similar to Super Nadine, one of the kookier storylines. She's always been a comic relief because she wants things spelled out so that she can do her job correctly. She overthinks everything, and strings together a whole bunch of possibilities and motivations to come up with many plausible meanings to the various pieces of dialogue.
She's the questioner. Language can be a fickle mistress who means many different things to many different people, and Lucy is the type of person who hears all of the different things at once. It's fitting that Cooper has her trying to find all of the different words that have R B and T in them, and she meeps as she counts them down.
It's her verbose directness that I relate to. She uses way too many words to say any one thing, just to make sure everybody around her knows what is happening and about to happen. It's a gift and a curse, if you're on their wavelength.
---
Stray Note
The moment when Dale Cooper pushes Shelly Johnson out of the office is so brilliant. She's shocked that he isn't going to persuade her any further. But, he's right. She has to come to her own decision, especially about taking care of Leo Johnson again, and what'll happen if he ever gets better.
The Asian guy is still hanging around. Man, his story is taking long enough, but, according to Pete, Josie is coming back tomorrow.