pation
Everybody is ready for the insanity of "Who Killed Laura Palmer?" to finally be solved. Even the sheriff's department is champing at the bit, lined up in the lobby with their donuts and coffee, ready to be corralled over to the Great Northern with Mr. Gerard/MIKE ready to detect who might be vessel to BOB now.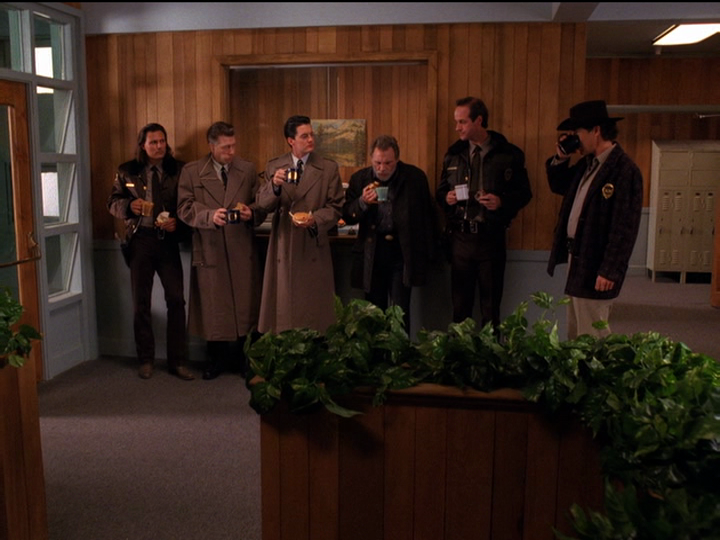 Right from the start, this is a the Lynchiest David Lynch episode. He knows this is going to be one of the ratings grabbers – the episode was probably advertised as "Don't miss the shocking episode where we reveal Laura's Killer" and got a boost of 6 million viewers over the prior week – and has no patience with retreading old information. The cops announce to nobody in particular that they're headed off to The Great Northern, cuing MIKE to repeat his mysterious clue from last episode with the same ominous intonation that works under an interrogation lamp, but is hilariously incongruous with the casual morning coffee and donut routine. Everybody ignores him and keeps on talking as parents do when a 5 year old interjects a non-sequitur into the middle of an adult conversation. Besides that, Gordon Cole is leaving to go to the next job, and they also have to hit Harold Smith's place before the morning is out.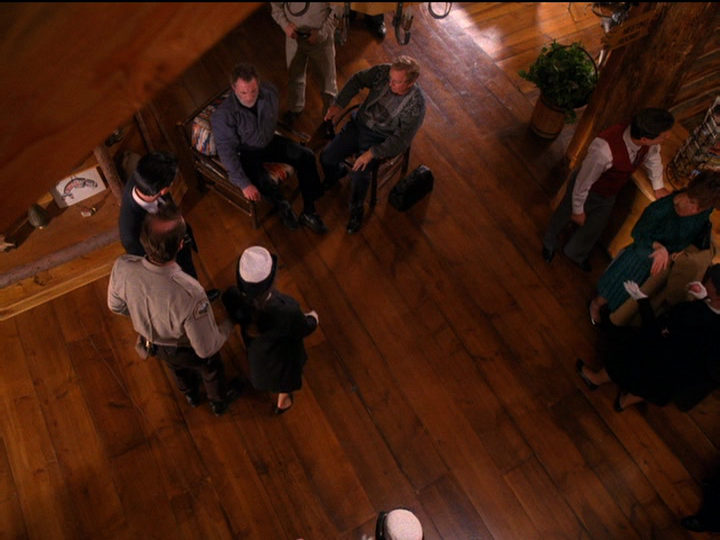 For some reason, The Great Northern is completely compliant with the sheriff department's request to take all of the guests and parade them in front of MIKE so he can find out which one might be BOB's vessel. Without chemicals, he points, and they're planning for undrugged Philip Gerard to somehow point out Bob's vessel. Nobody knows what's going to happen, and as they bring each new guest in front of MIKE, he shakes his head and says "NO!" This set up is surrounded by chaos. There's all kinds of noise to distract one from seeing the real person. At the hotel, it must be Fleet Week as a bunch of sailors have landed at The Great Northern and are bouncing around a bunch of rubber balls while they wait to be paraded in front of some weirdo. Why are sailors hundreds of miles inland? I don't know. But, it fits right in with this episode. MIKE says "No" to everybody who gets placed in front of him until Ben Horne storms in demanding an explanation for this business-disrupting chaos. Ben Horne's presence sends MIKE into a fit.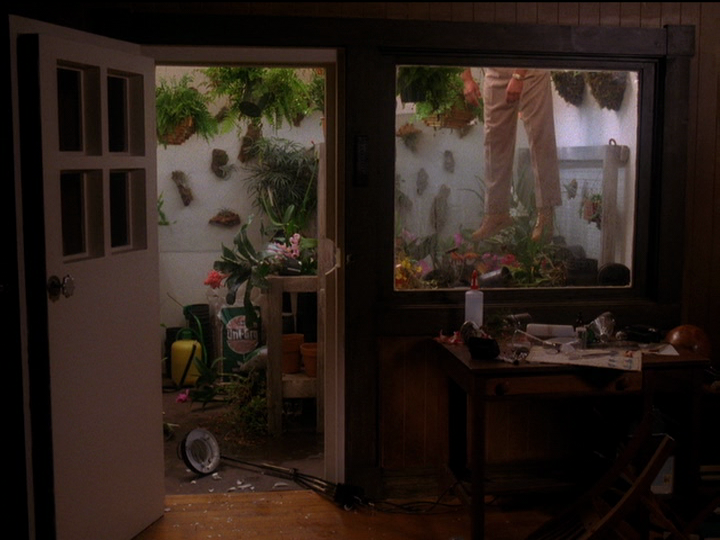 Meanwhile, Harold Smith has killed himself. Maybe. Hawk finds Harold hanging in his conservatory, where many of the pots and lamps have been overturned, some of which aren't even in kicking distance. Nearby, there's a suicide note saying, "J'ai une ame solitaire," the same phrase uttered by Pierre the Magician. Did Pierre and his grandma kill Harold to maximize their garmonbozia consumption? After all, they're black lodge inhabitants; they have a vested interest in seeing more pain and suffering brought into the world. Or, maybe they're just representations of sorrow and loneliness that affect people who are so isolated they depend on Meals on Wheels. In either case, the diary has been shredded to pieces and Dale has to put the pieces back together.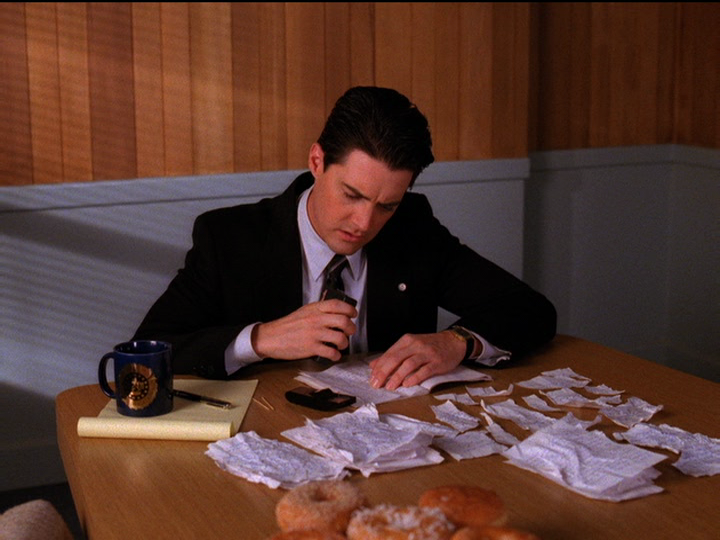 The treatment of Laura's secret diary is emblematic of Laura herself. She constantly separated herself out page by page, giving pieces out to various people in her life. They only saw that page for a short time, and never got together to form a whole picture. Most of them took those pages and crumpled them, used them, shredded them, or kept them for themselves. BOB destroyed some of the most damning pages. Now it's up to FBI Agent Dale Cooper to take these crumpled pages and put them back in order to piece Laura's life back together and find out who killed her.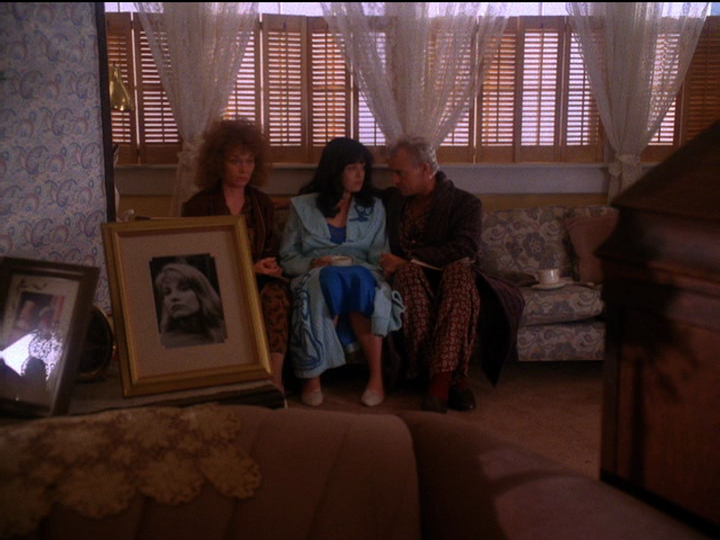 In the morning, Maddy has a sit down with Leland and Sarah. Sarah has been out of the show for awhile (she mostly appears in David Lynch's episodes), and she looks like she's still frazzled by healing over. Maddy, however, has her own apartment and her own job back in Missoula, and she's been gone for nearly 2 weeks. It's time for things to return back to normal. Sarah doesn't want her to go, if only because Maddy is the only non-Leland entity that Sarah ever interacts with. Lynch films all of this in a single shot, slowly panning in from the back while keeping Laura Palmer's picture in the foreground as Maddy, Leland and Sarah are in the background…and then a slow pan over to the record player where it replaces Laura's presence as the dominant feature of the shot. The house is being taken over by BOB.
Bobby and Shelly are trying to figure out their next story line, as Leo Johnson is still a vegetable and not bringing in the money. They're having a fight about money, and currently have $42 in their savings account. Shelly is going to have to quit her job at the diner, and be dependent on Bobby, but that's difficult since Bobby is still a senior and hasn't been back to school in about 2 weeks. Suddenly, Leo comes back to life to spit and say New Shoes. In old school video game style, it turns out that he had a pair of boots at the shop for repair because there was a microcassette in the heel of a boot.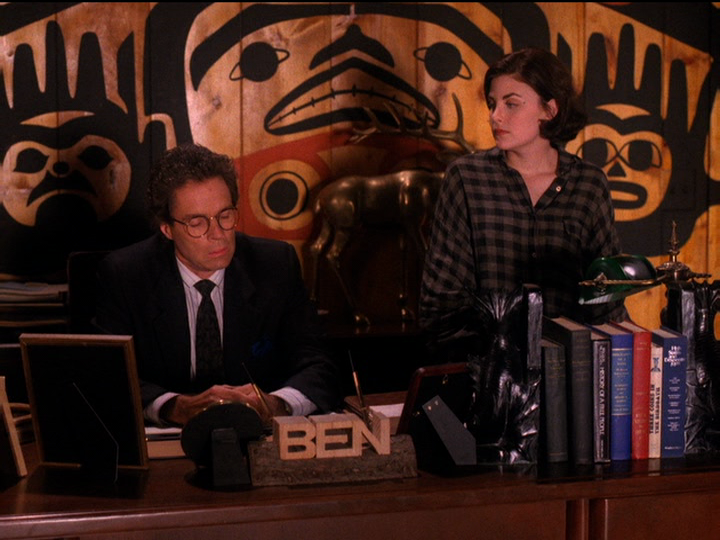 After telling her father that he almost fucked her while she was at One Eyed Jacks, Audrey gets Ben to confess to a whole boatload of incriminating evidence. He has owned One Eyed Jacks for five years, was in love with Laura Palmer, knew she worked there for a brief time, and even had sex with her for awhile. He still has Laura's photo on his desk, and not Audrey's. Between this information, which Audrey gives to Dale Cooper, and the diary he pieced together and the pointing man…all fingers point to Ben Horne, whom they arrest for Laura's murder.
Except they're wrong.
Which brings us to That Sequence.
In all of the television I have watched, no single sequence has disturbed me on such an emotional level as the final 18 minutes of this episode. Yes, Fire Walk With Me is even more disturbing. But, this sequence, when I first saw it, blew my mind. It still brings me to tears. There's such beauty and horror and tragedy and grace in a single sequence that it's simply jarring.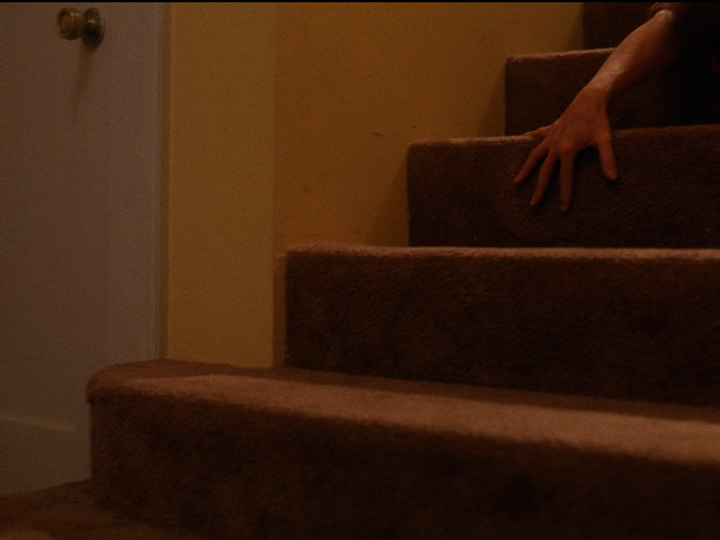 In the Palmer house, the record has finished playing. The needle is at that big piece of blank vinyl and keeps resetting itself as it hits the spindle. The same repetitious sound of nothingness is played over and over and over again as Sarah slowly melts down the stairs. She's been drugged. Again. But, this time she wasn't expecting it. And, as she slowly oozed into the living room, Sarah quietly calls out for Leland, getting no response. She makes it to the living room to see a white horse bathed in light before she passes out. Its not the first time she's seen a white horse. In Fire Walk With Me, she saw it as she was passing out before when Laura was in danger. But, she doesn't have the strength to go on. Leland, however, is in the foyer and is fixing his tie.
As the police are arresting Ben Horne and throwing him in their cells, The Log Lady comes in to tell Dale that "The Owls are flying at the Roadhouse." Dale intuits that Something's Happening again, and they all go to the Roadhouse. Everybody is at The Roadhouse again tonight. The waiter, Bobby, James and Donna, many of the bikers.
It's another night with Julee Cruise. James and Donna are trying to make sense of the day's events. They order sodas while Donna admits guilt over Harold Smith's death. She couldn't figure out how Harold was broken, and she couldn't fix him. Instead, he died. James doesn't blame her, but also doesn't let on that he's hurt inside in a way that she hasn't been able to fix. And she wasn't able to fix Laura Palmer. Some people should not try fixing people.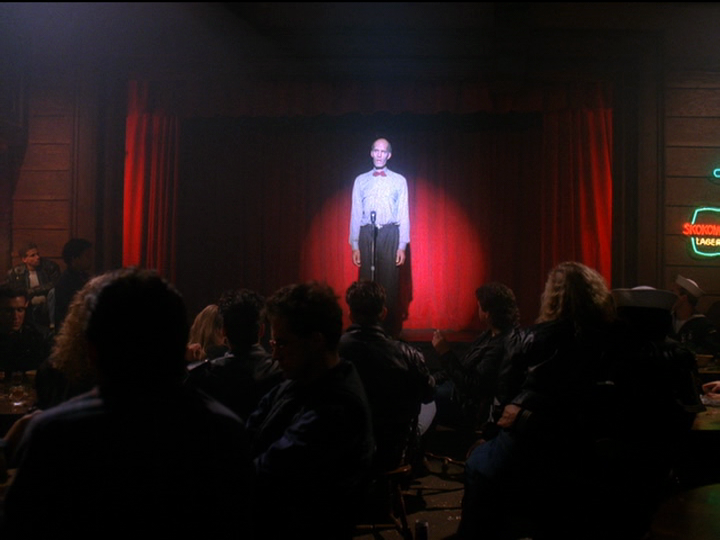 Fortunately for them, Julee Cruise is singing, and she brings James and Donna closer together. As she's singing Rockin' Back Inside My Heart, Donna mouths the words and the whole world seems to stop…and then it does stop altogether. Julee Cruise disappears. Only Dale and the Log Lady are immersed in an alternate world where the Giant takes the stage to tell Dale that "It's Happening Again." And, Dale grabs the ring and knows what the Giant says is the truth. But, where? And what is happening? And by whom?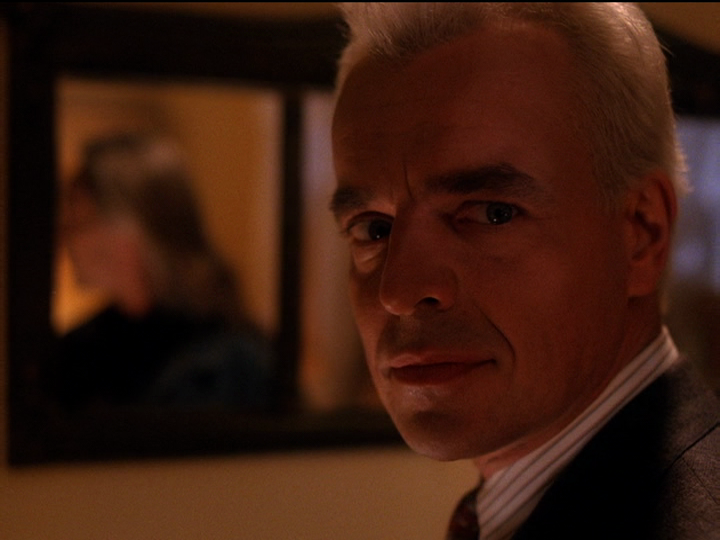 Back at the Palmers, Leland has turned into BOB again. And, he's ready to kill again. After Laura's Surrogate, Cousin Maddy, told Leland that she was leaving, Leland/BOB realized that they weren't getting a second chance. Maddy is not going to leave of her own volition. Leland and BOB can't let that happen. As Sarah lies drugged in the middle of the living room, Maddy comes downstairs and becomes BOB's next victim as he snaps on a pair of rubber gloves.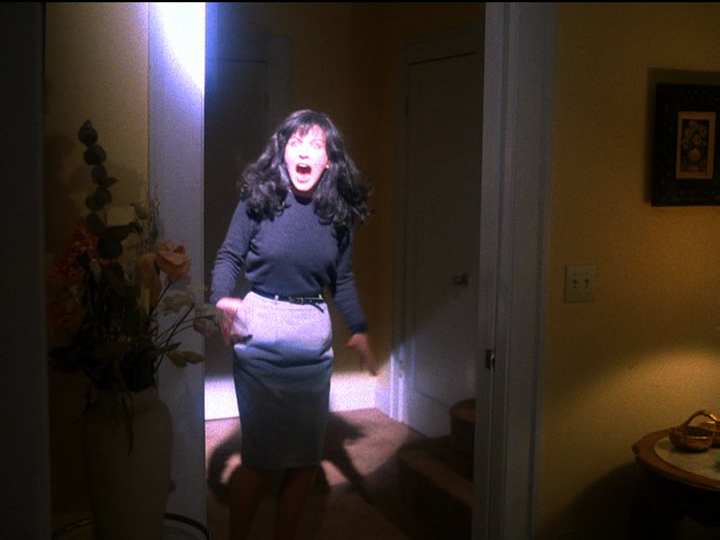 The first time Leland lands a punch to Maddy's nose it comes as a shock accompanied by the squishy sound of a watermelon being cut with a hatchet. Suddenly, everything slows to a crawl as Maddy tries to escape BOB, who has her trapped in the back of the living room where the horse was. BOB comes with a extra worldly spotlight, glaring in the darker naturalistic lighting of the living room. Maddy runs around, screaming for help like a monster with a slowed-down lowered-octave sound quality. But, nobody comes. When BOB finally catches her and lands a second punch, even harder than the first, everything returns to normal speed. He lands several more, causing Maddy to choke. As Maddy is choking on her own blood, BOB dances with her before finally ramming her head into a painting on the wall, killing her.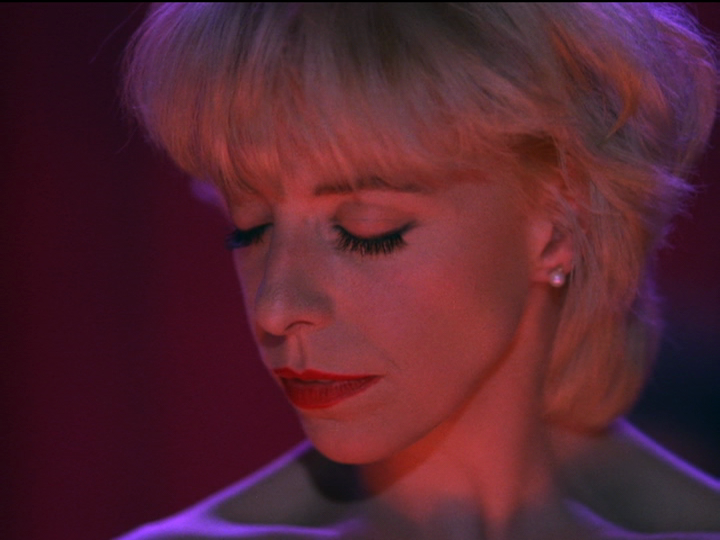 The Giant looks sternly at Dale, and disappears. Julee comes back. The waiter hobbles over to Dale, and pats him on the shoulder, saying "I'm so sorry." Bobby and Donna can feel the loss, even if James can't. Bobby looks around, trying to find the source. Donna cries uncontrollably. James moves over to comfort her.
Ultimately, Cooper couldn't stop BOB from killing again. Cooper got the wrong man. Maddy is now dead. Now we, the audience, know, for certain, that Leland was the killer. But, nobody else does. What can we do with that knowledge? And will anybody stick around for the next episode?
---
Stray Notes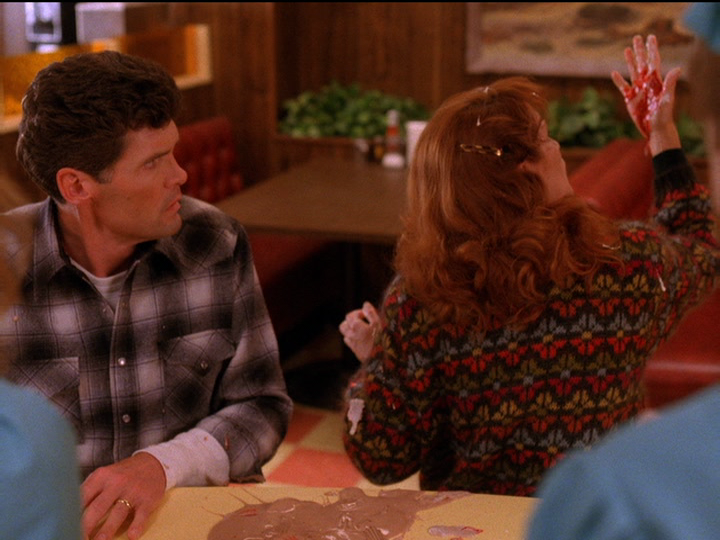 Super Nadine continues her rampage, this time killing a milkshake glass before smothering Big Ed with kisses as everybody looks at her like she's lost her marbles. Which she has.
Catherine revealed herself as Mr. Tojamura. And, now that that's over with, can we talk about how unfortunate that subplot was? Is it racist, or is it only Catherine that's racist? Piper Laurie is supposed to be a convincing Japanese guy, but she talks in racist stereotypes…that most of the town actually believes in. She says things like "No, Sank You" and "Cash Prease." She wears yellowface…but she's also a criminal creep from a small town in Eastern Washington. She wouldn't know what a Japanese guy sounded like, and neither does anybody else. For all the worldliness of Ben Horne, he can't tell she's a terrible Japanese dude? It's weird but can it be read both ways?