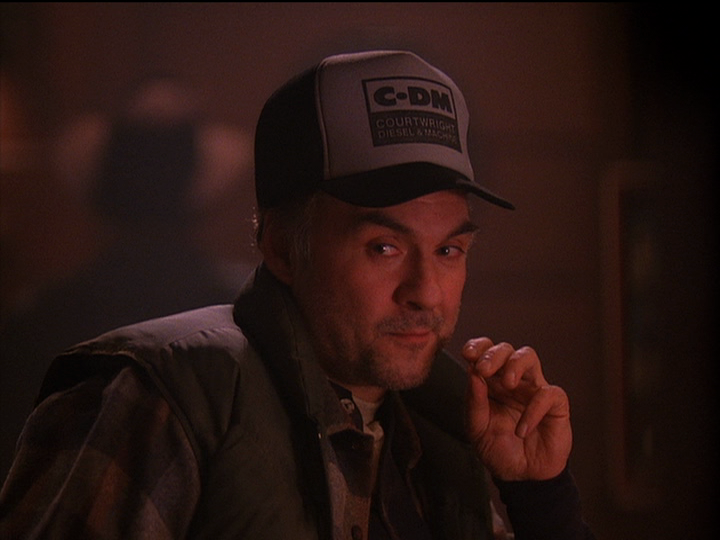 Twin Peaks is about to go on hiatus. Not the recaps here, but the show itself when it was originally aired. This episode, the lowest rated episode so far, originally aired on February 16, 1991 with only 7.8m viewers. The next episode would air on March 28, but have 9.4m viewers again.
The past few episodes have been stinkers, but, as mentioned before, the Gulf War was obsessing the nation. Operation Desert Storm, the combat portion of the Gulf War, lasted from January 17 through February 28 (12 days after this episode aired), and American audiences were transfixed with the jingoistic displays of power flowing across the screen. There was a sense that something major was happening resulting in a tectonic shift for American foreign relations. For the first time, CNN was a 24 hour news channel that was broadcasting images from Iraq live as they happened, with night vision footage of explosions lighting up the sky. The news channels broadcast widespread support for a complicated and politically fraught war where the American position was filled with compromises, and the history of the regions was far more confused and complicated than the Josie/Ben/Catherine/Andrew/Thomas/Harry love setup. How is Super Nadine supposed to compete with that?
It's impossible to stress just how much media presence existed during the Gulf War. As kids in school, we created care packages for soldiers while telling them how much we believed in the work they were doing. At home, we were inundated by news reports and breaking news. In the papers, the headlines blared about what steps we made in the past day. Twin Peaks rode out the storm, and would come back with somewhat better ratings in March.
---
Josie's End(table)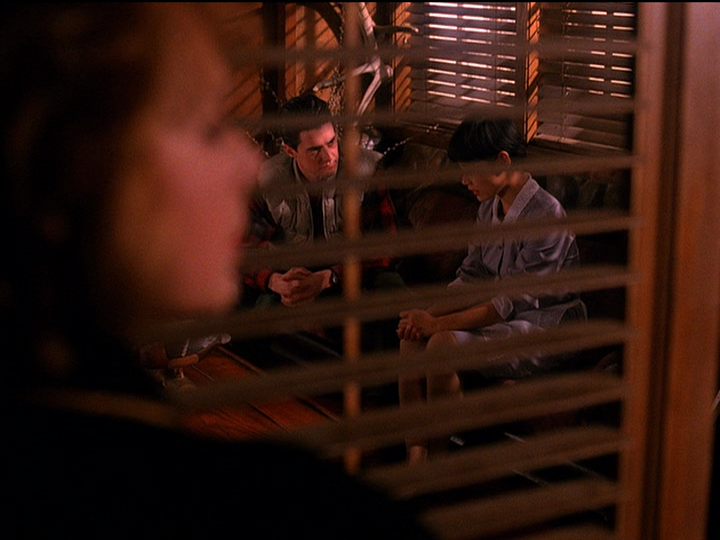 Well, it's more of a nightstand. It also isn't really her nightstand, as the nightstand is in The Great Northern. To be fair, if you put so much of yourself into a nightstand, can you call it yours? I'm getting ahead of myself.
Everybody – Andrew Packard, Catherine Martell, Thomas Eckhardt, Albert Rosenfield, Dale Cooper, the Seattle Police, and even Harry Truman – are still out to get Josie. Today a new player steps up to the Entrap Josie game: Hank Jennings, her former business associate and supposed murderer of Andrew Packard. Hank's trying to save his ass from going back to prison for attempting to kill Leo Johnson and Andrew Packard, by leading the police to Josie. It's too bad that Harry is still in love with Josie.
Josie was the first person seen in Twin Peaks, and her story is beginning to have some vague-ish parallels and inverses to Laura Palmer's story. Laura Palmer was a girl who was surrounded by men who all wanted a piece of her. Whether it was a piece of her heart, body, and/or soul, all sorts of men – her father, Leo Johnson, Bobby Briggs, James Hurley, Harold Smith – laid claims on Laura Palmer but left her to her own devices when she needed them. Laura divided up her personality into facades and showed them exclusively to individual people.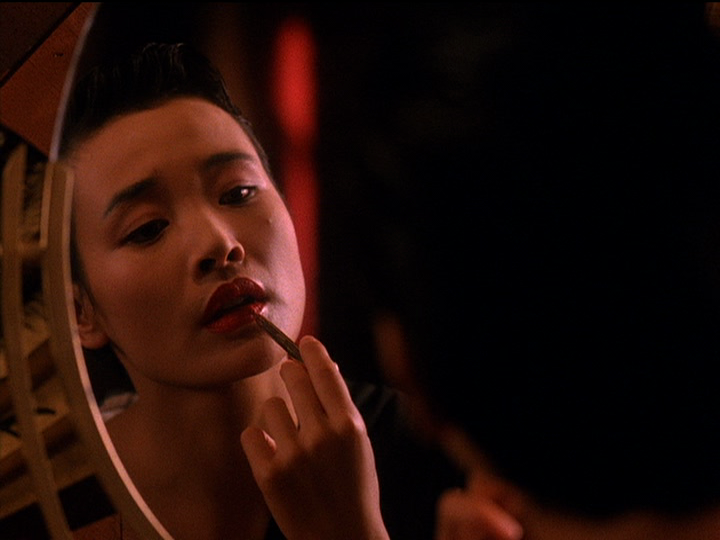 Josie Packard is similar to Laura in that she's a woman who is an island unto herself. She has a variety of facades that she only shows to certain people depending on if they can handle her in all her glory. Josie, however, has learned how to weaponize her fragmented identity. Her relationship with Harry S. Truman is similar to Laura's with James Hurley. Laura never revealed her truly bad girl side to James Hurley, even as he tried to save her from herself; Josie's relationship wit Harry is similar in that she never reveals her true nature to Harry, even though he's trying to rescue her from herself.
Whatever Josie's background, and that story consistently varies (just like Josie herself), Josie is now ensnared in her own spiderweb of deceit. If Laura had lived long enough and given herself over to BOB, Laura might have eventually built herself into a strong and powerful woman like Josie, and then ensnared herself in a web of deceit just like Josie, Ben, and Leland all did. These are the evils men do. Some are cleaner than others – loopholes slip through other loopholes and create more escape routes – but sometimes there's no escape. That's where Josie is right now and she's going insane.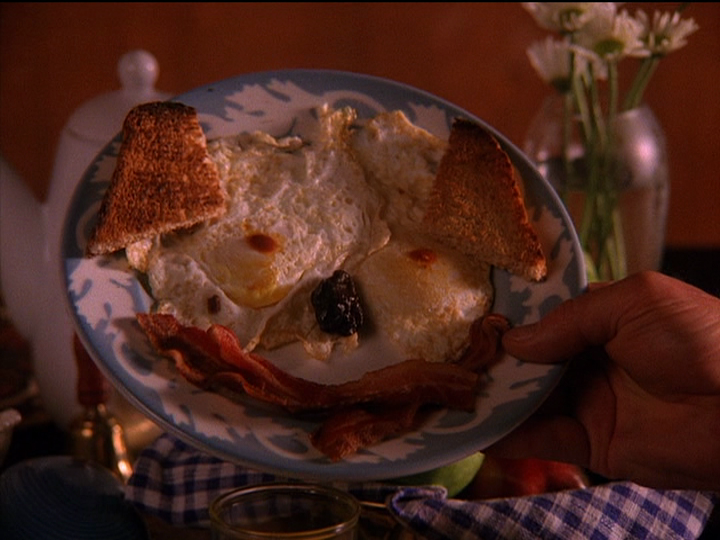 Catherine is tightening the screws on Josie. First Josie walks in on Catherine and Andrew having breakfast together. Then, after Dale comes in and tells Josie that there are no other options, Catherine tells Josie that Thomas wants to see the love of his life tonight…except he's also going to find out that Andrew is alive as well, and will he think that Andrew's continued existence means that Josie has betrayed him? Josie is trying to figure her way out of this one when Catherine shows her a gun as the way out – she did, after all, shoot Jonathan and try to shoot Cooper already in the series.
There's a shot in the middle of the show that mirrors her first shot in Twin Peaks. Her maid's uniform is gone. She's back to having slicked hair. The camera slowly pans over her two black dogs as she puts her lipstick on with a brush. Today, it's a little different. She doesn't possess the callous indifference that she initially had. When Laura Palmer interrupts life at the mill, she watches with a cold expression in an expensive coat. This time around, she's scared for the future. When the future interrupts her again, this time in the form of Andrew Packard, she jumps in her seat.
Josie's meeting with Thomas Eckhardt doesn't go very well. At all. Cooper gets a call from the hotel from somebody saying that Josie went into the hotel and is visiting Thomas Eckhardt in his room. While walking to their room, Coop hears her crying out for help and then some arguing. A gunshot rings out. Cooper barges in to find both of them look dead on the bed. Thomas gets up first before dying on the floor.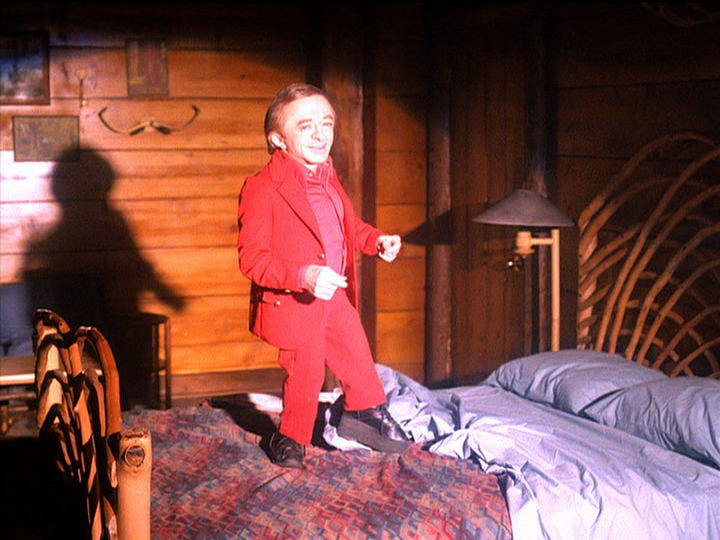 Josie and Dale face each other in a standoff, a woman who can't go to jail for her misdeeds and a man who hasn't gone to jail for his misdeeds. If Laura had lived long enough, would this have been her endpoint? She was a cocaine addict who was prostituting herself and sexually involved with drug dealers. Would Laura have figured out a way to survive where she was manipulating men with her sexual and romantic prowess? Would Laura have found herself in a standoff with the FBI and the DEA?
Harry steps in and adds one more twist of the screw. Josie is at the end of her line, and dies. She just slumps over, almost as if she had a heart attack. She's dead. Done. Harry runs to coddle her in his arms and mourn. But, Dale gets one of his trademarked visions. BOB climbs over the bed, and screams out to Dale, "WHAT HAPPENED TO JOSIE?!" Then The Man From Another Place dances on the bed. Finally, Josie ends up as the knob of the end table.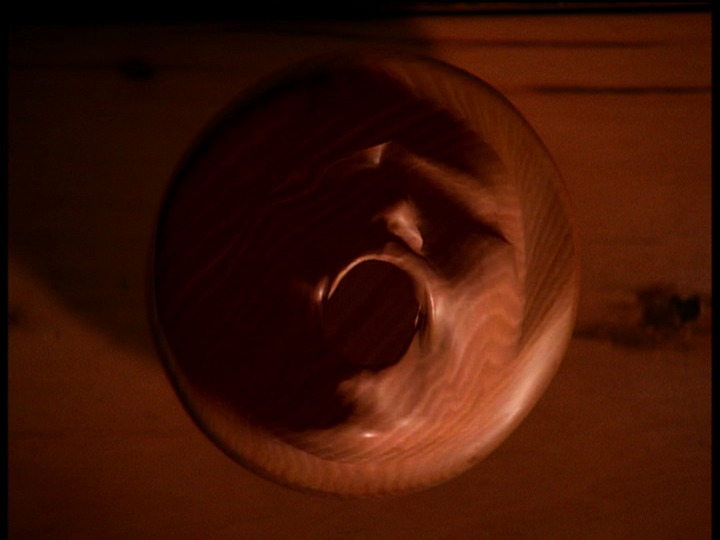 Was Thomas Eckhardt possessed by BOB? Was she a victim to BOB at points in her life? Did TMFAP dance over her body because the dark lodge was able to claim another soul? Why did she die? What did Bob and TMFAP mean? Did Josie get trapped in the black lodge? Did Josie get trapped in The Great Northern? She never really makes an appearance down the line, but she was supposed to participate in a few different scripts. She was supposed to appear in a fire in The Great Northern. And she was supposed to appear in the finale. For now, she has met her end(table).
---
Game Theory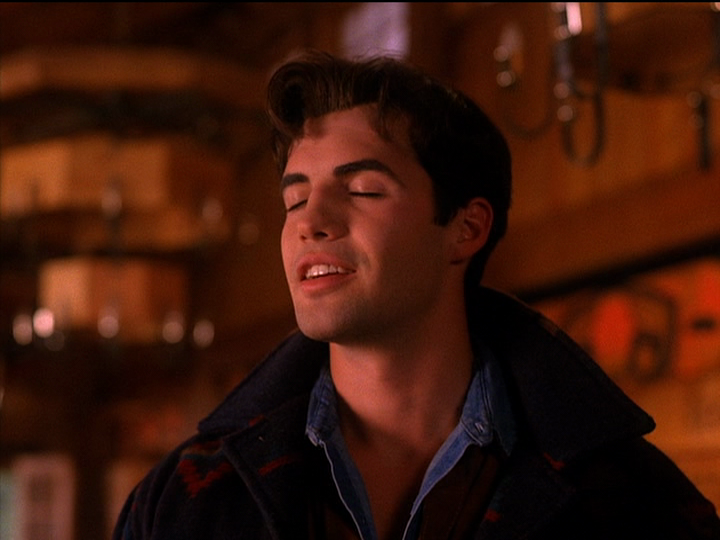 This episode was weighted very heavily on two different stories: Josie dying and introducing a new character, John Justice Wheeler. Yes, this is the start of Audrey's romance with Billy Zane. People throw a lot of shade around this story line because it was a huge compromise from the get go.
Originally, Audrey was supposed to date Cooper. But, in real life, Kyle McLachlan started dating Lara Flynn Boyle (Donna). Lara started getting jealous that Cooper was paying all his attention to Audrey, eating up some of her precious screen time when Donna was stuck playing footsie with James Fucking Hurley. Then Kyle put his foot down on the relationship and started making statements about how Audrey was too young, which is why Cooper tells Audrey this on repeated occasions throughout the show.
With all of these real life interruptions to the planned story arc making waves, we now have John Justice Wheeler as Audrey's love interest. In addition to his being brought in, Norma gets a call from her sister, Annie Blackburn (Heather Graham), to return to Twin Peaks from her life in a nunnery. Annie is being brought in to be Cooper's love interest. Because Kyle started dating Lara Flynn Boyle, we now have two completely superfluous characters who have no arc, no life, no dimensionality or inner conflict, and exist purely to be love interests.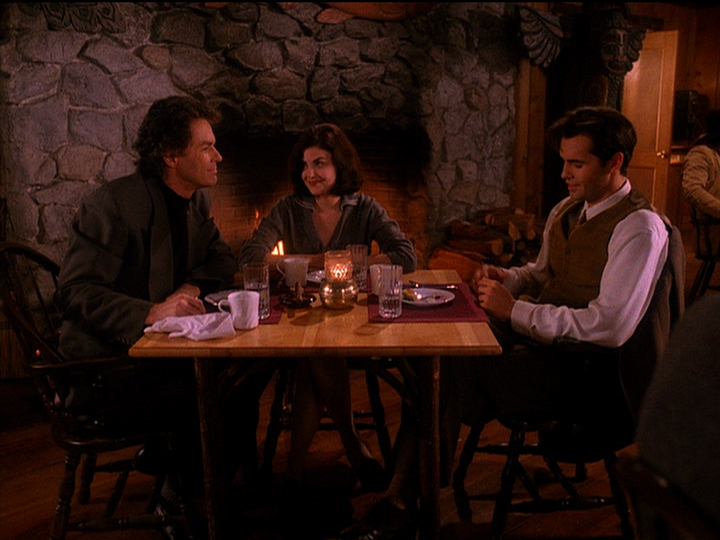 On the other hand, Billy Zane and Heather Graham! Well, Heather Graham starts in the next episode. But, Billy Zane is pure unadulterated charisma. He is pure smooth silky goodness, and is a dreamy (if occasionally mumbly) addition to the show…and, he's replacing James Hurley who is leaving after he has a picnic with Donna! Its a win-win for everybody, really. Except James, who has a drive to just Go and get in touch with his feelings.
John Justice Wheeler is one of Ben Horne's business associates from long ago. As a kid, Ben gave him a chance, and Wheeler turned it into an empire by a young age. Ben called him in to bring outside help with the flagging family business, even if Audrey doesn't think they need any. She's trying to learn all the aspects of the business herself, initially participating in a proto-Undercover Boss episode as the concierge (to the chagrin of the real concierge who isn't at all happy about having to take a day off). She's not really much of a concierge, as she keeps participating in meetings with the family and Bobby Briggs on how to bolster the business, but I'm sure she did just fine for the 30 minutes she was at the desk.
Ben has a new idea on how to destroy Catherine Martell. He wants to save the Pine Weasel. Apparently, conservations studies about the Ghostwood development have stated that the pine weasel exists only in their little section of the planet, and that the construction will disrupt and disturb the population, all but wiping out the poor defenseless animal. A political cause is going to be used to disrupt a business plan, but its only so that a rival will be negatively impacted by the delays. It's a sleazy move, and one that continues to be played in public to this day. Just watch how certain businesses and politicians engage political speech to promote themselves and their causes. For a modern example, the Starbucks Holiday cup controversy was actually a covert marketing scheme to promote their holiday sales but getting liberals to rally in their support. How did so much modern life end up in Twin Peaks?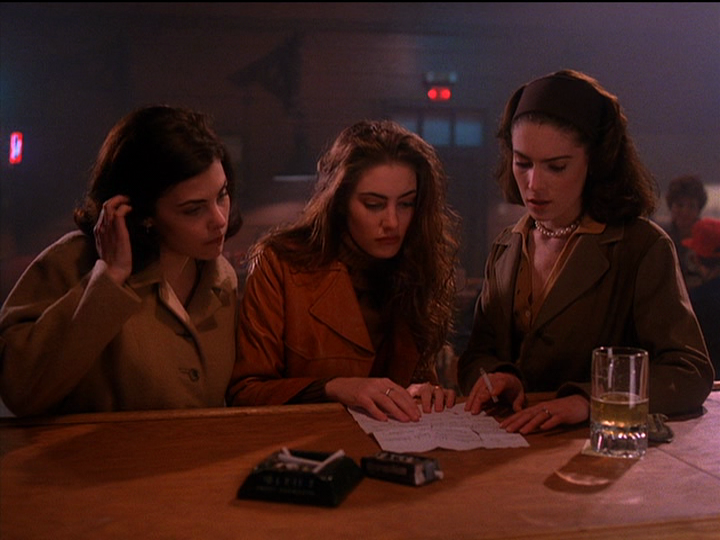 In other games, Windom Earle made a chess move, and Pete's trying to figure out what moves he can make to cause a stalemate and lose as few pieces as possible. Earle is more than a master chess player; he's a romantic. He forces Leo to transcribe a stanza of Percy Shelley's Love's Philosophy, a poem that Cooper once gave to Caroline, and then he tears it into thirds to give to the Donna, Audrey and Shelly. The three convene on the roadhouse, under his watch, and figure out they have the three parts.
This is yet another echo of the first season, and the writers trying to figure out how to make the A-plot include as many people as possible. During the first season, Donna and Audrey played versions of Nancy Drew trying to uncover more and more clues about Laura's killer. For the next few episodes, they reprise their roles as pseudo-detectives, allowing them to feel like their original characters once again.
Big Ed and Norma fall even deeper in love. Nadine finally lets go of Ed, saying they should break up, not knowing what that means in the full context of their life. She's a bit out of it, and is ready to commit to Mike. Ed goes along with it, and proposes to Norma, saying they're gonna get married finally. Norma accepts the engagement, and has to demand a divorce from Hank, who wants her to testify on his behalf. Norma's a strong woman, but the writers don't know what to do with her, really.
---
Stray Notes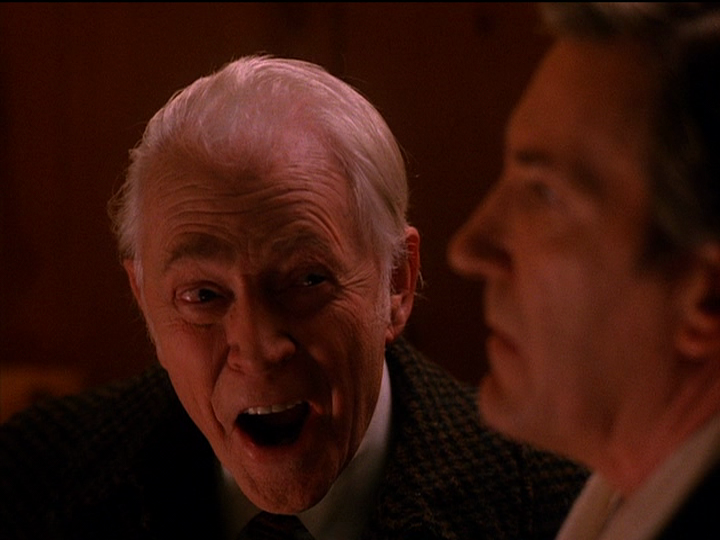 Andrew's reveal to Thomas is amazing. I'm ALIIIIIIIIVE. Hilarious.
This is always the episode where I realize that Dick Tremayne hasn't been around in awhile, and Little Nicky is completely gone from the series. He just disappears after Doc Hayward's speech, and little is said about him again.
"I'd rather be his whore than your wife!" Yeah, Norma!!
Catherine really is a sourpuss. That smiling pancake is awesome.
In case I didn't make it clear, James is gone! Yay!!!