What's wrong with miracles?
We left off last night with Jones getting into bed with Harry for some reason. She puts a hallucinogen on her lips and makes out with him, making him think he's making out with Josie. Then, as Josie, Jones attempts to strangle Harry with a garrote. She's literally Harry's past trying to strangle the life out of him. Harry is strong enough to defeat her advances, and arrests her. She asks to see the South African consulate ("in Twin Peaks?!" Cooper asks), and then is never heard from again. Why did she do this? Cooper suggests that Thomas put her up to it because of sexual jealousy. But, we'll never know. Good bye, Jones. We hardly knew ye. Your story barely existed as anything other than a deus ex machina.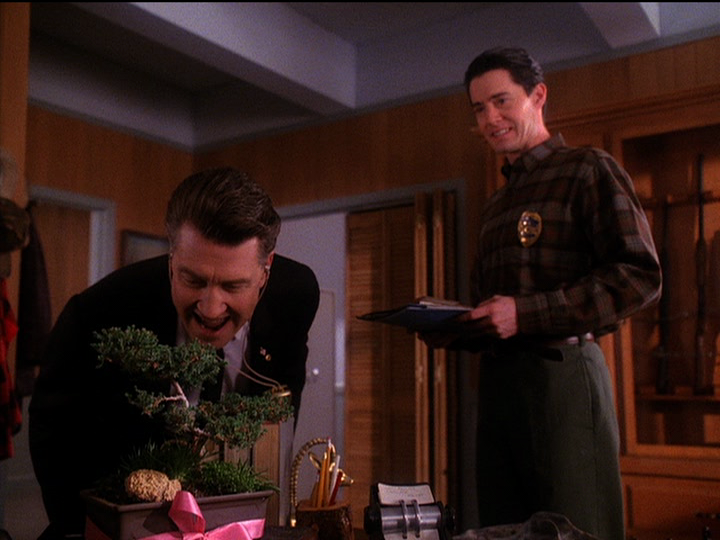 It's a miracle! David Lynch is back! No, he's not back in the saddle again. Yet. He's back as Gordon Cole. Most people who worked on the show have stated that David Lynch abandoned Twin Peaks during the first season to work on Wild At Heart, but completely ditched as soon as they revealed Laura's killer. He hasn't directed another episode since Leland killed Maddy, and he wasn't even functioning as a show runner. He left the show to its own devices, but saw what was happening and came back to try to correct the errors made in his absence.
We're in the final five episodes and, behind the scenes, David Lynch is pushing the plot towards his epic finale. In front of the camera, he's shouting at everybody because of his hearing problems. Gordon Cole can't hear anybody until he meets Shelly Johnson at the Double R. Shelly can whisper at him, and he hears her clear as a bell. It's almost like Shelly is the audience crying out in pain over the James/Evelyn storyline and David is finally back to apologize for it.
Even though James and Donna just had a picnic two days ago, James has already made it to San Francisco and sent back a postcard, saying he's on his way to Mexico. Considering it would take about 17 hours to get from Twin Peaks to San Francisco by motorcycle, and another bit to write a letter, this is another one of those incidences where having five weeks between days makes the story make sense. Otherwise, putting this plot point in this episode is a miracle.
Like James, Audrey is finally getting her opportunity to travel. Even though she was just introduced to her new love interest, and they share a flirty breakfast greeting, the family business is about to whisk her away to Anyplace where they're offering support for the environmental causes of the Stop Ghostwood campaign. And then Ben hits up John Justice for…whatever.
For some reason, the Double R is the de facto hot for love and obsession. The first person to enter the diner in the series is the little foreign waitress who giggles about getting nailed by her husband. In that same scene, Bobby Briggs picked up Shelly Johnson to make out before her husband was supposed to come home. Since then, Big Ed has loved and loved against with the owner, a woman announced her second marriage there, and Toad obsessed over Norma's chili. Now Dale is falling in love with Annie, a girl who can't help but wear her heart on her sleeve and is wonderfully honest even if she has secrets of her own. Dale even tries telling Annie a cutesy joke about two penguins on an iceberg.
This romance was doomed from the beginning. Cooper has a guy chasing after him because the last girl he loved was married to a psycho, and that psycho wants revenge. It may not be the best time to foster a new love interest when you're being chased down by the ramifications of your last one. Annie, on the other hand, still has that scar on her wrist, explaining it as having failed before. It's why Annie was in a convent for years. She's headstrong, petulant weird and not ready to fail again.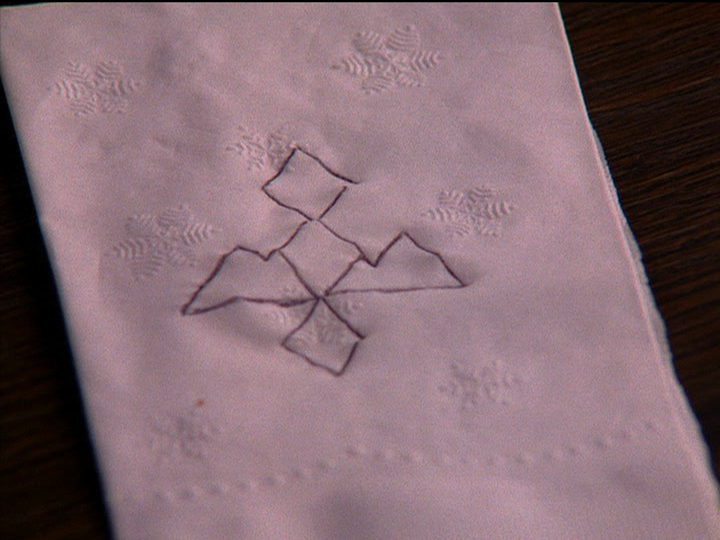 While at the Double R, Cooper doodles a shape that "combines" Major Briggs' disappearance markings with Margaret's markings. Now, maybe I'm crazy, but Major Briggs' tattoo was never three diamonds on top of each other. It was three triangles in a pattern that resembled the radioactive sign, but also form the mark of Chronozon, the demon of chaos. Chronozon ages people quickly and catalysts the disintegration of various peoples. And yet, the tattoo is permanently altered to be 3 diamonds in a vertical stack so that. when combined with the Twin Peaks of Margaret's tattoos, we get a specific shape that people have seen in Owl Cave, a popular hangout spot in Ghostwood forest.
Once Cooper creates the McGuffin, and Annie identifies having see it in Owl Cave, the police force has to go spelunking for mysterious artifacts. Arriving at dusk, they stumble upon a very large form of that petroglyph, topped with a fire. But, Andy is attacked by owls and, swinging his pickaxe in a wild fashion, he nails it right in the center of the fire, igniting a spark that causes a pole to jut out that has the Owl Cave symbol on the end of it. The Owl Cave symbol is also seen on the green ring from Fire Walk With Me that Desmond finds in Deer Meadow under the trailer, and that Laura takes in her dream.
The symbol that is in Owl Cave is almost a truncated version of the drawing that Cooper created a diamond set above two inverted peaks, or a diamond set below two peaks. In one direction, it looks like it could be a campfire; a light to show you the way. In the other, it looks like an owl. Because it's getting dark, the police vacate the cave so they can peruse some more tomorrow, but Windom Earle sees the stick and inverts the shape. The wall comes crumbling upon him.
Speaking of Earle, he sent a bonsai tree to the sheriff's department listed as being from Josie. It's actually a bugged plant where he hears everything they say. That's how he figured out about Owl Cave, and that's also how he figures out that Cooper is using Pete to make his next move. Neither make him happy. But, his true purpose is coming into focus as he was once a member of Project Blue Book, the Air Force investigation into UFOs that Major Briggs is part of. Everything is pointing to a showdown at the Black or White Lodge, the source of pure goodness or pure evil.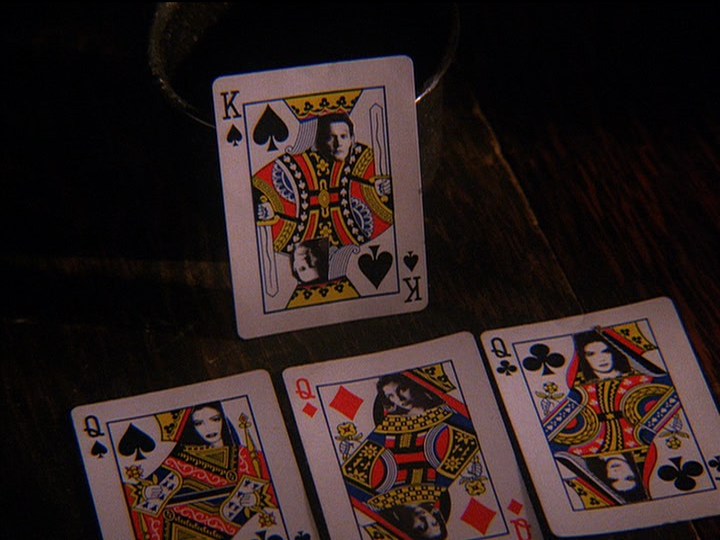 Earle is also keeping tabs on his next victims: Shelly, Audrey and Donna. Audrey is investigating the poem he wrote and gave to the three of them. But, his goal isn't about poems or even being discovered. He wants to get everybody in the Miss Twin Pealikedks Pageant because he's gayer than a Pride Parade? I mean, really, he just likes his little games of calculated fate and chance., and there's nothing more entertaining than a city who dooms their most gorgeous women to a fate worse than death: crowning her Miss Twin Peaks.
Donna's a little pre-occupied to worry about a silly little pageant. She has to figure out why Ben is seeing her mom who is holding a stack of love letters, presumably from Ben. Later, when she asks her father about the scheme, he denies it and tells her to mind her own business. That's when the roses come. Little does anybody know that Mrs. Hayward's past is about to catch up to all of them.
---
Stray Notes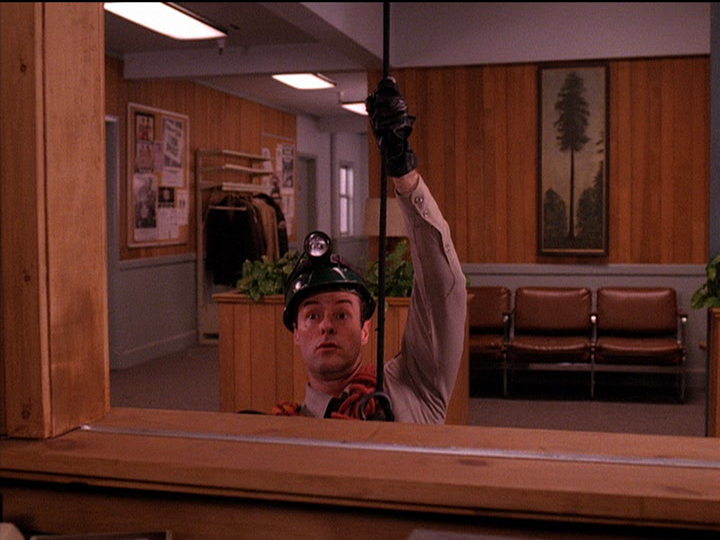 I love that Cooper and Cole bond over making Sheriff Truman vomit after his hangover.
Andy spelunking at the office is the perfect kind of strange imagery that Twin Peaks excels at.
Fate and Chance are awesome things to think about.