Puzzles and Cycles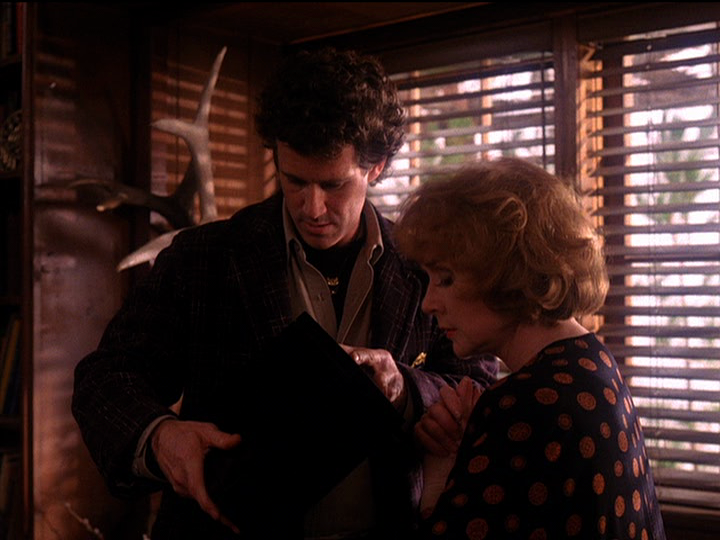 Josie's death left behind a mystery. Who was Josie, really? Was she the strong businesswoman? The culturally ignorant foreigner? The grieving widow? The dangerous Asian siren? The love slave? The conniving greedy capitalist? Was she all of these things? Or, was she none of them? She presented a different side of herself to the people she met, whether they were intimate partners, business relations, or even casual acquaintances. Josie's life resembled Laura's in her multiplicity. And, like Laura, her death left behind a puzzle box waiting to be opened. Literally. This puzzle box was created by Thomas Eckhardt – Josie's former husband from Hong Kong and Andrew Packard's former business partner – presenting a physical representation of Josie's troubled life.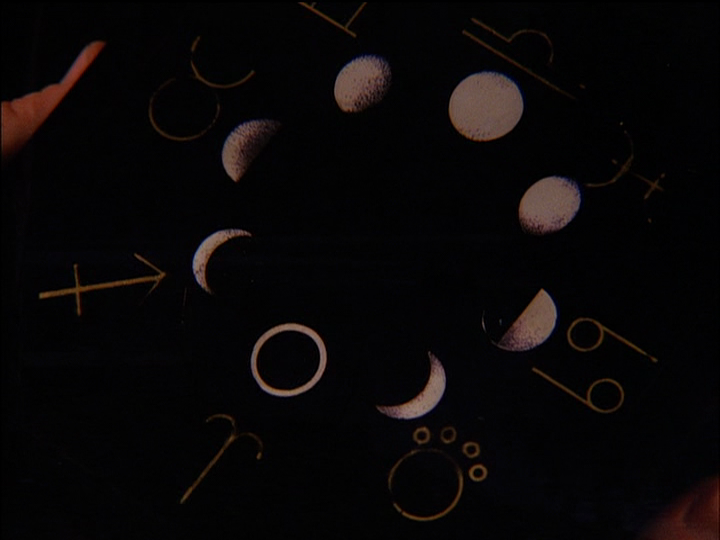 Harry is still bothered by how little he knew Josie. His hangover now dissipated, he's determined to get to the bottom of what made Josie tick, but Harry doesn't how to begin his journey. His journey starts in almost the same location where he found the body. At Catherine's lodge, just a few hundred feet from where they found Laura's dead body, Harry asks Catherine what made Josie tick. Not Pete, who is also mourning Josie, but Catherine, who was Josie's enemy. She offers him no clues, but a cryptic description of Josie's life that could fit Laura; but then brings out the puzzle box. Pete (incidentally, Pete was the person who found Laura's body) accidentally drops the puzzle box, but that force causes it to open, revealing another puzzle box. On the lid of this box is a dial made up of symbols representing the 8 phases of the moon with astrological symbols associated with each phase. Much like Laura's death led to the diary led to the key, this box will lead to somewhere explosive. The cycle keeps repeating.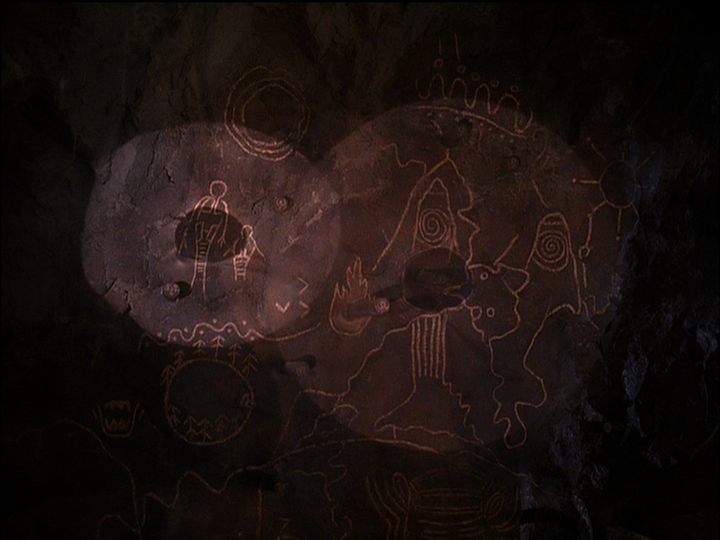 Over in Owl Cave, we last left Windom Earle turning the pole with the owl symbol causing the wall of rock to come crashing down. Today, the police return to Owl Cave to find the missing wall has revealed a petroglyph of a map. They don't know its a map yet, they just see a bunch of symbols around a very odd drawing that includes peaks and trees and a pair of people of disparate size. Could that be parents and children? Giants and dwarfs? The sheriff, Cooper, Windom Earle, Andy, and Hawk puzzle over what it might mean, but then the drawing had another mysterious appearance: in the dreams of Major Briggs.
Windom Earle is the dark mirror of everybody in town. He was cuckolded by his wife and killed her in spite or vengeance. Doc Hayward was cuckolded by his wife, Eileen, who was possibly impregnated by Ben Horne; but he still married his wife. Windom Earle worked on Project Blue Book in the late 1960s, but became fascinated by the evil spirits of the Black Lodge, turning violent and obsessive. Major Briggs is still working on Project Blue Book, but is obsessed with the White Lodge and its good spirits, and has an increasingly serene and benevolent nature. Windom Earle abuses Leo Johnson in an amplified version of the abuse that Leo Johnson inflected on Shelly. Windom Earle's combining poker and sex in a plot to murder people resembles a darker version of One Eyed Jack's combination of poker and sex. Earle's chess playing with death almost resembles the games that Catherine, Josie, Hank and Ben were playing with murder and burning the mill. His quest for worldly knowledge and obscure spirituality to become an entity of chaos is the dark side of Cooper's quest for knowledge and obscure spirituality to become an entity of good.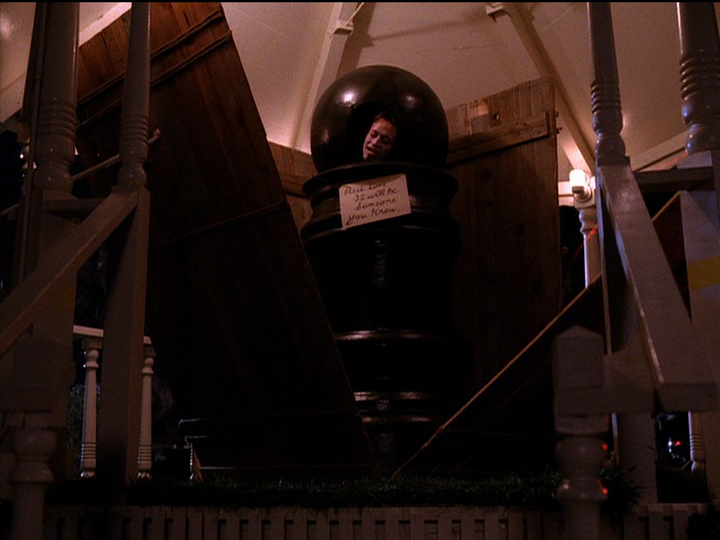 Windom Earle, still hearing every development with the Bonsai Tree, is able to use the police to develop his path to the Black Lodge while he sets up his next chess move. This time, he's taking a pawn. He has lured a heavy metal youth (Ted Raimi!!) into his lair with the promises of partying and beer (the heavy metal youth isn't all that bright). After regaling the youth with stories of the Black Lodge and the White Lodge, Earle plasters him into a giant chicken wire structure before killing him with an arrow into his side. The Heavy Metal Youth is the next pawn to be taken. His body is left in a giant black pawn in the gazebo with the note: Next Time Will Be Somebody You Know. That black pawn is hilarious.
---
Love and Beauty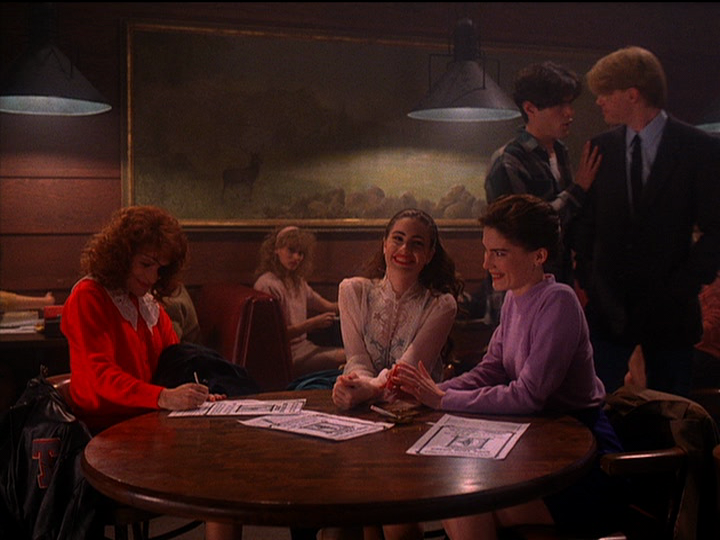 Miss Twin Peaks is overtaking the town. In 48 hours, every woman in town will be competing for who will represent Twin Peaks in whatever fashion that means. Donna says that all the girls at school are excited for the competition.  Bobby Briggs convinces Shelly to run, citing their need to take advantage of their beautiful people status (it affords them many privileges they haven't yet used). Donna's going to run because, why not? Ben is trying to turn Miss Twin Peaks into a Stop Ghostwood environmental campaign to save the forests, and will have Audrey run. Super Nadine is going to run because she's a hot gorgeous teenager. Lana the Succubus will run because she's a succubus who has one of the judges (the mayor) wrapped around her finger. The prize for winning Miss Twin Peaks is surprisingly generous: $2000 and 2 years worth of tuition at "WSC" (presumably Washington State College).
Even though the Miss Twin Peaks contest is an annual festival that overtakes the town, Windom Earle has plans to take out one of the four main girls of the story line – Shelly, Audrey, Donna…or Annie. Annie is the fourth suit in a poker deck, and the one that Cooper is falling deeply in love with )a dangerous proposition when Windom Earle is around). Earle spies Cooper sharing a romantic boat ride with Annie in the middle of the river that snakes through town – the dock of the river is where Maddy said goodbye to James – and decides that it's time to exact revenge by Cooper's woman.
Cooper and Annie's boat ride, before Earle's interruption, is one of the most compelling and well written scenes in ages (the show has been steadily improving since the Diane Keaton episode). Annie's discussions of her suicide attempt, her years at the convent, and her boyfriend in her senior year of high school are guarded and emotionally complicated, conveyed with simple conflicting statements. It's gorgeous, especially compared to Dick Tremayne's crudity that immediately follows.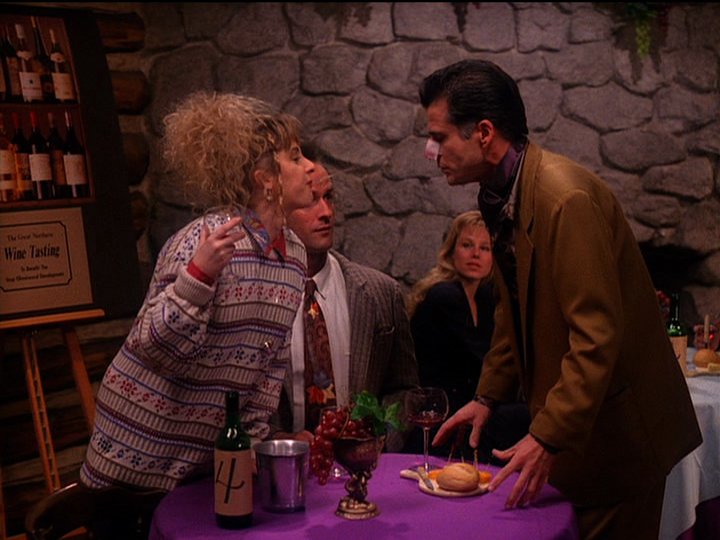 Dick Tremayne is hosting a second benefit for the Stop Ghostwood campaign. By nature, wine tastings are gorgeously crude, with people spitting into buckets on repeated occasions. But, Dick Tremayne (of Horne's Men's Fashions) and his constant stream of pretentiousness makes this wine tasting an early form of cringe comedy. He's so beholden to Lana the Succubus that he openly sucks up to her tongue's taste buds. "Yes, there is a hint of banana. That's the metaphoric acid. Very good." This open flirtation makes Lucy jealous, and she openly spits in his face. Dick is so gross that even Ben Horne (who is trying to be good in his new found bliss) admits, "Sometimes the urge to do bad is nearly overpowering" after Ben Horne's innocent inquiry to the condition of Dick's nose turns into a lawsuit. The Black Lodge works through temptation to do evil. Every little act of malice is a small taint on your soul.
Ben's attempts to fix his past with Mrs. Hayward haven't exactly been winning him any brownie points. After seeing Ben and her mother get together twice, and having answered the door for Ben's bouquet of roses, Donna is fit to be tied. She confronts her mother and father over the matter even as they openly deflect onto nicer topics. They don't want to talk about Ben Horne, and insist that their visitation is solely about environmental concerns. This nice family is going to explode because a bad man turned good. Sometimes the best thing to do is nothing.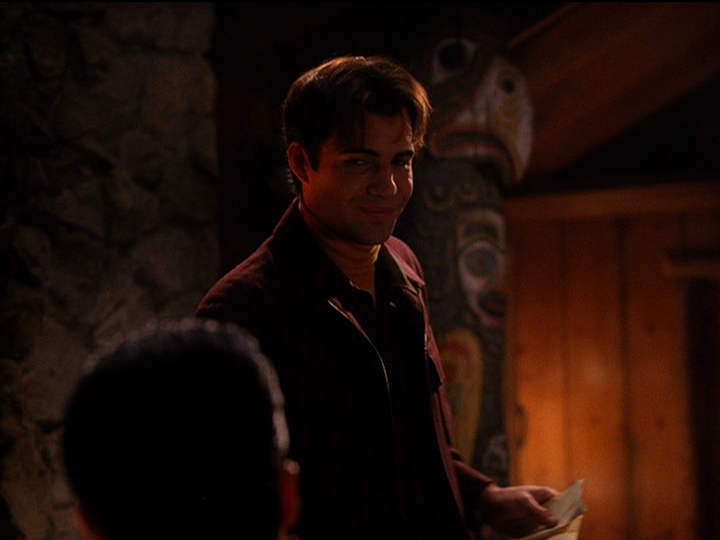 With Audrey in "Seattle" talking with the environmental groups that expressed an interest in the Stop Ghostwood campaign, John Justice Wheeler doesn't have much to do this episode. He is in love, and all he has the power to do is wax romantically to Cooper about it. Cooper reciprocates with poetic forms about his own developing love for Annie. I wish John and Billy Zane had more to do in this series than just pine after Audrey. All he does is pine and love. He's just sort of there.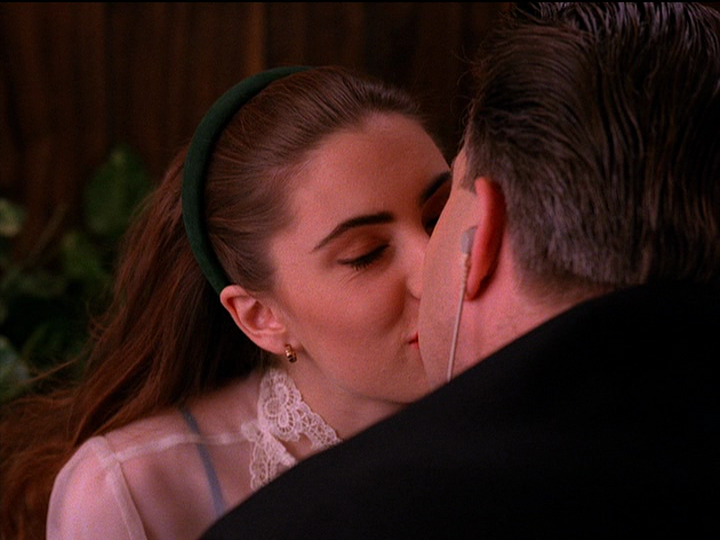 Gordon Cole is leaving, but not before making out with Shelly Johnson in front of her new boyfriend Bobby Briggs. First he orders up huge amount of pie, representing the huge amounts of life he feels around her. Then he kisses her during his goodbyes and may never be coming back. Cole is the first character in awhile to actually get a departing speech rather than just disappearing into thin air like Denise or Albert. It's nice having that bit of closure.
---
Stray Notes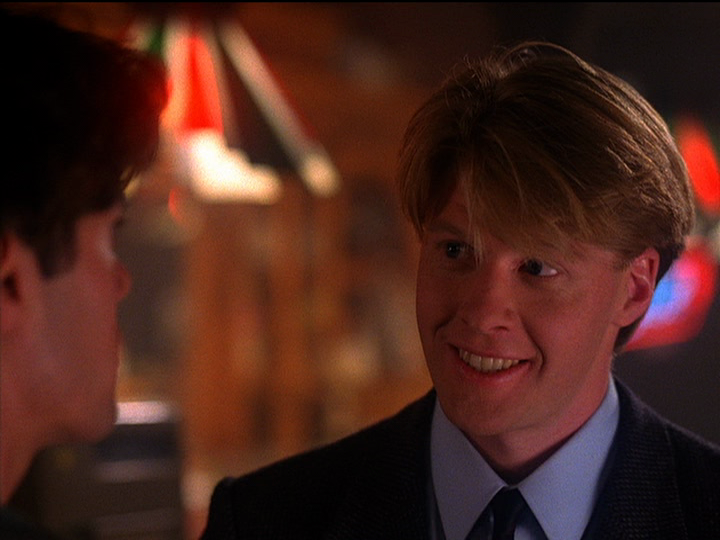 "In spite of all the things she tried to do to me and my family, I find it curiously hard to hate her for it." – Has Catherine turned over a new leaf toward Josie? Is she lying to the Sheriff? Or, is she being honest? It's the triple threat that Bobby and James exhibited after being constantly betrayed by Laura.
"Do you have any idea what a combination of sexual maturity and superhuman strength can result in?" – Mike's reasoning for dating Super Nadine is hilarious. And, he looks a whole lot cuter when he's not being Mr. Football Star.
"It tastes kind of woody!" "No, not really." What a Dick!