Losing It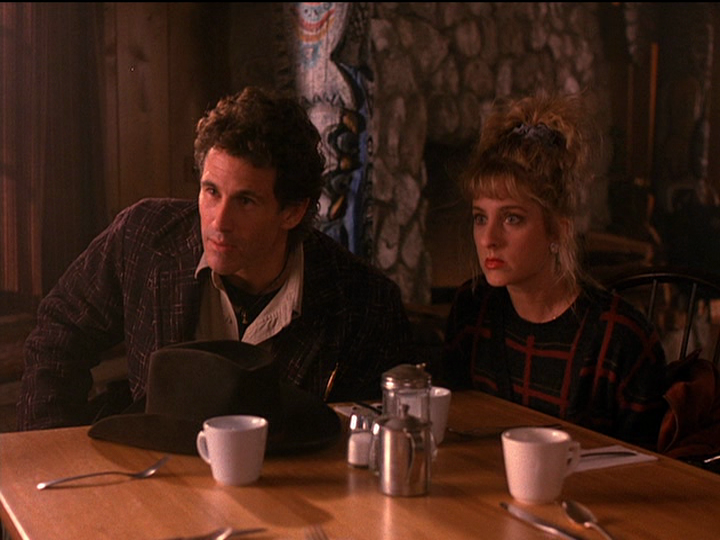 In last night's dream, Laura Palmer whispered the name of the killer in Dale Cooper's ear. He woke up with a start, still in tune with the dreamy music of the Black Lodge, and called Sheriff Truman in a trance. This morning, in the warm sunlight of the day, he lost it. He no longer remembers who the killer was, but he does remember the tiny but important aspects of the dream, which he rattles off to Sheriff Truman over breakfast at The Great Northern.
Still sore from that tongue lashing two days ago, Audrey Horne is now fixated on, for lack of a better term, solving her father. She also shares breakfast with Dale, where she fills him, and the audience, in on the business end of One Eyed Jacks, as Ben Horne's pleasure palace across the border. But, what she is really trying to do, is find out why Ben Horne favored Laura Palmer over his own daughter, and his own family. Truthfully, she has every right to be jealous. Sure, Ben Horne's true intents weren't pure. He said he loved Laura, but, instead of saving her from her abusive situation, he actually ended up putting her to work in a brothel and fucking the shit out of a piece of jailbait. For want of lust, he ruined his family. And, now, the daughter he always wanted is dead.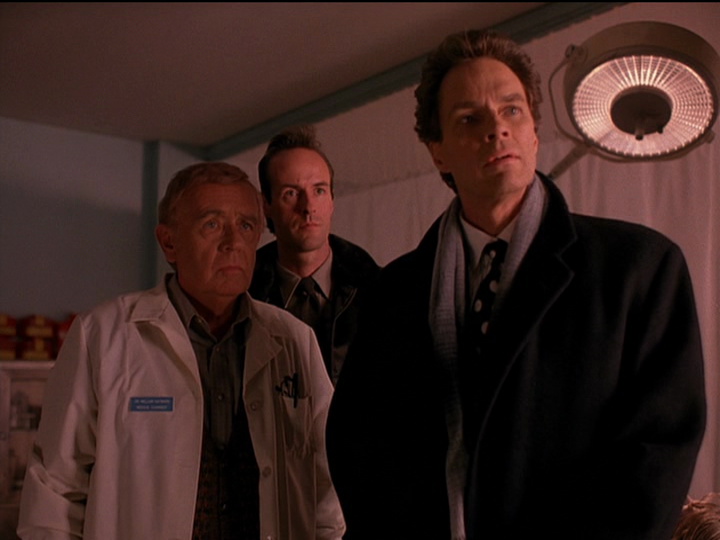 Today's her funeral, and its time to put her body in the ground. There's a problem; Albert isn't finished with his forensic examination even though Doc Hayward wants to put the body in the ground to give the family and the town the peace they need to move forward. What's more important? Justice or peace? The longer the body is out in the open, the more the wounds fester and secrets are uncovered. The sooner the body is buried, the sooner this whole horrible case can be finished. Doc is a man of great humanity and compassion, but wants this whole episode to be buried and behind him. Albert has no such belief. Being a man of justice, he believes that the episode will only be finished once they find Laura Palmer's killer. It's only when the town has been cleansed that the people can finally move forward.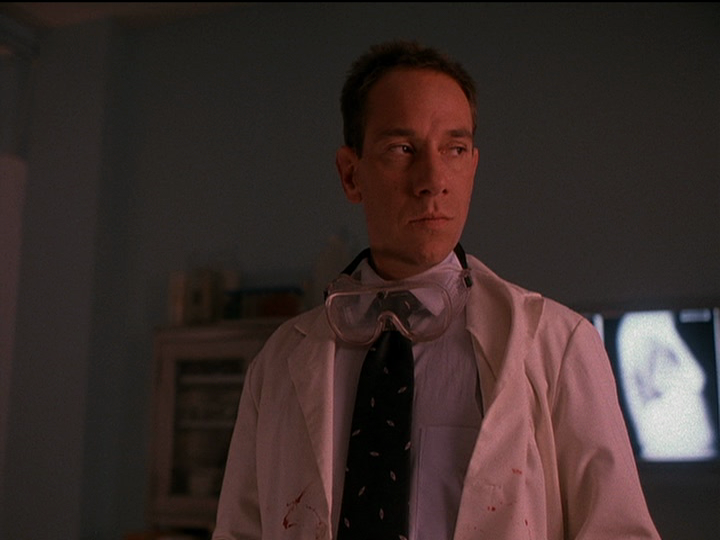 The battle between the search for justice and the desire for harmony ironically leads to blows. Let's go back to yesterday for a second. Albert is a total blowhard from the first minute that he stepped into town. He starts out by needlessly insulting everybody before Sheriff Truman even gets out of the office. "What the hell kind of two-bit operation are they running out of this treehouse, Cooper? […] I have seen some slip-shod backwater burgs, but this place takes the cake. What are you waiting for? Christmas? We have work to do, dammit. They are putting this girl in the ground tomorrow, and we've wasted half the day traveling out here to the middle of nowhere." The constant stream of insults is Albert's frustrations that he only has one night to get everything done and they're out in the middle of nowhere.
Cycling back to Fire Walk With Me, in the course of investigating the mysterious murder of Teresa Banks, BOB's first victim, we're offered Deer Meadows, OR. A year prior to the events in Twin Peaks, a girl was murdered in a small rural community not unlike Twin Peaks, WA…but its all a little rougher. The hostility of local law enforcement towards the FBI is common enough that Deputy Cole has encoded it into secret messages for his agents. When Special Agent Chester Desmond rolls into town with his meek forensics agent, the police threaten him with violence and try to refuse him access to the body.
Back in the stray notes of the pilot, I mentioned the exact location of Twin Peaks as being in the Northeast corner of Washington. That is technically Pend Oreille County, total population 13,001 (according to Wiki). The closest airport is in Metaline Falls, WA, where the notes from the WA State Department of Transportation give this piece of folksy advice: "Do not land on the extreme west edge as the picnic tables will ruin your whole day." I mention this to give the complete sense of isolation that surrounds Twin Peaks, WA. If Albert is arriving two days after a body is discovered, and he has a time crunch to do a complete autopsy on a 3-day old corpse AND he just spent 12 hours trying to get from Philadelphia or Washington to this isolated forest-enshrouded community, he has no time to deal with any of the downhome folksiness and niceties of this rural community. As such, on his day of arrival, after spewing insult after insult – including needlessly calling Lucy by the diminutive nickname "Curly – Sheriff Truman threatens him with neanderthal violence and a homophobic insult to book. "Normally, if a stranger walked into my station talking this kind of crap, he'd be looking for their teeth two blocks up on Queer Street." There are echoes of the violence from Deer Meadows running through that comment, just as there are echoes of the Chester Desmond's responsive hostility in Albert Rosenfield's stream of insults.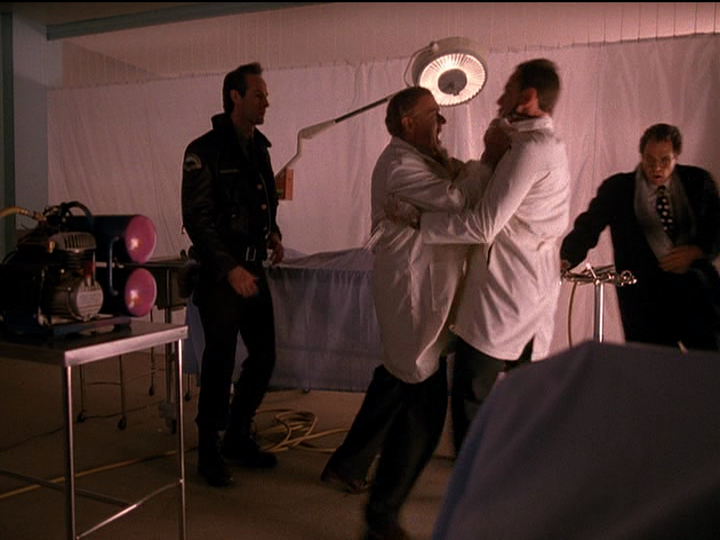 Which brings us back to this morning. What's more important? Justice or peace? Albert has a job to do before the body is interned in the ground, ruining perfectly good evidence to help solve the murder. He does this out of a sense of decency and duty. Doc Hayward has come to take the body to bring peace to the community, and can't understand the need for mutilating the human body in order to discover its secrets. There are three distinct acts of violence in this scene.
The first time they clash, Doc Hayward loses it and grabs Albert by the lapels and shakes him violently, saying he's going to take the body. At this point, Ben Horne breaks it up, and sides with his friend Doc Hayward against Albert.
The second time they clash is after Doc Hayward unplugs Albert's drill, which causes Albert to lose it and grab Doc Hayward by the lapels. At this point, Cooper and Truman walk in and break up the fight, each siding with the person they trust most.
The third act of violence is when Albert is trying to get Cooper to get the locals off his back, and proceeds to savagely insult anybody and everybody impeding his steps to justice (the whole town). In response, Sheriff Truman loses it and lands a haymaker right to Albert's jaw.
Who is right? Later in the series, there is a reconciliation for the "cynical" Albert, who claims to reject violence, aggression and revenge. Is this a valid reassessment of Albert's character, or a cynical false reclamation of these scenes so that the audience will tolerate an awesomely abrasive recurring character?
Regardless of how you read Albert's character, and there will be plenty of time to do that, we still have to get Laura's body into the ground and nobody in town is ready for it. James Hurley can't deal with the death of his one time girlfriend and takes off on his bike to ride out into nowhere (Ugh, yes, please go). Major Briggs tries to counsel and console his son on the spiritual healing process of funerals and burying the body. Nadine is still clinging to Big Ed. And, Johnny Horne, the son with emotional problems, has to be consoled by Dr. Jacoby because neither his mother nor his father are willing to deal with him on his level.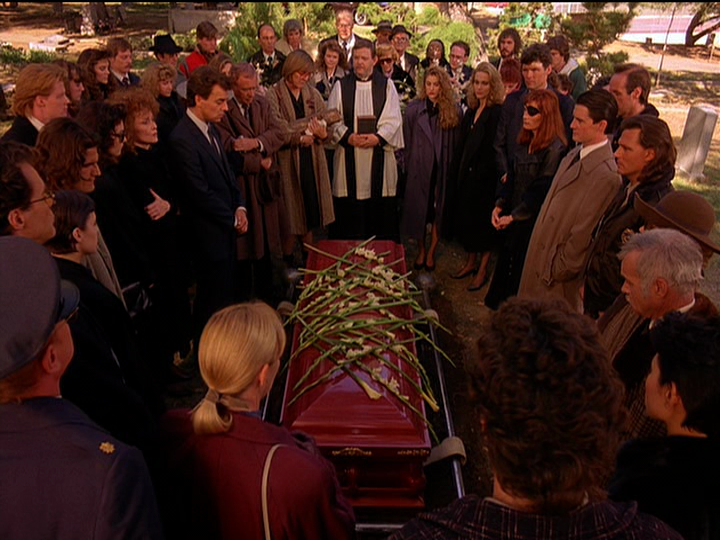 This isn't a David Lynch episode. Tina Rathborne, who all but disappeared after her stint in Twin Peaks, tries to rigidly mimic the Lynchian horror of a shattered town trying to come together to bury the murdered body of the prom queen. She slows some footage down to a monstrous crawl, but never quite gets the moments of true Lynch. Instead, what she does accomplish is a funeral that plays two ways depending on your viewership.
Let's rewind a moment. Bobby Briggs isn't dealing well at all with his new situation. While waiting for the funeral, he positions himself in a crucified moment in front of the cross. Is he imagining he is a martyr like Jesus, or is he wondering what kind of strength it took to be martyred for a cause? What if he was imagining the strength it took to die for everybody else's sins? When he reaches for salvation, is he looking for his own salvation or for Laura's? Is he imagining that Laura died for somebody else's sins? He's scared of what this all means, and is extremely defensive about his weakness when his father offers unwelcome parental advice.
At the funeral, the priest is offering his own version of Major Briggs' sweet nothings. Through biblical platitudes, he insinuates that through Laura's faith and her death that she found salvation, for she didn't die alone. And then, as the empathetic score of Twin Peaks swells to its crescendo, he continues with his own interpretation of Laura Palmer, meant to act as a salve for all those who loved her.
I baptized Laura Palmer. I instructed her in Sunday school. And, I, like the rest of you, came to love her with that special love that we reserve for the headstrong and the bold. Laura was bright, she was beautiful, she was charming. But, most of all, Laura was, I think, impatient. She was impatient for her life to begin. For the world to finally catch up to her dreams and ambitions. Laura used to say I talked too much. I'll not make that mistake again.
Johnny Horne, the boy with emotional problems, responds to this salve with a scream of AMEN. He has been soothed by these words, and came out with the appropriate response. The priest, seeing his work has been done, breathes a sigh of relief, smiles, and thanks Johnny… And then all hell breaks loose.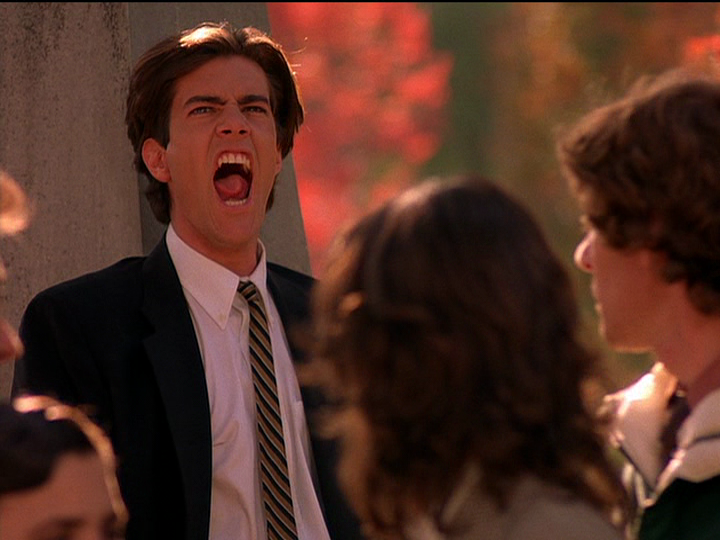 Bobby Briggs loses it with a primal scream of AA-MENNN that's either him trying hard to be consoled or mocking the false words of religion with his own mock response. The priest has failed, and its up to Bobby to right the wrongs that have been inflicted on Laura Palmer's body and soul.
What are you looking at? What are you waiting for? You make me sick. You damn hypocrites MAKE ME SICK. Everybody knew she was in trouble. But, we didn't do anything. All you good people. You wanna know who killed Laura Palmer? We all did. We ALL did. And, pretty words aren't going to bring them back. She would have laughed at them anyways.
And that's when James Hurley, who has been watching the funeral from the back, loses it. The two lovers fight for the battle over Laura's memory. The first time through, not knowing who killed Laura Palmer, not having seen Laura's abuse and Laura's killer, not knowing the depths that Laura was going to throughout the town…one might be tempted to believe the priest. He is, after all, supposed to be the spiritual authority figure of any small community, and he's even backed up by the swooning Laura's Theme. The first time through, one might be tempted to see this as Bobby Briggs aggressively making himself into the center of Laura's funeral in some narcissistic attempt to hijack the center of attention, thrusting all of his own guilt onto everybody else so that they can share his pain.
The second time through? Bobby Briggs is spot on. Especially after seeing the horror of Fire Walk With Me, and having seen how many people Laura Palmer directly interacted with, and watching her cry when she prostitutes herself at The Roadhouse in plain sight of anybody who cared to be looking, and seeing her go on cocaine binges, and rant at James Hurley, and give diaries to shut-ins, and express so much covered up anger…Bobby Briggs is rightfully condemning the town with the guilt they all deserve. James knows it too, and he's one of the ones who has a finger pointed right at him for his non-actions the night she was murdered. And, so, they have a good old fashioned funeral brawl in slow motion.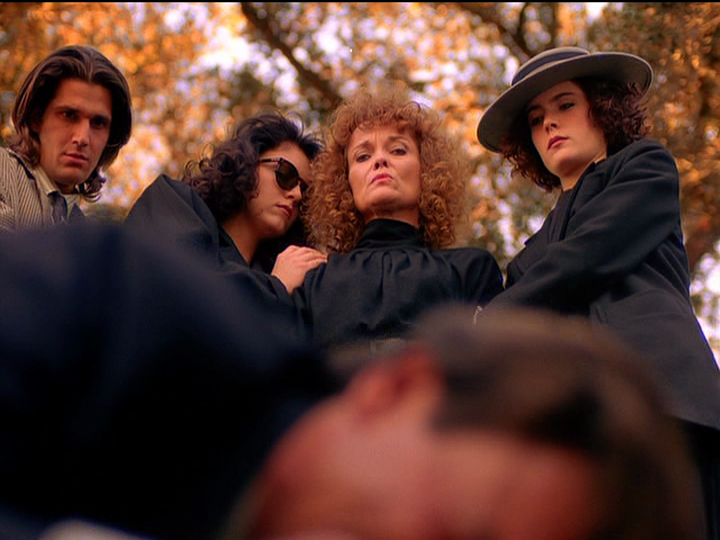 In the midst of James and Bobby fighting, Leland Palmer loses it and jumps on Laura's casket. Leland the father knows this is his last stand with his daughter, and sobs out "My Baby." This ostentatious display causes Sarah Palmer to lose it and unintentionally cry out a major clue that something was wrong in their household. "Don't. You. Ruin. This. TOO," Leland Palmer was not a good husband or a good father. He ruins everything he touches. And, through the additional word of "Too," a word that slips by when nobody suspects Leland Palmer as the true rapist and murderer who drugs his wife night after night, Sarah reveals how much she knows about what has been happening in her house.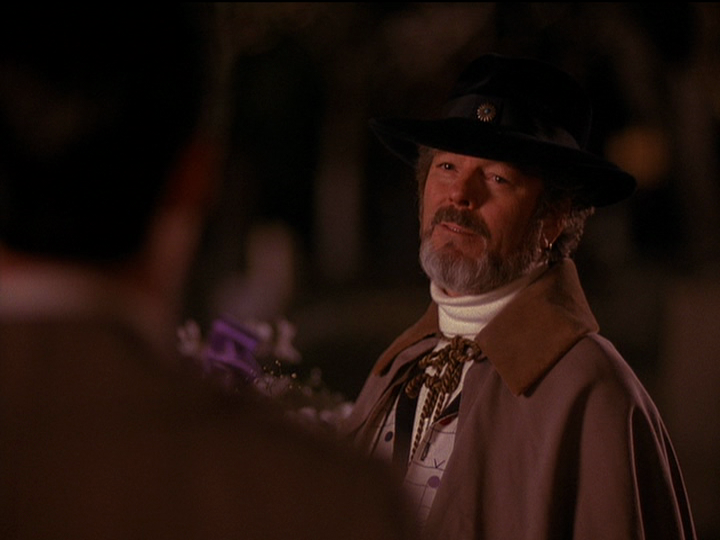 At the end of the day, long after the funeral has dispersed, Dr. Jacoby, the hit-but-not-broken bottle from yesterday's intuition experiment, stops by Laura's grave. He lost it. He lost it two days ago when he was listening to Laura's last tape. He couldn't make it to Laura's funeral because of the effect she had had on him. She had made him care again, and now she's gone. Lost forever.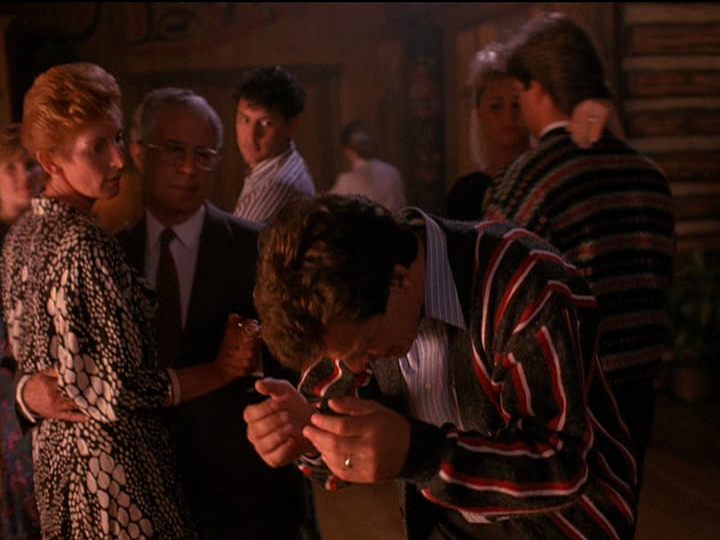 Just before the day's out, Cooper asks Hawk if he believes in a soul. Hawk says he believes in several, including the mind soul and the dream soul. And, as the camera swoops across The Great Northern's bar to find a mourning Leland Palmer, Hawk talks about dream souls that wander to far away places including the land of the dead. And then, as the soundtrack switches from the Twin Peaks theme to a Big Band swing staple, Leland begins dancing. It's the second evening in a row that he's desperately, compulsively, dancing in mourning. He loses it once more before the credits role as he cries out for somebody to dance with him, clinging for a last grasp of humanity as everybody around him politely shuns his desperate insane requests from grief. And, so, he's offering his apologies as he's escorted out of the room while the dancers still cling to their partners…
---
New Clues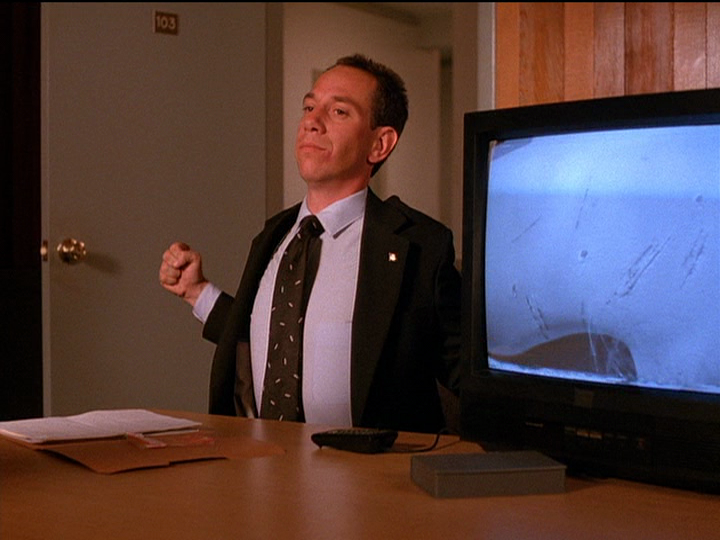 Albert is truly good at his work, and gets his report in to Cooper by Noon the day after he arrived in Twin Peaks. With his autopsy, he found a bunch of grisly new clues to decipher:
Laura was tied up twice on the night of her murder. First she was tied up with the upper arms so her arms bent back. Later, using different twine, she was tied up at the wrists. This twine was found at the murder scene.
The powder in the baggy in Laura's diary was indeed cocaine. "Newsflash, the little lady had a habit."
There was a piece of plastic with the letter J found inside her stomach.
She had clawmarks and scratches on her shoulder as some animal got to her as she struggled.
They found traces of industrial strength soap outside the murder scene and on the back of Laura's neck. Albert posits that the killer washed his hands and then leaned in for a kiss.
None of these, on their own, lead to who killed Laura Palmer, but they paint a clearer picture of what happened to her after she fled James' bike. It only gets darker from here.
---
Leftovers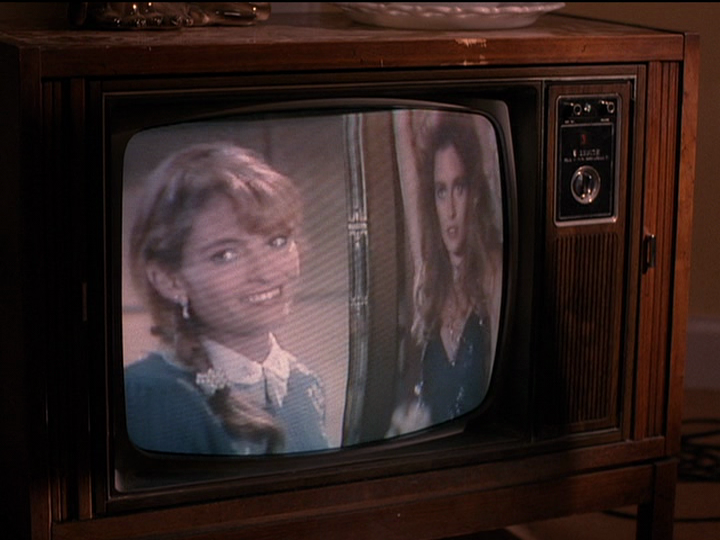 No, seriously…there's a hell of a lot of development from the B-plots to go over in this episode.
Invitation to Love introduces the cast members, including Selena Swift as Emerald AND Jade, two yin and yang sisters of conservative and promiscious morals. One wears a cable knit sweater with her hair in a tight conservative braid, while the other has a ratted out metal mairstyle and a shiny slinky Woman of the Night outfit.
As such, Sheryl Lee makes her first appearance as Cousin Maddy, Laura Palmer's identical twin…cousin. The best part of this introduction is Maddy saying "Uncle Leland" as her way of introducing herself into the scene perfectly timed with the daughters in Invitation to Love pounding on their fathers' door as he's about to kill himself. Even the Invitation to Love characters are losing it…
Norma Jennings' husband, Hank, is up for parole. For some reason, she's trying to help him get out. She has a meeting with a parole board member to tell him that, as the owner of the Double R, she'll be rehiring Hank to make him a productive member of society. Oddly, sleazily, the board member totally hits on her, and she shuts him down by reminding the member that her husband is a homicidally jealous person.
Sheriff Truman and Dale Cooper go out to interview Leo Johnson (the broken bottle from yesterday's intuition experiment), where he is very defensive and hostile towards the police as he's chopping wood (an act of brute strength). His alibi is that he called from the road in Butte, Montana, and he couldn't possibly have killed Laura Palmer. Yet, we know from the pilot that he was back home that morning and almost caught James and Shelly canoodling.
I neglected to mention the ongoing developments of Josie Packard and Catherine Martel. Yesterday, Pete stole the key to Catherine's safe where Josie discovered that Catherine was cooking up two books, one pointing to success and one pointing to failure and cover-up. The plan is for Catherine to use these books to deny Josie the insurance money from burning down the mill with Ben Horne, and taking her profits from the sale of the property to the Ghostwood Development Project. Today, knowing that Josie knows about both books, Catherine hides one of the books under a false desktop as Josie pleads with Sheriff Truman to protect her from these schemers.
The Bookhouse Boys – whose hideout is literally right behind The Roadhouse (in the background of the scenes in the pilot where Sheriff Truman and Cooper are staking out The Bang Bang Bar, one can see the motorcycles parked outside The Book House cabin) – are starting a vigilante process to stop the drugs from coming across the border. As such, they've kidnapped Bernard Renaud, the janitor of The Roadhouse, who has come across the border with an ounce of cocaine. Bernard's brother Jacques is the bartender at The Roadhouse, and sidelines as a drug dealer to lower dealers like Leo Johnson. The Bookhouse Boys bring in Dale Cooper to help with this extralegal process. But, there's a light on top of The Roadhouse warning Jacques that trouble is afoot. Leo rescues Jacques and takes him to…
---
Stray Note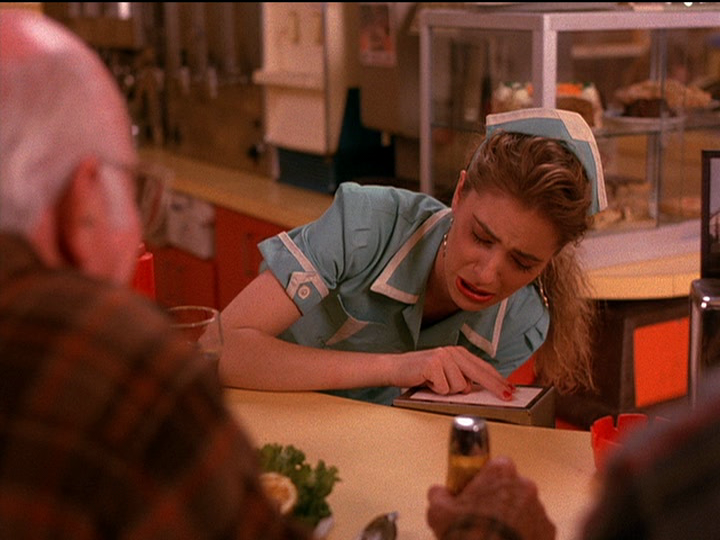 Shelly Johnson gets the most cruel and the most hilarious scene in the episode. Immediately after coming back from the commercial break following the funeral, originally after the viewer had sat through or fast forwarded through a handful of advertisements, Shelly Johnson retells the story of Leland Palmer's grief. Using a napkin dispenser, she entertains two old men at the counter with a darkly comedic retelling of Leland jumping onto the casket, and then the casket elevator malfunctioning, raising and lowering both him and the casket into the grave. She mock weeps as her hands, imitating Leland Palmer, are raised and lowered on the mock casket, and the two men laugh at the pain uproariously. That's almost like watching a Lynch movie in a nutshell.