"Brando is the best, the actor that we all look up to. When he goes, the rest of us move up one." — Jack Nicholson.
Marlon Brando would have turned 95 today. The impact of his career on American cinema can hardly be overstated — as some have put it, there is "Before Brando" and "After Brando."
From the sweating, bestial Stanley Kowalski; to Terry Malloy, the downtrodden ex-boxer; to the godfather himself, Don Corleone; to the mad but perceptive Colonel Kurtz, Brando played roles that have made a major lasting impression on filmgoers and in the collective memory for more than sixty years.
But what about the roles he didn't take?
Marlon Brando was a great actor, but his presence was so distinctive and so one-of-a-kind it's sometimes hard to imagine him in the parts that he didn't play. The road not taken often feels bizarre and even laughable, because we're so used to the world we live in that if we get a glimpse at another possible world, we reject it. But looking at those possibilities, those roads not taken, can give us perspective on both the choices and the random chances that go into making a film, and how chaotic the process can be.
All of these possible roles that Brando was in some way up for — he turned them down, they turned him down, etc. — are real, and will be sourced, so that this isn't some wacky IMDb Trivia page where anyone can submit whatever nonsense pops into their head.
*****
Jim Stark ("Harold") in Rebel Without a Cause
Before A Streetcar Named Desire gave film audience's their first big look at Brando, the 23-year-old actor did a screentest for the movie that would end up becoming, after many revisions, Rebel Without a Cause. This was in 1947, not only before the film version of Streetcar, but before the Broadway production that hit New York like a cannonball. This particular iteration of Rebel didn't make it to the big screen — notice that Brando, in his screentest, is "Harold" and not James Dean's "Jim Stark" — but, of course, the younger James Dean was very much influenced by Brando's acting style and it's not difficult to imagine a more youthful Brando playing the part.
*****
Lieutenant Franz Mahler in Senso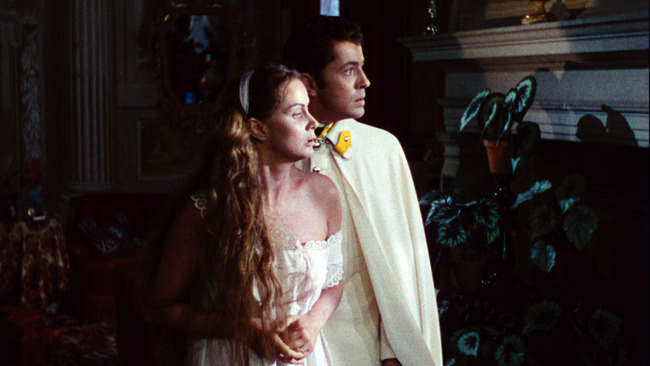 Italian auteur Luchino Visconti tried to get Brando to star in several of his films over the years. During the 1950s and 1960s, stretching into the '70s, Italian movies often put Hollywood actors in the leading roles, which helped to secure funding and foreign markets. This sometimes led to great results, including Burt Lancaster's towering performance in Visconti's Il Gattopardo, but other times were not quite as successful. Visconti's 1954 film Senso tells the story of an Italian noblewoman who has a self-destructive affair with an Austrian army officer during foreign occupation in the mid-19th century. Farley Granger plays the Austrian opposite Alida Valli as the Italian countess. He's pretty good, but he's no Brando, who was Visconti's initial choice for the role, alongside Ingrid Bergman as the female lead (A History of Italian Cinema by Peter Bondanella and Federico Pacchioni, pg. 129). Streetcar scribe Tennessee Williams even translated and wrote the subtitles for the film's American release, but it failed to catch on in the States.
Brando, meanwhile, having come off of three consecutive Oscar nominations, was the toast of the town at the 1954 Venice Film Festival, where Senso premiered. For his role as the guilt-ridden longshoreman in On the Waterfront (the festival's second place finisher), Brando captured the attention of international audiences, who chanted his name when Jean Gabin was named the festival's best actor. Senso, however, didn't win a single award, as rumors swirled that the ruling Christian Democratic Party had bribed the judges not to award a film made by a communist (Shadows on the Past: Studies in the Historical Fiction Film by Leger Grindon, pg. 91-92).
1954 was a good time to be Marlon Brando — On the Waterfront led to his first Oscar win, at the age of only 30, and he was operating at arguably the peak of both his dramatic and commercial powers. But things didn't stay that way forever.
*****
T.E. Lawrence in Lawrence of Arabia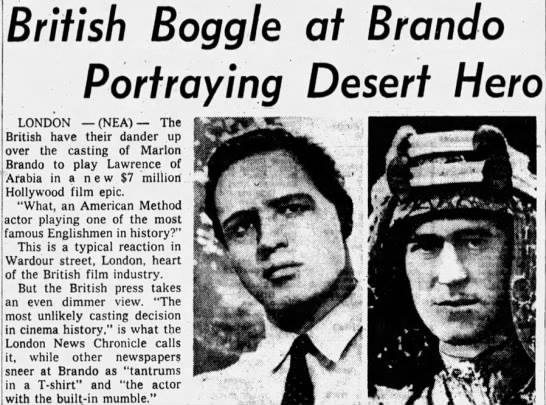 (The Journal Times, March 13, 1960)
The 35-going-on-36-year-old Brando was the first choice to play the desert hero in David Lean's 1962 masterpiece — to the consternation of many in the British film industry. Producer Sam Spiegel defended the decision, saying "We considered every possible British actor for the part, but none of them were young enough […] Alec Guinness is a marvelous actor, but you can't make him look 15 years younger, can you?"*
Negotiations continued for several months between Brando's camp and the Spiegel/Lean camp, but discussions were tense, as they often were with Brando. By July, things had deteriorated to the point where, well . . . let's let Sheilah Graham describe it:
It's been reported that Brando's final decision came down to this quote: "I'll be damned if I'll spend two years of my life out in the desert on some fucking camel" (Somebody: The Reckless Life and Remarkable Career of Marlon Brando by Stefan Kanfer, pg. 169-170). Fair enough, but the film he chose to do instead, the 1962 version of Mutiny on the Bounty, also took two years to film, and Brando's behavior on set became so notoriously difficult that it soured his reputation in Hollywood for a decade, and the resulting overbudget film flopped.
*Though apparently Spiegel thought you could make Alec Guinness look like an Arab
*****
Butch Cassidy in Butch Cassidy and the Sundance Kid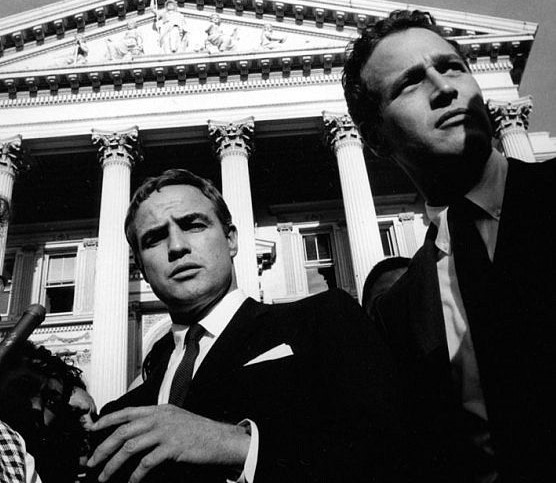 Years of flops and diva behavior had hit Brando hard. By the late 1960s, he considered retiring from acting altogether, and got more involved in political activity. In 1968, William Goldman's spec script "The Sundance Kid and Butch Cassidy" (later adjusted, slightly) was a hot item in Hollywood, and 20th Century Fox wanted Brando and longtime friend Paul Newman for the leads.
Fans of Butch Cassidy and the Sundance Kid will no doubt remember Newman's great performance as the planner of the outlaw duo, doomed dreamer Butch Cassidy, but the initial idea was that Newman would play the Sundance Kid opposite Brando's Butch.
Fox tried to get Brando to sign on, but Brando refused to commit. While many movie stars were attending cocktail parties and red carpet premieres, Brando was going to the funerals of Black Panther Party members. In a statement to the papers at the time, Brando said "I prefer not to get into the making of a motion picture at this time. There are issues facing us with which I think everyone ought to concern himself first and foremost" (The NY Daily News, April 22, 1968).
When Brando was a clear 'no,' 20th Century Fox slid Newman over to the role of Butch Cassidy before finally finding Robert Redford, a relatively unknown up-and-comer, to play Sundance.
*****
Vito Corleone in The Godfather . . . Part II
Brando had been considered dead in the water before The Godfather. Then it became the highest grossing film of all time (something that would never happen today), won three Oscars, included one for Brando, and became an instant classic.
Things changed almost overnight for everyone involved in the making of The Godfather, from Francis Ford Coppola to Al Pacino to Diane Keaton, and even to the most famous alum of the film, Marlon Brando. The offers came back. The paychecks got bigger. Everyone had Marlonmania again.
Paramount tempted Coppola with offers of doing a sequel, which he agreed to do when he realized he could combine a Godfather movie with his idea for a film about a father and son intercut at the same point in their lives. This would also enable the film to 'bring back' the iconic Vito Corleone, who died of old age in the first movie.
In his DVD commentaries for the Godfather movies, Coppola revealed that his first idea was simply to bring back Brando to play the younger Vito Corleone. After all — and not everyone realizes this — Brando was still relatively young, only 47 when the first film came out, and spent the original Godfather playing a character older than himself, under effective makeup. For The Godfather Part II, Coppola thought, Brando would simply be his robust self, without the old-age effects, and the results would speak for themselves.
Why exactly this didn't happen is the source of some confusion and disagreement — Brando's salary demands had increased after the success of the first film, and he was (at this point) rather disillusioned with acting in general. Eventually, the idea of bringing Brando back for a major role was dropped, and Coppola used the opportunity to propel Robert De Niro to fame. But Brando was still supposed to shoot a one-day cameo appearance for a scene near the end of the film set only a couple years before the first. The mercurial Brando failed to show up, and Coppola rewrote the scene so that 'the Godfather' never actually appears, but is offscreen, a powerful but ghostly presence.
*****
Jeffrey Lebowski in The Big Lebowski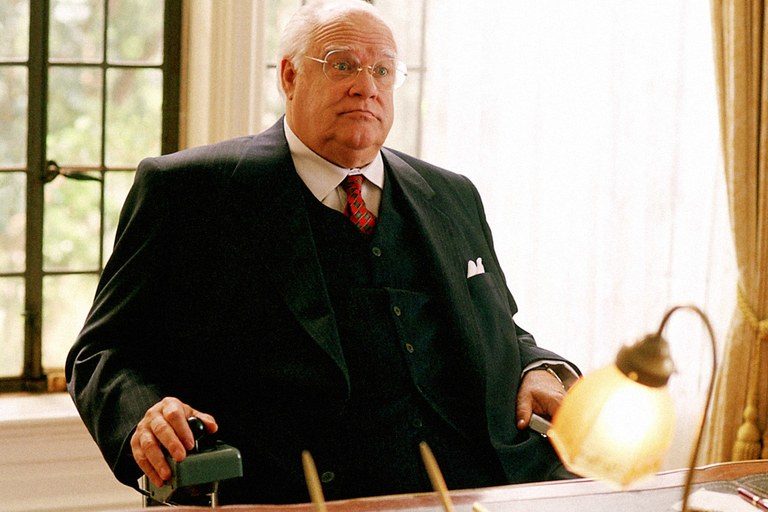 Not as much of a story in this one, but it's quite fun. When making 1998's The Big Lebowski, Joel and Ethan Coen had difficulty locating the right actor to play the key supporting role of Jeffrey Lebowski, the crude, self-interested capitalist who sets the events of the film in motion.
The Coens brainstormed to find the right person for the part, talking about veteran character actors like Ned Beatty, Peter Boyle, and Pat Hingle, along with totally off-the-wall choices. Former Coens production assistant Alex Belth wrote that the "wild collection of names" included such non-actors as Gulf War General Norman Schwarzkopf, conservative pundit William F. Buckley, and even televangelist Jerry Falwell. But the brothers became very intrigued by the possibility of casting Brando in the part, and amused each other by reading Lebowski lines in their best (or worst) Brando impressions.
They decided against asking him, due to his reclusiveness and eccentricity by this point. But what a thought, right?
Read more of that crazy collection of names here:
https://thestacks.deadspin.com/the-lebowskis-who-might-have-been-behind-the-scenes-wi-1608270811
*****
We could go on for a while, and we've even left off some enormous films like The Exorcist and Deliverance but this is just a sampling of some of the most interesting behind-the-scenes stories involving Brando and his flirtations with other roles.
Which of these possibilities most fascinates you?