Since Cinemascore began operation in 1979 only 19 films have received the lowest score. In this series I'll be reviewing those 19 films. This week, you all get to see how much I love you.
So What is it?
The coming attractions on this DVD contain trailers for two separate Dane Cook  rom-coms. Already this is a bad sign. The other trailer is for that documentary Bill Maher made about how much he hates Muslims.
We open in 10,001 BC. (Remember 10,000 BC [C]?). A caveman is being chased through a field. A woolly mammoth leg steps on him and squishes him into a giant pile of poop. He lifts himself up, caked in mammoth poop. "Shit," he says.
He runs into the woods where he is clotheslined by an American Gladiator with a Joe Dirt [B-] haircut (American Gladiator had a brief revival in 2008). The caveman's face and body are totally clean now. There is a referee here, and the two men begin to fight. The gladiator is winning easily, but then the caveman delivers a blow to his testicles. The gladiator goes down. "They were so small anyway," he says.  The caveman hears a sabretooth tiger and runs away. He is confronted by a woman. "Amy Winehouse?" he states. Amy Winehouse has large sabreteeth and roars like a tiger. She then tells the caveman that the world is going to end and talks about drinking gasoline. She takes out an Apple™ laptop and opens up to FaceNook. The caveman complains that everyone is on Facebook now. Amy Winehouse informs us that the end of the world will be Aug 29, 2008. She then takes a bottle of Jim Beam out of her hair, drinks it and burps for several minutes. She then hands the caveman a Crystal Skull.
The caveman wakes up from his nightmare.  He is a modern man in bed in his apartment. It is Aug 29, 2008. He tries to wake up his girlfriend. Instead, Flava Flav pops out of bed and says, "Flava Flav!"  Flava is wearing a gold Viking helmet, sunglasses, and his trademark clock, but is otherwise naked. Flava exits the room and the man asks, "What was that about?" His girlfriend brushes the question off, and says 'I love you' and he responds 'I like you'. So she leaves, taking a dwarf who had been hiding under the covers with her. "You're taking JoJo?!" the man says, with the same inflection one would use if she were taking the dog.
There's a montage for the man's super sweet 16, that I assume is copied from the MTV show, although we are informed that he is 25. At his party he mistakes another girl for his girlfriend. She is missing a tooth. He talks to another girl who flashes him, although her beasts are covered by a censorship bar that reads "Hairy Girls Gone Wild." She has hair on her stomach. Dr Phil walks up. "Hey Will, It's your buddy, Dr Phil" he says. He grabs a woman who is walking by and kisses her as she struggles. She frees herself and slaps him, and he calls her a 'dyke' and then wanders off.
A guy who you hire if you can't afford the guy who played Daryl on The Office is trying to prank a passed out teenager. Anton Chigurh walks up and kills the kid with his cattle gun. Daryl runs off to Kim Kardashian (the real Kim Kardashian who is an actor in this movie and not playing herself – you know this because Daryl says 'Hi, Baby' and not 'You're Kim Kardashian.')  Kim tells Daryl that the kids from Superbad [A-] are trying to steal the liquor and gives him a gun. Daryl wants to kill the kids, but complains that he doesn't have a clear shot. Carmen Electra (real) walks in and tells him to curve the bullet. Kim tells Carmen not to tell Daryl what to do because 'he's my man'. They begin to fight and the scene cuts to the two of them in a wrestling ring wearing a sort of cross between lingerie and a wrestling leotard – I think this is not a reference to anything, just a fetish.
This goes on for about as long as an actual wrestling match would take, and then we cut back to the party where Daryl has been imagining the catfight. Kim tells him to curve the bullet, and this movie is officially playing in slower-than-real time. The bullet ricochets around and kills Dr Phil. Daryl fires again, and the bullet ricochets around and kills Anton Chigurh. Daryl fires a third time, and in slow-mo the bullet curves around Carmen Electra and then comes all the way back around and kills her. This will be the only actual joke in the movie. The Superbad kids escape with the liquor.
Juno (from Juno) and Michael Cera are playing music at each other. Juno hits Cera with her guitar.
The man walks over to Daryl and complains about his girlfriend and talks about his commitment issues. "You've got commitment issues, dawg" Daryl says. Why is this movie pretending like it has a plot or a moral?
The man's girlfriend shows up to the party with a male model who is oiled up and wearing only white briefs. "Who dat dude she wit?" asks Daryl, rapidly losing what little dignity he began the film with. "She started dating some Calvin Klien underwear model," says the man (show and tell). I wonder if Calvin Klien paid to be in this movie. FaceNook suggests that they did. A marching band walks in and the man asks, "Why is there a marching band?" and Daryl says "What better to cheer you up than a High School Musical?" There's an extended musical number, and l pause the movie and poor myself a drink.  I never saw High School Musical, is it any good? I think Zac Efron is an underrated actor.
I return to the film. Justin Timberlake is here. He punches himself in the balls. The Calvin Klein model tosses his briefs at him. They have a poop stain. We see the model naked and all the nudity is blurred out. Why include the shot if you don't have the guts to show it? Somebody yells "look everybody, it's Jessica Simpson!" and then a blonde lady who doesn't look all that much like Jessica Simpson starts singing and everybody covers their ears because it's bad and I pause the movie again.  This is still the same musical number. This is still the third scene in the movie! Somebody paid Twenty Million Dollars to make this movie!!!
I don't get these Jessica Simpson jokes. She's super into Jesus and doesn't understand football? Somebody calls her a jinx and hits her in the face with a football. Was that a thing that happened? I wonder if this musical number is ever going to end. Maybe this is just the rest of the movie. I wonder if I turned it off and said that this was the rest of the movie, if everyone would buy that.  Who the fuck has seen Disaster Movie?
Whoa! Earthquake! We're saved.
The model has his briefs back. Absolutely no regard for continuity. I bet that's why this got an F. Juno just drank a bottle of Sunny Delight. Was this whole movie made just to scam Sunny Delight out of some ad dollars? Oh God, more Plot!
Oh no, there's a Miley Cyrus and she has a microphone. Don't do another music number! Don't do another music number! Go back to the plot. Really, it wasn't that bad. An adult man can't say 'I love you' to his long term girlfriend who he is, in fact, in love with. Sure, that's plenty relatable.  It's fine. Just don't sing anymore.
Oh, good she's dead.
There's some Hancock [B+] (I don't want to say jokes). Remember Hancock? It was the last real shot to see if audiences would go to see superhero movies not based on a pre-existing IP. If that movie had been a success in place of Iron Man [A] it would be a totally different cinematic landscape today. It's such an odd movie. A Frankenstein of two completely tonally opposed movies haphazardly stitched together right down the middle. It was a real missed opportunity. I thought the first half was pretty good, and an interesting direction for Will Smith.
The, uh, characters meet the Sex And The City women. Carrie is played by a man. She fights Juno. Juno sprays her with breast milk for a long time. This movie won't show nudity, but it will have a fistfight interrupted by duel streams of breast milk? Who the fuck made this movie?
The Sex And The City quartet leaves and the guys talk Kim Kardashian and Juno into taking their clothes off (although the camera isn't going to drop below chin level). Juno says her water broke, and then everybody gets sprayed with slime like Bill Murray in Ghostbusters, because neither Jason Friedberg or Aaron Seltzer have ever seen a woman before and view the female body as some sort of unholy eldritch abomination. And then we just hard cut to a guy describing the plot of Jumper [B]. Remember Jumper? No! Of course not. Nobody fucking remembers Jumper! Jumper was a Hayden Christensen vehicle. I think the only Hayden Christensen vehicle.
I just realized the guy in this scene is the lead of the movie. This is the most forgettable man on the planet. They cut from a shot of his face to another shot of his face, and I didn't realize it was the same actor. l need to drink more…
We cut to a guy who says, "I'm Prince Caspian, I'm here to save Narnia" (Remember the Narnia movies [A+, A-, A-]? Didn't they just quit making those halfway through?) and Jumper teleports onto his sword and dies. But it was just a dream. But everybody else saw the dream. Twenty Million Dollars.
It's raining body parts.
I think this scene might be referencing Alone In The Dark? I might be drunk. It doesn't matter, I'm not editing this.
Welp, they killed Kim Kardashian. I guess the checks stopped clearing. Now they're doing an Enchanted [A-] thing. You know, that famous disaster movie, Enchanted. You can't spoof a movie that is already a better spoof than your movie.
So everybody gets into a dance battle, that is interrupted by a tornado, so Iron Man shows up to fight the tornado and then a cow falls on him, and then Hellboy shows up and a cow falls on him, but it doesn't hurt him, but he just wanders off anyway, then Bruce Banner shows up and turns into the Hulk and his pants rip off and he gets hit by a cow – and that is a scene that somebody wrote and hired actors to perform and special effects guys and costume people and then somebody paid TWENTY MILLION  DOLLARS for it.
Now they're doing a shoe phone from Get Smart thing, and how the fuck dare they! I hope that those twenty million dollars went to Mel Brooks as a down payment on an apology for having the fucking balls to even reference one of his jokes. Motherfuckers need to learn some goddamned respect. Now Daryl is smearing poop on his face, and this is the kind of humor these writers have earned.
Holy fuck there's chipmunks.
This isn't the worst thing, kind of got an early Peter Jackson vibe. This should have  been a movie about killer chipmunks.
Now there's just a head-on ad.
I don't know what's happening here. I think I had a stroke. Why are you making me watch this movie.
Now the guy is just beating up his girlfriend. This movie hates women more than I hate this movie.
There's a Kung-Fu Panda [A-] costume with a mask that has found the most terrifying space between full articulation and frozen unblinking horror.
Daryl kisses Enchanted and pulls off her wig to discover she's a man. He starts weeping and then they are both killed by Kung-Fu Panda. Meanwhile the guy is fighting Beowulf (remember Beowulf [B-]?) and there's a bunch of gay panic jokes. You know what movie I miss, The Devil Inside. That movie was over by now.
Tony Cox plays Indiana Jones. There's an honest to god record scratch when they reveal he's a dwarf. He's also the guy`s father, for some reason. That character has a name, they just said it, but there's no way I'm going back, so it looks like that knowledge will be lost to the sands of time.  Now they're doing a Love Guru [B-] thing. Remember the fucking Love Guru?! Jesus fucking Christ this movie…
Oh God, another song. Why did they think this needed to be a musical?!
This movie doesn't have credits, it has confessions.
So Why the F?
Honestly, it's hard to say. On the one hand, this might be the worst movie ever made. But at the same time, it wasn't the first of the Movie Movies. The previous entries in the series received preposterously generous grades (C+,C-,C-, respectively). I'm not sure what people were expecting from this.
So Were they right?
Those of you who've been following along for this whole series have probably picked up on the gag by now. Any movie bad enough to be considered one of the 19 worst films of the last 40 years is unique enough to not deserve the F, and any movie so bland that it isn't at least a little interesting, memorable, or mockable, is also competent enough not to deserve to be singled out as one of 19 worst movies of the last 40 years. The F is impossible. The only one I've given has been to a movie I thought was basically a scam, and had I reviewed it when I had a better idea of what I wanted to do with this column, I might have spared even it.
Well, fuck that. Disaster Movie is easily one of the 19 worst movies of the last 40 years. It is an ugly, hateful, tedious, lazy, grueling, repulsive, insulting, thoroughly unpleasant experience with no redeeming qualities whatsoever. No one involved in this production should ever work again, and Jason Friedberg and Aaron Seltzer should be shot.
F-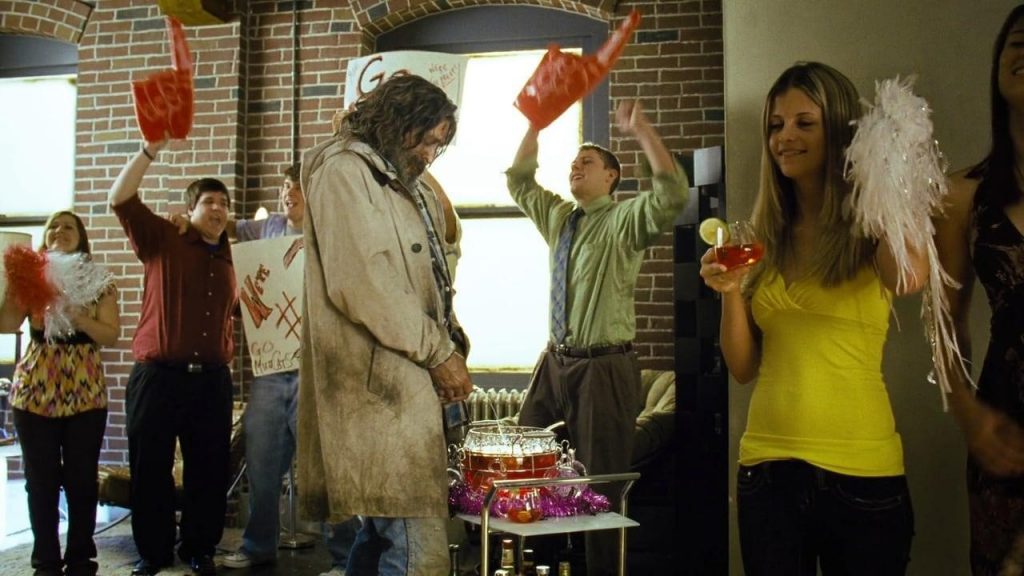 Next Time: The movie you've all been waiting for. The Alpha and Omega. The hilarious terrifying bitter religious experience that is mother!