Since Cinemascore began operation in 1979 only 19 films have received the lowest score. In this series I'll be reviewing those 19 films. This week, John Travolta's follow up to Battlefield Earth doesn't get the same warm reception.
So What is it?
John Travolta is one of the oddest movie stars Hollywood has ever produced. When you watch his best movies, Saturday Night Fever, Pulp Fiction, or Blow Out, you think this guy is one of the greatest actors of all time. But you watch him in anything else and you don't know how he ever landed a single gig. He's an incredibly inauthentic actor, uncomfortable in his own skin, awkward on screen, deeply uncool.
And yet he defined cool for two separate generations. He's a great dancer. And as inauthentic as his typical performance is, he also has a quality of not being able to hide anything about himself from the audience, making those rare roles where he is properly cast feel incredibly authentic, even painfully honest. He's big without seeming strong or intimidating. He's charismatic, but seems dumb both on and off screen. And then his personal life; the jet, the cult, the not-so secret sexuality despite the pronounced homophobia of said cult. He's incredibly vain, and in that particular Hollywood way in which every insecurity is carved onto his face by a team of quack doctors and snake-oil men.
He must have the worst artistic instincts of anyone in the industry. He's destroyed his career so many times over. His follow up to his Oscar-nominated role in Pulp Fiction (B+), a Hail Mary that revitalized his career and saved him from the talking baby purgatory he had somehow lodged himself into, was White Man's Burden, a movie where Travolta plays a persecuted white man in a topsy-turvy world where black people are the economic and political elites, like one of those Twilight Zones that was brave for it's time but outdated by the 80s. The next year he made not just Broken Arrow (B+), which has a boxing scene that not only looks like Travolta has never seen a boxer before, but also like this is his first time piloting a human body. But he also made Phenomenon (A-) where a brain aneurysm gives him magic powers, super smarts, and turns him into Jesus (it is, of course, a drama). And Michael (A-), where he plays the archangel Michael (it's a rom-com). In 2000, he released his magnum opus of awful movies and perhaps the clearest look into his strange psyche with Battlefield Earth (D+) and followed it up with Lucky Numbers, which in this context looks like one of his few safe bets. A Tarantino knockoff that would reunite him with Tim Roth and a pretty blonde love interest, and get him back to playing dimwitted criminals in quick, funny crime movies. 
Lucky Numbers loosely follows the true story of a local weather man who fixed the Pennsylvania state lottery in 1980. The case is known colloquially as "The Triple Six Fix" (a much better title than Lucky Numbers) on account of the winning digits being 666. A note to any would be criminals out there, try not to label your crimes with the devil number. The actual heist was fairly simple. The conspirators made a dummy set of lotto balls, injecting everything but the 4s and the 6s with latex paint in order to weigh them down so that they couldn't reach the vacuum tube that draws the winning numbers. With the help of a stage hand they switched the balls immediately before and after the drawing, and then simply bought the 8 possibly winning tickets. The plan unraveled when local bookies alerted the police that a statistically impossible number of people were winning the numbers (which is an illegal betting game based on the lotto that poor people play in America). It's an odd story of a group of clever and inventive crooks, who hurt nobody and got brought down by their own generosity, caught by criminals so that the state could keep running a game that was outlawed for a decade before the state realized it could just run the scam themselves and keep the profits. (It's very American to go from despising a thing to celebrating it after a single ballot measure. John Boehner is dealing pot now, which must be a strange sight for everyone still serving their mandatory minimum for smoking the stuff.)
The movie makes a lot of odd little changes to the story.  The action is moved from 1980 to 1988, but very little effort is put into disguising the fact it was shot in 2000. The 3-digit lotto is changed to six-digits, making the plan less clever and more impossible. A girl is added and the body count raised. The movie making no attempt to pass itself off as a "true" story and yet it was shot on location in Harrisburg, Pennsylvania, where the actual crime went down.
John Travolta plays the weatherman, who's introduced with a car full of teenage girls screaming in extended ecstasy when they find themselves stopped at the same red light as him.  No middle-aged weatherman has ever gotten this sort of reaction. If it was the real John Travolta in that car, he wouldn't have received this sort of reaction. Hell, even if it was really 1988, and the real John Travolta was in that car, he wouldn't have received this sort of reaction. The last time a group of teenage girls were excited to see John Travolta, he was dancing to a Frank Stallone song.  But in this little town the weatherman is God. Travolta plays him as a preening prima donna, as a fool, and a fop, and… look he plays him as gay. It's weird, the movie tries to position him as a sort of Don Juan, someone whose insatiable sexual appetite, raw passion, and considerable erotic technique is all but overwhelming to poor Lisa Kudrow, and Travolta seems like he can hardly tolerate looking at her, instead fawning over the young man, the very young man, who works at his snowmobile dealership. At one point they even discuss running away together and I'm not sure how the movie was expecting this to play. Its not subtext, it's text that just doesn't carry over from scene to scene.
Anyway, John Travolta plays an unconvincingly closeted weatherman who is a massive local celebrity with adoring teenage fans, a private booth at Denny's (separated from the riffraff by a velvet rope), and dreams of one day being a gameshow host, whose snowmobile dealership is going belly-up due to an extended heat wave. He's having an affair with Lisa Kudrow, a sociopathic lotto girl who's also sleeping with their (married) boss. He turns to his friend? casual acquaintance? Tim Roth, a strip club owner and all around criminal who's mostly in the movie to remind you of Pulp Fiction. Roth suggests arranging a robbery at the dealership, allowing Travolta to collect on the insurance, and enlists fuck-up Michael Rapaport to carry out the heist. But Michael Rapaport fucks it up and gets arrested, and begins to blackmail John Travolta, although he doesn't have anything with which to actually blackmail him.
There are levels of stupidity that the audience will accept in a farce, but there are also levels that are frustrating to endure. Any movie in which the characters can solve their problems by just not doing anything has some pretty deep tissue story flaws. With Travolta's money problems now sort of worse, I guess, Roth suggests fixing the state lottery. Kudrow is quickly, and eagerly, recruited. The crew also needs a patsy to buy the ticket (Roth refers to this as a "beard" to which Travolta asks, "what the hell's a beard?" and sure, whatever you say John) and Kudrow suggests her out-of-town half-wit, asthmatic, incestuous, hick cousin, played, in a baffling bit of stunt casting, by Michael Moore. The team is assembled and the fix goes smoothly. Some would say uncomically smoothly.  
But now we've reached the point in the movie where things can start to unravel. You've got a dandy little MacGuffin, worth a lot of money that most of our characters can't access without a patsy, and a whole complicated scheme of dubious partnerships and clashing personalities. But the movie hardly does anything with it. Nothing builds on what came before, and problems are solved quickly and perfunctory, while non-problems are drawn out and agonized over. Right after the drawing Kudrow goes to get the ticket from her cousin, but he's hidden it, demanding a bigger cut. We're on the right path here. She induces an asthma attack, and withholds his inhaler to get him to talk, but he dies without saying anything. Okay, so now we've got a murder and a missing five million dollar lotto ticket, this is fertile ground. Kudrow immediately finds the ticket and no one questions Michael Moore's death. Oh, I suppose that's one way to play it.
The movie adds a lot of characters and a lot of subplots, but they all go nowhere. The best of the bunch is Bill Pullman as an incredibly lazy and casually dishonest cop. It's a neat twist to put a detective on the case who has zero interest in solving anything and will actively look to cover up the crime in order to save himself the paperwork. Pullman's dishonesty also adds an interesting wrinkle, in that we really don't know how he'll react when he finds out about the lotto ticket. We still don't know, because he never finds out and is mostly extraneous to the plot. Pullman is great in the role though and gets nearly every laugh in the film, which is to say he gets about three laughs.
You know how in those really formulaic rom-coms, the ones Nora Ephron practically invented on her own, there's that stretch where all the characters just mope around aimlessly for 25 minutes before somebody makes a big romantic gesture and we get our improbable happy ending? This movie does the same thing but in a wind-up Coen style crime caper.
So Why the F?
Honestly it's hard to say. Sure the movie's bad, but is not extraordinarily or shockingly bad. It's a C-, D+ at the absolute worst. It's very much the film it was advertised as.
What stands out most of all is the ending. While the other films we've covered had abrupt downer endings, Lucky Numbers has a happy, even schmaltzy, ending. Travolta gives the lotto ticket to the waitress at Denny's, and nobody gets caught. Tim Roth invests in Microsoft and becomes very rich. Travolta moves to Florida and gets his dream job of hosting a game show, also becoming very rich. Lisa Kudrow marries a decrepit old billionaire and then… gets left out of his will and becomes a stripper. Although "stripper" because at Tim Roth's strip club women wear a lot of clothes.
There's a moral calculus to movies in this genre. Certain qualities we like to see punished and certain qualities we like to see rewarded. These characters are selfish, vain, short sighted, greedy, cowardly, disloyal, and above all, stupid. We want to see them undone. They don't even get away with it really. They just succeed in entirely unrelated ways, immediately after the story ends. It's unsatisfying and tonally at odds with the bulk of the film.
So Were they right?
This is where the nature of the Cinemascore F reaches a paradox. Lucky Numbers certainly isn't one of the 19 worst films ever made. It's a failure, but it's a bland, mostly competent failure. If Get Shorty (B+) is a cut-rate Pulp Fiction (B+) then this is a cut-rate Be Cool (B-). It's not distinctive enough to be truly awful. To be one of the 19 worst films ever made, a movie should be bad in strange and memorable ways. But then doesn't that strangeness and memorability elevate a film above movies that are bland and forgettable? Can I really say that Lucky Numbers, a movie that I have completely forgotten even in the process of writing this essay, is better than Battlefield Earth (D+) or The Island of Doctor Moreau (C- ?!), truly inept films that have burned themselves into my memory and, in their own way, given me a great deal of pleasure?
Lucky Numbers is short and inoffensive.
I can't imagine anyone ever recommending Lucky Numbers to anyone else for any reason.
There's clearly talent involved on every level of Lucky Numbers, and everyone seems genuinely committed to making a good crowd pleasing film.  
But doesn't the wasted potential make it that much worse?
You can go back and forth like this forever. Or at least for a couple of hours before you say, "Lucky Numbers? did I see that movie?"
It deserves a D. The gentleman's F.  Nobody involved should be proud of their work here, but they ought to be able to keep their dignity.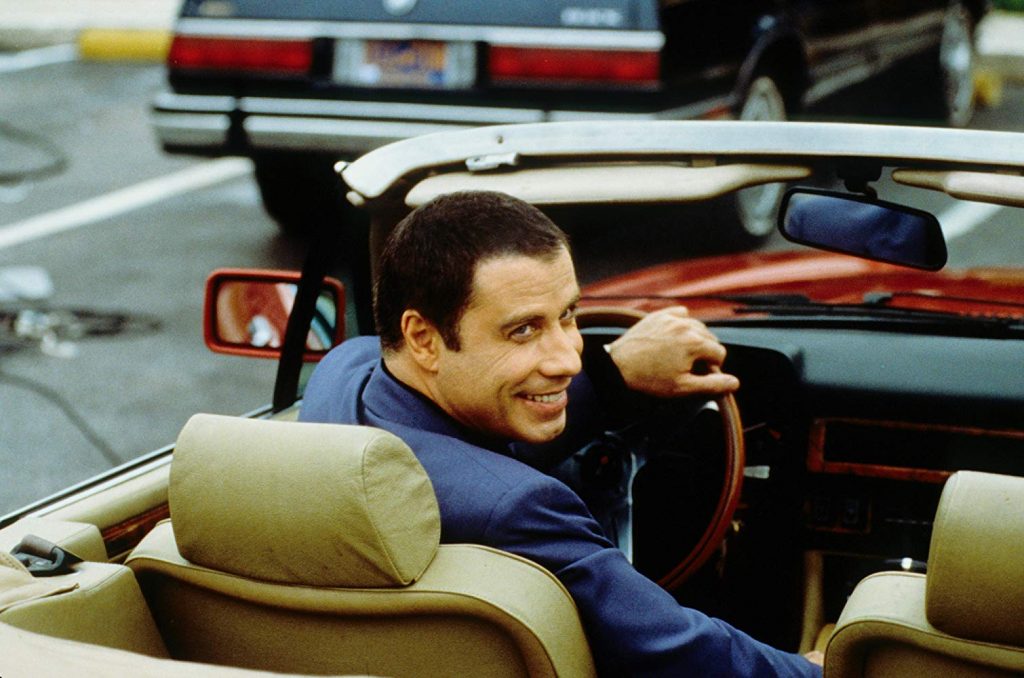 Next Time: What happens when the embodiment of evil slips across the thin veil separating our reality from the abyss, infecting the new digital realm, where anyone could be anything and horror knows no depths, but all the good domain names are already taken?