As part of our holiday movie exchange, I was gifted Shoot 'Em Up by Drunk Napoleon. it comes well-recommended, as it hits many of the things I want to see in an action movie: It drops us immediately into the action without any explanation; it keeps moving and stays tight (86 minutes!); the action is spatially coherent, something in bizarrely short supply these days; and it's got a fun sense of humor and self-awareness. Even in the parts that could be, in the immortal words of the Poet Laureate of Ownage, where "THE UNCUT OWNAGE ON DISPLAY IS HELD BACK BY SOME INFERIOR SHIT," end up turning into their own scenes of ownage.
One thing I think a lot of action movies overlook is a sense of fun. Sure, the action is supposed to be tense and exciting, but the viewer is there to be entertained. Shoot 'Em Up gets this and gloriously, gleefully amplifies and exaggerates the tropes of action films to absurdity, until the film seems to be set in its own world of cartoon logic. Roger Ebert's review of Shoot 'Em Up (3 ½ stars!) states "I may disapprove of a movie for going too far, and yet have a sneaky regard for a movie that goes much, much farther than merely too far," and that's exactly right for this film.
The film operates on its own, Looney Tunes-inspired logic, where the typical action feats are exaggerated to such an absurd level that the show is clearly existing outside of our reality and in its own. If you can get on its wavelength, this means you're in for a real treat– the movie sets out to be the most entertaining action movie it can be, realism be damned, and on that it succeeds.
The plot is simple: Clive Owen's Mr. Smith is sitting at a bus stop when he sees a very pregnant woman in a yellow dress flee down an alley. A man follows her, draws a gun, then looks at Mr. Smith as if to tell him to mind his own business. He doesn't.
He saves the woman, kills the assailant, and delivers the baby. (If you want to know if this movie is for you, it's the kind of movie where the hero kills a bad guy by sticking a carrot in his mouth and then punching it through his head, then delivers a baby by shooting off the umbilical cord.)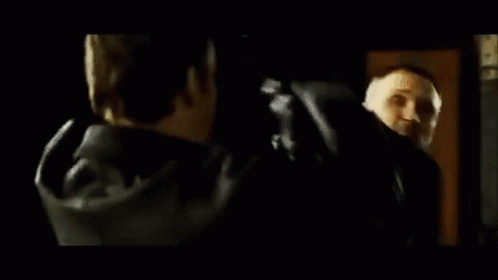 Then a whole lot more gangsters come in, led by Paul Giamatti's Mr. Hertz.
The woman dies, but Mr. Smith and the baby survive, and from then on he makes it his mission to find out why this baby is being targeted, enlisting the help of a local madam, DQ (Monica Bellucci) to care for the baby while he investigates. (As the bottles in the foreground of our header image suggest, she specializes in nursing; I don't remember whether that's for her charges with babies or for her clients, and I'm not trying to remember.)
When I say this is the kind of movie that commits to being a fun thrill ride over realism, the end of the first action sequence is a good example of what I mean. Escaping atop warehouse rooftops, Smith returns fire at Hertz and his henchmen, shooting out the lights in a "FAULK TRUCK & TOOL" sign to read "FUK U." Hertz then takes his own pistol and shoots out the remaining lights so it reads "FUK U TOO." In a movie where most action sequences have the hero carefully tracking the number of bullets he has available, taking the time for this gag defies logic… but it's just too fun not to throw in.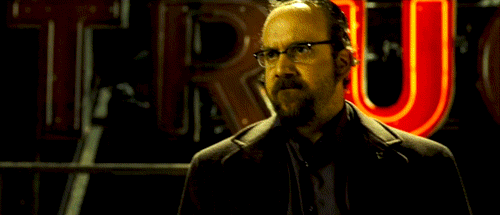 The movie's sense of fun is seen throughout the action sequences: Sometimes it's the sheer audacity of the setpieces and the impossible precision of the shooters; the merry-go-round scene is an early highlight in this regard. Sometimes it's in the Rube Goldberg contraptions Smith rigs, like in the Hammerson factory, or (while not an action sequence) his hideout's lock mechanism. Sometimes it's in the sheer bullet hell of the shootouts, waves and waves of henchmen and automatic weapons everywhere (like when Hertz tracks down said hideout).
As befits a movie of this attitude and approach toward action, there's not a lot of time spent on backstories or character development or anything like that. The character moments we get are brief and frequently comedic: At one point, Smith is riding the bus and sees a woman holding a baby with a hat on its head (it seems to be winter); lacking a baby hat, Smith takes off his shoe and puts one of his socks on the baby's head. In another scene, Smith sees a woman in public scolding and then spanking her child, and takes time out from hiding DQ and the baby to lecture, then spank her. Besides how funny this scene is– who didn't want something like that to happen to an adult when we were children?– it also works dramatically because it confirms something we learned about Smith in the first few minutes: the lengths to which he'll go for the well-being of a child.
And then there's the scene that would normally be the second act break, a breather where our main characters bond, share more of their backstories with each other, and possibly admit their feelings for each other. We get that with Smith and DQ, sort of, but as so often happens with this movie, the action is here before anyone is ready for it. Without saying too much (follow the link if you want a preview), it turns into a scene that's so out there it's delirious, taking the sex and violence of the genre and amplifying them to such heights as to be gut-bustingly funny at the scene's climax.
We can't even be sure that the details we get about Smith's backstory are true; they're delivered to us by Hertz, and we have no reason to believe they aren't true, but Smith never confirms them. It's of a piece with the film's ethos: The who and the why matter less than the what; the film was made to deliver fun, style, and ownage.
This movie takes particular delight in peculiar details, befitting its heightened universe. When Smith sends DQ and the baby away for their safety, he imagines them getting on a bus to "Anywhere." At one point, Hertz responds to an underling with, word-for-word, the all-time callous line delivered by Barbara Bush when asked about the human cost of her son's war in Iraq: "Why should I waste my beautiful mind on something like that?" And the central conspiracy behind Hertz is simultaneously plausible and ludicrous. (Without giving away too much, let's just say Roger Ebert's review cited it as an argument for shorter presidential campaign seasons.)
The ethos of Shoot 'Em Up might be best expressed in one overriding decision by writer-director Michael Davis that I've alluded to a couple of times already. You have Mr. Smith's way with carrots: When he's not stabbing people with them, he's carrying them on his person and frequently eating them (at one point getting super-vision from doing so). You have a certain look for Mr. Smith at the end that's suspiciously reminiscent of large white gloves. You have the line in this article's title, delivered by Smith to Mr. Hertz. Hertz's response, fitting for someone whose ringtone is "Ride of the Valkyries": "Oh, you're a wascally wabbit."
Shoot 'Em Up asks and answers the age-old question: What if Bugs Bunny was the lead in a live-action gun-battle film?