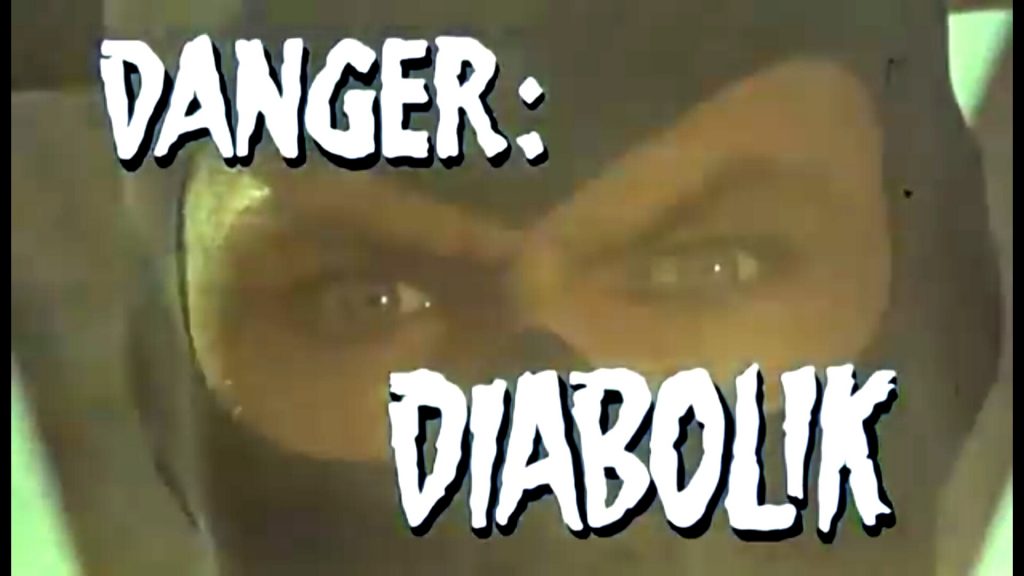 An armored truck barrels down the street flanked by a battalion of police motorcycles.  But it's only a decoy.  A Rolls-Royce driven by a few disguised police officers slips quietly in the other direction, hoping to evade the attention of Italy's greatest criminal. They do not, and they're stopped by a candy-colored smokescreen.  (This particular comic book movie was directed by Mario Bava, so their will be no desaturated pseudo-realism here.  This is going to be the most lurid and beautiful film half a million dollars can buy.) The cops wander out into the fog and then the Rolls is gone. Then we pan up to see it lifted high in the air by a crane, and on the hood crouches our hero, Diabolik, a cackling madman in a gimp suit.  He throws the money into a speedboat waiting below and dives into the ocean, and the ocean turns upside down and fades into a spinning record covered in paint as Morricone's theme kicks on.  Yes, Ennio Morricone, the Ennio Morricone, did the score for this movie, taking a break from his ballads of existential anguish to give us the smoothest and grooviest jam of his career.  I'm glad he went back, but he wasn't half bad at this bubblegum stuff.
Diabolik is such a great character. He's a true amoral. Not evil, just untethered to any system of ethics or philosophy or even physical reality.  This was an era of foreign film unconcerned with questions of copyright or plagiarism, so he's also a clear ripoff of several more popular characters.  He's anarchist Batman, monogamous James Bond, he's the Joker with a higher body count but a good heart. I don't know much about the Phantom, but I know enough to know this character must have upset some lawyers.
Diabolik has a Batcave.  Which is actually a lot nicer than the Batcave. For one, it's not full of bats.  It has a swimming pool, a bed, and a wall of televisions. It has a pair of glass showers for beautiful people to shower in and other beautiful people to watch and admire their technique. It also has room for his cars.  Diabolik drives a black 1961 Jaguar E-Type.  His girlfriend, Eva, drives a white one, and he has several spares.  They've built better cars, and they've built faster cars, but they've never built a more beautiful car than the Jaguar E-Type.  One of these gets driven off a cliff and explodes, and it's a goddamn tragedy.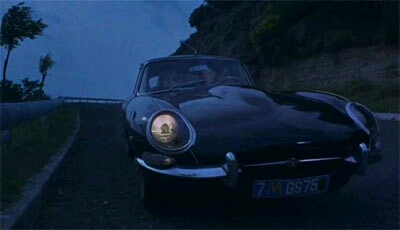 Diabolik is played by John Phillip Law. It's been said that Batmen are often cast for their chins. Law was cast for his eyebrows.  They're often the only visible part of his body and he still manages to emote more with them than most actors do with their whole face. At times it seems that each eyebrow is conveying its own distinct reaction and separate motivation from its twin. They are our only window into the soul of this lunatic.
The next heist is to get Eva a birthday gift, and you get the sense that the heist itself is the real gift. This whole criminal enterprise seems like part of an elaborate sex game, but then you probably guessed that from the gimp suit.  Diabolik's relationship with Eva is surprisingly romantic. They are one of very few movie couples that start their film in love and remain in love for its entirety. They're passionate, they enjoy each other's company, and they're true partners who trust and respect each other.  The movie captures some of the intoxicating narcissism of being in love. The feeling that the two of you are the only people in the world who really exist.
Bava's approach is to imitate the comics by creating carefully composed images and then cutting all the nonsense that comes between them.  It gives the film a distinct rhythm and a heightened sense of unreality, keeps everything just a bit off balance.  There's a real anarchic glee to the lack of structure here.  Diabolik does what he wants.  He crashes the police chief's press conference and releases laughing gas.  And that's it.  No profit, just thought it would be funny.  Later he blows up the whole country's tax records, beating Brad Pitt by three decades.  Again this is just for fun.  When a mobster threatens to throw him off an airplane, he grabs the man and jumps and the plane explodes behind him, because all vehicles explode when Diabolik exits them. He interrogates the man in freefall, the mobster begging him to pull his parachute the whole time. Diabolik seems unaware of the concept of mortality.
At one point, Diabolik is being chased up a tower and he runs past a catapult, and I can't tell you the last time a movie made me this outright giddy.  The police bust through the door just as he's launching himself off the catapult, and they still shoot at him and then rush down the tower to arrest his corpse.  These cops know what world they live in.  And a man catapulting himself off a 200-foot tower onto the jagged rocks below with no parachute is not a suicide if that man is Diabolik, because gravity knows better than to get on Diabolik's bad side.  Ah! But he has not catapulted himself to sure and sudden death!  He has simply removed his clothes, put them on a lifelike dummy of himself (of course this guy carries an inflatable sex doll modeled after himself) and escapes down the tower in the nude.  When he finally gets cornered he escapes by simply dying and returning to life later during his autopsy.
Diabolik works on Roadrunner rules.  He's an unbeatable trickster god.  It isn't just that he wins, it's that he wins so completely and effortlessly that anyone who challenges him seems like a fool.  It's both the biggest pleasure and biggest weakness of this movie. It will try to set up a plot, say the police making a deal with a mobster to kill Diabolik, and then two scenes later the mobster will be dead and Diabolik will be destabilizing the global economy just for shits and giggles.  He's no more interested in succumbing to the schemes of the screenwriter than he is to the schemes of the police.
The film ends in the only way it could end.  Diabolik has encased himself in gold and been apprehended by the police who are displaying him as a corpse statue.  Eva shows up to mourn him, but he's not dead! and he communicates an escape plan entirely with his eyebrows.  He then winks at the camera and laughs maniacally as we fade to black.