Raw Guts For Glory! – Flesh Against Steel! – Crash-O-Rama!
Pit Stop opens quick and clean, a flash of the wrong title*, and then we're already into a street race.  Director Jack Hill lets us watch the race set-up, and we get a sense of an active subculture.  Grant Willard (Brian Donlevy*) is there, not racing but providing one of the cars. And Rick Bowman (Richard Davalos) is there too. An outsider in his own car, looking to race for pink slips. The drag race turns into a chase when the police show up, and in the next scene Willard is bailing Bowman out of jail and recruiting him into his figure eight race track. We are not yet four minutes into the movie.
Bowman is a lone-wolf independent type who needs a bit of convincing, and so this is a great chance to introduce him (and the audience) to the concept of figure eight racing. For those who aren't familiar, this is a form of stock car racing in which there is an intersection on the track. All the racing in this movie is real footage of actual races.  Hill depicts it as about 10% racing and 90% pileup. The immediate question is why would anyone agree to do this? It seems to offer little in the way of money or fame, and a near guarantee of injury or death. This is the existential question that would be at the core of many of the era;s best car movies. Hill never settles on an absolute answer, but the question is always there.
Bowman takes an instinctive dislike to Hawk Sidney, the track champion, played by the great Sid Haig***.  Haig is what I call an actor with a face.  He always seems to have a history to him. He looks too real to be a character in a movie, and too strange to be a real person.  Hawk says he's the best because, "you have to be dingy to do this job. And I'm the dingiest there is!"  With Haig you believe it absolutely.  The man completely inhabits the madness of stock car racing and brings an authenticity to the entire culture.
Bowman agrees to race, but refuses a sponsorship and a job. We also get one of the film's first subversions when he turns out to be pretty awful at this type of racing, immediately getting into wrecks and, because this film is great, fistfights on the track. Soon he's taken that job and sponsorship and is training with an old veteran. The film relies heavily on montage, butwe`re well before Rocky, and so the effect is less inspirational and more impressionistic. We get a good sense of the community and the day to day life of these drivers, and we see Rick doing a lot of real work. He improves quickly and also meets Jolene (Beverly Washburn), who is sleeping with Hawk but clearly interested in Rick.
Hill almost never uses shot-reverse-shot, instead favoring more complicated compositions where you can watch the characters react to the dialogue. If possible, the camera will be far enough back to observe body language as well as expression. Take a look at the scene where Hawk and Jolene are introduced to Rick.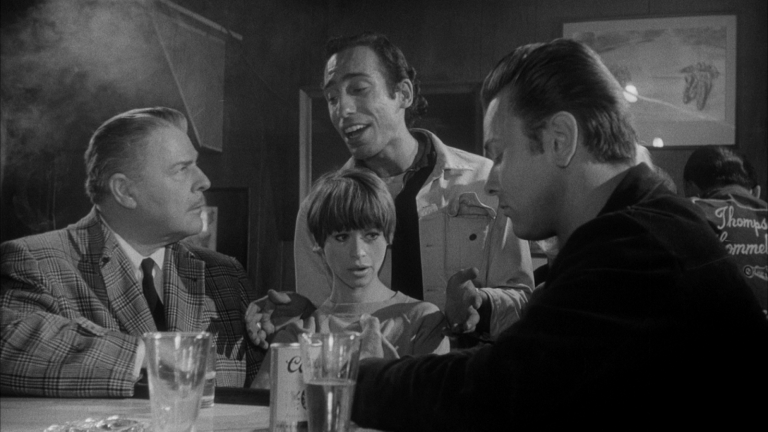 There are five active elements, all distinct from the dialogue, and all communicating something separate.  Hawk is holding court, talking to the whole room but mostly to Grant. His hands are on Jolene's shoulders, but she's looking at Rick. Rick is lost in his own head, staring down at his drink. Grant is watching Hawk, always interested in his top driver. All of that information is conveyed immediately through the blocking.  It's incredibly efficient and it creates a depth of character and a complexity of inter-character dynamics that doesn't necessarily exist on the page. Hill favors large archetypal characters. Like Grant Willard, who believes, "There's a suicide born every minute," Or Rick Bowman, who thinks, "when you're dead you're dead." Or Jolene, who's "nobody's girl."  But he gives his actors enough room to make real people out of them. They feel larger than life, but they don't feel like constructs or like references to other better characters.
That duality is also evident in the black and white cinematography,which, at times lends the movie a documentary-like authenticity. Particularly when we are hanging back and watching the characters work or seeing the real life race footage. Other times, it gives it a heightened surrealist quality  –he black backgrounds feeling like the endless void, the characters starkly drawn against the emptiness.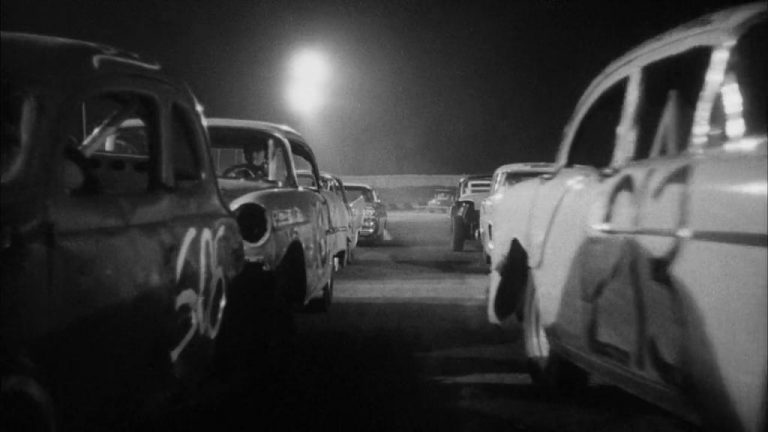 Bowman's ready to take on Hawk, but before he can we're introduced to Ed McCleod, Grant Willard's star racer in the far more legitimate professional circuit. The world of this movie just keeps expanding and expanding. There's an awareness that whatever goal our hero is chasing is going to be unsatisfying as soon as he's in sight of it. Willard is going to promote Hawk to back up McCleod, but Bowman gets him to agree to give him that spot if he can win the figure eight. Hawk is driving a new car that he's planning on bringing north with him, and he warns the others not to jostle him. They listen, too –again showing us how insular this community is.
It's amazing these racing scenes work at all. We transition from close-ups of the drivers in their cars, clearly not driving, to the actual race footage, which is cut together from several different races.  The whole thing is carried by play-by-play that is very noticeably not describing what we're watching. And yet the whole thing holds together. We get the emotion and sensation of the race, and the voiceover gives us the narrative information we need.  It's all the elements of an effective action scene, taken apart and reassembled incorrectly, but still somehow functional.
Bowman wrecks Hawk and wins the race. At the after-party he dances with Jolene and takes her home. There's an interesting dynamic here. Rick thinks Jolene just wants to be with whoever's the champ — essentially that he's won her. But Jolene has wanted him from the first time she saw him. The reason they get together that night is that he didn't have the confidence to ask before. There's a scene where he tries to talk her into getting a hotel room with him, and she's oblivious because she thought it was already clear they were going to sleep together. On the way to that hotel, they're run off the road by Hawk, who attacks them with an axe,breaking Bowman's arm and completely, thoroughly, destroying the car. It isn't until the car is totaled that he realizes Jolene Is there and he immediately… stops and leaves. For the next few scenes he's depressed and humbled and when he sees Rick again he apologizes.  It's not the way these things typically play out in these movies.
Rick goes to meet Ed McCleod, and finds him in his garage working on a car. But when he pulls off his welder's mask, it turns out he's a l-l-lady?! This is actually Mrs. McCleod (Ellen Burstyn, here billed by her maiden name, McRae), Ed's wife and partner. Rick is kind of an ass, but the movie is aware of that, and nobody else acts like a woman mechanic is out of the ordinary.  These scenes have a strong sense of stability. Ed is more engineer than driver. His lab is clean and quiet. And he and Ellen seem to genuinely love and respect each other. They're professionals, and their relationship is secure and comfortable. Ed takes an immediate disliking to Rick, and still wants Hawk driving backup, but agrees to watch him drive before making up his mind. Rick impresses him and Ed agrees to take him on.
There's another big driver who's going to be at this race and Bowman comes up with a plan. They'll get his old drag racer out of impound and have Hawk drive that, taking an early but unsustainable lead. Sonny will push to keep up, and run his engine out too. Rick will drive backup and Ed will win. This is quite a turn around from the guy who wouldn't let somebody so much as hand him a wrench earlier in the film. But perhaps not, for in the next scene Rick is seething with resentment over Ed. We tend to overlook a lot of flaws in a character who's presented as a protagonist. But it's beginning to sink in that Bowman's uncompromising individualism and ambition isn't a particularly healthy or moral attitude.
At this point Hill has been telling his story so efficiently that we are way ahead of schedule, and he decides to spend the extra time driving dune buggies around the desert. There's no dialogue or plot here, just a beautiful impressionistic sequence of the cars and the desert.  It's as though Terrence Malick was brought in as a second unit director and allowed this one scene. l'd like to say it's ahead of its time, but action movies still aren't doing this. It's unconventional, but effective. And it gives us our clearest look into who these people are and what they do for fun. By the time it ends we have a sense of them as a community, as friends. These are the salad days. During this section we also learn that Ed is impotent and Rick and Ellen have an affair.
We're closing in on the climax now. Everyone qualifies for the race, and everyone thinks they can win it. Grant tells Rick that he doesn't care who wins as long as it's one of his drivers. And we go to the night before the race. Rick is still with Jolene, but has mentally moved on to Ellen. He's needlessly cruel to her, refusing sex and causally intimating that she's only with him because he's a winner. We know this is untrue and it's deeply wounding to Jolene. Over at the McCleods' things are a bit more amicable. Ed says he is ready to retire, and considers throwing the race so that he can have more time with Ellen. What's interesting here is the movie never holds Ellen's affair against her. She's still in love with Ed and her sleeping around doesn't change that. There's no moral denouncement of her character. Moving into the final race, the stakes have been all thrown off. We're beginning to realize our protagonist is the bad guy, he's ambitions and deceitful, but he's still our man and we expect to see him triumph. Ed is a good man and the most skilled driver, but he might not even be trying to win.
The race goes as planned. Hawk jumps to an early lead, and blows his engine. Sonny runs his down trying to keep pace with Hawk. McCleod is in the lead with Bowman in second, and Bowman betrays him, wrecks him, and wins the race. The winners' circle is empty because everyone has gone to the hospital with Ed. When Bowman arrives he finds McCleod dead, the rest of the cast grieving him. Rick doesn't say anything. Willard offers him McCleod's spot. As they leave Rick turns to Jolene,
"Going to Riverside, you coming?"
Jolene reacts in horror, "I don't like you anymore, Rick"
Rick leaves all alone. The winner.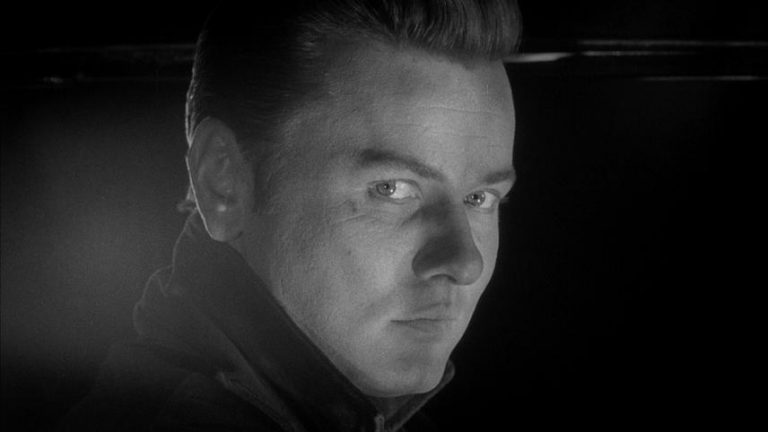 It's a bleak ending and it sneaks up on you. There's a pathology underneath a lot of antihero types that usually goes uncommented on. It's rare that a genre movie will follow its hero to such a dark place. Those looking for a political read will find plenty to work with. Our drivers are forced into fruitless and self-destructive competition, while the real profits are scooped up by Grant Willard. He owns the drivers, the cars, and the track. Win or lose, live or die, Grant Willard gets his. He takes none of the risks, and does none of the work, and walks away with most of the money and glory. But those not looking for politics can enjoy the movie with no intrusions or lectures. It's a fun time, you know, and lots of cars get smashed.
Pit Stop feels like a transitional movie. Perhaps the last movie to use black-and-white as a cheap alternative to color, something that cost the film when theaters refused to distribute it. It feels like a genre movie from the fifties, with its big boxy stock cars and its greaser hero. Some of the aesthetics are downright noirish.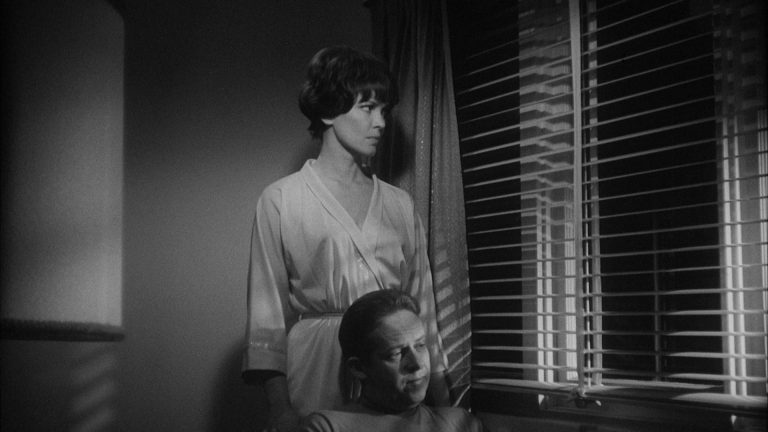 But the film movies and flows like the exploitation films that Hill would help define throughout the next decade. The lyrical pace. The exaggerated, over the top characters, cut with bouts of naturalism. The hard moralism of the previous era giving way to something more observational and questioning. Maybe Pit Stop is the best reflection of its time, rooted in its past, looking to its future, unsure of its present. Isn't that how the moment always feels?
Footnotes
* The original title, The Winner was deemed too close to another 1969 racing melodrama, Winning. That movie starred Paul Newman and was in color.  It's a shame because The Winner is a much better title than Pit Stop. It's thematically resonant, and even referenced in the film a few times. Also, there aren't any pit stops in the movie because this type of racing doesn't use them.
** Brian Donlevy is billed as the star here, despite only being a supporting character. It's rough when your movie's biggest draw is Brian Donlevy.
*** Sid Haig did not know how to drive a car when he made this movie.
Pit Stop is currently streaming for free on Amazon Prime.