How much of a difference is there between a wolfman and a werewolf? If you consult the Encyclopedia Britannica, the difference is moot, with werewolf being the only term which gets you anywhere in terms of understanding this particular monster. Similarly, a quick search on Wiktionary reveals the term "werewolf"'s origins in Middle English, coming from "werwolf," which, like a nesting doll, can be cracked open further, revealing it originates  from the Old English word "werewulf." If we continue onward, we end up expanding the taxonomy with "werawulf," a Proto-West Germanic word which, broken down, literally means man-wolf. However, if you scrub the terminology and focus instead on the movies, the difference is between an iconic movie monster and its less well-known antecedent.
Released in December of 1941, five days after the attack on Pearl Harbor, The Wolf Man was one of Universal's last movies to introduce a noteworthy monster, followed only by Creature of the Black Lagoon in 1954. Unlike that movie, centered on a threat that comes from evolutionary biology and dwells in the heat and sun of South America, The Wolf Man fits comfortably in the old-world stable of monsterdom. From the large, Gothic, European estate to the mysterious curse and totemic relics, this movie fits right in with Universal's other monster movies. No wonder it was only a matter of time before the Wolf Man jumped into the fray again and again, reappearing in 1943's Frankenstein Meets the Wolf Man, 1944's House of Frankenstein and 1945's House of Dracula, where the man behind the wolf is finally cured of his condition. But I suppose the cure proved insufficient, as he reappears in 1948's Abbott and Costello Meet Frankenstein, taking Dracula down with him into the water, which proves that maybe Stephen Sommers was onto something with his Van Helsing.
But as Karl Marx would say, before we get to the farce, we must first deal with the tragedy. And make no mistake about The Wolf Man, the movie is about as classical a tragedy as you can get, even if it doesn't quite meet Aristotle's precise rules for dramatic structure. Much like Frankenstein before it, this is a movie that defines the monster as a tragic figure, instead of Dracula's venerable villain or the hopeless romantic in The Mummy. And we can see the impending tragedy written all over the face of Lon Chaney Jr.'s Larry Talbot, even before the bite that sends him over to the wild side. He's all smiles when he arrives at his family's long-running estate in Wales, but one glimpse at his recently deceased older brother's portrait above the fireplace mantle is enough to send him into bouts of anxiety.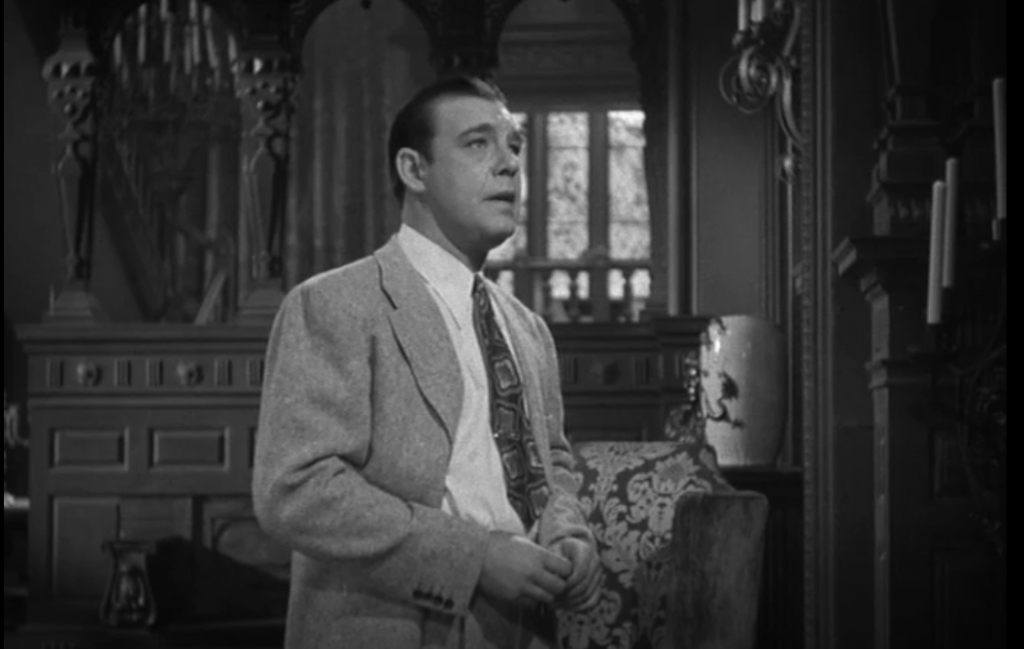 As we learn from his father, Sir John Talbot, played with stern, gentlemanly reserve by Claude Rains, there is a tradition running through the Talbot line. As Rains informs him, the first in line for succession of the family's vast estate is "considered in everything," while the younger son, often neglected, ends up leaving as soon as possible. Typically, the younger of the two never returns. Were it not for older brother John's death in a hunting accident, it is unlikely Larry would have ever come back. "Isn't it a sad commentary," Rains asks, hat it took a death in the family for the second son to reemerge from a self-imposed exile? If only he knew what was to come.
From there, we catch a glimpse into the senior Talbot's observatory on the top floor of the estate. As Chaney refines the optics of a telescope, his eye catches someone of interest: a young woman in her bedroom trying on a pair of half-moon earrings. That would be Evelyn Ankers' Gwen Conliffe, the antique store owner's daughter. She may already be engaged to the Talbot estate's groundskeeper, but she doesn't completely resist Chaney.'s wolfish charm as he considers the purchase of a cane. "How about the little dog? That would suit you," she suggests, but Larry desires something fiercer: a heavier cane with a silver handle, carved with a wolf's head and a star.
Upon hearing the star is a pentagram, which, coupled with the wolf's silhouette, is the mark of the werewolf, Larry slips into flirtatious come-ons. "What big eyes you have, Grandma," he says, but Gwen has spent enough time in the old world to know better. Instead, she recites a brief poem which will soon prove prophetic: "Even a man who is pure in heart and says his prayers by night may become a wolf when the wolfsbane blooms and the autumn moon is bright." Larry, fresh from the secular world of California, doesn't believe in such things and instead strives to accompany her and a friend on a trip to the nearby Roma encampment outside of town for a palm reading by Bela Lugosi's Bela. While he doesn't get to hear his own fortune, Larry's future still gets decided once a nasty bite from a wolf leaves him bedridden for the rest of the night.
What follows will be familiar to anyone who's seen a werewolf movie before, with the wolf coming out to play at night before a confused and anxious man is left to pick up the pieces in the morning. Yet this movie deserves credit for inventing a formula which countless directors have used in some form. In terms of make-up, this film is second to none for the era, creating a look as iconic as that of Karloff's somber monster or the similarly compelling mummy. Compare the yak-haired Chaney, with clawed feet and paws, to Henry Hull's more dapper and minimalist werewolf in the 1935 film Werewolf of London and it's evident which one packs more of a visual punch. The werewolf resembles a seedy guy at the bar, the one you avoid if you can to prevent a broken heart; the wolfman would be more interested in what your heart tastes like, along with all your other body parts.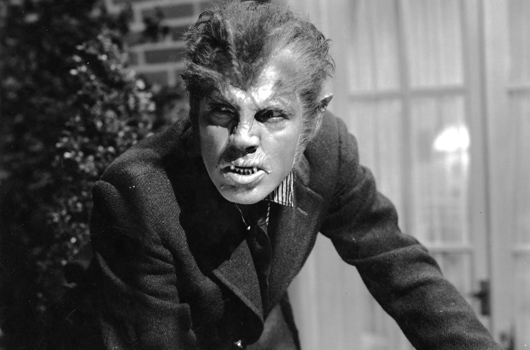 Created by Jack Pierce, responsible for determining the look of Mary Shelley's modern Prometheus for Frankenstein along with other noteworthy monsters, the werewolf design was originally intended for Werewolves of London, before Hull put a stop to it. With Hull arguing that his Dr. Wilfred Glendon must be recognizable to other characters in the movie, Pierce scrapped the design and revived it for the 1941 film, where the line between man and beast was starker. Of course, all the effects in the world can't rescue a movie's plot, and Curt Siodmak deserves special credit for distilling a multitude of werewolf legends into a crisp 70 minutes. From the poem first recited by Gwen to the ominous warnings and incantations spoken by Maria Ouspenskaya's Maleva, this is a movie that feels right at home with its peers Dracula and Frankenstein, even without any 19th-century source material of its own. And with George Waggner directing, we get a wonderful sense of place, with misty moors, dim lanterns, and stark lighting, ensuring a continuity with the Gothic tales that came before it.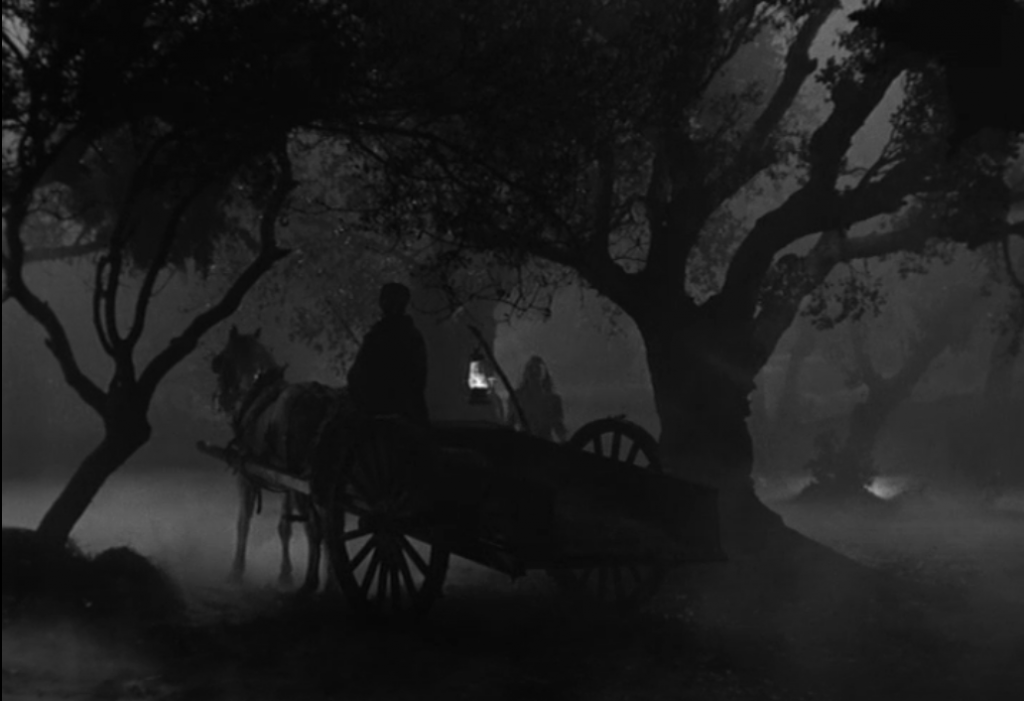 At the end of the movie, after the eldest Talbot dispatches the werewolf with the silver-handled cane, Maleva comes forth to issue a final eulogy. A rattled Rains watches the monster return to the form of his son, the victim of yet another hunting accident. "The way you walked was thorny, through no fault of your own. But as the rain enters the soil, the river enters the sea, so tears run to a predestined end. Your suffering is over, my son. Now you will find peace," she says, although with four more movies featuring Talbot, it's clear it would take some time before the monster found any rest. But take away the transformation, the magical curse, and what's left? A father unwilling to help or understand his son until it's too late. A young man felled by circumstances he refused to consider real. The cruelty of nature, doing exactly what it will always do, red in tooth and claw just as Tennyson predicted. Beauty may not have killed this beast, but I'm not too sure we'd want the cane or a silver bullet to do the job either. Man's best friend may be the dog, but surely the wolfman best embodies our spiritual companion, in all of its intemperate, ravenous, and uncontrollable nature.