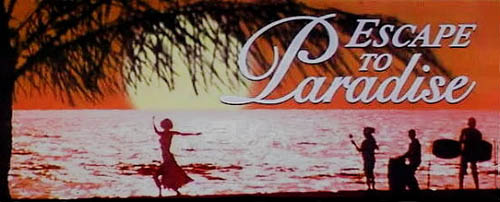 Looking back, one of the highlights of 1993 was Carlito's Way, a downbeat character study in the guise of a gangster film. In the opening scene, Carlito Brigante is shot, in front of the woman he's with, while waiting for a train. As he's wheeled on a gurney through the station, we see, from his point of view, a travel poster: "Escape to Paradise." Director Brian De Palma splashes tropical colors on the poster, which stands out from the rest of the scene filmed in black and white.
In a voice-over, we hear Al Pacino, in a gravelly cadence, say,
My Puerto Rican ass ain't supposed to have made it this far. Most of my crew ot washed a long time ago. Don't worry. My heart, it don't ever quit.
Casting Pacino as a Puerto Rican gangster wouldn't have been seen as questionable at the time; ten years earlier, Pacino played a Cuban gangster in Scarface (1983), also directed by De Palma. The crucial difference is Pacino's performance. Rather than chewing the scenery, like in Scarface or Scent of a Woman (1992), the film for which he inexplicably won an Oscar for best actor, he's more down to earth in Carlito's Way. He's a damaged romantic and a dreamer: in the opening scene, the camera focuses on his face, and, in his eyes, we can see the story of his life.
Carlito's Way is like the Beatles's s/t [White Album] (1968): moments of incandescence balance out those that strain for profundity. You're tempted to skip around (the film is nearly an hour longer than the Beatles's record), but if you do, you'll miss seeing Pacino create a character that's both assured and ungrounded. And Sean Penn, as Dave Kleinfeld, the lawyer who gets Carlito released from jail on a technicality, gives an equally fascinating performance as a man who acts as a dear friend to Carlito, but may or may not be deliberately sabotaging him.
The opening scene ends with our wondering if Carlito will make it. For the remainder of the film, we'll be shown why he won't. After serving five years of a thirty-year sentence, he decides to take advantage of his lucky break and trade in his old life as a gangster for a new one as the owner of a car rental place in the Bahamas on Paradise Island. The problem is that his old world, which features Kleinfeld, sets the terms for the transaction.
The scene shifts to a courtroom in 1975 NYC, where Carlito is exuberant as the judge begrudgingly dismisses his indictment. Carlito acts as if he no longer has to do anything he doesn't want to do: the dream of being a free man.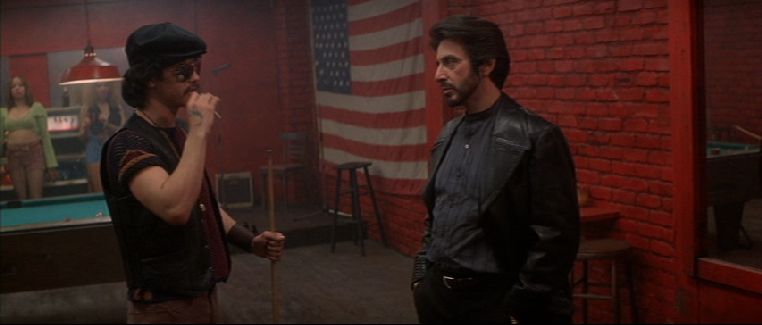 That dream starts dying almost immediately. The first thing Carlito doesn't want to do is accompany his cousin on a drug deal, but can't refuse because of family loyalty. They arrive at a bar, bathed in hellish red light, with a large American flag on the wall, a new frontier.
Taken aback that, after five years, no one there knows him as anything other than a mythic figure, Carlito surveys his surroundings and realizes something's amiss. He suspects the drug deal is a setup, and he's right. His cousin is murdered. Carlito swipes a gun and starts shooting. He proceeds to run into the bathroom, and discovers that he's out of bullets.
Having no other choice, Carlito is forced to bluff, yet his frighteningly intense speech about what he's going to do anyone who tries to stop him from leaving the bar, is a textbook bad-ass move. Fortunately for him, he's the only man left standing, and escapes with the drug money before the police arrive.
Carlito proves that he can hold his own, relying on his wits as much as less morally-sound skills. We'll see what happens, however, when he has to outsmart multiple adversaries, starting with the DA, who cuts deals with his friends to inform on him.
Using the drug money to buy into a club, Carlito tries to keep a low profile. There's trouble when a new kid on the street, Benny Blanco, all swagger and bravado (played to perfection by John Leguizamo), shows up at the club. Benny attempts to ingratiate himself with Carlito, but Carlito tells him he's not interested. Benny persists, and Carlito humiliates him, another bad-ass move that doesn't require physical violence.
Unfortunately for Carlito, Kleinfeld pulls a gun on Benny when he tries to leave the club with the woman whom Kleinfeld  took away from him. A fight ensues, forcing Carlito to have Benny thrown out of the club.
Carlito knows he should have Benny killed. Instead, he has him beaten up and left in a dumpster. This decision (noble, perhaps, as it might sound) reveals that he underestimates the danger Benny poses to him. But he also underestimates the ability of Kleinfeld  to exploit his loyalty.
With the same desire for penitence he's displayed throughout the film, Carlito reconnects with Gail, his former girlfriend. In their meeting, his old and new life converge. Five years ago, he cut her out of his life, because, looking at three decades in prison, he thought it was the best move. Now he makes a heartfelt apology.
Penelope Ann Miller plays Gail, a ballet dancer, as a dreamer who proceeds with caution, having been burned before, yet falls again for Carlito, because she sees him as a kindred spirit. When he questions her for moonlighting as a stripper, she tells him he's a hypocrite, and he realizes she's got his number. What pressures their relationship, however, is his allegiance to Kleinfeld. Gail can't stand the guy, whom she correctly sizes up as a sleazy psycho with a law degree.
The last thing Carlito wants to do is get involved with Kleinfeld's criminal activities, especially his plan to spring a mob boss from jail as restitution for the money that he stole from him. Carlito goes along anyway, only to witness Kleinfeld snap the night of the escape and kill the mob boss and the mob boss's son.
At this point, Carlito's dream of a new life is assailed from all sides: the DA, Kleinfeld, whom he finds out is secretly cooperating with the DA, and the mob. Carlito goes to the hospital where Kleinfeld is recovering from an assassination attempt by the mob, and confronts him. Kleinfeld taunts Carlito for his naivete. Carlito, aware that another hit is already underway, makes fun of Kleinfeld for being a wannabe gangster, and unloads his gun when he's not looking.
Knowing that the mob, after taking out Kleinfeld, will target him next, Carlito makes plans with Gail, who is pregnant with his child, to escape by train. With the suspense cranked up, there's a climactic chase and shootout at the train station: Carlito's lying horizontal on an escalator takes the mobsters by surprise.
Perhaps by design, we're fairly well drained. Then we a watch a scene play over again—but now we better understand its tragedy, filmed in color to suggest our change in perspective. Gail is waiting for Carlito. But so is Benny. Carlito's longtime trusted bodyguard has set him up.
We're back at the beginning. A voice-over of Carlito's last thoughts about the woman he loves and hopes will have a better life along with their child is a prototypical moment of ownership: "Sorry, baby. I tried the best I could. Honest. Can't come with me on this trip, though."