A group of rough men rides into a small Mexican town. They stop another group of rough men from messing with the locals. So far, so good. 
Then the first group enlists with the foreign invaders trying to take over Mexico. The second group is larger and is working for the Mexican freedom fighters, but they'll also join up with the new conquistadors if they can be in charge of the first group (and if the price is right). The leader of the first group quickly reduces the size of the second group. The boss of the freedom fighters then reveals himself and informs both groups that now they're working for the freedom fighters for free. The first group's leader isn't having that and threatens to murder a group of children unless the freedom fighters back off. Everyone rides away.
This happens about ten minutes into Vera Cruz — two deaths, four conflicting sets of actors and a half-dozen shifts in the balance of power in one scene. And it comes after leads Gary Cooper and Burt Lancaster have gotten the upper hand on each other several times already. This is how things work south of the border, where there are no institutions to restore order and illegitimate contestants play a game of free-floating corruption. The screenplay was written by Roland Kibbee and James Webb from a story by Western veteran Borden Chase, but the setting is very much Robert Aldrich country.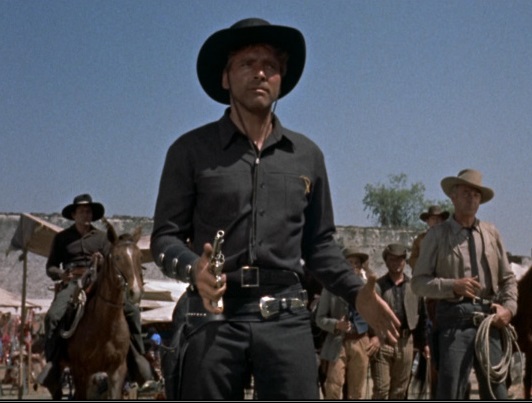 Even for the West, this is an unsettled time and place. Historical dick Maximillian I, the Austrian-born, French-backed, self-proclaimed emperor of Mexico, is trying to hold off Juarista freedom fighters, and lots of hard American men who no longer have a Civil War to fight decide to head south to make money as mercenaries. Vera Cruz  moves from starving towns to opulent palaces to vast plains to desolate monasteries. No laws or cultures have authority here: the actual Mexicans have crappy guns and no money to buy better ones, so their power is limited. So that makes money the motivator and as the sums involved grow larger, allegiances shift accordingly. Why work for gold when you can steal it? And why split the take if you can grab it all for yourself? What's the point of working with others anyway?
The immediate upshot of all this twisting and turning is massively entertaining drama. No one stays on top for long, especially when Denise Darcel's Countess enters the mix — Cooper,Lancaster, and their gang are hired for $50,000 to escort her to the titular port town, but quickly figure out they're actually guarding a hidden $3 million in gold that will pay for more French troops to put down the rebels once and for all. And just as quickly as they figure that out, Darcel persuades them to help her steal the gold and split it three ways. "How do I know I can trust you?" Lancaster asks. "How do I know I can trust you?" Cooper replies. The Countess, of course, is planning to use them and screw them over with their own jealousies — as she says early in the movie, "You should know there is never anything to fear from two men!"
A connection made is a connection waiting to be broken. Any savvy single operator can drive a wedge between the best of friends, and Cooper and Lancaster are certainly not the best of friends. Cooper is a strait-laced Confederate veteran looking to rebuild his plantation, and Lancaster is an uncouth and crudely funny outlaw with a charismatic, blindingly white shit-eating grin that is widest when he's about to fuck someone up. But there's a weird and wary affection between them, a willingness to give the benefit of the doubt. It's there when they both see the Countess for the first time and give each other one of cinema's greatest Bro Nods — may the best dude win, brah. And it's forged in their initial meeting, when Cooper cold-cocks Lancaster and shortly afterwards Lancaster stops the rest of his gang from beating the shit out of Cooper, seeing that the old guy has potential. The first thing Cooper does when the threat is over is sucker punch the guy who was about to beat him (a young Ernest Borgnine). Own or be owned and don't let shit slide.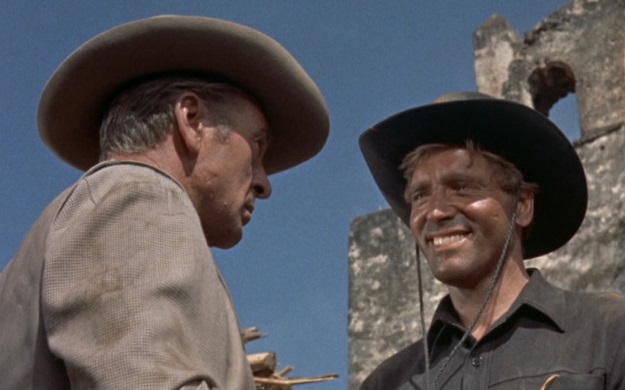 The two are a formidable team. But there's never complete trust. Lancaster tells Cooper about growing up under the tutelage of another outlaw, Ace, who killed his father. Lancaster learned from Ace, and learned well:
"Ace used to say, you don't take any chances you don't have to. Don't trust nobody you don't have to trust, and don't do no favors you don't have to do. Ace lived long enough to know he was right. He lived thirty seconds after I shot 'em." 
One assumes had he not been shot, Ace would've eventually gotten to the advice about what to do if the heat is coming around the corner. But the world we're shown here does not contradict what Ace and Lancaster are saying. The movie was shot in Mexico and in Technicolor. It's an odd mix of real locations heightened in popping colors that makes sense for a place full of so much backstabbing and betrayal and ugly behavior. The Countess is ready to double cross not only Cooper and Lancaster but also her lover the Marquis (Cesar Romero), who is more than willing to put her to death when he discovers her plot and outsmarts everyone involved. And while the other Americans are not the egg-sucking gutter trash of The Wild Bunch, they're mostly a passel of would-be rapists led by a young Charles Bronson (introduced playing the harmonica); the best thing you can say about them is that they're surprisingly fluid in gender roles otherwise, holding a hoedown among themselves with "male" and "female" dancers.
The exception is Archie Savage as the one black guy in the movie (who also gets a few musical bits; Savage was a professional dancer) who very pointedly throws in with Cooper and is all-around decent — he's the one who initially stops the gang rape of Sara Montiel's Nina, a pickpocket who joins up with the gold-escorting procession after helping them flee a rebel ambush. This seems to purposefully soften Cooper's Southern gentleman, who is never racist but is also very much in the Lost Cause tradition, so much so that the freedom fighters appeal to him on that level. Montiel, who initially plays the weary realist with lines like "It's hard to be a patriot on an empty stomach," is soon revealed to be a rebel spy, and tries to get Cooper to join her side. Cooper isn't having it. "That gold belongs to the man who gets it. No cause is worth $3 million."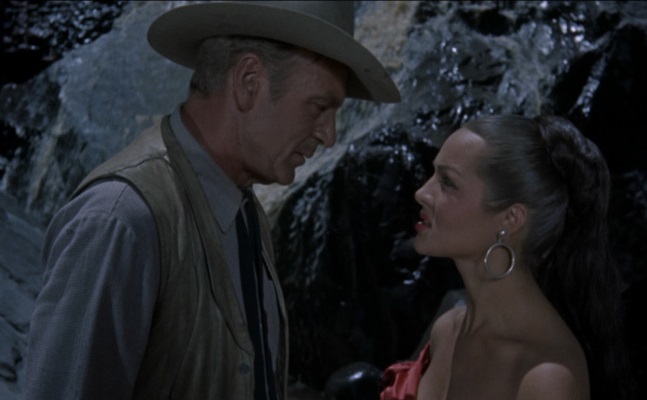 Cooper says this when he still has $3 million to potentially steal, though, and he is very much planning to double cross Lancaster, just as Lancaster is planning to double cross him. They are thwarted by the Marquis, who runs a fake escape to draw them out and absconds with the booty behind Vera Cruz' secure walls. Cooper, Lancaster and the gang — who have belatedly realized their leaders were trying to cut them out — are forced to join up with the rebels after all, who offer $100,000 in payment for getting the gold to them.
To recap — Cooper and Lancaster have gone from being penniless mercenaries to escorting a woman for $50,000 to stealing $1 million apiece from the person who was paying them for the escort job to each going for the whole $3 million to splitting $100,000 to steal the boodle and give it to the enemies of the guy they were working for in the first place (who had planned on killing them instead of actually paying up). Aldrich and his writers just plow through these changes, letting the cracks grow in Cooper and Lancaster's relationship but never suggesting for a moment that it's strange or wrong for these men to be shifting their goals and sides so much. Just another day in Mexico, just another day in the world.
But Cooper, at least, is souring on it. Aldrich doesn't believe in altruism, but in The Longest Yard and The Dirty Dozen the bad men in bad situations attain a better perspective of why they are there, expanding their anger and hate beyond the shit they live in to the people who created the shit — they go from Fuck You to Fuck This. As he spends more time with the freedom fighters, Cooper does start feeling their cause, at least as something to not betray for a chance at the whole $3 million again.
But he and Cooper are still side by side when the rebels assault Vera Cruz, which happens with no buildup whatsoever and is all the more brutal for it. This is a movie without much blood but with plenty of death, and the freedom fighters have heart and pluck and absolutely terrible guns.They get mowed down despite Lancaster and Cooper and their men sniping from the side. But one rebel, a sad guy who plays a sadder guitar, suicide bombs the gates, and the rebels move in — only to be mowed down again by cannon fire and a Gatling gun, their heroic general among the first to fall. Similarities to a certain Sam Peckinpah movie are extremely obvious, but while Peckinpah embraces violence as choreography — movement is composed, orchestrated and edited for maximum effect — Aldrich films his slaughter as discrete chunks slapped together, and it is enormously effective as chaos, as bodies in various spaces die and die and die.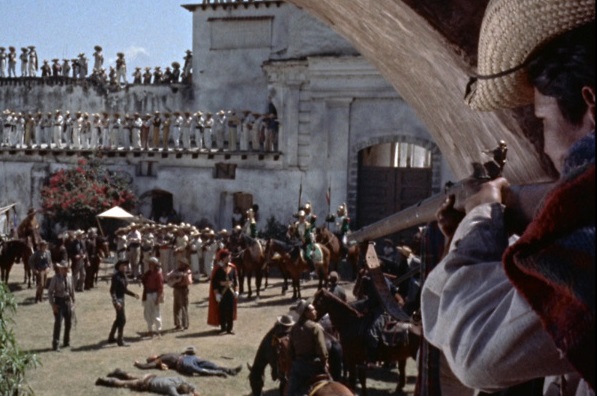 Cooper and Lancaster are part of this too, Cooper getting his turn at the Gatling gun and wasting the Marquis, and Lancaster brutally stabbing an obsequious martinet who's had this coming since the start of the movie. But Lancaster has other plans as well. He finds the Countess — using a Patented Burt Lancaster Acrobatic Swing to scale her balcony, what a ham, what a boss — and gets information about a getaway ship out of her. Then he shoots Savage and steals the gold, ready to go off on his own.
But Cooper is there, of course. And of course he accedes to Lancaster's request for a fair duel, a drawdown from their holsters. And of course he wins. Cooper's been fast, faster than anyone else, the whole movie. He looks down at Lancaster, and Lancaster, quiet for pretty much the first time in the whole movie, looks back and dies.
"He likes people. You can never count on a man like that," Lancaster says of Cooper as he prepares to betray him. But what if a guy likes you? Couldn't you count on that? The savage joy of Fuck You becoming Fuck This in Yard and Dozen is that, if maybe only for a moment, other people are saying Fuck This too. Cooper tosses Lancaster's gun away with an anger that seems to be more about the chance he lost than the personal betrayal. Then he joins the Mexicans wandering through the destroyed town, wading through a field of corpses.
It's likely that's how Cooper ended his last war as well, where he thought he was fighting for something right and ended up with nothing. Vera Cruz recognizes there are things that are right — Mexican independence is a lot more legit than separatist slavery — but says those things won't save you. And the real tragedy is the hope that things that could be right can't be trusted to save you either. There's only yourself and what you bring in the end. "A man's got to have more than that," the rebel general tells Cooper about money. "He has to have something to believe in." "I have that too," Cooper assures him. Then he looks at his gun.