Way back in 1996, you would have to watch your movie trailers on VHS tapes (or, I dunno, in the theater). But we're in 2006 now, and the future belongs to DVDs — though the future is not always what it's cracked up to be, and promises of treasure are often revealed to be fool's gold.
Previews are not the only way a movie can mislead the naïve viewer, of course. You could be lured in with a DVD cover that promises Michael Ironside playing a major role in Vampire Wars: Battle for the Universe. The prominent name/not prominent role is a classic bit of B-movie three-card monte and I have no one to blame but myself for falling for it. And while many IMBb users have good things to say about this movie (originally known as Bloodsuckers) my recollection from watching this circa 2006 is it was lazy and cheap even by Sci-Fi Channel standards. Oh well, I was fooled again, but maybe the previews on the Vampire Wars DVD can point me to something better. They wouldn't lie to me, right?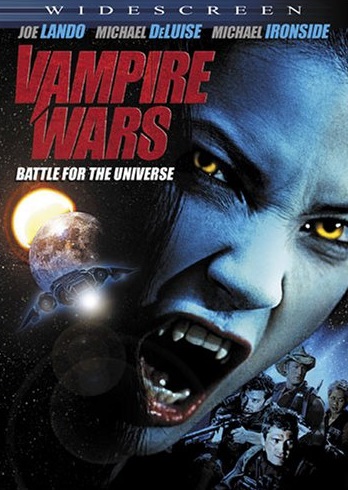 The trailer: Tobe Hooper delivers "the next chapter in fear" with Mortuary, where a bunch of dumb teens dick around in the morgue where an eight-year-old boy disappeared years ago and is rumored to be living in a coffin. They learn a valuable lesson — don't assume the haunted mortuary only has one murderous undead occupant, as there are numerous mobile corpses ready to stick their hands through torsos and cause other gnarly mayhem.
Pitch from the trailer announcer: No announcer but there is ominous and confused text: "When the dead break free, all hell break free."
Will it sucker me in? I own Hooper's The Mangler on VHS, what do you think? But while there is some extremely bad CGI here there is also some promising gore and an even more promising brutal aesthetic for the malevolent nude ghouls. Any movie giving off Re-Animator vibes has my attention.
Quote: "Great, the loser patrol shows up to rescue me."
The trailer: So the only trailer for Sand Trap, a 1998 movie inexplicably advertised on a 2006 DVD, that I can find on YouTube is an incomplete version that pitches it as a noirish thriller, where a wife and her lover try to bump off the husband but he survives to fight it out with them in the desert. The basic setup is the same in my trailer but the tone is different — it starts out as a in a jovial "Nelson Yeager thought he had it all" comedic tone that then strips out dialogue to emphasize the husband's revenge (that at first blush appears to be supernatural, implying the guy is back from the dead) in the jugular vein of EC Comics. 
Pitch from the trailer announcer: From the YouTube version: "They tried to kill him once before, but Nelson never had a clue…he's learning that staying alive is the ultimate revenge." From my version: "Jack and Margaret thought they had planned the perfect murder — the only problem is the victim won't stay dead."
Will it sucker me in? Abso-fucking-lutely, especially the potentially supernatural version on the DVD that does not actually appear to be the case. But either version looks good, I am a sucker for '90s neo-noir and this emphasizes steamier situations and the "dweeb has to turn into a boss and own people in the desert" is right out of Breakdown. 
Quote: From the YouTube version: "He didn't get lucky! You are a loser!"
From my version: (eyes being gouged) "ARRRRRRGH!"
The trailer: Robin Williams needs to find money for wife Holly Hunter's Unnamed Medical Problem, and does so with an insurance scam claiming his brother is dead — but insurance agent Giovanni Ribisi is suspicious, dumb crook Tim Blake Nelson is conniving, and very much alive brother Woody Harrelson is obviously up to no good in the snowy but zany small town of The Big White. 
Pitch from the trailer announcer: "Paul Barnell is about to get lucky — dead lucky."
Will it sucker me in? This opens with Williams and Hunter yipping and yelping at each other, but it's some kind of "aren't we cute" gambit, I was out the door even before the poor man's Fargo vibes kicked in. And they kick in early and hard! Nelson is a dead ringer for Steve Buscemi's Carl Showalter and we get shots of a pajama-clad Hunter kidnapped and tied up, all in the same frozen north setting. Sand Trap's hints at dark comedy are intriguing, this puts the wack in wacky.
Quote: "Maybe a grizzly with insomnia."
Well, two out of three ain't bad. And hey, Sand Trap appears to be uploaded to YouTube! What do I have to lose?