For decades, gay activist groups have held strong in controlling the image of homosexuals in media. GLAAD has always been ready to jump down the throat of any media figure who gets caught muttering fag under their breath. Yet, in no less than 4 mainstream movies, and one French movie, homosexuality has been shoved all the way back to the 1980s (if not earlier). These depictions of homosexuals have shown gays to be callous, rapists, liars, and generally assholes. And, as usual, the majority of these movies depict these characters with a dearth of other queer spectrum characters to balance out the trend.
This isn't to say that gays had a terrible year at the cinema. In our own cinema, we had several great films, including the retro piece The Circle and Lilting, neither of which penetrated the culture like the following five films did. The following five movies aren't necessarily regressive in sexual politics – in fact, one of them is pushing progressive values by going so retro – but some of them are deeply rooted in homophobia of the past, and I think we need to explore how these trends develop.
---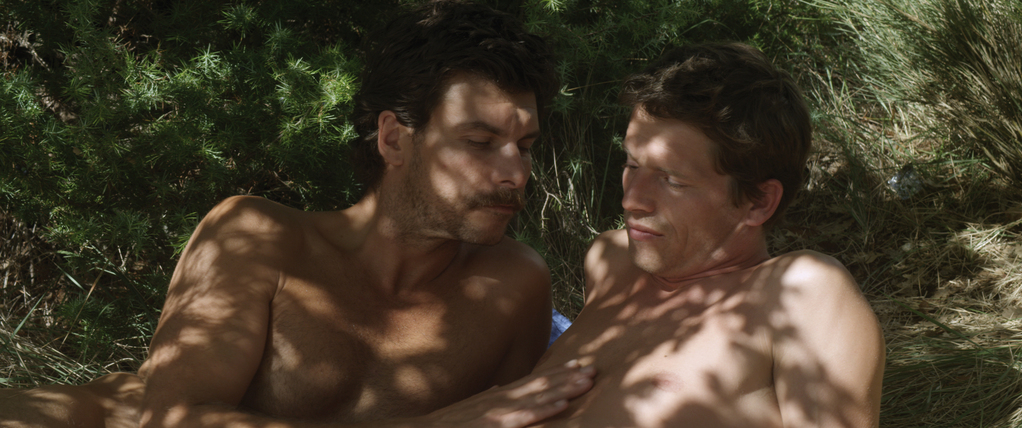 Stranger By The Lake
Coming straight out of France, Stranger by the Lake feels like an old dime store pulp novel about explicit gay sex interrupted by the occasional act of murder. Taking much of its imagery from one of the first great gay porn movies, Boys in the Sand, director Alain Guiraudie uses the tone to bring us back to a feeling of sun-dappled 70s utopia when AIDS didn't present the spectre that it does now.
The main story of Stranger by the Lake is about humanity and connection among guys at a cruising beach. For those who don't know, a cruising beach is probably a small section of beach cut off from the rest of the world – usually by a sharp bend, rocks, cliffs, or trees – accessible by a known path. At this beach, guys get naked and hook up with random dudes. Most of the time, it's tanning and getting off without much human connection. This community is being silently watched by a gay man, made insecure because he doesn't have the stereotypical lithe body. As the film dissects the community, a murder happens, but things remain business as usual.
From within the community, Stranger by the Lake feels refreshingly naughty compared to the sanitized depictions we're usually allowed by the gay activist groups. Gays aren't really afforded their own horror genre (that's been changing of late as well) for fear that some conservative group picks up on our depictions of ourselves as murderers and runs with it as a way to strike fear into the hearts of the heterosexual fence-sitter who is allowed to make up his mind on the rights of the gay man. Stranger felt transgressive, as if it were addressing topics within our community that shouldn't be shared with the outside community because they might misconstrue it. It's the same type of in-group expression with out-group appropriation that would drive Dave Chappelle to cancel his show.
At the beginning of 2014, that didn't feel all that terrible. Sure, it was commenting on how the cruising beaches create a sense of community without actually creating a community of any depth. It comments on how gay men will callously ignore the reality of a situation in order to get some sex. Absolutely none of the depictions of the gay men felt generous, honest though they may be. In a way, Stranger by the Lake makes many of the same comments about community and homosexuality that the much-reviled Cruising did back in 1980. Yet, because of its honesty and that we needed a bit of a release from the onslaught of "gays are good," Strangers has been accepted by the community as a revelation of gay cinema.
---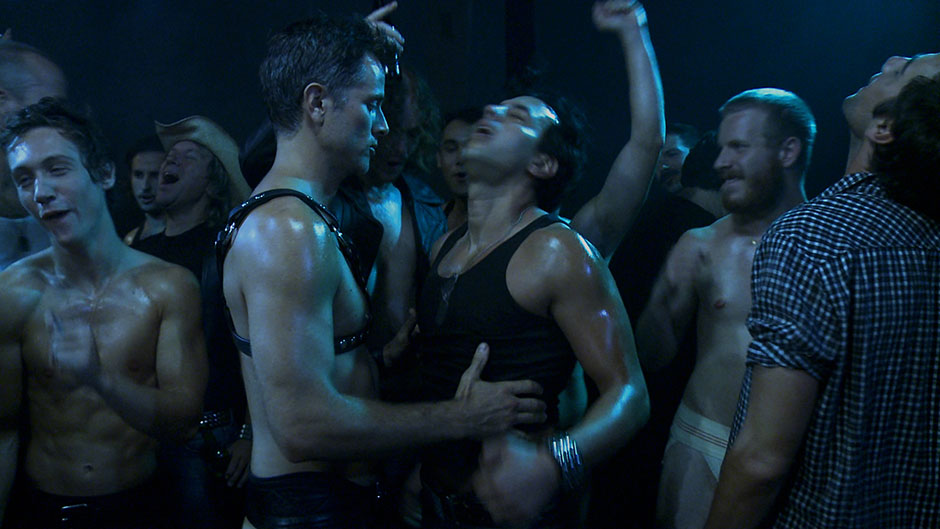 Interior. Leather Bar.
Speaking of Cruising, James Franco produced a movie that literally brought audiences back to 1980's Cruising. Co-directed by Travis Matthews and Franco, Interior. Leather Bar. is a bait-and-switch faux-documentary about recreating scenes from Cruising that were deemed too explicit by the censors and have since been lost. They cast Val Stewart to play himself playing Al Pacino playing Steve the cop. Franco and Matthews used the faux-documentary format to push the boundaries of taste and fully delve into some of the central themes of Cruising.
Those of us who like Cruising see the movie as exploring what it means to be a straight guy forced to play another sexuality. Cruising also explores what it means for a straight guy to suddenly experience the oppression that happened to the gay guys both at the hands of society and that of the cops. Those who see it as homophobic see Cruising as an exploitation of a dark and dirty underworld full of callous sexual deviants ignoring the multiple murders happening around them (see: Stranger By The Lake).
Interior. Leather Bar. explores the themes of a straight guy forced to experience gay sex, as Matthews and Franco surround Stewart with a bunch of gay guys getting down and dirty, ostensibly to recreate the scenes from Cruising. Through being surrounded by gay guys getting down to explicit gay sex, Stewart expresses his discomfort as Matthews explains how this relates to a gay guy constantly being surrounded by heterosexuality (seriously, do you know how many straight sex scenes I've sat through this year, not even including the director's cut of Nymphomaniac?! Please tell me because I've lost count.).
Matthews and Franco make explicit the themes underlying Cruising, but in doing so they also expose the gay guys as hornballs willing to do anything on camera for the experience. This is the polar opposite experience to this year's gay prestige film, The Imitation Game, where a gay guy can't even get a kiss nevertheless a fuck.
---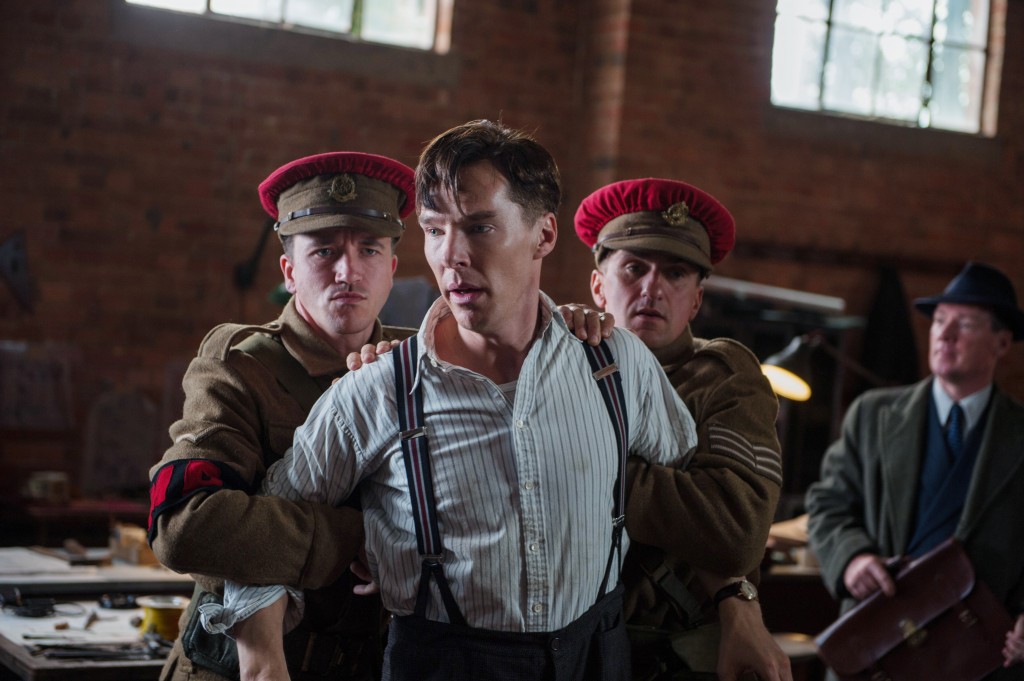 The Imitation Game
Alan Turing is a dead gay man. Chemically neutered by his government because he was robbed by a male prostitute he frequented, the war hero Alan Turing committed suicide at the age of 41. During WWII, Alan Turing led the team at Bletchley Park to design a computer whose sole purpose was decrypting the Nazi code machine, Enigma. In 1986, Hugh Whitemore wrote Breaking the Code, a fictionalized bioplay about Turing which paralleled his life at Bletchley Park with the break-in by the male prostitute, and ended with Alan's suicide. In the ensuing 28 years, only one teleplay about Turing has been made, an adaptation of Breaking the Code. 
Which is why it comes as such a surprise that The Imitation Game gave us depictions of Alan's homosexuality that had all of the passion as those closeted and coded movies of the 1960s. Instead of trusting audiences to be OK with gays kissing, writer Graham Moore and director Morten Tyldum made sure to keep Alan as chaste as they could without removing his homosexual identity. At one point, Turing offhandedly mentions he had affairs at the university; at another point, he comments that he is being arrested because he likes to play with another man's penis; and, twice Turing gives momentary lecherous glances to another boy or man, but this would be the closest to homosexual desire actually shown on film. In fact, The Imitation Game gives a lot more attention to Joan, his beard, than it does to his homosexuality.
After skipping over almost any adult depiction of gay desire, Moore and Tyldum skip right to the government punishing Turing for being gay. They cinematically castrate him before the government can chemically castrate him. Of course, then they leave his suicide to the title card, but it's OK because he was pardoned by the Queen in 2013. The last two cards are about the Turing's legacy in the world of "Turing Machines," with the last card reading "Today, we call them computers."
If you know anything about movie history, one of the biggest hurdles that we've had to face is a valid depiction of our sexuality in mainstream movies. Hell, even as late as 2003, we were still talking about how the gay characters in the gay-themed Party Monster were going to kiss but were replaced by the metaphorical image of fireworks. Because gay kissing is icky to the masses (and to the straight actors who play the gay characters). The Imitation Game refuses to give us a sexually active Alan Turing, thus reducing a significant part of his legacy to a bunch of lip service, just like in the pre-Stonewall days.
---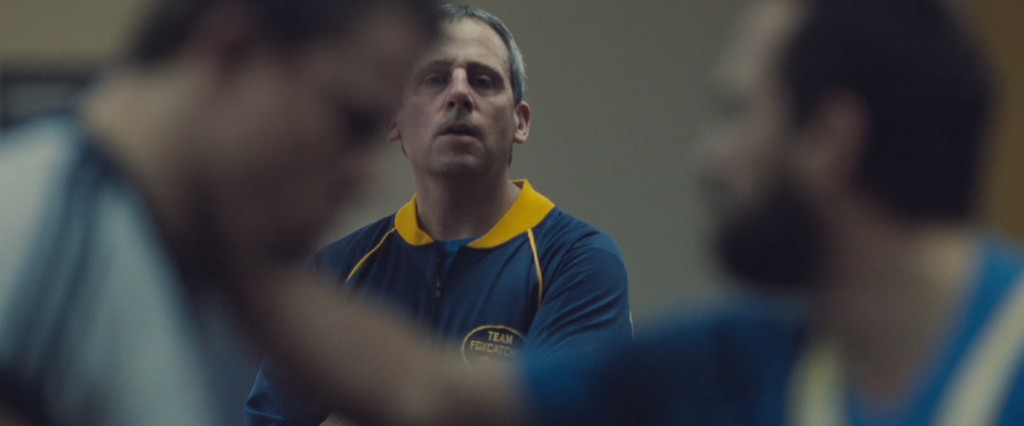 Foxcatcher
Speaking of pre-Stonewall, no film has infuriated my gay cockles more than Foxcatcher. Originally, a story about John E. du Pont, heir to the du Pont fortune, who hired a couple of wrestlers to start a wrestling team in the 80s, went crazy (paranoid schizophrenia), then shot one of them in the 90s. However, writers Dan Futterman (aka the straight son in The Birdcage) and E. Max Frye (1993's Amos and Andrew), and director Bennett Miller (Moneyball) completely change the story and compress the time line. On the surface of Foxcatcher is a story about du Pont hiring Mark Schultz, and then Dave Schultz to start a wrestling team. Then, Mark becomes increasingly uncomfortable and ditches before du Pont shoots Dave. Ostensibly, this is supposed to be an allegory on how the rich people are weird and want to own everything. They'll also kill if they can't have what they want.
However, Futterman, Frye, and Miller made du Pont into a closeted homosexual and rapist. About halfway through the movie, du Pont starts feeding Mark Schultz cocaine and then calls upon him in the middle of the night to rape him. Well, the rape is Lifetime Movie metaphorized as a wrestling match, but it is filmed as a rape scene. After that scene, Miller uses 80s gay iconography to turn Schultz into a frosted-tipped, tight-shorts-wearing, coke-snorting cabana boy, ready to perform for du Pont at a moment's notice. John du Pont then hires Mark's brother, sending Mark into the homophobic self-hating shame spiral of a rape victim, even as du Pont constantly wants to feel Schultz up. Eventually, Mark loses at the Olympics and is able to escape John's clutches with the protection of his brother. Because of his obsession with Mark, John shoots his brother. The end.
In order to make an allegory about the corruption of obscene wealth in America, and how the obscenely wealthy want to own everything, Miller returns us to the height of the gay paranoia days where all gays are closeted basket cases who will rape your ass given the chance. And, if they can't have you, they'll kill your brother. If this was actually in the story, this would be one thing. Like the Jerry Sandusky case, where Sandusky molested teenage boys he was ostensibly helping, gay rapists with power do exist. This element might be in the story considering that du Pont was once sued by wrestlers (not including either of the Schultzes) for wrongful termination based on sexual harassment. But, earlier this month, Mark Schultz was pissed off at the movie because he claimed he didn't have a sexual relationship with du Pont and that he originally told Miller to take it out of the movie. Adding an element of this magnitude, for the sole purpose of striking the familiar homophobia chord in the audience, is an asshole thing to do. And, no amount of Channing Tatum nudity covers the fact that Miller uses homophobic plot points.
---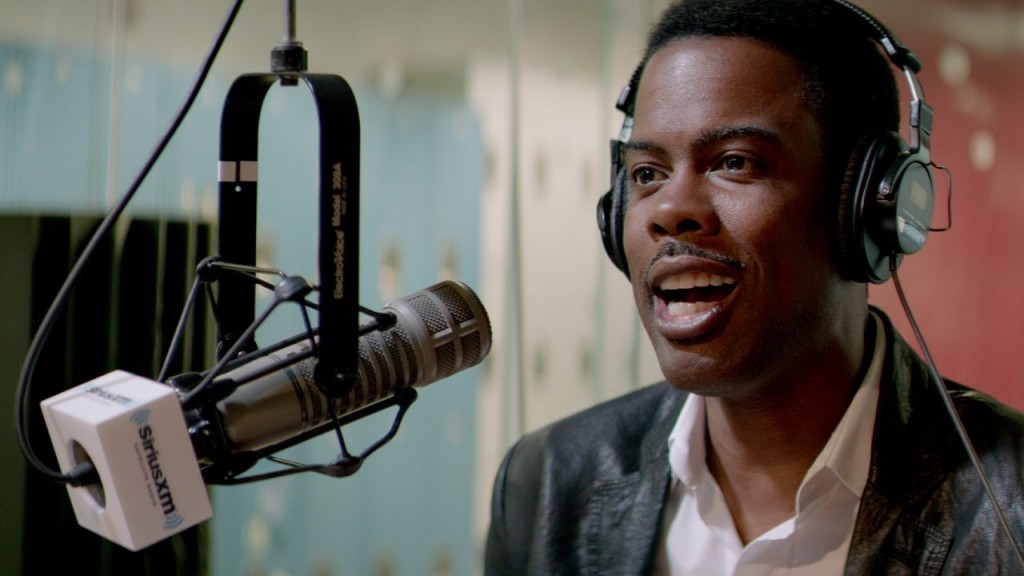 Top Five
Even though Foxcatcher was this year's most egregious depiction of homosexuality, Top Five is one of the more regrettable ones. Chris Rock's ode to being a celebrity as a minority while trying to stay true to your roots swiftly alternates between hilarious and awful. One major set piece is centered around a pair of money-grubbing women who have sex with Rock and his promoter for money, only to yell rape with they don't get their money. J.B. Smoove harasses fat women and grabs their ass without their consent, while also shouting about their booty. It's all in good fun, right?
The homosexual section doesn't come until late in the movie, and provides a modern take on an experience that is as stupid as it is homophobic. Rosario Dawson has been dating some white guy, Brad, whom she runs into accidentally in a hotel with his best friend. It appears they came from the same hotel room, and the friend is wearing the shirt that Dawson bought Brad, causing her to hyperventilate now knowing that Brad is gay, or at least bi, and has been cheating on the DL.
Dawson's story is that Brad had made her put her finger up his butt every time they had sex, and then would insult her while they were hanging out with the best friend and his roommate. Translation: he and his best friend had been dating or fucking on the sly, and were dating and fucking their girlfriends just for appearances. If this isn't homophobic (gay dudes love fucking pussy for image), then it is biphobic (Brad could very well be bi, but all bi people are greedy, so fuck him).