(A handful of spoilers follow.)
My love for Sacha Baron Cohen's in-character mockumentaries, and how they so often reveal the true heart of America, is well–documented. Rumors of a new Borat project began to surface earlier in the year with reported sightings of Baron Cohen's Kazakhstani journalist character in L.A.; the film was finally announced on Amazon about two weeks before its airing. (Just enough time for Rudy Giuliani to try to get out in front of it!)
Of course, the potential existence of a new Borat film raised several questions:
How will Baron Cohen get away with being Borat after the popularity of the 2006 film (full title: Borat: Cultural Learnings of America for Make Benefit Glorious Nation of Kazakhstan)?
What new ground is there to tread that hasn't been covered by Baron Cohen's previous works– particularly the first Borat film and 2018's Who Is America?
I thought I had a third question, but I forgot what it was.
I'm pleased to report that the new Borat film– full title: Borat Subsequent Moviefilm: Delivery of Prodigious Bribe to American Regime for Make Benefit Once Glorious Nation of Kazakhstan— manages to answer those questions successfully while also being really funny.
To the first question: Baron Cohen acknowledges this right away, with a brief montage early of people recognizing Borat on the street and him having to disguise himself. (Hilariously, Borat first thinks the suit is what people recognize, so he starts walking around without pants.) Eventually, while still in the Borat character, he devises a series of disguises to allow him to go undercover in various establishments and social settings. (I think some of these may have been repurposed from Who Is America?; I noticed in two scenes that Baron Cohen's getup rather resembled Billy Wayne Ruddick, Jr., Ph.D.)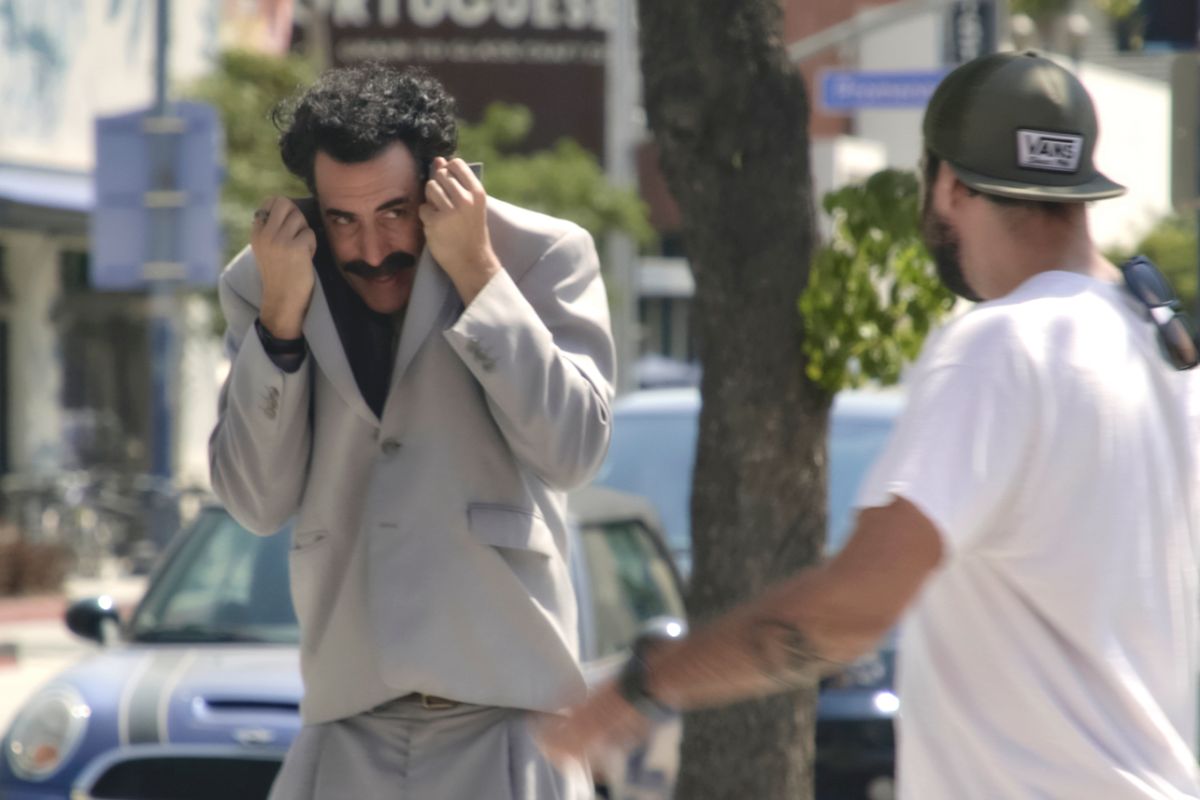 The setup of the movie is fairly straightforward, so much so that I might as well recount the Wikipedia summary for you:
Borat humiliates Kazakhstan, causing journalist Borat Sagdiyev to be imprisoned in a gulag for life. Fourteen years later, the country's Premier Nursultan Nazarbayev releases him, with a mission to deliver Kazakh Minister of Culture Johnny the Monkey to President Donald Trump in an attempt to redeem the nation. Unable to get close to Trump after defecating in the landscaping of Trump International Hotel and Tower in the previous film, Borat opts to give the monkey to Vice President Mike Pence. Before he leaves, he discovers his arch nemesis neighbor has stolen his family and home, and that he has a fifteen-year-old daughter, Tutar, who lives in his barn.
And this leads us to the answer to the second question: Tutar sneaks into the crate meant to transport Johnny the Monkey and ends up accompanying Borat to America (and also, she eats the monkey). Thus, Borat pivots to delivering Tutar as the gift to Pence.
Tutar is the answer to the second question. While Borat's story centers around his attempts to get close to Pence (or another member of Trump's inner circle), Tutar's own journey involves first preparing her to be a suitable bride for Pence (through such activities as makeovers, debutante balls, and plastic surgery consultations), and gradually reveals itself to be a story of a girl kept deeply oppressed and ignorant (her biggest dream is to live in a nice cage, as of course, all women are kept in cages where they belong) discovering that life outside of what Borat and Kazakhstan have taught her is very different; that everything she's learned about women's place in society is both factually wrong and morally abhorrent.
While Borat (the original), like much of Baron Cohen's work, is often better remembered for the scenes of chaos Borat (or Baron Cohen's other characters) create– the wrestling in the hotel is almost certainly the most famous scene in the first movie, and second is probably his botching of the national anthem– my interest in Baron Cohen's work has always been more on the documentary side, in the way Baron Cohen's characters allow ordinary people to unwittingly reveal themselves. We do get some of that here with Borat, running the gamut from mere casual racism to paranoid and conspiratorial bigots itching to do violence to their perceived enemies (as one might expect, getting more and more extreme with time over Cohen's work). But it's Tutar's presence which becomes fascinating in that regard, and adds a new wrinkle to Baron Cohen's portrayal of the American man: the creep and sleazebag.
Of course, by now the story of Rudy Giuliani's interrupted liaison with Tutar (posing as a reporter) is old news, but two more incidents stood out to me. One is when Borat takes Tutar in for a plastic surgery consultation: not only the willingness of the surgeon to perform work on a 15-year-old and dissect her appearance, but the ease with which he admits what he'd be happy to do if her father wasn't around. Even that is nothing compared to the debutante ball: Southern men in their 50s and 60s talking about how much they love young pretty girls, and one father indulging Borat on negotiating a price for Tutar, even as his own daughter is trying to drag him away. When he finally comes up with "five hundred dollars," she angrily tells him "That's fucking gross."
And that's the flipside of the film: For as much as we see, yet again, the rotten soul of America in Baron Cohen's work, we also see decent people, and people who stand up for what's right, and moments of kindness and grace. Later in the movie, after his last interaction with Tutar leaves him despondent, the rabidly anti-semitic Borat decides to commit suicide by going to a synagogue and waiting for a mass shooting (in a costume that might as well have been designed by A. Wyatt Mann)– where he encounters two elderly women, Holocaust survivors, who treat him with dignity and compassion, with real human kindness, and pray with him. Sure, even though he's just a character and it's an act, it's genuinely moving to see. (The film is dedicated to one of the women, Judith Dim Evans, who died before its release.) Of course, this being Borat, the sentiment is undercut with the women reassuring him that, despite what a Facebook page told him, the Holocaust did happen.
Getting more screen time is the babysitter Borat leaves Tutar with while he goes out to make the money he's short for the plastic surgery bill. (This whole sequence with Borat, from the time he gets the bill until he's done working, is great absurdist fun.) After she reads Tutar's book to her (the book given to all Kazakhstani women), she starts debunking what it tells her– women can drive cars, hold jobs, and if they masturbate their vaginas will not swallow them whole. This leads Tutar (after speaking to a conservative women's convention where she shares the latter discovery with them) to stand up for herself and run away from Borat.
When Borat revisits the babysitter to retrieve some belongings (after convincing Tutar to pimp herself out to Giuliani), the babysitter helps him realize that he does care about Tutar in the way a father ought to, and that he can't let her go through with their plan. ("You're giving a young girl to an old man.")
And that's the other thing that makes Borat 2 distinct and worthy of existence. While the surface journey for Borat is to redeem himself in the eyes of the Kazakhstani government, his real journey is to redeem himself as a father. (And so what if that journey is scripted? Most movies are.) Tutar's growing emergence as her own person, and Borat's growing affection for her and shedding of his previous biases and neglect, make for a genuinely sweet throughline throughout the film, giving it both a story that distinguishes itself from the original and an emotional backbone that the first film doesn't have. (And, since I haven't mentioned it yet, I should add that Maria Bakalova is incredible as Tutar, every bit Baron Cohen's equal in the film.)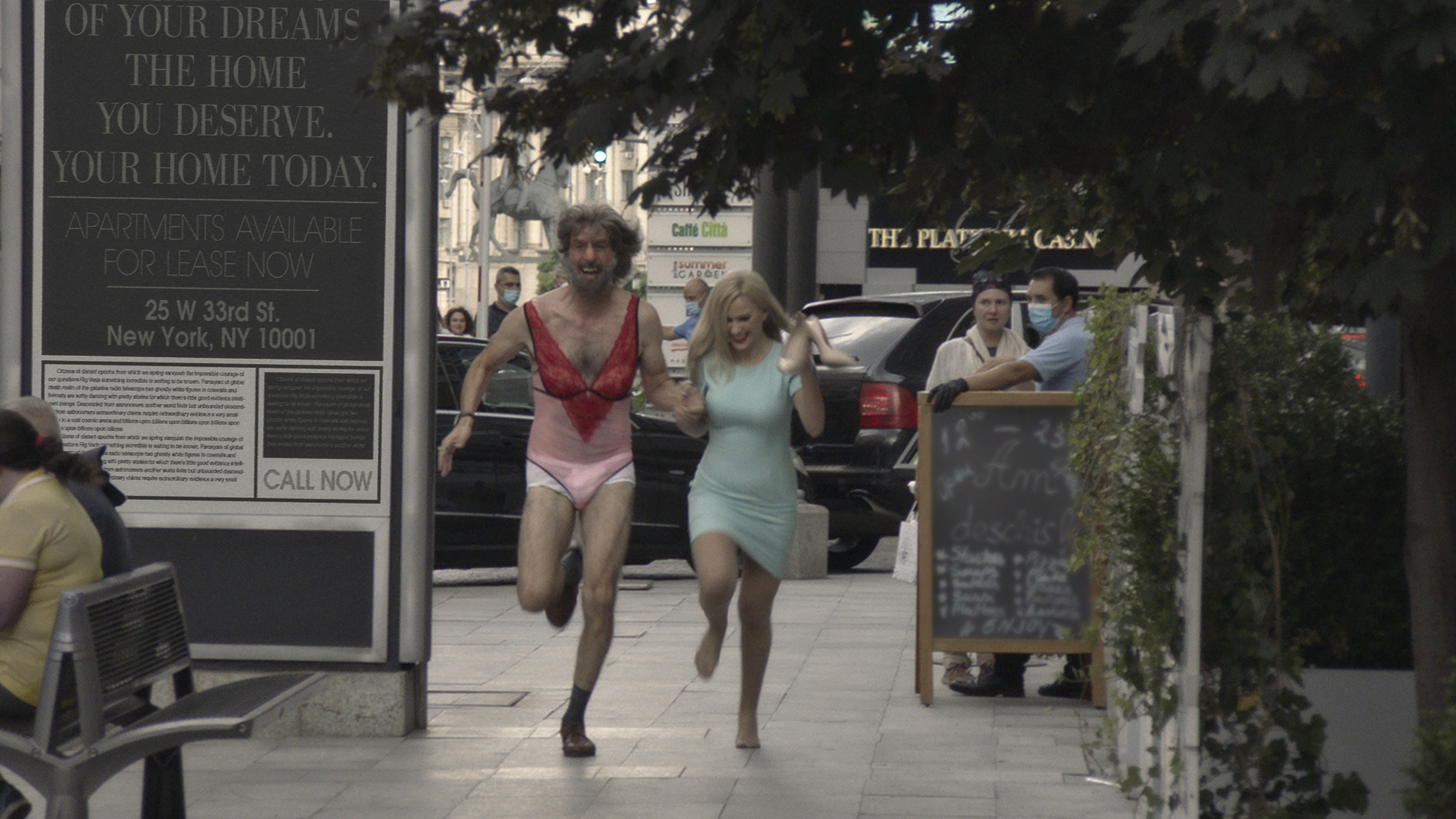 The film ends with a coda that, if a little contrived in its setup (which can happen when art imitates life), pays off that journey as well, as Borat uses his newfound status to fight for women's rights, and Tutar joins him as a journalist. It also closes with the "Running of the American," a new Kazakhstani festival where people run from performers in comical MAGA suits, who then beat up a Dr. Fauci character and destroy his vaccine.
As Borat is explaining the Running of the American, one line stuck out to me, a lesson Borat takes from his journeys. It's a lesson I think many of the people he interacts with could do well to learn, something more broadly applicable about the world, and something hard to deny after living in America for nearly forty years: "The greatest threat to Kazakhstan was no longer the Jew. It was the Yankee."
Borat Subsequent Moviefilm: Delivery of Prodigious Bribe to American Regime for Make Benefit Once Glorious Nation of Kazakhstan is now streaming on Amazon Prime. It is directed by Jason Woliner and stars Sacha Baron Cohen and Maria Bakalova.