It's one of the oldest Hollywood stories there is: young dreamer comes to Hollywood looking to break into the movie industry and get their fame and fortune and, despite a few set-backs and hard-earned lessons, winds up getting exactly what they want. In this case the dreamer is a young cat named Danny, and he has a plan to becomes major star in less than a week. However, none of the other animals believe he can break through the glass ceiling, including Sawyer, a cat who's been around long enough to have her own dreams crushed. Things get even more complicated when, in a moment of spotlight hogging, Danny puts himself in the crosshairs of temperamental child star Darla Dimple, who makes it her mission to destroy Danny's career. In the end, however, Danny and his pals manage to bowl over the important head of the studio with their talent and they all achieve their dreams. It's a staid, predictable plot, the kind that most writers would immediately toss aside as overdone, worthless, and shallow.
This is, of course, a huge mistake. It's the all the things that you say within the construct of the narrative that count, and Cats Don't Dance uses its story to explore themes of art, hope, show business, self-worth, and discrimination in 1930s Hollywood; all in the tone and style of a classic Warner Bros. cartoon.
It's a difficult trick balancing an emotionally resonant story with cartoony slapstick, but it's something the movie pulls of with aplomb, and a lot of that comes down to the top-notch animation. The characters are elastic and filled with kinetic energy, expressing their emotions in a highly exaggerated way: when they're happy they stretch and twist with joy, when they're sad they slump almost all the way to the floor, and when they're mad they literally burn up. One of the most interesting representations of emotion comes in a musical number called "Animal Jam," where the saturation of each character's coloring is cranked up as they experience the joy that comes with self-expression.
The film makes expert use of color and lighting throughout, sometimes bordering on expressionistic. There are two numbers in particular with very aggressive, bold lighting, but I'll get to that later.
One of the more subtle uses of light and color occurs early on at the film's first real musical number. Danny arrives in Hollywood at sunrise, just in time to see the sun bathe the Grauman's Chinese Theater in a soft golden hue. It's a gorgeous bit of coloring, and in a nice little touch the pavement and concrete actually sparkles in the morning light. It's such a sight that it inspires Danny to sing and dance around town, but the meaning of those bright, cheerful colors change when we realize the scene is all about introducing Sawyer. For Danny Hollywood is a picturesque place where dreams come true; for Sawyer it's a lie with a mocking façade that slowly grinds you down, externalized as the excited Danny accidentally steals her cab, makes her spill coffee all over herself, burns the feather off of her hat, and knocks her into a fountain on her morning commute.
Sawyer is in many ways a classic Frank Capra heroine, with Danny being the archetypical Capra everyman. She's smart and witty, with a big romantic's heart hidden beneath several layers of sarcasm-coated armor because she's been hurt in the past. She works as a receptionist in a casting agent's office, long ago having given up her dream of being a dancer, a role that can trace a certain amount of specificity to Jean Arthur's Saunders in Mr. Smith Goes to Washington. Sawyer also gets arguably the best song in the movie: the bluesy ballad "Tell Me Lies," which follows a sequence where Sawyer (along with the other animals) has had her hope restored and dashed once again in a catastrophic trap set by Darla Dimple. Even Danny loses faith in himself and his dreams, and packs his things to leave on the next bus going home. However, Danny's enthusiasm has rubbed off on Sawyer, and she can't help but want to dust herself off and try again. She still believes that hope is a lie, but with someone you care about it's a lie worth buying into.
It's important to note that even though Sawyer undergoes a profound change of heart, the movie doesn't ignore the years of character development that happened before the movie started. She's been too cynical for too many years to openly admit to being hopeful or in love, and it's that commitment to keeping its characters fundamentally grounded in reality that makes the movie great.
Even the film's antagonist, Darla Dimple, is given that courtesy. Now, Darla is an extraordinarily over-the-top villain, the kind who would twirl their mustache after tying helpless damsels to train tracks in the old silent movies. She's paranoid, full of rage and prejudice toward animals, and laughs manically while concocting fiendish plans. She's the kind of villain who would have Snidley Whiplash telling her to dial it back. So how on earth does this fit with the assertion that she's grounded in reality?
Simple: because Darla is a small child, and small children can be absolute maniacs. Add to that the toxic influence of Hollywood's child star culture, with millions of adoring fans and an entire studio at your beck-and-call, and that level of megalomania not only seems plausible, but inevitable. (In one of the movie's many brilliant touches, Darla is first seen on the set of her new movie, a Noah's Ark riff called Ark Angel [oh glorious puns], which is a perfect representation of her Old Testament temperment.)
Her character is another high wire act the movie, someone who is supposed to be simultaneously adorable and threatening, and it comes off perfectly. The animation does a lot to sell that dichotomy (between her big eyes and crocodile smile Darla is an adorable nightmare), but it's her voice actress, Ashley Peldon, who gives the character her twisted soul. A lot of voice actors go for "crazy" when trying to expose the cracks of a character who's all surface sweetness, but Peldon takes the opposite approach. Peldon's performance carries a disturbing sense of superiority and disdain for everyone Darla meets. Even when she's sweet-talking people the venom and hate are only barely concealed.
It's this hate that leads to one of those two visually striking musical numbers I mentioned. After successfully setting up and luring Danny into a trap, Darla gets her big villain song. The whole thing mostly takes place in her headspace as she imagines the humiliation and pain she's going to cause the young hopeful, and it's a visual assault. The background is pitch black, and all the characters and props are colored in sickly neons, with lots of shifting scenes and perspectives working on nightmare logic. The scene ends with a really spooky shot of Darla with electric curlers in her hair shorting out, bolts of electrical energy zapping between pieces of metal and casting sharp shadows across her face.
Now, the film has a very straightforward three act structure, and follows the familiar beats for this kind of narrative. As we all know in this kind of story ends with the villain getting their comeuppance, but that represents an interesting problem for Cats Don't Dance. For all her monstrousness, Darla is still a small child, and it would be a bit problematic to have characters twice her age bring her low. Thankfully, the film finds a way around this in its final musical number by having Darla defeat herself.
So here's the scene: it's after the premiere of Darla's movie and Danny barges on stage to take advantage of the captive audience by putting on an impromptu performance, featuring solos to showcase all the animal actors who have been ignored and marginalized over the years. Darla, being fiercely jealous and hateful, decides to sabotage this endeavor, sneaking out of her box seat with the exact same expression The Grinch had when he had that "wonderful, awful idea." (Seriously, though, they're the exact same expression.)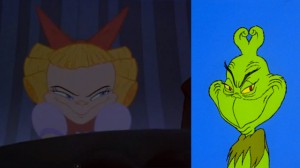 Darla sneaks backstage and starts messing with buttons and levers, trying to derail the performance, all the while accidentally adding production value to the proceedings. Every blind flip of the switch results in a bold splash of color of the stage that recalls many of Gene Kelly's abstract ballet numbers. (Incidentally, Gene Kelly was a dance consultant on this film, which is dedicated to his memory.) She also winds up beating the living hell out of herself in a wonderful display of that Looney Tunes spirit that pervades the film. In the end everything works out and the good guys live happily ever after.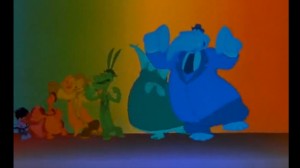 I missed this movie when it came out in 1998, despite being utterly obsessed with animation. The marketing was pretty terrible and the movie was riding the tail end of the '90s' obsession with the '40s, so it bombed. It's too bad, because it's an excellent film that manages to stretch out the aesthetic and tone of classic cartoon shorts to feature length. Thankfully, despite the film's failure, director Mark Dindal would make another movie. Somehow he would get snatched up by Disney and create one of the wildest, most idiosyncratic films of their animated canon: The Emperor's New Groove. I'll be covering that next, so stay tuned.