Looking back at the early work of a great, unified artist tempts one to read the future into the past, to look for things (themes, images, characters, stories) and declare "look how this was always there."  I'm never comfortable with this, partly because it denies the possibility of learning; it's a model of an artist that holds that everything was always internal to the artist, and it only emerges over time.  Also, it places the work only in a biographical context, and privileges that way of seeing above all others.  There are certainly elements of Stanley Kubrick's later films in Fear and Desire just as there are elements of his earlier career in it, and I'll get to both of those, but the most important thing to note about this film is that it's the one truly incompetent film Kubrick ever made.
There's one indisputable talent here, and it would stay with him throughout his career:  Kubrick lights, shoots, and frames the living shit out of absolutely every shot.  There are no dull or perfunctory images here.  Kubrick's close-ups, in hard-edged black and white, have the kind of iconic power that belongs only to movies (watch for a shot of Kenneth Harp that anticipates the aging Dave Bowman in 2001), and he has an instinct for unusual, disconcerting images; there's a contrast between (for example) the messiness of spilled food and the clean lines on the actors' faces that's queasy.  Whatever feelings they provoke, just about every frame is in perfect compositional balance here.
There are several sequences that would work just fine as wordless "picture stories," the kind of thing you'd find in Life or Look magazine, where Kubrick had worked as a photographer.  This hybrid form isn't quite photography, and it's not quite comics either–picture stories usually imply much more action between images than comics.  Following Scott McCloud's ideas in Understanding Comics, picture stories are closer to Japanese comics than American ones.  This is a film made by a massively ambitious still photographer, someone with great instinct and talent for images, but no idea how to imply anything between the images, whether it's spatial coherence or character, and no idea of the difference between movies and photography.  For example, the header image here, the second shot of the film, gets held for about twenty seconds; it looks great, but it's also four men trying very hard to stand still, so the first thing this movie looks like is the end of a Police Squad! episode.
The opening voiceover which says this story (four soldiers down behind enemy lines) "has no country except the mind" makes sense in the world of picture stories, where each image typically corresponds to an emotion, not an action.   That logic doesn't work in a movie, though.  The scene where the soldiers attack two people in a cabin generates some of the great images mentioned above, but there's no sense at all of where anyone is.  Anyone attempting to go Room 237 on this and map out where everything is would give up almost immediately, not because it's contradictory, but because there are no indications where anything is in relation to anything else.  Looking out through binoculars, there's a plane in one place and a house in another, and that's all we know.  (I still can't tell which side of the river the house is supposed to be on.)  Compare this to the extraordinary final attack sequence in Full Metal Jacket, which depends on some incredibly precise spatial relations, and you see how much Kubrick had to learn.  Many times in this film, Kubrick reuses shots in the same sequence, which is great if you want to 1) save money and/or 2) make some kind of formalist point about context and editing, but in an actual movie, it is, as they say, fucking distracting–at one point he does it when Frank Silvera is on a river, so he must have floated in a huge circle and looped back around.  Somewhere around this point I found myself wishing for an Ed Wood-style movie about the making of Fear and Desire, with Kubrick yelling "filmmaking is not about the tiny details! It's about the big picture!"
The actors do they best they can with what they have, and that's a double limitation, because there's not all that much talent here, and Howard Sackler has written speeches rather than characters.  (Two of the actors have double roles as enemies and they kill their doubles, because the duality of man, the Jungian thing, sir.)  When Paul Mazursky's character goes bugfuck, there's no urgency or reality to it, it's not someone going crazy but someone playing the idea of madness, because that's what the film is about.  It's memorable without being interesting; I kept wishing Charlie Day could travel back in time and play his character, because Day knows how to make crazy funny, scary, and organic.  (We do get the first Kubrick Stare out of Mazursky, though.)  There's a lot of voiceover, and in an interesting early moment, we hear them all at once.  That's never used again, though, and when your voiceovers make me wish for the clarity and economy of Terrence Malick, you're in trouble.  Kenneth Harp's line readings did grow on me; they're static and bored and a little self-amused–he sounds like he came in from an antacid commercial.  Kubrick may have learned something from this movie there–the power of not communicating, of having actors who don't interact with each other.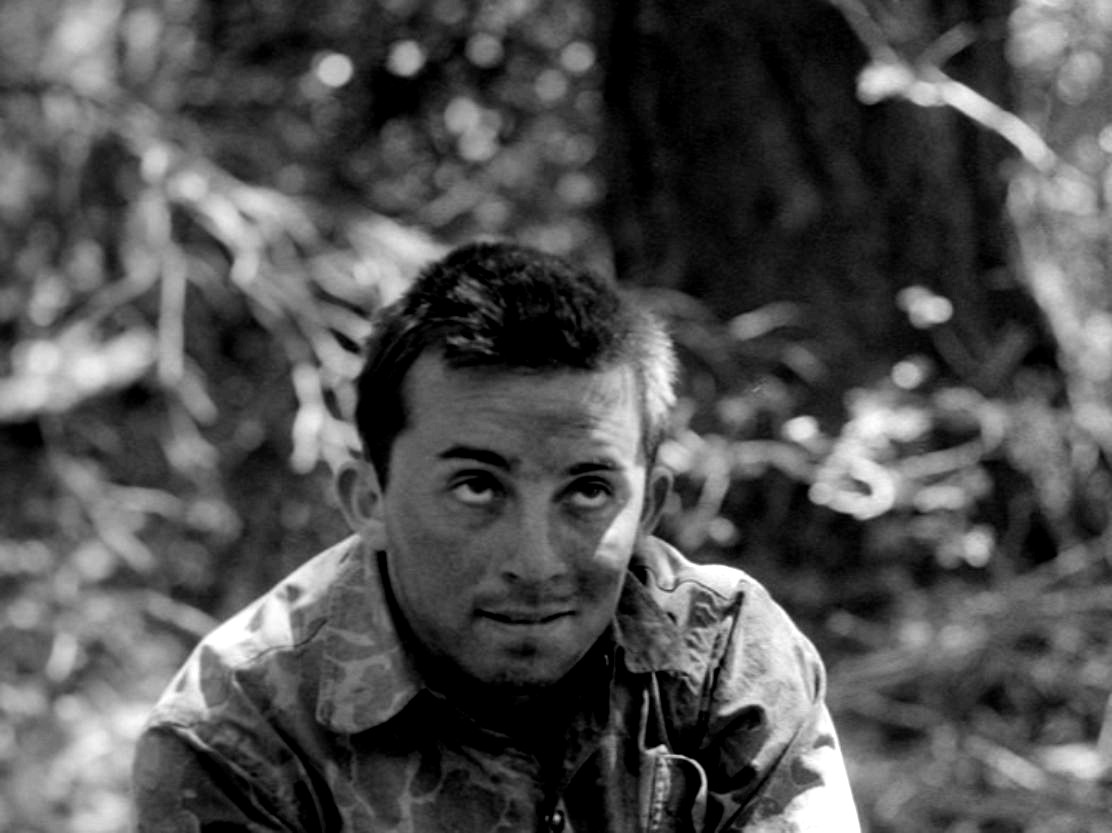 It's not a problem that this is unrealistic; really all the word "unrealistic" means is that it's not the reality that we're accustomed to seeing, and Kubrick would get so good at showing us realities that were new to us, but still recognizable.  The problem is that nothing here connects to anything but the ideas.  Like many first-time storytellers, Kubrick and Sackler are primarily interested in ideas, and characters primarily exist to express them.  Thomas Pynchon, looking at his own stories from the same period, exactly described what happens then:  "get too conceptual, too cute and remote, and your characters die on the page."  Fear and Desire invites symbolic analysis, but being able to provoke a lot of critical writing isn't the same thing as being good; the lack of interest in character or where things are means that the film can only work in the world of analysis.
This movie is often strange, but it's not the strangeness of Kubrick's later films; much of what was here he'd never do again.  Many moments and images in this film call up David Lynch, particularly the shadowy horror of Eraserhead.  Lynch's images and sequences border on formally bad filmmaking, and sometimes go over that border, but there's a huge difference between Lynch and Fear and Desire.  Lynch's films create their own world from the first moment to the last; when Lynch underexposes or underlights a shot, it keeps you in the world of the film.  Kubrick has a lot of moments here that feel like Lynch, but it doesn't add up to a full cinematic world; the moments remove you from the experience rather than pull you in.
Still, the ideas get interesting towards the end, as the soldiers decide to assassinate an opposing general, because, well, what else are you gonna do with your life?  (Jean-Paul Sartre's Red Zone Cuba isn't a bad description of this movie.)  Kubrick's films have always hit me as being outside of time, but Fear and Desire is very much a film of its time, and that's its strongest aspect.  This film was released two years after A Streetcar Named Desire and in the same year as the first performances of Waiting for Godot; Method acting and existentialism, which have become clichés by now, were new and risky things.  The broad, energetic, maybe even silly, maybe even scary performances like Mazursky's and Silvera's here were new; the idea of risking your life not out of honor or country but out of a need to assert yourself against the void was new.  Even the almost abstract pencil drawings behind the credits belong to the artistic explosion of the early 1950s.  That kind of energy and risk lights up all of Fear and Desire; it can be intolerable at times (the endless monologues in particular), but it's never boring, because of the feeling, among everyone, that they're doing something no one has ever done before.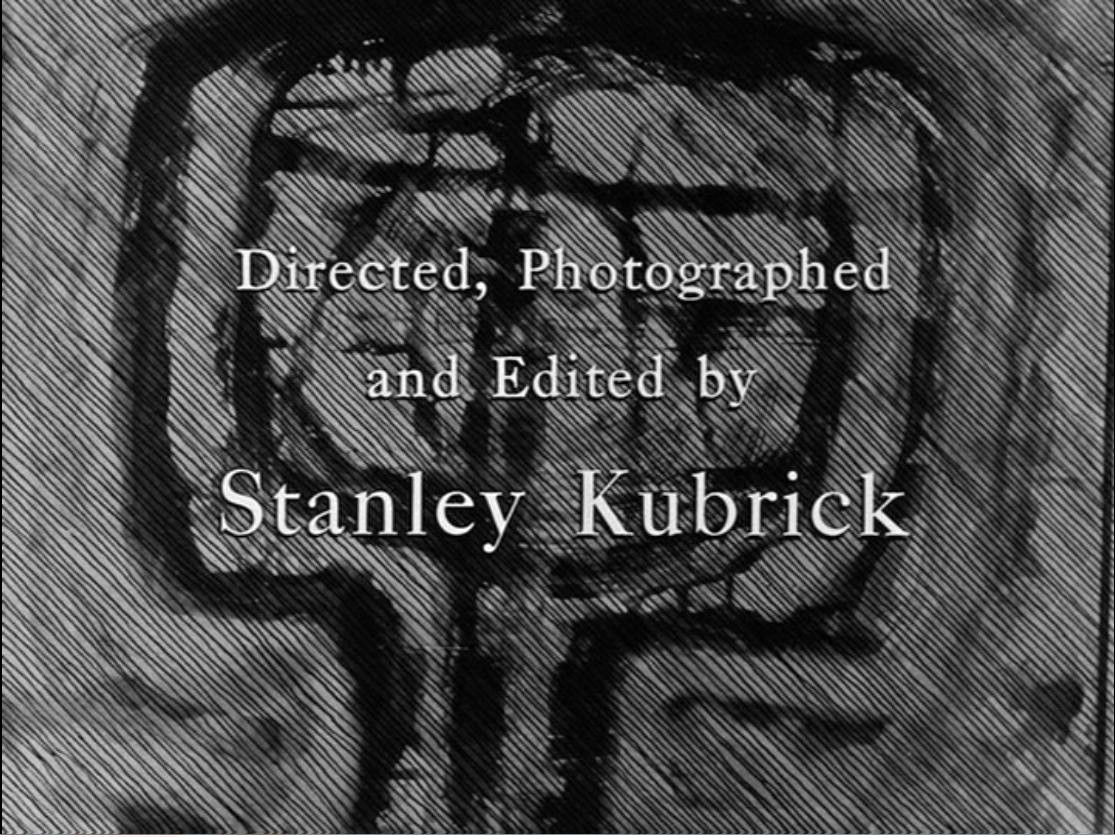 That sense of energy, of "doing go-for-broke art and not caring what comes of it" in Manny Farber's words, prophesizes the most about Kubrick's career.  This film has only a few characters, two sets, and not much in the way of action, but Kubrick is as ambitious as Orson Welles here, maybe more so because of that.  Welles had a background of years in theater, a great roster of actors in the Mercury Theatre, and had already become famous with his War of the Worlds radio broadcast when he made Citizen Kane; Kubrick was 24 years old when he made Fear and Desire, with only a few actors and nowhere near the resources (and talent is a resource) to bring it off, and he went and did it anyway.  There is nothing halfway about this film, nothing held back; everything good and bad about it appears onscreen with total commitment.  Kubrick had the ambition to do what great artists do:  create a unique vision of the world and communicate it to humanity.  His talent would catch up soon enough.
Previously:  Introduction
Next:  Killer's Kiss (1955)