In the two years between Fear and Desire and Killer's Kiss, Stanley Kubrick learned how to make a movie.  There's the same picture-story feel to some of the sequences, but Kubrick carefully sets the people in a real space, and shows us how they got from point A to point B, not just the emotions they feel at A and B.  In fact, where two apartments are is crucial to the plot, and Kubrick makes that clear too.  He sets himself a good challenge as a visual storyteller, in that the first and last fifteen minutes of this movie have voiceovers and a TV broadcast but not much dialogue, making the story rest on the images and the transitions between them.  He succeeds; Kubrick made the jump here from photographer to filmmaker.
The boxing sequence in those first fifteen minutes shows how far Kubrick has come.  The editing is jagged, the camera is close; the fight has the immediacy of Raging Bull but not the pain and blood.  Kubrick mixes up the close-ups and even point-of-view shots so we always stay clear on what's happening where.  There's a final fight in a mannequin factory that's just as tense and even funny, and as with the boxing, it's completely clear.  (The image of men in a dark space surrounded by perfect female figures anticipates Eyes Wide Shut.)  As an action director, Kubrick has always been underrated, and that skill begins here.
As in Fear and Desire, the plot is the least interesting thing here, standard noir material–dangerous guy, washed-up prizefighter, dame, trip to Seattle, whaddaya need, road map, etc., although there is a strong, classic noir moment of a character getting pulled away at just the right moment to send the story spinning in another direction.  As Dangerous Guy, Frank Silvera has a good sense of simultaneous menace and bewilderment, like he's trying to be a nice guy through his violence and doesn't know how, but he can't do much with lines like "like the man says, can happiness buy money?"  These are characters, though, not just actors giving speeches.  Still, there's too much of people's actions changing on the whims of the plot–Fear and Desire had the problem of each character being only one thing, and Killer's Kiss has each character being too many things.
Kubrick's photographer's eye has only gotten better with this film; in particular, he uses the 4:3 frame remarkably well, even uniquely.  As we've gone to widescreen films and even widescreen TV, filmmakers have forgotten the vertical aspect of the frame, something Kubrick uses so well here.  (Maybe we should call these "tallscreen" compositions.)  He often uses the frame to effectively stack two images on top of each other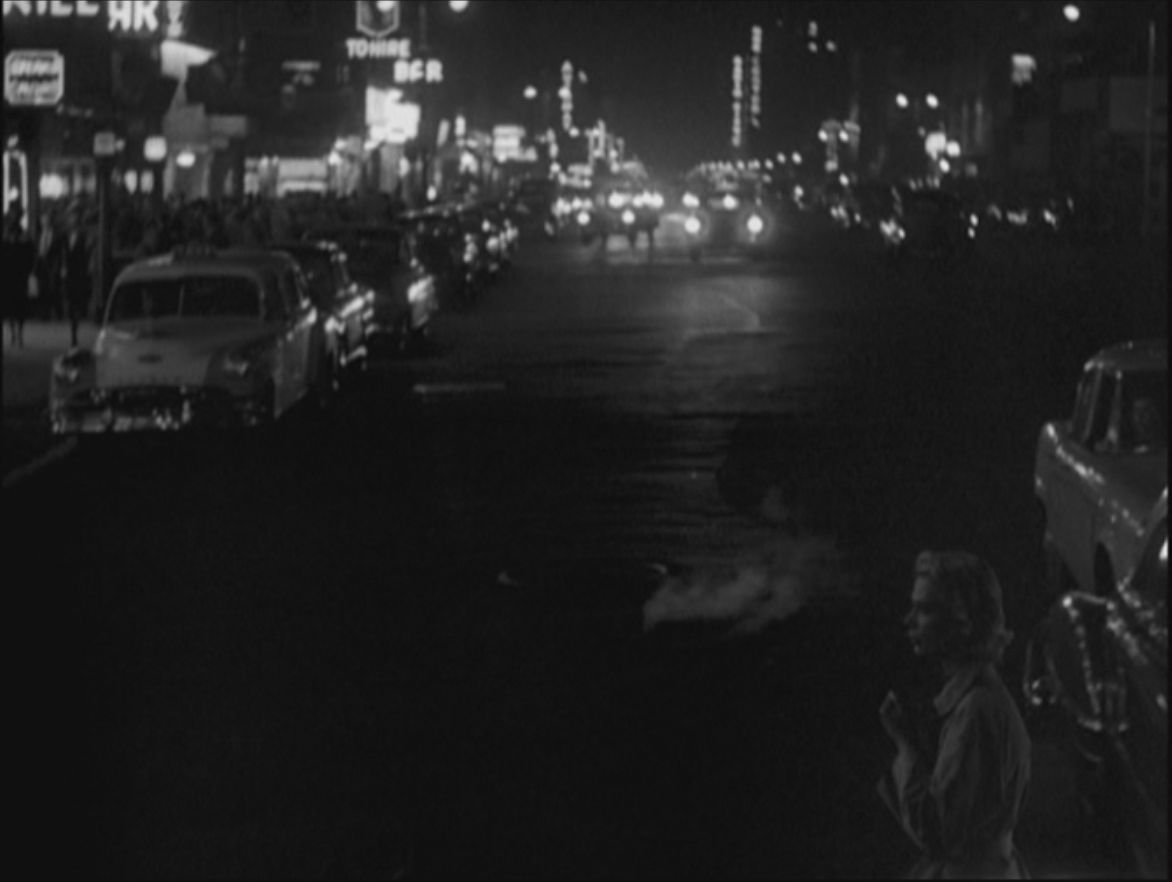 or to open out the image on all four sides, not just to the left and right (this one also has the first Kubrick checkerboard)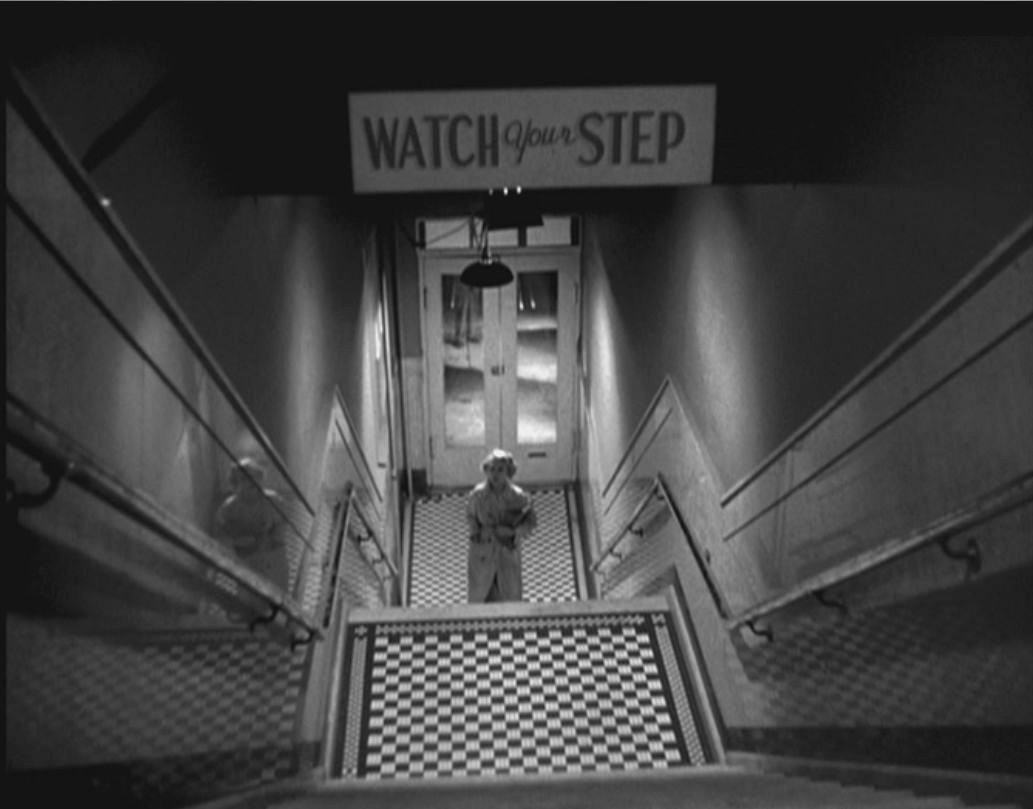 or to load the image with strong verticals.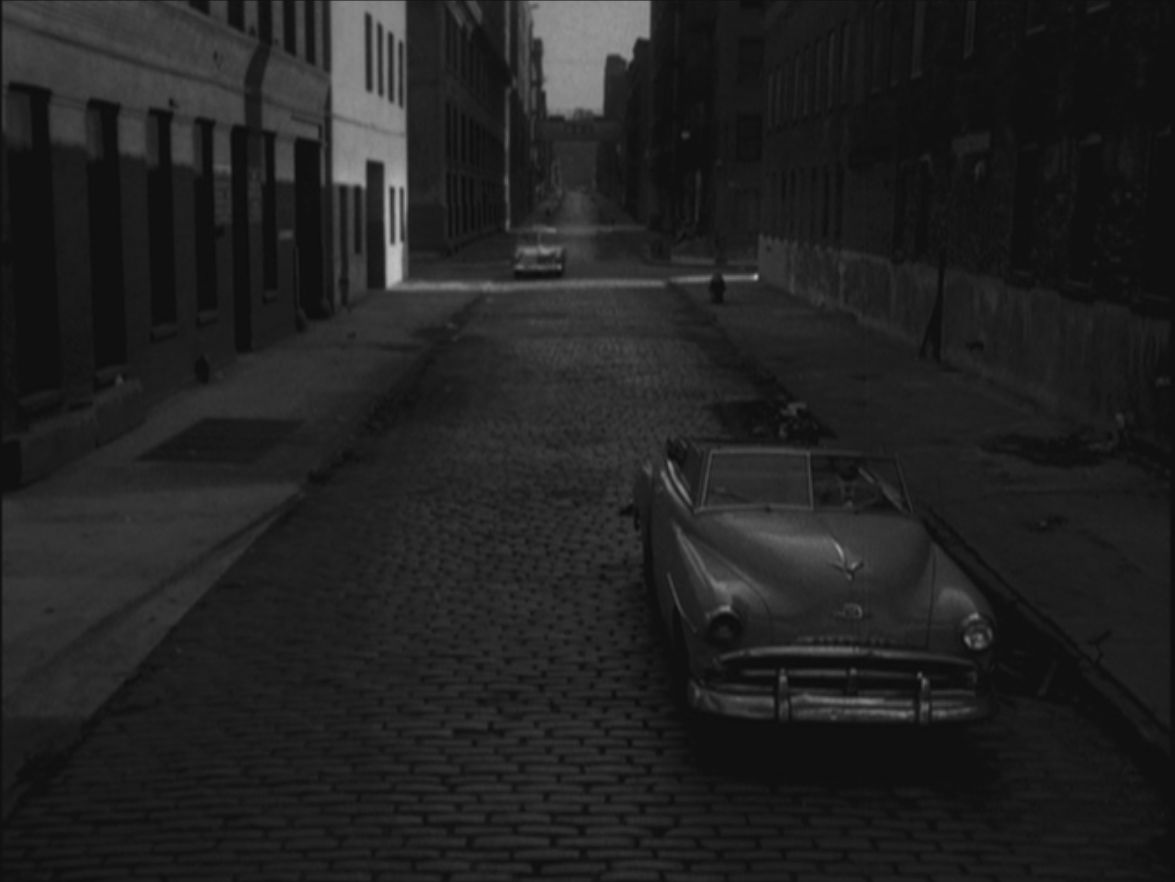 That last one is also Kubrick's first great one-point perspective shot; possibly because it wasn't widescreen, "kogonada" didn't include it in his/her incredible video essay.
One thing introduced here, and that will continue through at least Spartacus, is the way Kubrick appreciates and eroticizes men.  As the prizefighter, Jamie Smith is gorgeous, toned without being steroidal, more sleek than anything else.  As in his 1951 documentary Day of the Fight, Kubrick gives careful attention to his whole pre-fight ritual, including the rubdown, and to the post-fight beat of getting out of the ring after losing.  Without any histrionics, that last moment shows us that his career is over.  The documentary style generates much of the eroticism.  The camera isn't a voyeur: Smith is comfortable in his own skin, and Kubrick's camera is comfortable watching him.  (Comfort is so underrated as an erotic virtue.)
This film also begins something Kubrick got from photography and would understand and use for the rest of his life:  that how people look, beyond how they act, matters.  Smith, Silvera, and especially Irene Kane are all so effective just in still shots; their faces convey so much just by being photographed right.  It's the beginning of the way Kubrick would seek out iconic rather than naturalistic acting.  Kane's face is as drawn-in and her cheekbones are as strong as Laurie Holden's, so there's fragility to her but also calculation; a smarter screenplay would have made us wonder just how much distress this damsel is really in.
If Fear and Desire was the work of a photographer with more ambition than talent, Killer's Kiss is the work of a documentarian confidently doing a job.  More than anything else, the sense of a real, living New York impresses, with its streets, alleys, photos and posters, marquees (How to Marry a Millionaire plays at one of the cinemas), apartments, rooftops, dance studios, gyms.   Like life, nothing here feels generic, nothing feels fully explicable–Smith has a machete and a lute on the wall of his apartment and I couldn't possibly tell you why.  Possibly because Kubrick keeps looking at people, these nighttime shots have a strong, memorable realism to them; there are so many images of things we would never see again in New York.  TCM would use some of those shots for the bumpers on their Open All Night films–ups and shouts to our own Craig J. Clark for pointing this out to me.  (Further ups and shouts to scb0212 for getting the cable network right.)
Of all Kubrick's early works, this has my greatest affection.  He made better films back then–his first masterpiece comes up next–but this is the true outlier.  For the first and last time in his career, he found a world rather than constructed one, and it was the world of his home; he wouldn't return to New York until the end of his life with Eyes Wide Shut, and there he built his own city.  Fear and Desire simply wasn't made well enough to have a personality to it; Killer's Kiss feels like a true debut, just not Kubrick's.  This is the first film of someone more bound to New York, more naturalistic, more of an observer than a creator; it's the first film of the filmmaker he was, not the one he would become.  I'm forever grateful that the universe gave us the director we got, but there's another universe out there that still has Killer's Kiss, but also has Kubrick's version of Mean Streets and (imagine this as his final film) his version of 25th Hour.  Killer's Kiss is the window into that universe, a glimpse of the Kubrick Not Taken.
Previously: Fear and Desire (1953)
Next: Three documentaries