All in all, F.W. Murnau's Sunrise has an almost mythic sense of beauty and power. One of the most fascinating—and most unlikely—aspects of it is how it creates that myth, translates it back into the (joyful) commonplace, and then moves effortlessly back to myth once more. Expressionism—realism—Expressionism is a structure that should collapse in on itself. It's hard for a movie to successfully shift its register that way, to change the level of reality it's playing on, but Sunrise not only does it, it arguably does it better than any other film before or since.
It starts off half fairy tale and half dream. We get a condensed bit of exposition: once upon a time, the Man (George O'Brien) and his Wife (Janet Gaynor) were happy, but then came the Woman From the City (Margaret Livingston).
Now everything has soured. The farm is failing, and the Man is consumed with a sexual obsession with the Woman From the City. It doesn't bring him much joy. Instead, it makes him almost feverishly miserable: throughout all this, he looks like he's on the verge of some kind of total collapse. That hectic, unnatural atmosphere carries over to the Woman From the City herself.
When the two of them have a rendezvous by the water, she summons visions of their escape up around him—and the hallucinatory image of a busy, thronging city rising up from out of the reeds at her command makes her seem like a kind of sorceress. Crucially, she has to be: we have to buy into the poisonous, overwhelming temptation here in order to excuse what follows. An ordinary affair won't do. You need a woman with a hypnotic power, a woman who isn't a woman at all but a kind of chaotic force.
Margaret Livingston sells that completely, especially when she dances—it's frenetic, almost seizure-like, as distinctive and unearthly a silent film dance as the one in Metropolis. She's vampiric, sapping the life out of him. She's witchy, capable of bending his will to her own. She's overheated, unnaturally passionate.
She asks him to sell the farm and move to the city with her.
What about my wife? he asks.
In one of the best silent movie intertitles, the Woman From the City answers: Couldn't she get … drowned? and the letters waver, drip, and run. Nothing about her is stable, and in his heart, the Man knows that.
But the idea drips, drips, drips—and slips inside him. He goes home and sits at the kitchen table, with ghostly superimposed images of the city and its temptress closing in around him, making his home feel airless.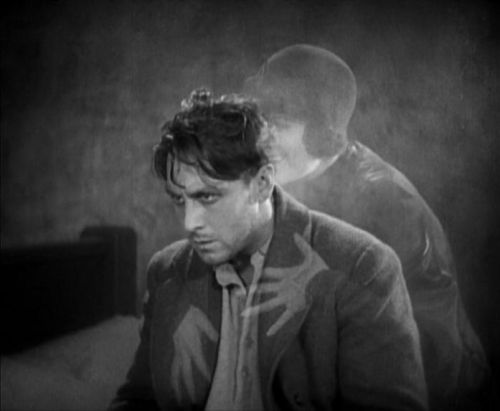 As well it might, at least at the start. It takes a while for Sunrise to genuinely make the case for this marriage, because everything at the farm has become saturated with misery. The wardrobe and styling sets the Man and the Wife apart from the Woman From the City and her neat little cloche: we know her composure is only superficial, but it looks good. You can't say that about anything at the farm. The Wife has perhaps the least flattering hairstyle in cinema, and the Man is unshaven and unkempt, dressed in an ill-fitting suit. It wouldn't matter if they were happy, but in the atmosphere of unhappiness, the ugliness is magnified, taking on a kind of metaphysical weight. Enough, say, to pull a person down and drown her.
All this means that the Wife's shy, sweet, and downright luminous smile when her husband invites her out hits hard—like the first ray of sunlight cutting through all the gloom. We see how transient this unhappiness could be, how eager she is to forgive him if he will simply give her his attention again. She isn't tested until a possible breaking point until the boat ride itself, when she sees, beyond any doubt, that her husband considers killing her.
Murnau builds the tension on the boat wonderfully, with the Wife's happiness slowly curdling into dread. In an eternally effective technique—it's like The Sopranos finale done in silent black-and-white—she fixates on small, ordinary details, like the birds on the water. Time stretches out—and then her husband stands up, looming monstrously over her, and everything changes.
***
Without a nearly flawless sense of how to move between the mythic and the specific, Sunrise couldn't come back from this moment.
It transitions, of course, into the world's most awkward road trip. He can't go through with it, but he can't rewind time back to before she realized what he had planned. He has to face the shame of her cringing away from his touch, and the moment they reach shore, she's running for her life. It's a moment that has an especially brutal impact when we've already seen what she was willing to forgive without so much as a word. Now her trust in him has broken, and it's hard to believe it hasn't broken irrevocably.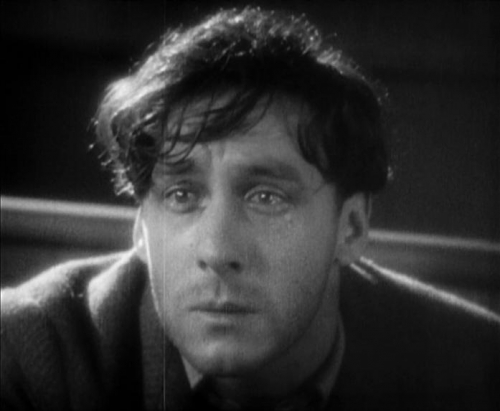 It would be impossible to cure this with a day in the city or anything else mundane. Murnau knows that, and so, because of a single scene, Sunrise gets a claim to being one of the great religious films. The couple takes shelter in a church, where all the lines blur: between the transcendent and the human, the self and others, then and now. They sit through a wedding, and the vows speak to the Man, who begins to recite them along with the groom, nodding frantically. They're reclaiming their past—reliving it, inviting it back far more viscerally than the flashbacks we saw at the start. He breaks down, and she holds him. And they're restored.
***
Then we leave the mythic behind for now, and Sunrise becomes romantic and joyous and ordinary. The symbolic significance of the city vanishes—it no longer represents decadence and corruption, even when night falls and they wander to a funfair full of whirling dervishes and bright lights. Now it's just a place, one full of pleasant distractions and opportunities.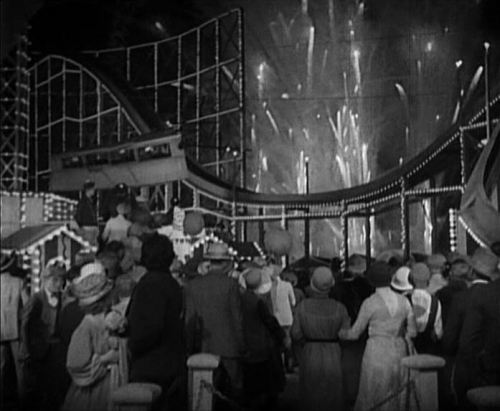 The world opens up beyond the claustrophobic hold of Family and Outsider, and we get a variety of funny, charismatic bit parts alternately incidental, antagonistic, and admiring: a barber, a photographer, a flirt. The interactions between city and country are friendly rather than fraught. When the Man and Wife take part in a peasant dance, stealing the show, the figure of the Woman From the City even gets reversed—there's a young woman whose dress keeps slipping off her shoulders, but rather than a come-hither tactic, it's completely unintentional. She's just wrapped up in watching the dance. Whenever the man next to her fixes it, she's politely grateful and then goes right back to playing spectator.
There is one last transition in store—back to terror and the subsequent sublime, to the restoration of beauty at home. But this seemingly mundane part of Sunrise, made meaningful and moving by the Expressionist drama surrounding it, is the part that really lingers. Murnau uses every tool in his toolbox to make this ordinary day not only universal but transcendent. Years later, Richard Linklater would evoke (and reference) this combination in Before Sunrise, but Murnau's version remains definitive.