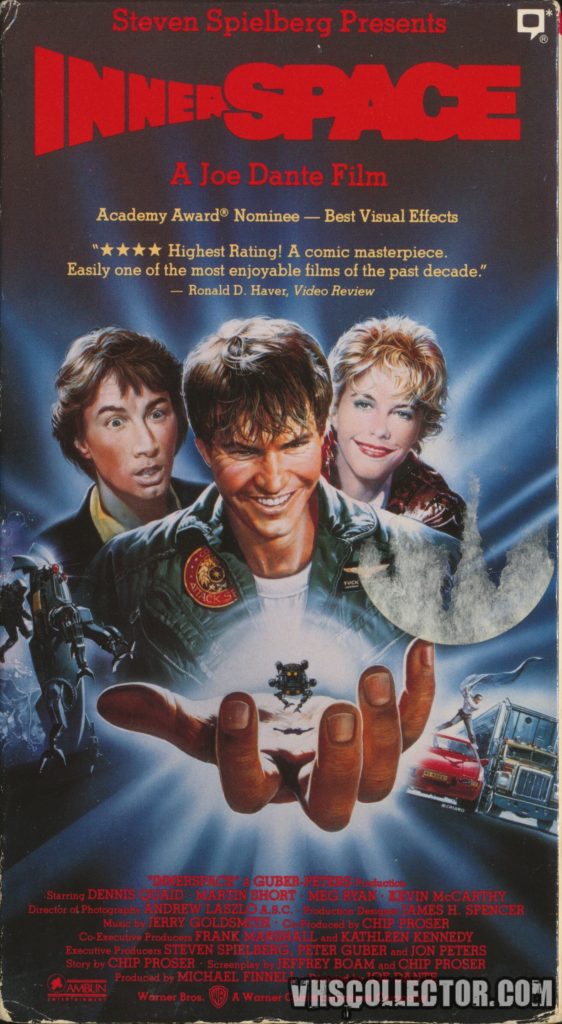 I was a movie snob from a very early age. In my first viewing, I hated E.T. – The Extra Terrestrial, which came out on VHS the same year that Innerspace was released in theaters. Perhaps that's why I didn't see Innerspace as a child. I didn't know who Joe Dante was (though I was probably already obsessed with Explorers), but I knew that that VHS box looked boring as hell and it reminded me of the feel good crappiness of Spielberg's earlier alien movie. Seriously though, look at this cover. Look at poor Meg Ryan! This drawing makes her look like a drugged out victim of Jack Nicholson's The Joker, with pasty alabaster skin painted with teenage blue mascara and blindingly red lips, except turned into a heartwarming children's book face peering deep into your soul. I could never draw as well as this artist, but damn…I feel bad for Meg Ryan. Besides that bit of creepiness, this cover looks fairly boring. It has a hand holding a tiny robot, but that doesn't tell us that much. Maybe its about a tiny animatronic creature that everybody loves. Besides, you couldn't really tell what was going on with the small fill-in drawings of Martin Short standing on a car or the enemy robot. Based on this VHS cover, 6 year old me thought that Innerspace would be a boring dry-as-toast rip off of Explorers made by clueless adults who thought they knew what children wanted but really made insufferably kitschy movies. OK, maybe not in those exact words, but you get the drift.
Surprisingly, this conception held fast long into my adult life. Prior to this week, Innerspace was the only movie in Joe Dante's theatrical catalog I hadn't seen. I've seen Hollywood Boulevard, Piranha, The Hole, and even his segments in Trapped Ashes (which also has Ken Russell's glorious segment about vampiric breast implants). None of it is sane safe entertainment. None of it. Prior to this week, I should have disregarded my early childish prejudices and just finally watched the movie. Even as I was choosing to finally sit down and watch the film the other night, after it (re?)appeared on Netflix, it was still with hesitation and dread. Even though I knew this was a Joe Dante movie, I thought it was his attempt at a serious sci fi film, and I was fully expecting to be bored out of my skull.
I was so wrong. So so very wrong.
Like, I can't tell you how wrong I was.
Innerspace is certifiably insane. Within the first five minutes or so, our hero, ace pilot Tuck Pendleton (Dennis Quaid), has already had a drunken brawl at an awards dinner, been dumped by his girlfriend Lydia (Meg Ryan) and been stripped naked in the middle of the street (Dennis Quaid had quite the body in the 80s). Even Michael Bay is screaming for Joe Dante to slow down.
Instead, Dante constantly ratchets up the game. Tuck Pendleton is the pilot for a test miniaturization experiment where he's placed in a pod that is going to be shrunk down and injected into a bunny rabbit. But, after a group of thieving capitalists break into the lab before the experiment is completed, Tuck is injected into the butt of Jack Putter (Martin Short), a neurotic hypochondriac grocery store clerk. That doesn't even begin to describe the insanity that includes multiple car chases, a mall chase, a nightmare about working at a grocery store, skeletons in acid, giant fetuses, a drunken dance number, a face swap sequence that predates Face/Off, and more. I haven't even mentioned Kevin McCarthy and his fate, which is absolutely beyond bizarre.
If you're up on Joe Dante's filmography, Innerspace is the missing link between Gremlins and Gremlins 2. Dante is actively pushing the limits of legitimate cinema to see how far he can bend the internal logic to his Looney Tunes cartoon aesthetic without alienating the audience. If cinema isn't real, why do we have to pretend it is? Why are we constantly looking for realistic depictions of fiction when cinema can be bugnuts everything-but-the-kitchen-sink insane? Innerspace doesn't ask us any deeper question than "Is James Bond's corkscrew car jump actually good cinema?" Innerspace is everything I want in a certifiably insane film, AND it won an Oscar for best visual effects.
Sometimes, you shouldn't judge a film by its cover.