The first half of the 1960s saw an explosion of pop culture looking back to the turn of the century: Lawrence Welk frequently dipped into the straw-boaters-and-barbershop-quartets aesthetic of The Music Man, and in Disneyland, Walt Disney had created a sunny simulacrum of his boyhood Main Street that visitors could tour in person. In the later '60s, the band uniforms of Sgt. Pepper's and the buckskin "Barbary Coast" look would represent an adoption of vintage styles in the counterculture, but for the squares it was more straightforward nostalgia. The first decade of the twentieth century was about as far behind the 1960s as the '60s are from us now; returning to a supposedly simpler time surely held great appeal for those who were old enough to remember it and compare it to the fractious, uncertain present.
There was more than a little bit of self-congratulation, as well, in Hollywood's celebration of its early days: look how far we've come! At the same time, the last gasps of the studio system had led to huge, inflated productions and cinematic gimmicks in increasingly desperate ploys to get viewers away from their televisions and into the theaters. In such an environment, the time was ripe for a lavish feature that applied the "bigger is better" philosophy, in Technicolor and widescreen, to such classic set pieces as the barroom brawl, the swashbuckling sword fight, and the pie fight, and Blake Edwards (director of Breakfast at Tiffany's, but whose zany Pink Panther films are the more appropriate comparison) was the right man for the job. The Great Race was released in 1965, the same year that Those Magnificent Men in Their Flying Machines put a British spin on some of the same ideas. (These, along with the "docutainment" feature Gizmo!, were frequent time-fillers in shop class when I was in middle school. The teacher loved the old-time machinery in these films and I guess he thought they might be educational, but to be honest I was more interested in Natalie Wood.)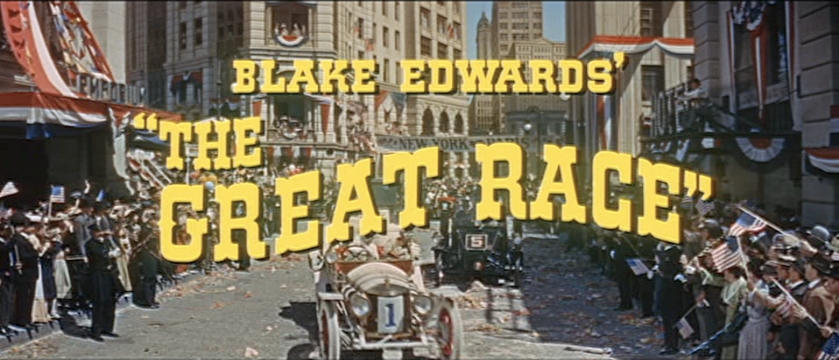 As The Great Race begins, gentleman daredevil the Great Leslie (Tony Curtis) proposes to the board of the Webber Motor Company that they could prove their automobiles superior to all other makes by taking part in an international race, from New York to Paris, with him driving one of their cars. (The story is inspired by a real-life race that took place in 1908, but there's nothing else historical about it.) Leslie's rival, Professor Fate (Jack Lemmon), along with his assistant Max (a young Peter Falk, who later called this one of his favorite films to work on), also participates, bringing his own inventions and his repertoire of dirty tricks with him. Before the race begins, Maggie DuBois (Natalie Wood), a Nellie Bly-like reporter and "emancipated woman," finagles her way into a position covering the race for the New York Sentinel by racing her own sponsored car (and setting off a women's revolution at the Sentinel in the process). There are several other cars at first, but Fate's sabotage gets them out of the way quickly, and the rest of the film focuses on Leslie, Fate, and Maggie as they face one hurdle after another in a variety of colorful locales.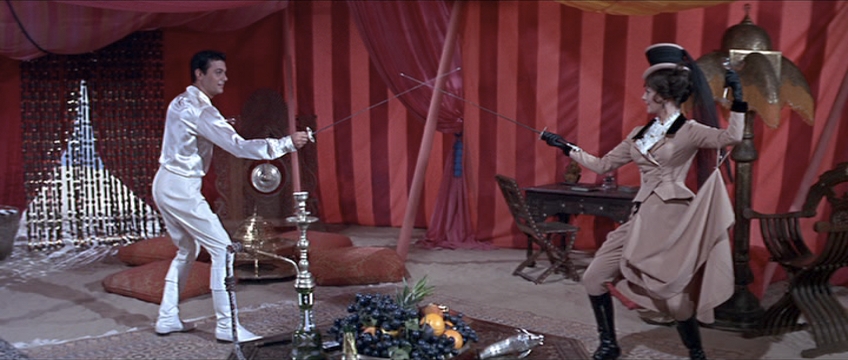 The opening dedication "to Mr. Laurel and Mr. Hardy" says it all, really. If any more need be added, the opening credits, imitating the title cards of a silent movie (complete with booing and hissing for the villain and cheering for the hero), surely made it clear: Leslie and Professor Fate are cut from the same cloth as Dudley Do-Right and Snidely Whiplash. The Great Race is a tongue-in-cheek tribute to the entertainments of yesteryear, filtered through the madcap, irreverent lens of the '60s. The Great Race is big in every way, with big stars giving big performances; striking European locations (as well as some very phony soundstage work); a big-name composer (longtime Edwards collaborator Henry Mancini, contributing the score and a few songs); and a hefty two-and-a-half-hour length, including an Overture and Intermission. For better or worse, this is a film built along the lines of an evening at the theater, and in its desire to entertain at all costs and at every moment, it can be either exhausting or ingratiating, or both. This is a film that is almost always "on."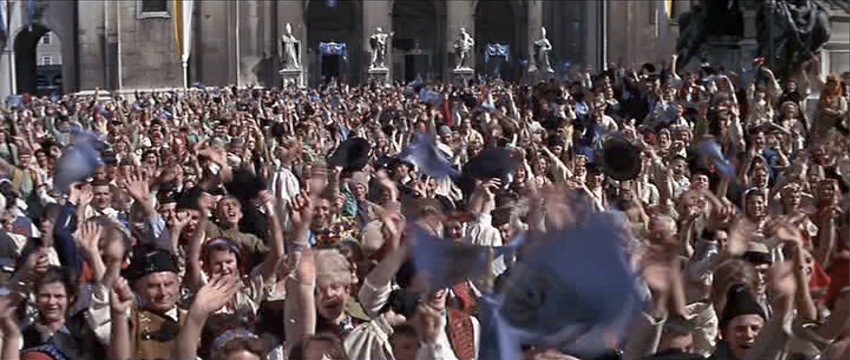 Look at the size of the crowds when the racers arrive in "Pottsdorf" (actually Vienna and Salzburg) and Paris. There was no CGI to paste extra people into the background, and they're not mannequins, either. This is truly a cast of thousands. No expense was spared in the props (a fleet of antique cars, among other period accoutrements) or costumes (designed by Edith Head, naturally). Of course, a crowd of a thousand isn't twice as funny as a crowd of five hundred: it's not noticeably funnier at all, really. Most of what is funny in The Great Race comes down to what it always does: the little things, the timing and interaction between the main cast, who are funny, but who are often trapped inside the giant whirligigs that Edwards has set in motion. It's "the curse of bigness," to borrow Nathan Rabin's phrase, and viewers who don't appreciate Edwards' brand of crashing chaos will instead find it a crashing bore. On top of that, this film cemented Edwards' reputation as a maker of expensive films; he was a creature who blossomed in the late studio era, and the Hollywood of the '70s and '80s became difficult terrain for him to navigate. No wonder he increasingly returned to the popular Pink Panther series, even after the death of star Peter Sellers.
Did I say big performances? Jack Lemmon goes to eleven in The Great Race, scowling and sneering like a proper melodrama heel, berating his put-upon assistant and loudly protesting the injustices of the world, even in the (rare) moments when he comes out on top. Thanks to the Professor's penchant for disguises, Lemmon also gets to adopt a Scottish brogue and drawl like an American cowboy, and he gets his Jerry Lewis on in a dual role as a childish, dissolute prince who happens to look exactly like the Professor. (Does that resemblance lead to comical mistaken identities and a plot to usurp the real prince's throne and replace him with his lookalike? Funny you should ask!)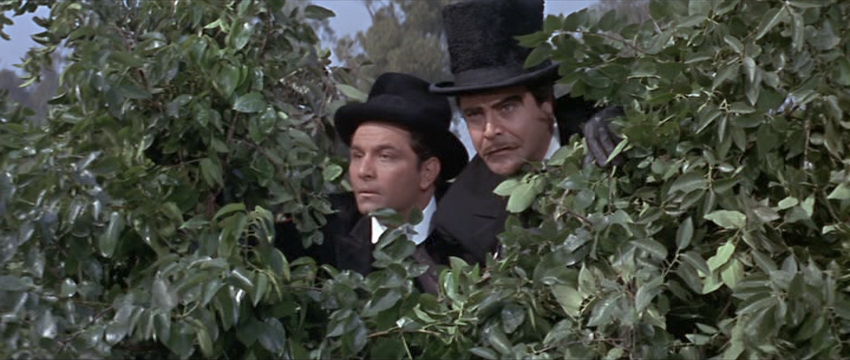 Some of the funniest scenes in the movie are in the first half hour, before the race has begun, with episodes of Professor Fate attempting to sabotage or outdo Leslie's stunts and inevitably having his schemes backfire on him. A guided torpedo intended to sink Leslie's speedboat instead turns on the Professor; a rocket-powered train becomes airborne and dumps the Professor in a farmer's pigsty; a miniature bicycle-powered zeppelin fails to drop the bomb with which he hopes to destroy Leslie's automobile. All this is accompanied by one of Mancini's best cues, a low-down number that sounds like it should be backing up Screamin' Jay Hawkins or Tom Waits. The set-ups and payoffs of the Professor's flops are as predictable (and satisfying) as Wile E. Coyote's, down to the non-fatal explosions and crashes. Decades before Joe Dante and Tim Burton would be credited with making "live-action cartoons," Blake Edwards was doing just that. (And in case there was any doubt, look no further than Hanna-Barbera's Wacky Races, which stole borrowed The Great Race's formula, almost completely intact.)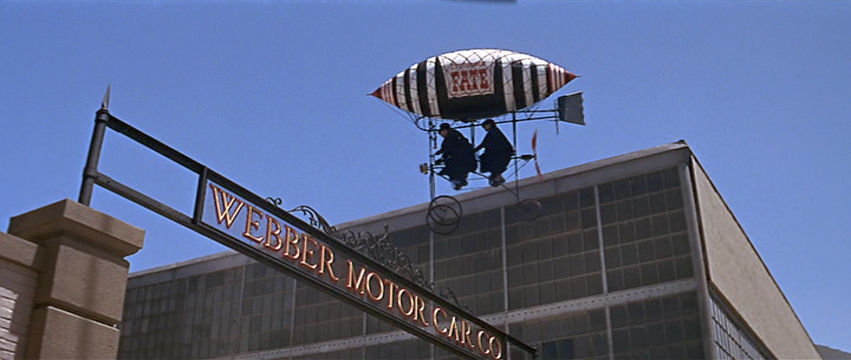 None of this is meant to slight Curtis and Wood, but Lemmon, assisted by Falk, is doing most of the comedic heavy-lifting. The rivalry between the Great Leslie and Professor Fate is one-sided, an unrequited hate affair on the Professor's part, but the bickering between Leslie and Maggie is more of a classic will they/won't they. The battle of the sexes is a theme that runs through much of Edwards' work and marks the era in which it was made as much as the extended running time and over-dressed sets. Leslie is a combination of melodrama white knight and Valentino-style great lover, while Maggie, crusader for equal rights, is the woman who must work twice as hard to get half the credit, a figure as familiar in the 1960s (and today) as in the suffragette era. He is patronizing; she is pushy. Most of their scenes together that do not directly advance the racing plot are a dance between opposites, stripping away the poses and postures that keep them from listening to their hearts. (Early on, they fence with actual swords, later with words alone.)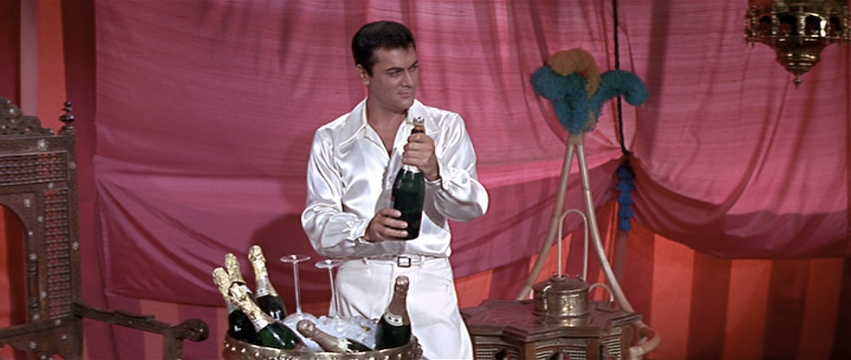 In its own way, The Great Race is a sexy film, albeit one that turns almost everything into a joke, smirking at the restrictive standards of the past (Maggie torments the editor of the Sentinel by scandalously exposing her legs to him) while filling the screen with pretty girls (another Edwards staple), giving lip service to "frank dialogue" while dealing exclusively in innuendo (note the placement of the champagne bottle in the screenshot of Leslie above), and turning slapstick into elaborate foreplay. Tony Curtis, shirtless, later fences against a scheming baron, this time for keeps, an echo of his duel with Maggie DuBois. The banter and deliberate reversal of the situation indicate another layer of thinly-veiled eroticism: while I was watching this as an adolescent, waiting for Natalie Wood to appear onscreen, I wonder if any of my fellow students were having similar awakenings centered on Curtis?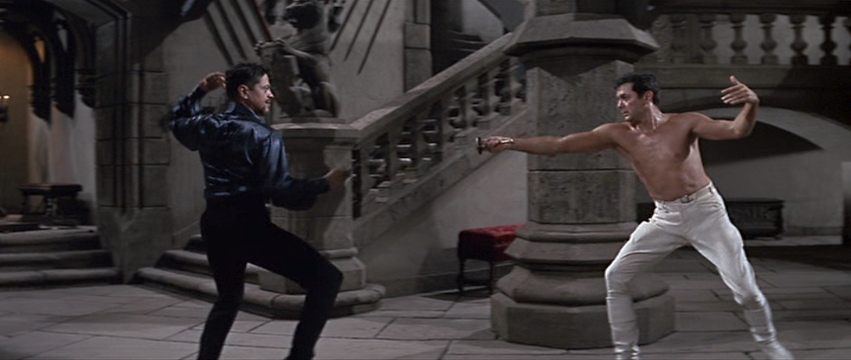 The action comes to a head in a climactic pie fight, the scene that made the biggest impression on me as a kid. Watching it now, there are some clever jokes, like Leslie casually walking through the fight, perfectly clean in his white suit, at least until the last minute. And it was probably a blast to shoot. But despite the obvious ambition that runs through the entire film, the pie fight isn't even as long or involved as some of the slapstick scenes that inspired it (to be fair, it is probably best to think of it as an introduction to the work of Mr. Laurel and Mr. Hardy, rather than as an extension of it). It's primarily the lavish Technicolor production and Wood herself that have made this scene a favorite among slapstick fans.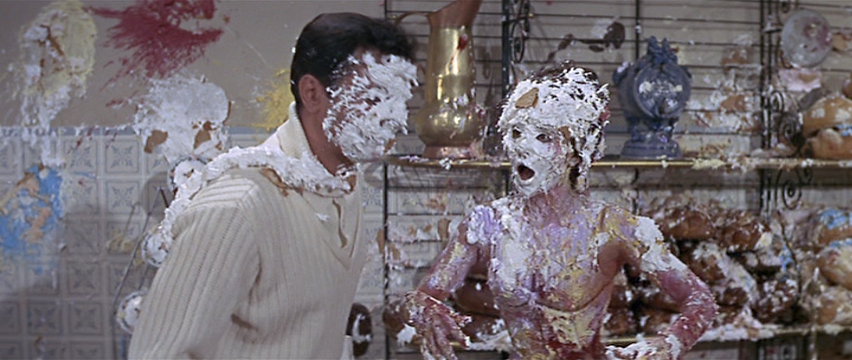 Like The Great Race, Those Magnificent Men in Their Flying Machines was conceived as a 70mm roadshow with an intermission; it tops out at two and a quarter hours. Those Magnificent Men is more grounded in reality than The Great Race, but that's not saying much: it's still pretty fanciful, getting more mileage out of the wacky inventions that failed to get off the ground than even Gizmo! did. Written (with comedy writer Jack Davies) and directed by Ken Annakin (The Longest Day), Those Magnificent Men was originally going to be titled Flying Crazy, inspired (like many of the zany films of the era) by It's a Mad, Mad, Mad, Mad World, but a commitment to realistic flying and the influence of Fox head Darryl Zanuck toned down many of the gags and pushed the element of romance to the forefront of the story. (The full title it was eventually given, Those Magnificent Men in Their Flying Machines or How I Flew From London to Paris in 25 Hours and 11 Minutes, is not only one of the longest titles in film history but is also just about the most 1960s thing ever.) It's also possible that the generally drier wit of British comedy was simply never going to result in the sustained hysteria of Stanley Kramer's influential film, and that's probably for the best. Ron Goodwin provided a theme song that is easily mistaken for a WWI-era music hall anthem (and is better than the mediocre songs Henry Mancini contributed to The Great Race).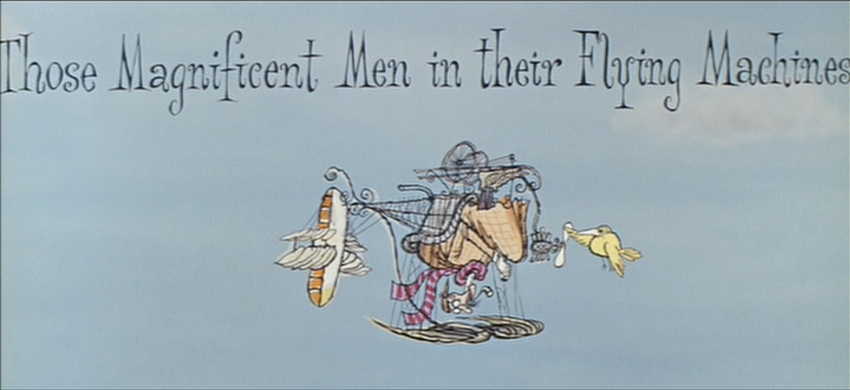 Those Magnificent Men begins with young officer Richard Mays (James Fox) landing his plane in a field, greeted by his fiancée Patricia Rawnsley (Sarah Miles), a tomboy who helps him keep his plane in repair and rides around on a motorcycle, but who has (so far) been unable to convince Richard to take her up in the air with him. After changing into the costume of an elegant young lady of the upper class to please her father, the pair meet Lord Rawnsley (portly character actor Robert Morley) and Richard convinces him that establishing an air race will help ensure Britain's dominance of the skies. Of course this is also Patricia's idea, a roundabout way of requesting her father's permission to let Richard give her a ride in his airplane. Lord Rawnsley flatly refuses to allow it, but he does support the idea of the race, and the preparations begin.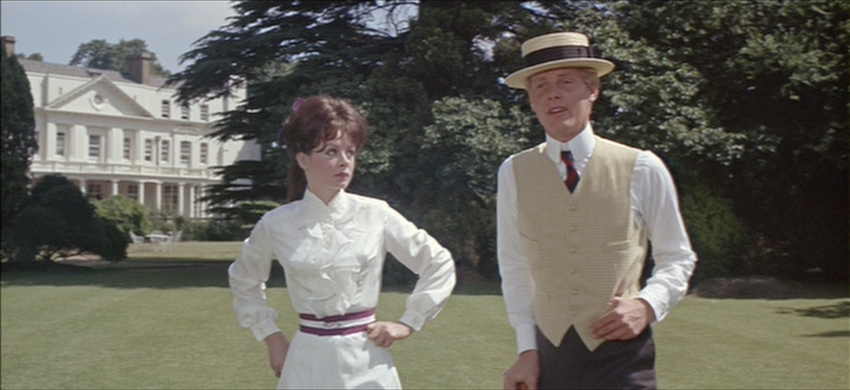 The race, announced worldwide, is to be held from London to Paris, including the 22 miles over the English Channel, with a prize of 10,000 pounds. The race and its large purse attract entrants from all over Europe, as well as a Japanese flyer and an American barnstormer. Each of the main contestants is introduced in a vignette, and the international characters gently caricature their national stereotypes: the French flyer is amorous and flirtatious, with an impish sense of humor; the German officer (played by Gert "Goldfinger" Frobe) is pompous and does everything by the book ("Number one: sit down"); the Italian is emotional, singing opera while flying and surrounded by his large family while on the ground; the American is essentially a cowboy, easy-going and unconcerned by class distinctions; and so on.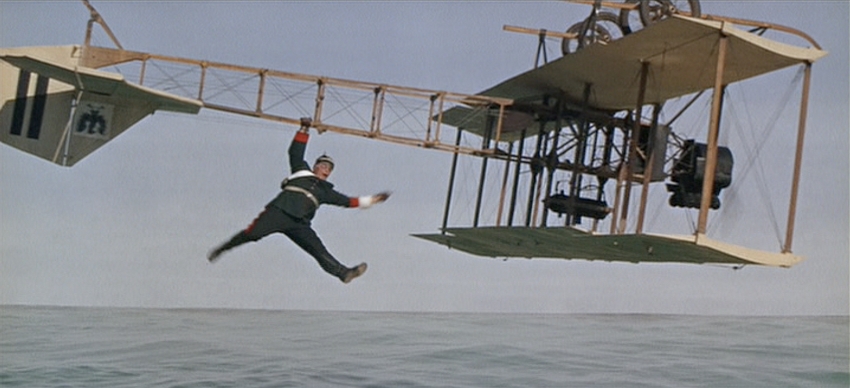 The main characters are the love triangle of Richard, Patricia, and American flyer Orvil Newton (Stuart Whitman), whose primary appeal to Patricia is his offer to take her up in his own plane. However, they are for the most part the straight characters, with most of the comedy (and the faces familiar to me) on the edges: character actors like Morley, or comic Benny Hill in a small role as the captain of the airfield's fire brigade (who are themselves modeled after Mack Sennett's Keystone Kops). The main villain is "scoundrel of all scoundrels" Sir Percy Ware-Armitage (played by gap-toothed Terry-Thomas), an upper-class twit who plans on cheating his way to victory with the help of his beleaguered manservant Courtney (Eric Sykes). The character and his role in the story is similar to The Great Race's Professor Fate, down to the comeuppance he brings upon himself, but instead of being convinced of his own genius like Fate, Sir Percy's sense of superiority is entirely class-based. Not only does he boss around and humiliate Courtney, he feels no qualms about using his "thrashing stick" on any inferior who happens to cross him (a move that earns him a punch in the nose from Orvil). Interestingly, Peter Sellers expressed interest in playing Sir Percy and the German Colonel (Frobe's character) as a dual role, but his involvement with Blake Edwards led him away from this project.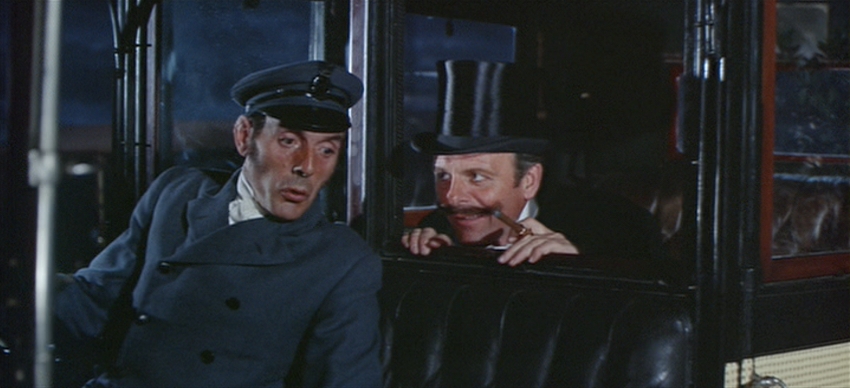 In addition to these and other British comedians, the cast includes cameos from elder statesmen of the British theater and cinema (I can't say I recognized them, but Annakin points them out in his director's commentary). Finally, Red Skelton appears in a frame story as everyman, obsessed with mastering the air since the time of the cavemen and still trying in the twentieth century. In the sense of bringing together generations of performers, the influence of It's a Mad, Mad, Mad, Mad World is clear.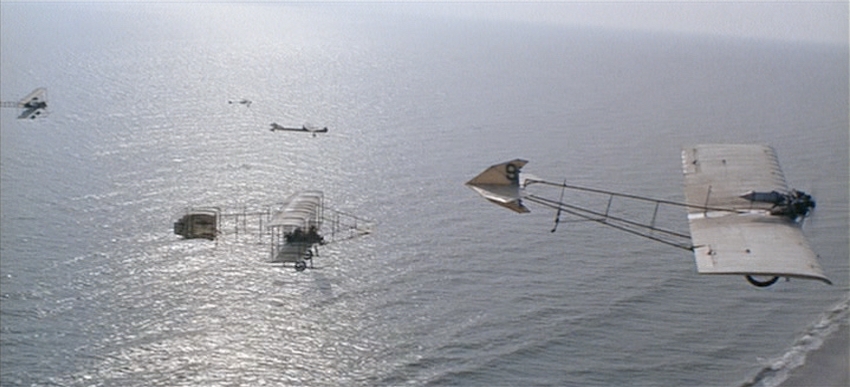 One could say that the real stars of Those Magnificent Men are the flying machines themselves: Annakin's crew went to great pains to build replicas of actual airplanes that were flown in Britain in the early days of flight, and they are actually being flown in the movie (by stunt pilots, of course: shots of the actors in the cockpits of their planes were accomplished by a variety of techniques). Many of the incidents in the story are based on real occurrences, either recorded in history or related by veterans of those days. Annakin had an elaborate flying rig at his disposal (devised by special effects consultant Dick Parker, the rig consisted of two cranes with cables strung between that allowed controlled movement of the planes suspended from them), used to lift and crash the experimental failures (also built from authentic designs) and perform stunts that wouldn't be possible or safe otherwise. The only flight scene done with models is at the end, as French authorities (sensibly) wouldn't allow flight around the Eiffel Tower.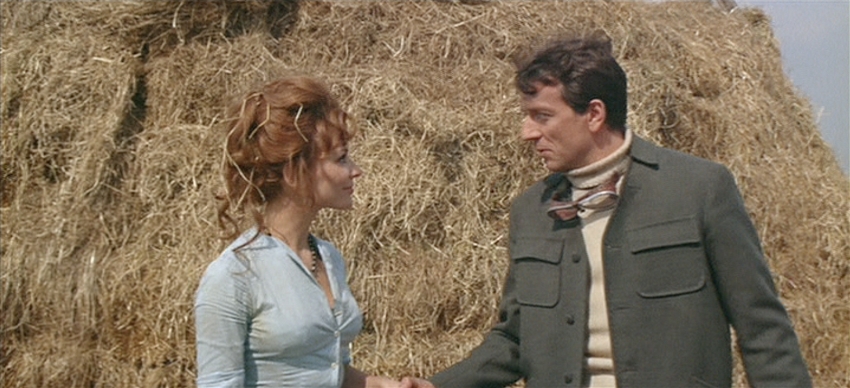 There is some of the same mid-'60s sex appeal that The Great Race has: in one running gag, the French pilot (Jean-Pierre Cassel) continually runs into a woman he thinks he knows (Zanuck "discovery" Irina Demick), but each time she is actually a different girl of a different nationality. In another recurring bit, Patricia's skirt is twice torn off through Orvil's clumsiness, but as in The Great Race her full-length bloomers render the scene more naughty than shocking, at least to audiences in 1965. Those Magnificent Men's biggest weakness is a fatal lack of chemistry between its two leads: by herself, Sarah Miles has a subdued but infectious charm, playing off the stiff upper lip of Fox or the pomposity of Morley. Stu Whitman is similarly fine in his own scenes in a performance that reminds me of James Garner (according to Annakin, the role was conceived for Dick van Dyke, which I think would have resulted in a very different and probably funnier film). But together, there are no sparks. Annakin's commentary hints at unpleasant goings-on behind the scenes, including Whitman possibly assaulting Miles; by the end of the film they refused to speak to one another, leading to Annakin filming their close-ups separately. (The two stars had apparently papered over their differences by the time of reshoots for additional scenes a few months later, but the lack of warmth is still evident.)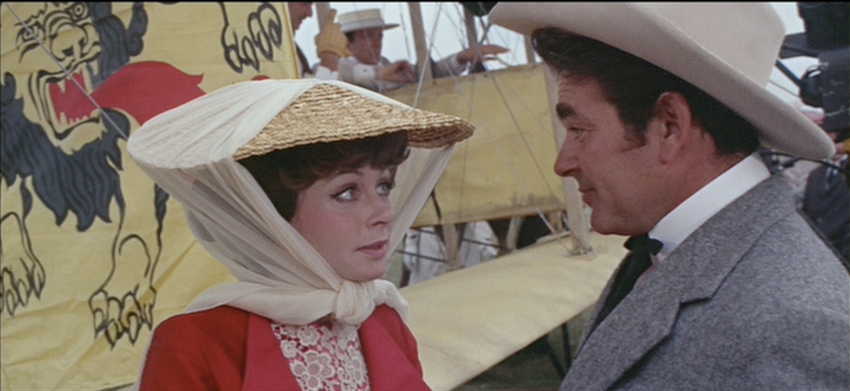 Are these films worth watching today? Yes, but it depends on what you hope to get out of them: The Great Race is a lot of fun, mostly enjoyable for the chance to see its stars cut loose, but the story is silly and if you're interested in auto racing you'll probably be disappointed. Those Magnificent Men is worth seeing for just the opposite reason: the flight scenes and replicas of vintage aircraft are genuinely impressive, and we're unlikely to see another film that so lovingly recreates the past with practical effects like this. Both films were sizeable successes, even considering the size of their budgets; Those Magnificent Men was successful enough to garner a follow-up, Those Daring Young Men in Their Jaunty Jalopies (which included several cast members from Those Magnificent Men as different characters, as well as bringing in Tony Curtis). I haven't seen it that I recall.