I am woman, hear me roar

In numbers too big to ignore

And I know too much to go back and pretend

'Cause I've heard it all before

And I've been down there on the floor

No one's ever gonna keep me down again

–Helen Reddy, "I Am Woman"
Released in 1971 as an album track, and a year later as a number-one hit single that sold over one million copies, "I Am Woman" signaled that the movement for women's rights was rapidly picking up speed.
But the dawn of the "golden age" of film in the 1970s painted a different picture, a shadow-image where the ascendancy of independent studios did not tear down the obstacles for the advancement of women artists. This was for two significant reasons. First, the foundations of New Hollywood were built on gangster dramas, Westerns, and road movies, all male-dominated genres. Second, New Hollywood was rather slow to fully grasp that the late-1960s counter-cultural values that inspired its films held a double-standard for women: too often they were in the back of the revolution, taking care of the children, cooking, and cleaning.
Yet if the films of the 1970s were apt to overturn, or at least question, traditional values, why wouldn't gender stereotypes be treated in a similar way? I want to suggest that like the restrictions of genre, which New Hollywood pushed against, so were rigid gender roles challenged and even changed, but not altogether discarded. The film that will now be discussed is a character study of a prostitute that takes turns both unexpected and dark.
The Limits of Control: Klute
(dir. Pakula 1971)
In the opening scenes, we either see Bree Daniel or hear her voice, but not both, suggesting a split identity. As we find out soon enough, she is torn between being a prostitute and an actress. Not only does the film make the well-rehearsed argument that there is a fine line between the two (both, for instance, have been referred to as "the life"); Bree tells her analyst, an older woman, that she was more successful financially as a prostitute. And the larger irony is that as a woman actor, Jane Fonda, following the path of many before her and after, was well-rewarded for playing a prostitute, winning an Oscar for her performance in this film.
Fittingly, it is when, after a humiliating experience at a modelling audition, she arranges for a meeting with a customer and enters his room, that we are able to both see and hear her. Rather than be exploited (like during the audition), she exploits the guy, encouraging him to run with his fantasies and then jacking up her price accordingly. During sex with him, she interrupts her sounds of ecstasy to check her watch then quickly sinks back into her role. What might appear as a funny turn in the scene is not played as such; in fact there is little humor at all in the film, as if it is being suggested that the exploitative cycle Bree is stuck in is a serious matter, conveyed by the overtones of paranoia as recurrent images of a tape recorder remind us that someone is listening in to her life.
It is not surprising therefore that Bree's identity is connected to control. While this is what makes the role of prostitute attractive to her, control starts slipping away from her. In an important early scene, she tries to charm a theater director only to be met with his calm but stern reply that she has to really know who she is. The ambiguity of Bree's life is brilliantly played by Fonda, who brings out the contradictions in her character's performance—especially around the illusion that controlling sex equals self-control.
After her staged sex act, she returns to her modest apartment, located next to a funeral home, smokes pot and intones a few lines of a hymn she presumably learned as a child: a scene that once would have been inspired, but now feels somewhat dated. In a sharper move, she turns on a broadly theatrical Southern belle accent when John Klute knocks on her door for the first time. Perhaps she picks up from his voice that Klute is from a rural region of Pennsylvania and appears somewhat out of place in NYC.
Say what you want about the film's ongoing thematic commentary on gender roles and performance, the chemistry between Fonda and Donald Sutherland, who plays Klute, is rock solid. As they were a couple during the shoot, they feel comfortable never overplaying their passion. Both of their characters have compelling reasons for keeping a safe distance from one another. Bree is put off by her counterpart's cold professionalism, which she reads as a "square" trying to be with it. Sutherland develops his character perhaps in not as complex a way as Fonda's, but Klute expresses an intriguing combination of overt discomfort with the big city and subtle confidence he can crack the case: he has been sent to look for a missing friend, Tom Gruneman, who ran out on his family, last seen in Bree's vicinity.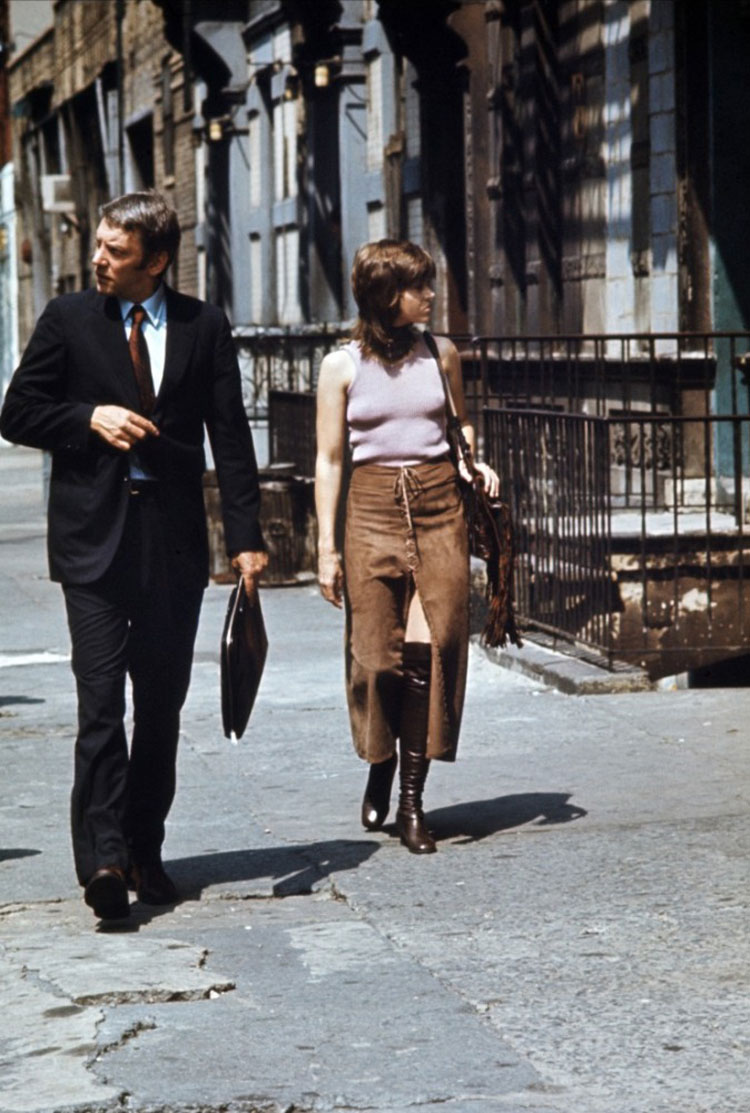 The narrowing of distance between Bree and Klute is what creates erotic danger: what is love, after all, but a loss of control? But there are other, more harmful, examples of a lack of control: the CEO, Peter Cable, who hires Klute to find their friend, turns out to be a psychopath, the man who has actually been stalking Bree, while deflecting suspicion onto Tom.
Despite his unassuming appearance, Klute is a take-charge guy, who seems almost preternaturally able to spot possible danger, which is one pragmatic reason Bree is attracted to him. If she has tried to get out of "the life," her social circle largely remains "this" life—and she realizes she is vulnerable because one of the many downsides of prostitution the film shows us is that it can provide an all-too-convenient cover for male violence against women. The seedier side of the sex trade is staged in a scene set to loud rock music with bohemians nodding out around Bree: a shorthand description of the underground social set located far below the penthouses of Fifth Avenue, where Bree was formerly employed as a high-priced call girl.
And it is in the upper levels of the skyscraper strata that Cable dwells. Once we see him obsessively playing tapes of Bree's voice in his cavernous office, we realize he is an evil figure. His money and power insulate him from issues of morality: he thinks he can do almost anything he wants, like trashing Bree's apartment while she and Klute take a romantic nighttime stroll. What he doesn't know is that Klute is now onto him.
But the pressures building up in Bree become destructive. Earlier she coldly tells Klute off after their first night of sleeping together; this we remember when Bree remarks, with a degree of astonishment, to her analyst, "He's seen me mean; he's seen me ugly," and yet he makes it clear that he still desires her. If Klute has at times an admirable patience, he does not, however, fully understand her; when he beats up her former boyfriend, he seems unprepared for her attempt to retaliate by attacking him with a pair of scissors.
This confrontation causes Bree's breakdown. She takes off through the city, unaware that Cable is following her every movement. He corners her and then in an absurdly longwinded manner explains that he was discovered with a prostitute by Tom, which resulted in his killing him, and then has been getting rid of everyone who might expose his crime. Cable's confession to Bree gives Klute just enough time to save the day.
Yet we have only a few moments to process this slipshod resolution before the real ending hits. Bree prepares to move out of her apartment, accompanied by Klute. Similar to the beginning of the film, the sound works against the image: we hear Bree telling her analyst she doubts that she will stay with him for very long.
If the film beats a conservative retreat down the well-trodden narrative corridors of film noir by tending to associate Bree with sexual paranoia, it does boldly—for 1971—state that communication is a two-way street; thus both men and women are responsible for the messes they make of their relationships. And while the film illustrates, for good and bad, how listening helps to get to know someone better, it also asks, what role does imagination have in completing the picture: should people be what they are expected to be? That is a question very much indeed on the minds of feminist thinkers at the time.