Madonna
When we last saw Madonna pop up theatrically, it was with then-husband Guy Ritchie's 2002 flop Swept Away. That same year, she would have an uncredited cameo as a Bond not-girl (she never sleeps with 007) in Die Another Day, but that's barely worth talking about. It would be six years before her name would pop up on the movie screen again, but not as an actress. This time, Madonna would be credited as a director. A lot can happen in six years.
In between Swept Away and Filth and Wisdom, Madonna had adopted 2 more children from Malawi, released 3 albums, gone on 2 world tours, made a Truth or Dare-esque doc about one of them, wrote children's books, produced a documentary about Malawi and separated from Guy Ritchie. With her company Maverick, she sued Warner over mismanagement of funds, and Warner bought up her and her partner's shares of the company.
It was fairly obvious that Madonna was not happy with Guy Ritchie, and not terribly impressed being a Country Lady. They owned an estate in the country where Guy had bought her a horse, from which she fell and broke her hand. Besides, she wasn't exactly doing this wife and mother thing with nearly the amount of nuance that she had used with her previous incarnations.
Madonna's first post-Swept Away album, American Life, showed Madonna giving it the gung ho. She upped her game lyrically, but decided to go electro-folk and revamp her image to also be a bit of a rebel. She co-opted iconography from Che Guevara to show her rebellious fighter narrative, which quickly became confused when she found against the hackers who were trying to download her music. The album itself is confused and about trying to keep yourself while living in Hollywood, from which she had moved, and also how much she loves Guy Ritchie. Much of the album, however, was her reminiscing about her past and making political statements. Hold this thought, because we're gonna come back to this album…
She ended up getting severely mixed reviews for her sound and message in American Life, especially since she will always carry the title Material Girl. As a result of the lambasting, she followed American Life with 2 club-centric albums: Confessions on the Dance Floor and Hard Candy. Where 2005's Confessions felt like Madonna was throwing back to her roots with a synth-disco pop album that bubbled along, 2008's Hard Candy felt like Madonna was following the crowd for the first time. She worked with the newest producers like Timbaland, and made an album that sounded exactly like everything that had been on the pop charts. Worse, she doesn't feel nearly as personally involved with Hard Candy because she had other things on her mind, namely divorcing Guy Ritchie.
If you're bitter at your husband and want to piss him off, what do you do? You take his job. With 16 years of movie making on the set, Madonna finally decided to become a producer and director, producing a documentary about Malawi directed by her gardener (no, I'm not joking), and also being the producer, director, and co-writer of Filth and Wisdom.
If you're older and you're bored being content, what do you do? You reminisce. Unlike Guy Ritchie's movies, which never ever feel personal, Madonna's Filth and Wisdom felt like an ode to survival and success in New York City (despite it being set in London). Which brings us back to American Life.
Back in 2003, Madonna had been making political bombs. She had a video for American Life which made an anti-war statement with a George W. Bush lookalike lighting a cigar as a bunch of models in war costumes on a walkway murder and kill foreign looking models. She made out with Britney and Christina on the MTV VMA's. Throughout, she had some very pointed commentary about fame, as in the song Hollywood where she snarks, "How can it hurt when it looks so good?"
Much of the album is an attempt at the hybridization of folk and electro to create a blippy folky not-pop sound. The album isn't that radio friendly, being more than a bit abrasive in its techniques. American Life is a genre cross-over album that doesn't quite work, neither through the context of her discography nor on its own. It sounded like Madonna attempting to push out away from pop and into braver territory, but taking only a half-step for the first time in her life. In return for this attempt, she was reprimanded by the press.
Julius
Speaking of blippy, this movie was a mere blip in the cultural lexicon, as it should be. Filth and Wisdom is a nothing movie. It's a movie about the joys of selling your soul for success in the big city. I saw it when it first came out, and it immediately slipped from my memory, as if it had never existed. Filth and Wisdom is aggressively average. And, that's saying something for a movie which attempts to get kicks out of no-nudity homosexual kinkiness.
Madonna really doesn't know what makes a good movie. As we've shown throughout this series, Madonna can't choose a movie script to save her life. Sure, every once in a while she'll stumble on a good screenplay (Dangerous Game), but it's more likely that she can't figure out what makes one work and one not. Let's look at the ones she had an extra deep hand in: Shanghai Surprise, Who's That Girl?, Body of Evidence, The Next Best Thing, Swept Away. This is a list of aggressively terrible films.
By the time Filth and Wisdom was released, everybody was sharpening their knives. When it turned out to be aggressively not good but not completely terrible, people weren't sure what to do, considering they had all this nicely sharpened cutlery. So, some people turned on it, and some people went meh…but it isn't anything to watch for being an awful movie or for being a good movie…or even for being an interesting movie. Filth and Wisdom is just…yeah.
Filth and Wisdom
As American Life was all about how tough it is to make it in Hollywood, Filth and Wisdom is Madonna writing a screenplay just to spout off a bunch of semi-coherent words of wisdom about how tough but great it was to struggle to make it. In Filth and Wisdom, she splits herself into four characters. The ringleader is A.K., played by Gogol Bordello front man Eugene Hutz. AK is the front man for Gogol Bordello as well, though he spends most of his time making money as a homosexual master in military gear. He lives with Juliette (Vicky McClure) and Holly (Holly Weston). Holly is a ballet dancer who takes a job stripping to pay the bills. Meanwhile, Juliette is a pharmacist's assistant who steals drugs while obsessing over starving kids in Africa. The fourth section of Madonna, Professor Flynn (Richard E. Grant), lives in the basement. He's a poet who has gone blind.
If these four stories weren't enough, Madonna fits in 3 more side stories that affect the lives of the three flatmates. AK plays fetishistic school master with Businessman, played by Elliot Levey, who tells his wife that he's a property developer and is going out looking at properties, when he's really getting caned by AK. Eventually his wife finds out his secret and decides to play along. Juliette works with Sandeep, an Indian immigrant who runs the pharmacy. Sandeep spends his time obsessing over Juliette, eyeballing her in front of the customers, and even sniffing her jacket when she first comes in. He's also in a miserable marriage with four kids, and the wife is miserable too. Holly finds a friends in her strip club elder, Chloe, who teaches her how to dance. The way the film is constructed, it feels like Chloe's backstory of being molested by her father was transferred to Juliette whose sister lived with the parents until long past high school. I think they may have thought it was too cliche.
That's a lot of story for an 81 minute film. Wait…this movie is only 81 minutes? Jesus. It feels like a 2 hour movie, and I'm not saying this as a compliment. The sheer density of story plus an absurd pacing, montages galore, and an empty-headed screenplay all make this film feel a lot longer than 81 minutes.
Filth and Wisdom 2 from Julius Kassendorf on Vimeo.
When I say that the screenplay of Filth and Wisdom is empty-headed, I mean that Madonna's writing in short spurts with lines that would be much more fitting if they were on an album as opposed to in a film. The male versions of Madonna are always spouting off trinkets of knowledge like "The road to success is paved with humiliation." Even during montages, of which there are many, they're taking the time to make sure we're learning just how tough it was to become a success.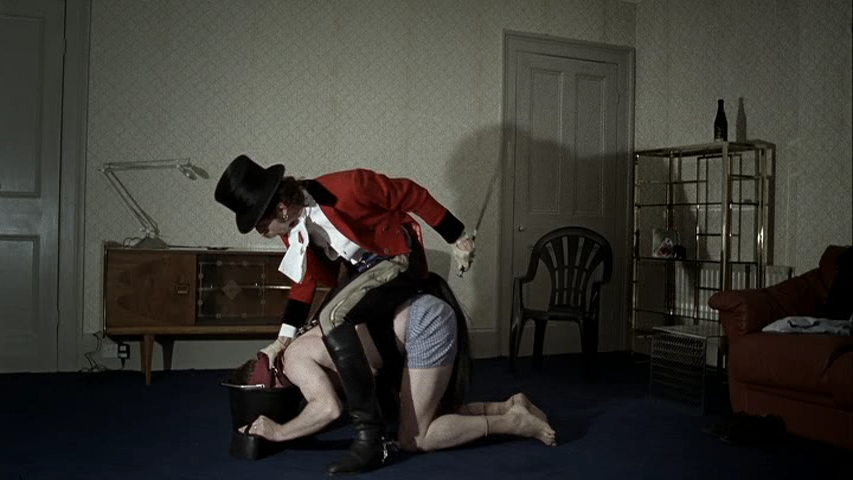 As a result, Filth and Wisdom is actually Madonna's American Life-equivalent statement of purpose. She is making her statement on how hard it was to become Madonna that she even had to give up her name (a statement in the movie) in order to become a success. She cast the lead singer of a band who fused Romani folk style music with punk to make a danceable and energetic sound. Most of the songs in Filth and Wisdom are by Gogol Bordello, though a couple of her older songs make cameo appearances. AK's dom outfit is an old-school Russian military outfit, where he has guys sniff his boots or rides them like a horse. And, for all the kinkiness, there is no actual sex or nudity. Just sexual domination.
Much like all of Madonna's other films, this is chock full of terrible acting. Madonna doesn't know how to pull a performance out of anybody. Established actors like Richard E Grant do fine on their own, but the younger and newer actors don't know how to compensate for a lack of direction. Either that, or she is directing them to say their dialogue in terrible ways or putting the worst of the takes in the movie.
Filth and Wisdom was co-written by Dan Cadan, who was an Electronic Press Kit assembler on Swept Away. I suspect that this movie was intended to be made long before 2008, but was delayed because of Madonna's lawsuit with Maverick, though I can't verify. Filth and Wisdom, for the first time, feels like it is out of step with where Madonna was in her music career. It comes 2 albums and 5 years late. Maybe the later dance-centric albums weren't where Madonna wanted to be (she was, after all, doing those albums with Warner out of contractual obligation, Hard Candy being her last with them).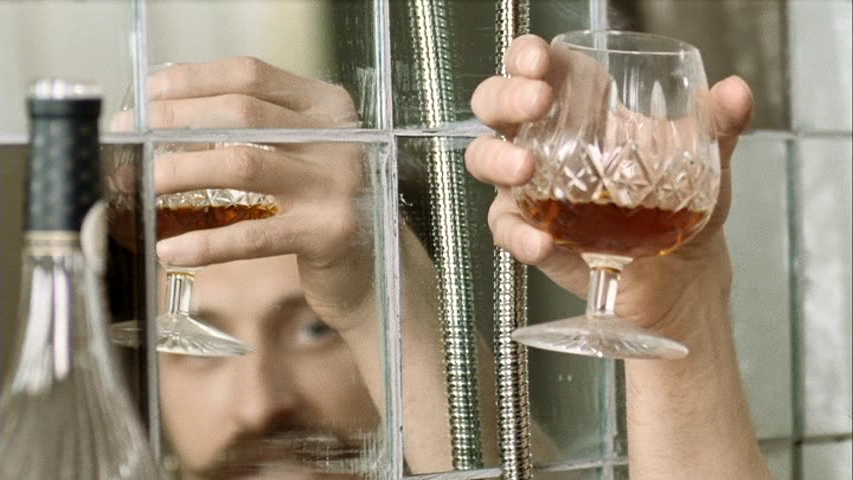 The thing she does succeed at is creating occasionally interesting images, such as the above horse riding, or a scene where Holly is crying in the toilet while wearing a crown. But, more often than not, her sense of imagery is "this could look cool, though I'm not sure what it means." Like this image of AK pondering brandy in the bathtub. Or, when Richard E Grant throws around his books and falls on top of them. In a music video, the images are the purposes unto themselves. But, in a film, the images are dependent on how you get to them. Quite frequently, how Madonna gets to the imagery is circuitous and obvious, which is why she is so dependent on the montage. It allows her to get to the image without having to deal with the scene. This isn't great for the cinema which combine storytelling and visual acuity.
Overall, Filth and Wisdom feels inessential. It merely exists for Madonna to give her take on how to succeed. But, in the end, it just doesn't matter.
Next Week
W./E.