Movies talk to each other. What did the films of 2018 have to say? This is a look at how two movies from the past year tackle similar subjects in different ways. Be warned: SPOILERS for both follow.
One of the cornerstones of horror is not knowing who – or what – someone really is. The reveal that your co-worker or your friend or even your significant other is a monster. These days, we are connected to more people than ever but do we really know them? It makes it all the more important to know who you are, to have a core self that you can rely on. If that's taken from you, you don't even get to be alone in the dark — there's no "you" anymore. While Hereditary is the pure horror movie and Upgrade is nominally sci-fi, they both tap into this fear of possession, someone stealing your self.
Hereditary uses dolls as a central metaphor, as mother Annie moves models of her family around a replica of their house while she herself is being manipulated by a cult of Satanists led by her dead mother. But a less charitable comparison for the movie might be the roundly despised board game Mousetrap — a tedious Rube Goldberg knock-off of widgets and knick-knacks that have to move just so (they never do) for the final victory to take place. Writer-director Ari Aster has a knack for a good setpiece and there's an amusing and often effective sadism in how this drives Annie insane. But it's hard not to be several steps ahead of her as she falls into her mother's trap, particularly since the influence of Rosemary's Baby is extremely obvious and at one point literally underlined in the film itself.
As a metaphor, the horror is effective. Annie is afraid of what's in her blood, that she contains the evil she sensed in her mother and may have passed down to her children. And because she is so afraid she both represses her fear until it snaps – her unleashed fury at her surviving child – and is willing to travel down dangerous and ultimately deadly roads in order to allay that fear and assuage her guilt in feeling it about her kids. She isn't self-possessed enough to see clearly and opens herself up to the possession she feared from the start. 
Grey Trace, the protagonist of Upgrade, ultimately opens himself up as well. In a tech-heavy near-future of self-driving cars and omnipresent surveillance drones, Trace is crippled and his wife killed by nefarious carjackers. A tech genius offers to implant STEM – an neuro/artificial intelligence prototype – into Trace's spine to allow him to walk again, and lo and behold Trace is on his feet again. He's let something into his body and mind, but it's a good thing, right? He has the technology.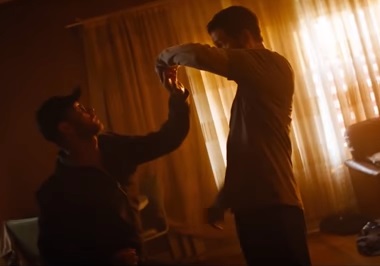 But of course it turns out the technology has him. Upgrade has a lot of fun with STEM talking to Trace with a calm but insistent tone – more Jeeves than HAL – as it convinces Trace that there's more to the attack that killed his wife, and leads him through an underworld of lowlifes, tech cultists and paramilitary goons. Because as Trace investigates he is placed in increasing danger, and the way to get out of danger is to give STEM (permission must be granted, always) increasing control over Trace's motor control, allowing him to kick ungodly amounts of ass with his body while often being appalled at the damage he's doing. As Annie in Hereditary, Toni Collette is outstanding as she contorts her face around each terrible new revelation and lets her eyes fill with horror. But Logan Marshall-Green is no slouch as Trace here, very convincingly portraying a man whose limbs are running amok.
Writer-director Leigh Whannell – who comes from a horror background himself via the Saw and Insidious franchises – is also building to a twist, but moves his movie more fleetly through a well-realized world that expands enough to keep Trace and the viewer on edge as they learn more instead of Aster's increasingly claustrophobic evil house that no one seems willing to leave. Trace always has another piece of the puzzle to find until the last one makes the picture too clear and too late – STEM has orchestrated everything from the start in order to escape its confines and possess a real-world body that can kill off the few people who would know how to stop it. Trace is given a permanent vision of success while STEM rides his body off into the sunset, finally free and in complete control.
In Hereditary, Annie's downfall is led by a medium who promises contact and closure with the dead; STEM promises knowledge to explain an unthinkable death. They're willing to let hope in their heads and it obliterates them. Maybe there's a metaphor there about needing to let bad things go lest they consume you, but I'm always wary of metaphors in horror. And what is a metaphor but a sneak attack, a way of slipping something into your mind that changes how you think and act? The best response to this mendacity: Get out of my head!