Movies talk to each other. What did the films of 2018 have to say? This is a look at how two movies from the past year tackle similar subjects in different ways. Be warned: SPOILERS for both follow.
It's something every movie promises and is in a special position to deliver: immersion in another world. A film can show a fantasy beyond what words can describe and we love to see incredible images of places beyond our imaginations. But we don't really trust them, do we? It's always good to have a guide to these worlds of wonder that often have rules and norms outside of our experiences. Even that magical land of Oz is best experienced with the help of a sensible Kansas girl.
Two of 2018's biggest movies, Crazy Rich Asians and Black Panther, showed off areas of splendor and magic that gained extra power because of the non-white people running them. But those worlds worked just fine as fantastic settings in general, with the films' stories deriving from outsiders making contact and ultimately wanting to topple the system even as the system, the fantasy with strict restrictions, pushes back.
Rachel Chu, the heroine of Crazy Rich Asians, doesn't intend to push back on a rigid hierarchy any more than Dorothy intended to establish a non-witch-and-wizard-based system of governance somewhere over the rainbow. She's whisked off to Singapore by her boyfriend Nick, who is essentially a prince of one of the region's most powerful families, nominally ruled by his mother Eleanor. 
Rachel's mother came from Singapore but she grew up in America, making her a great surrogate for the audience. She and we are familiar with capitalism and its excesses, but not in this extravagant and opulent fashion (hello, Marina Bay Sands). Despite Singapore being a real place, this version of it is just as fantastic as the fictional Wakanda — the average viewer has just as much likelihood of visiting both. And yet director John Chu's light touch among this luxury manages to make the movie's lack of interest in anything not insanely wealthy acceptable. The equivalents of Rachel who actually live in Singapore (or heaven forbid, people with even less money) are irrelevant to this story, their exclusion is fairer than trying to jam their perspectives in when they have no meaning.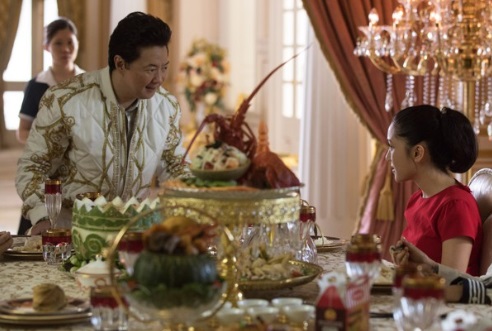 And Rachel stands in for them, for us, in this regard too. Because Hollywood producers are fucking morons, they initially wanted to whitewash Rachel (who is ultimately and winningly portrayed by Constance Wu). Beyond being a generally shitty idea, this would have unbalanced the story and the major conflict between Rachel and Eleanor, who thinks Rachel is frivolous and not of the right caliber for her son, and more insidiously not of the right culture. What the movie smartly emphasizes is not some kind of "love conquers all" bullshit but that Rachel does have a claim on this culture, which she shows by outplaying Eleanor in mahjong. She is the exile returned, an outsider who can bring a fresh perspective to an amazing but rigid world, and who has the right to do so. The fantasy still exists — all the party barges and delicious foods and exquisite outfits are still at her disposal — but she has carved a place for herself in its luxury.
Erik Killmonger is also looking to insert himself into a fantasy and take control. He's another exiled child of the motherland with an even stronger claim to its heritage — the old king, his uncle, killed his father and abandoned him in America. But while Black Panther is driven by Killmonger's return to Wakanda in order to overthrow (by established and legal ritual — an important distinction from a coup) the current king T'Challa, it does not use him as the viewer's window into this world. Instead of learning about Wakanda as another character does, by exploring it, we are given a tour by a host as T'Challa exercises responsibilities.
This is crucial to the tone the movie wants to strike. It isn't just important for Wakanda to exist, it must have existed as such to demonstrate the power of the Afrofuturist fantasy it evokes. Dialogue supervisors worked with actors to create an accent that was untouched by the French and English of so much colonial Africa as a way of entrenching Wakanda as its own place of power. Establishing our point of contact as an existing monarch rather than a visitor creates a similar sense of continuity.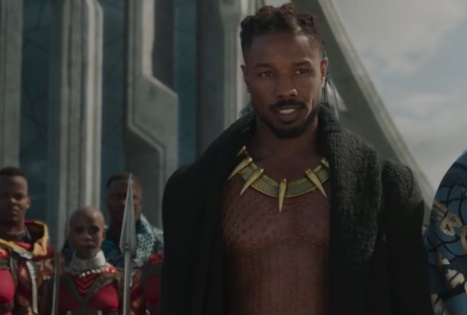 However, this butts up against limitations that Crazy Rich Asians successfully glosses over. The narrowness of Insanely Rich Person's Singapore is implied by, well, being insanely rich. Wakanda is a nation with different tribes, which we do get a sense of, but also different classes, which we don't. Who is in the marketplaces we get a fleeting glimpse of? What does Joe Wakandan do with his life if his country sits atop a near-unlimited supply of vibranium, the unobtanium of the Marvel Universe? Black Panther revolves around palace intrigue but rarely gives a sense of the nation overseen by its monarchy, with the exception of one group that explicitly rejects much of the ruling order — despite a few glimpses of a magnificent city, we spend far more time in the PantherCave. Crazy Rich Asians doesn't care about poor people, but it also never pretends to rule them.
Screenwriter Stephen DeSouza, as often quoted by our own wallflower, came up with the insightful axiom that in any action movie the villain is actually the protagonist — he acts and the hero reacts. And this becomes uncomfortably apparent in Black Panther, as Killmonger starts kicking ass in order to make Wakanda engage with and conquer the world that has colonized and brutalized its neighbors, its entire continent. This may be a slightly more ambitious goal than Rachel's desire to be with the man she loves in Crazy Rich Asians, but both are strong-willed and frankly justified in their actions and desires. The big difference is that Black Panther needs to preserve its world, even as T'Challa ultimately adopts a fair amount of Killmonger's ideas for engagement after his regime is put down and Killmonger, uh, killed. The crazy rich world of Crazy Rich Asians is ultimately more open to an outsider coming in on her own terms.
Maybe that makes Wakanda the extremely rare truth behind a notoriously dumb cliche — the setting as character (see New York, the alleged Best Supporting Actor in many a rom-com). Because Wakanda, embodied as it is by its monarch, actually goes through a series of evolutions and developments, from noble and aloof to humbled and vengeful to open and accepting but unconquered and enduring. Crazy Rich Asians is ultimately more successful as a straightforward fantasy as it subordinates the wonder of the place to the characters newly experiencing it and their reactions. This is foreshadowed in the opening of British assholes being flummoxed by the Singapore order, which alludes to the fact that empires and fantasies don't last. But Wakanda wants to be more than a fantasy. Wakanda, as the saying goes, is Forever.